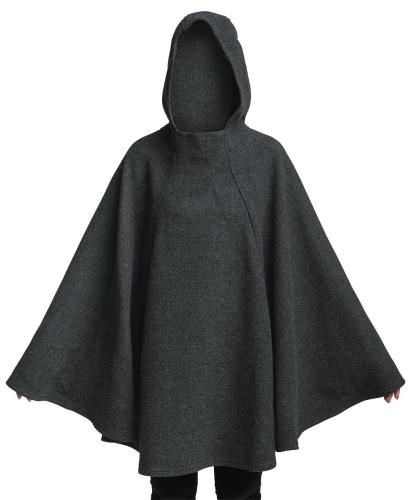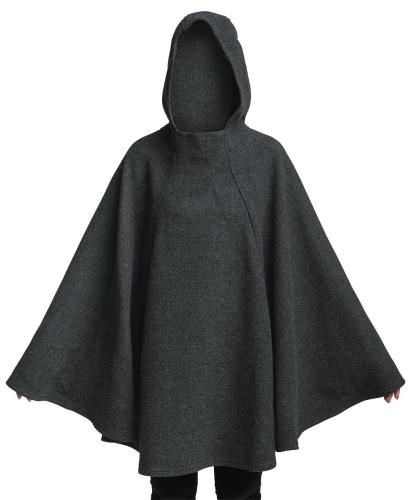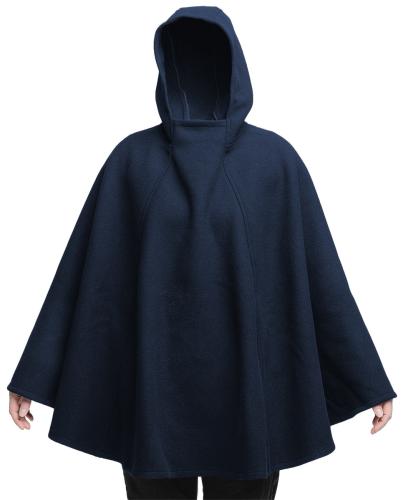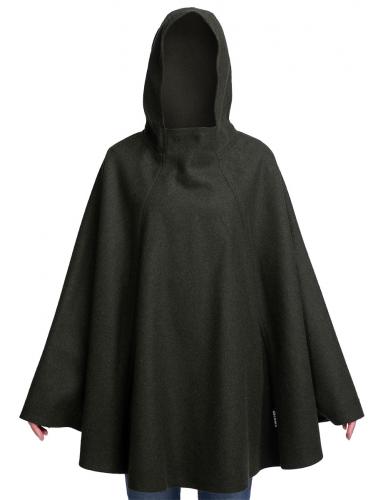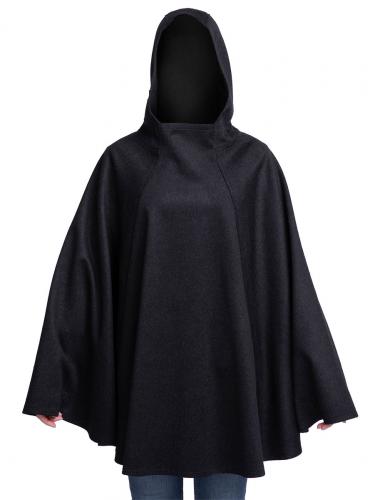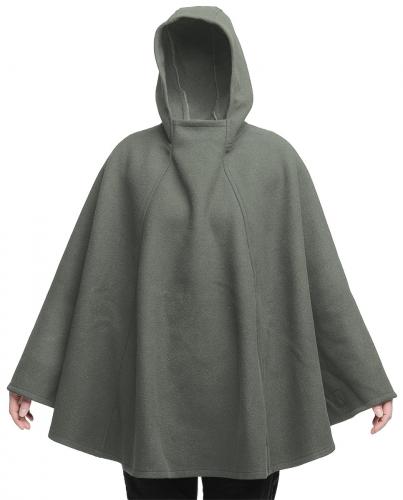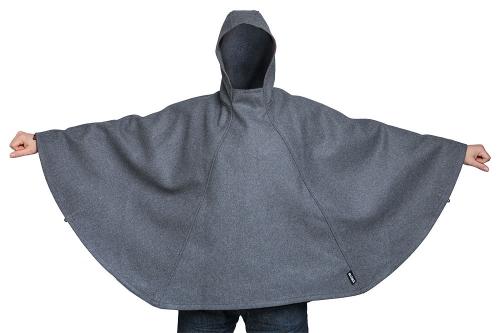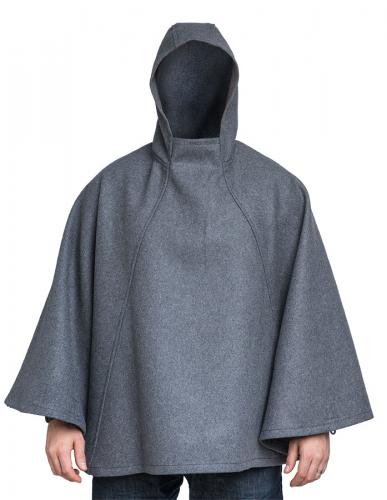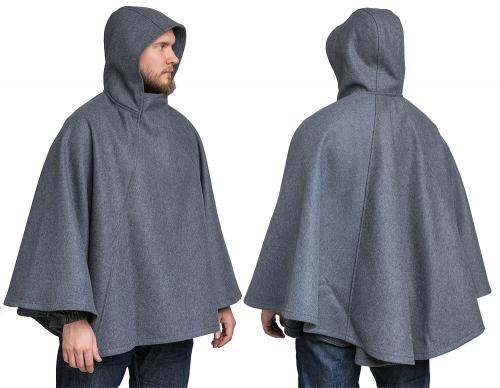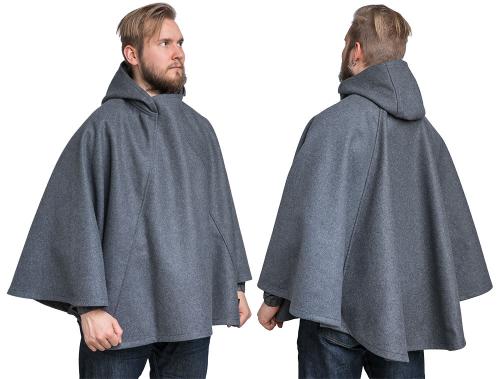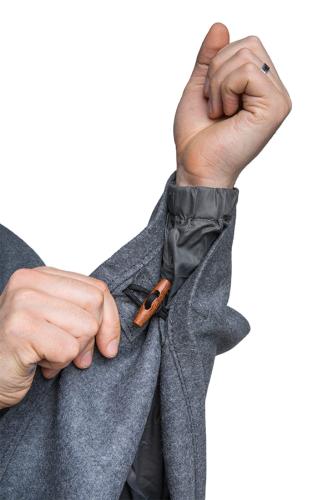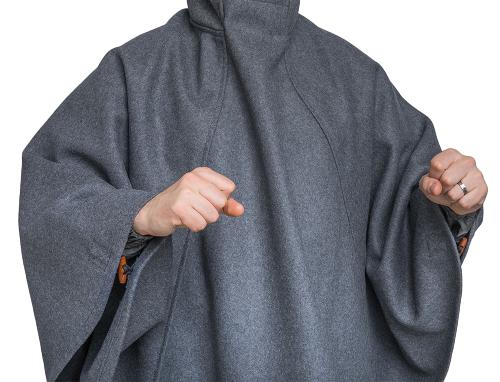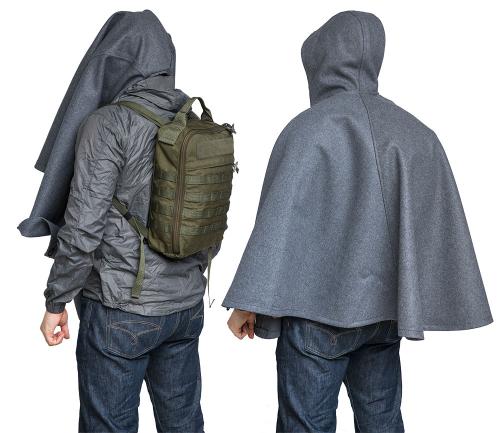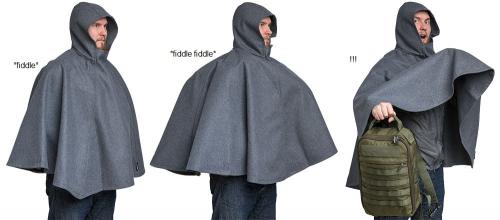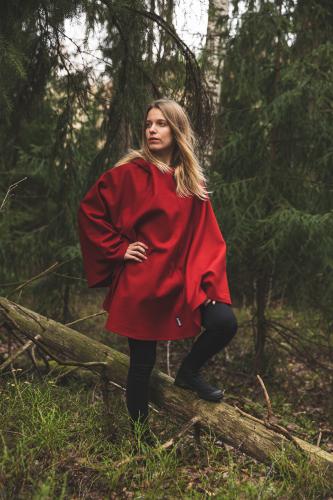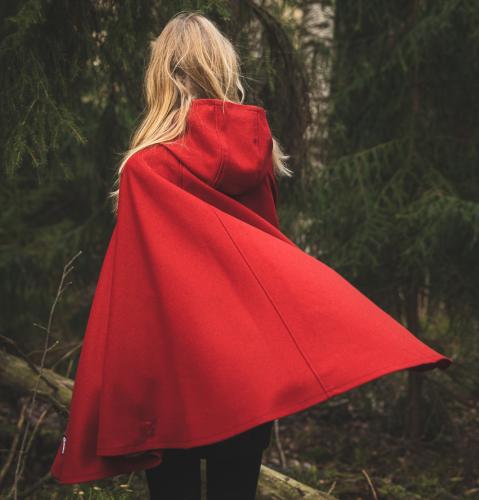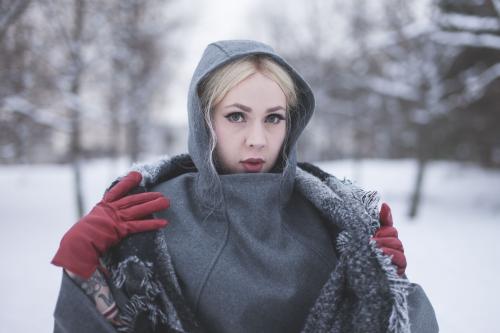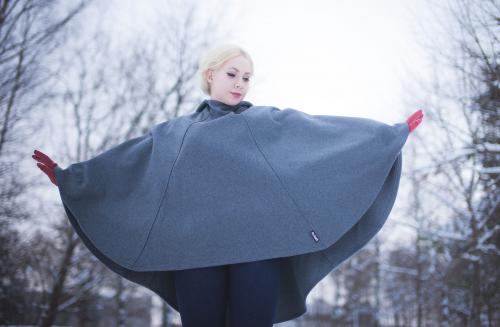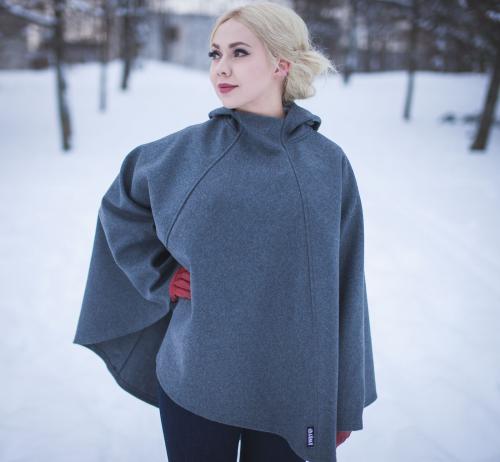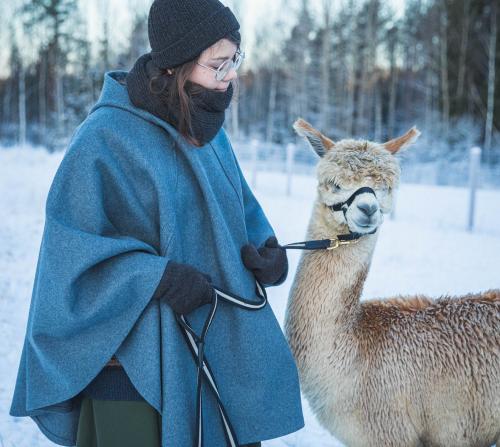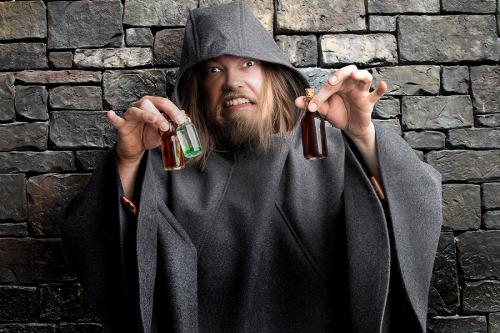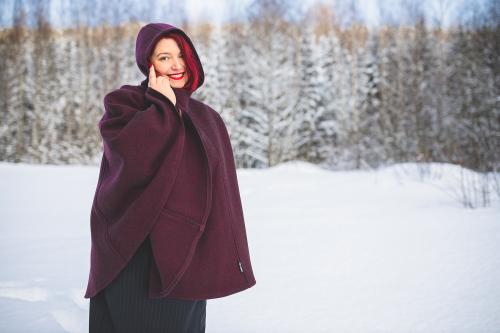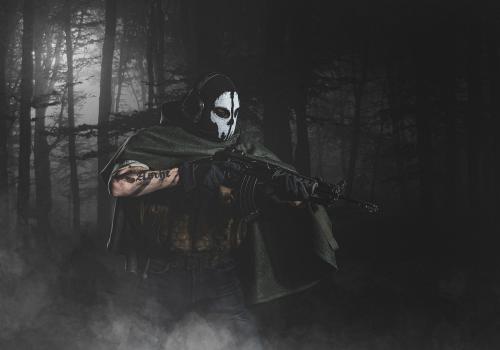 Show all: Jämä
Jämä Luhka
Price 104.99 USD
excluding sales tax
The good old "Laplander Cloak". The Luhka, or Luhkka, is an age-old poncho-style design that originates from the northernmost parts of Nordic countries.
Loading products...
Trouble with the metric system? Try our converter: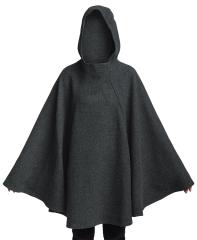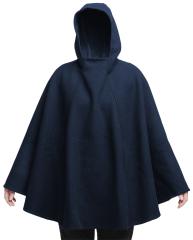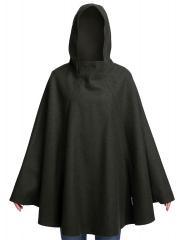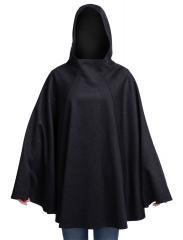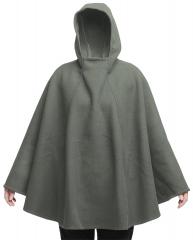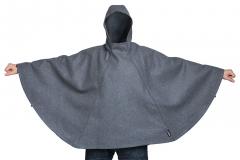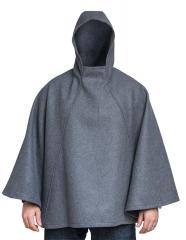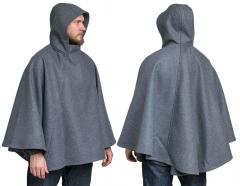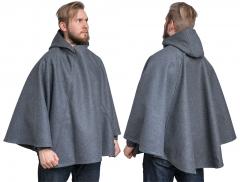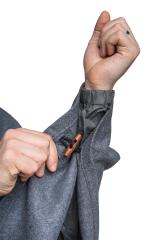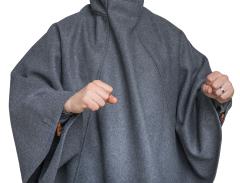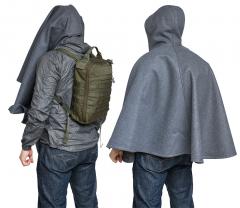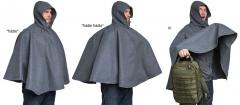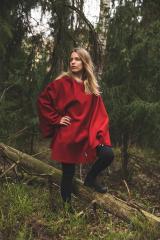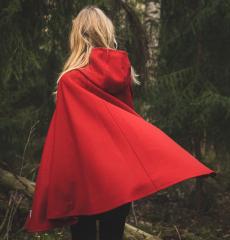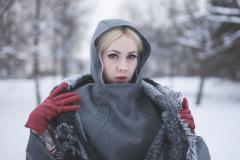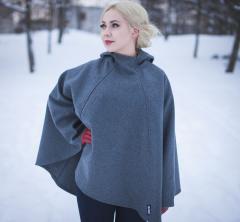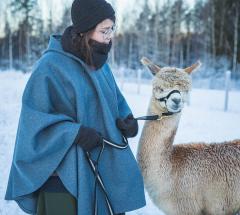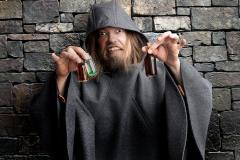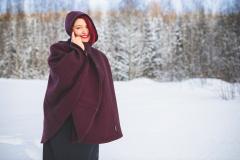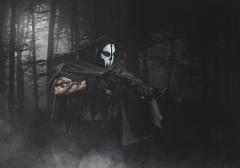 The good old "Laplander Cloak". The Luhka, or Luhkka, is an age-old poncho-style design that originates from the northernmost parts of Nordic countries.
A simple and versatile piece of clothing developed by the indigenous peoples of the far north for outdoor work in a harsh climate.
A clever little detail we added is the simple toggle button "cuffs". By closing these toggles a sort of sleeve is formed at the outer edge of the cloak. These help keep the Luhka in place and prevent it from flapping around wildly, quite handy when doing any kind of work with your hands.
The hood and collar area are sized to fit regular head sizes. The head hole and collar are quite tightly sized so that they cover up your neck properly for wind protection. If you have a larger head, 60+ cm / 7 1/2", the neck hole might be quite tight at first. But, luckily the wool fabric can be stretched out.
Materials
Our original Luhka was made from surplus wool frieze from Finnish Defence Forces. Like all things good, we have long since run out of that material stock. Newer batches come in varying material choices and you can see the current stock below. Below the latest material info, you can expand the text to browse info on older batches you might see in additional product images. Some of these might still be available.
Autumn Night Blue
Somewhat lighter and easier-draping 100 % wool from one of our surplus suppliers. If earlier variations have felt a bit stiff, give this one a go. Weight 415 g/m2. The material shows wrinkles rather easily. If desired, you can hang the garment in the bathroom after taking a shower: the weight of the cloak together with humidity takes care of wrinkles.
Wolf Gray
High-quality 100 % wool from one of our surplus suppliers. Weight 520 g/m2, soft but stout material with a comfortable feel.
Materials of previous Luhka batches
Alpen Gray: This batch is made of 100% wool (430g/m2). It comes from the warehouse of one of our surplus providers and the fabric is scavenged from here and there. Some are surplus from government auctions, some surplus from fabric manufacturers, and some surplus from the supplier's own productions. It is a bit of everything.
Field gray of Stalingrad: This fabric is 100% wool. It comes from the warehouse of one of our surplus providers. They said that some of it came from government auctions, some from manufacturers of fabric, and some from their own productions. So, it is a bit of everything. Weight 435g/m2.
Italian wool fabric: This fabric is from an Italian fabric maker. This leftover batch of fabric had been left unused and without a home so we decided to turn them into blanket shirts! The fabric is on the heavier side (650g/m2), nicely soft and airy. It has 20% of polyamide to strengthen the structure and the rest, 80%, is wool. The following colors are made out of this fabric:
Charcoal
Noble Crimson (Notice: with Noble Crimson the smoothness of the fabric may vary between parts of the shirt. For example, sleeves might be more fuzzier while the back parts are smoother.)
Field Gray of Normandy
Troll Brown
Almost Black
German Surplus Wool: We stumbled upon some new surplus materials from a German fabric manufacturer. These wool fabrics were meant to be of a slightly different color and thus they had been rejected by their original orderer. Thanks to Jämä, these perfectly fine materials got a new purpose:
Sooty Black, 100% wool, weight 390g/m
Forest Green, 100% wool, weight 345g/m2
The Red of Christmas Past, 100% wool, weight 345g/m2
Finnish Defence Forces surplus wool frieze: This is the stuff used in the Finnish army M/65 series of field clothing. Its strong qualities are a large wool content and the fact that it really is meant for clothes, so it's more durable compared to cut-up blankets.
Care
Airing out will do the garment good and this is basically the regular "cleaning" you'll do. What comes to more thorough cleaning, as the first option it's best to try just brushing off any stains or spot clean with water and mild soap. If you manage to get this dirty as hell and absolutely need to use a washing machine, try a gentle wool cycle at 30 degrees Celsius (86 F). Use wool care products while you're at it, it'll make the garment restore its natural woolly goody features. Hang dry, stretch the garment out a bit while it's drying.
One-size-fits-most
Since this is a poncho-type cloak the only detail that is somewhat important when it comes to sizing is the hood. The hood is designed to fit "regular" size heads with a wool cap or even fur hat on. Bigger melons might be a tight squeeze with thicker headwear on.
Jämä is upcycled surplus
Jämä is a Finnish word meaning leftovers or scraps. It's also one of our house brands for equipment made from recycled or surplus materials. From time to time we accumulate stuff that doesn't sell well but is made out of outstanding materials. We've also got several capable seamstresses here, and the equation is pretty clear: cut that useless stuff apart and sew it back together to create something useful.
Because Finnish labor is one of the most expensive in the world, these are very simple, practical and rugged in design. Our development and prototype production remains in-house while most of the production is outsourced to Turku and other cities - still within Finland. Simplicity means strength: the fewer parts there are, the smaller the chance of breaking anything. Read more about Jämä.
Recommendations
Loading products...
Reviews
You have already submitted a review. You can edit your text by clicking on it.
Log in and write a review.
Remove filter
Suomi
(11)
English
(13)
I would recommend for a friend
Ossi T.

02.01.2021 (Edited 15.06.2021)
I would recommend for a friend
Willem B.

10.01.2021 (Edited 15.06.2021)
I would recommend for a friend
HUSNU T.

26.02.2021 (Edited 24.06.2021)
I would recommend for a friend
Marty H.

11.05.2021 (Edited 27.07.2021)
I just received this AND the M91 Lukha both. I bought them to wear when the weather turns inclement (which is highly common where I live in Colorado during the spring, we can literally have all four seasons in a day). I used both Lukhas today, as we had rain, snow, and temperatures that dipped into the 30's (Fahrenheit). This one was great for staying warm. It was not cold enough for me to want to bust out the leather bomber jacket or the Soviet Navy greatcoat, so I wore this for a bit. It absolutely did what I needed it to do - keep me just warm enough. The toggles were a bit awkward the first time trying to button them, but I believe I could easily become faster with them the more I wear this.

I definitely would recommend to a friend!

TL;DR: Great for random inclement weather. Would recommend.
2
0
I would recommend for a friend
Anonymous customer

01.06.2021 (Edited 30.06.2021)
Erinomainen ja tosi mukava luhka ainakin italialaisesta ylijäämäkankaasta (hiilenharmaa) tehtynä. Sen verran tyylikäs että toimii sekä kaupungissa että retkeillessä. Koko sopiva myös pienelle ihmiselle (162 cm). Viitta ei itse asiassa ole mitenkään erityisen lämmin, kun vuoria ei ole. Ei siksi pidä tuulta kovin hyvin, mutta toisaalta hiki haihtuu helposti. Ainoa hankaluus on ollut kaulaliinan asettelu kun ilmankaan ei osaa olla, sillä kaulus ja huppu ovat melko tiukkoja. Muuten leikkaus toimii hyvin ja luhka pysyy paikoillaan liikkeessäkin.
0
0
I would recommend for a friend
Oliver A.

20.07.2021 (Edited 27.07.2021)
It is so good my girlfriend stole it from me and I had to buy a second one.
Really comfy and fancy. If you like to wear a wool blanket, you are at the right place.
1
0
I would recommend for a friend
Christopher S.

31.10.2021
Amazingly multi-functional piece of kit, the only downside to it being the infrequent availability of them. If you get the chance grab one of these and ignore the other non-wool ones available for sale.
0
0
I would recommend for a friend
Saija J.

03.01.2022
Ihan mahtava härpäke! Ostin yönsinisen marraskuussa 2021. Muotoilu on just kun olisin ollut itse mallina. Korkea kaulus suojaa hyvin kaulaa, muttei tule suuhun. Huppu pysyy hyvin päässä, antaa tilaa (kireälle) nutturalle eikä kuitenkaan estä näkyvyyttä. Pituus on sopiva ja kädetkin löytyy tarvittaessa. Tuuli ei mene läpi, on lämmin, mutta sisätiloissa ei kuitenkaan tule hiki. Tykkään!
0
0
I would recommend for a friend
Jaakko M.

14.12.2017 (Edited 31.05.2021)
Varovainen aloitus, kun hobitti-viitta vasta pätkähti postista kouraan. Kaksi päivää nyt hämmentänyt kanssa-ihmisiä kadulla ja julkisissa.
OK, näyttäähän tämä päällä vähän siltä, että on jatkamassa matkaa suoraan Keski-Maahan. Onneksi lopetin välittämisen joskus 90-luvulla.

Mutta luhka on yllättävän lämmin, kun ilma pussittuu sisään. Olen käyttänyt tätä nyt ensin ohuen takin kanssa, mutta yhdistelmä oli sen verran lämmin, että seuraavan päivän vedin hupun vaan flanellipaidan päälle. Hyvin tarkeni näillä keleillä.

Hihan kiristykset on näppärät, mutta massiivisemmilla ranteilla varustettujen kannattaa miettiä lenkkien siirtämistä avarammiksi. Tämmöiselle narukädelle ei tuottanut ongelmaa. Sen verran pitkä kuitenkin olen, että pelkiltään käytettynä voisi olla vaaksan verran pituutta joka suuntaan. Tämä toisaalta helpottaa tilanteita, joissa luhka on lisälämmikkeenä muun vaatetuksen päällä: liian pitkän kanssa huono toimia.

Kaikkiaan olen vakuuttunut: korkea kaulus nousee hyvin suojaamaan kasvoja, huppu on tilava, materiaali on ensiluokkaista. Sen verran on mittaa, että reppu tai olkalaukku jää helman alle hyvin. Pro tip: laita olkalaukku pään yli _ennen_ hupun pukemista, jos haluat että se jää suojaan. Itse olen mennyt yritys->välitön-erehdys menetelmällä joka kerta liikkeelle lähtiessä.

Rupean antamaan viitalle runtua ja pyörimään metsässä. Hinkkaan arvostelua tulosten perusteella. Veikkaan, että seuraava päiväretki tulee olemaan villapaita + luhka -setillä varsin pian. Jahka pakkaset kovenee, koitan miten pelaa taukovaatteena ja nuotiolla lisälämmikkeenä.
21
0
Kierto Circular Economy
Return this product used but clean and unbroken, and you'll receive half of the product's original price as Varusteleka credits. Service is available only in Finland. Only Registered users can make Kierto returns. See more information about Kierto.