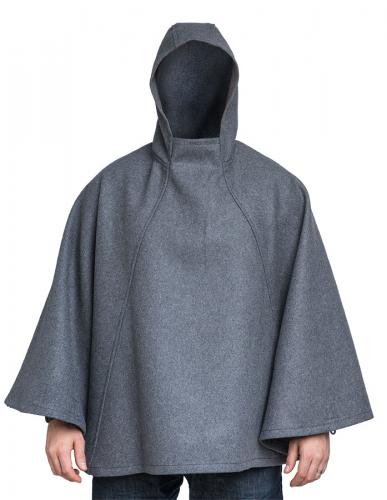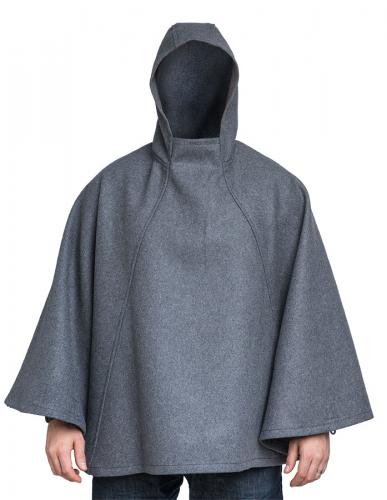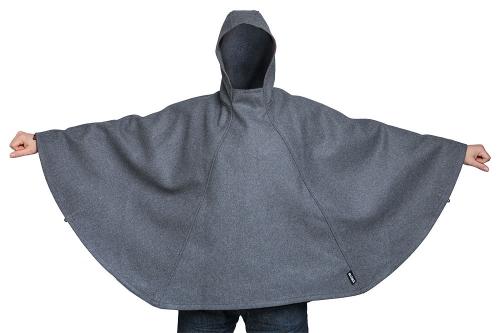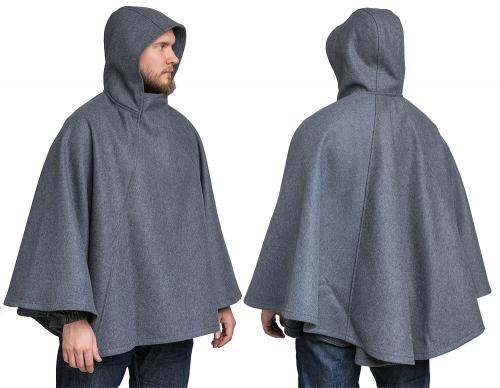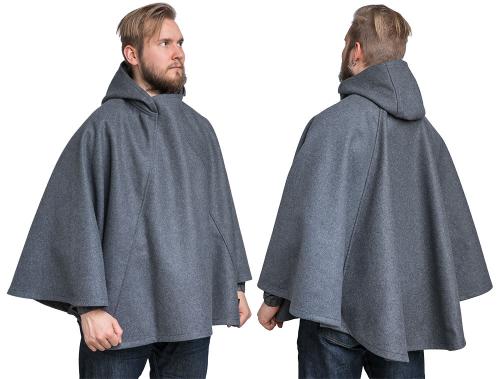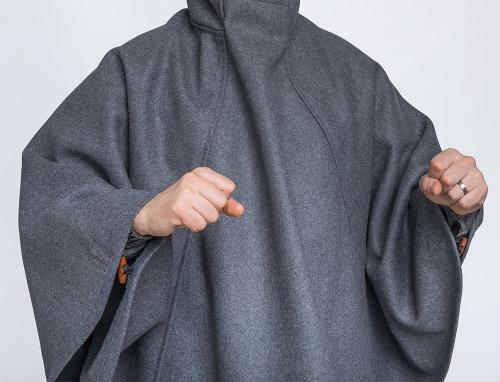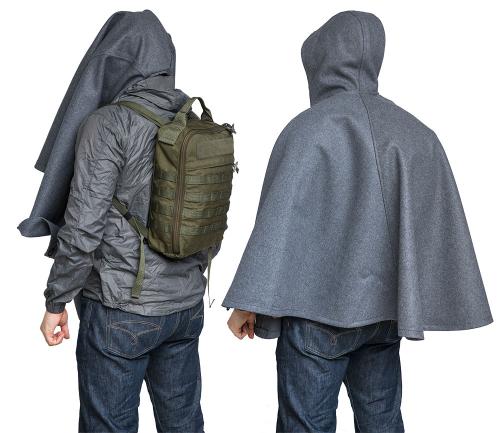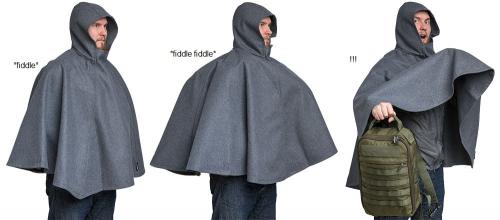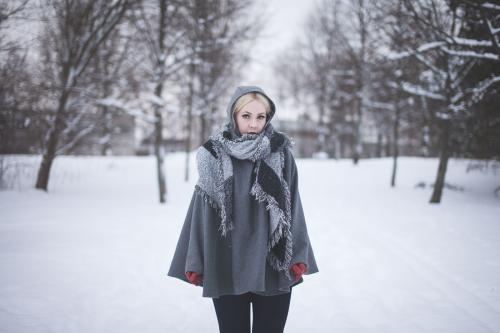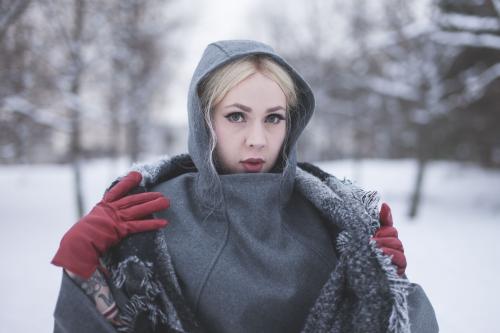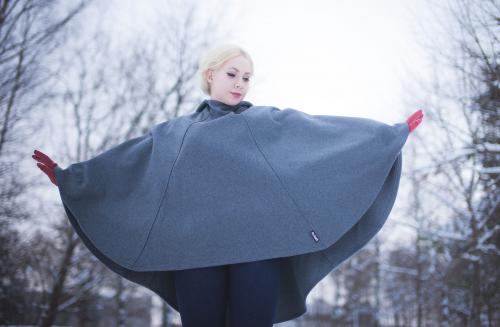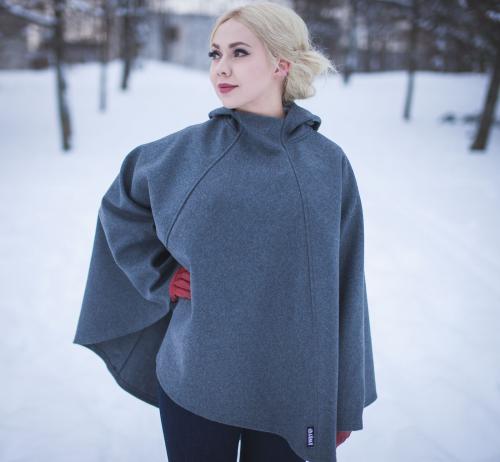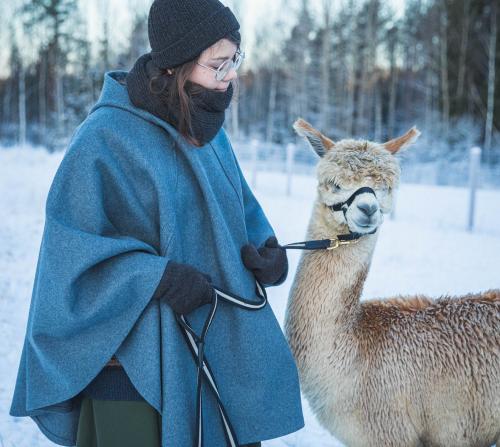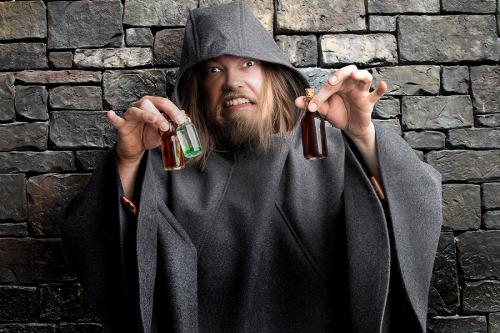 Jämä Luhka
Price 92.99 USD
excluding VAT
The good old "Laplander Cloak". The Luhka, or Luhkka, is an age-old poncho style design that originates from the northernmost parts of Scandinavia.
Loading products...
Trouble with the metric system? Try our converter: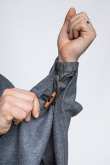 The good old "Laplander Cloak". The Luhka, or Luhkka, is an age-old poncho style design that originates from the northernmost parts of Scandinavia.
A simple and versatile piece of clothing developed by the indigenous peoples of the far north for outdoor work in a harsh climate.
A clever little detail we added is the simple toggle button "cuffs". By closing these toggles a sort of sleeve is formed at the outer edge of the cloak. These help keep the luhka in place and prevents it from flapping around wildly, quite handy when doing any kind of work with your hands.
The hood and collar area are sized to fit regular head sizes. The head hole and collar are quite tightly sized so that they cover up your neck properly for wind protection. If you have a larger head, 60+ cm / 7 1/2", the neck hole might be quite tight at first. But, luckily the wool fabric can be stretched out.
Material
Finnish Defence Forces surplus wool frieze, this is the stuff used in Finnish army M/65 series of field clothing. Its strong qualities are a large wool content and the fact that it really is meant for clothes, so it's more durable compared to cut-up blankets.
Care
Airing out will do the garment good and this is basically the regular "cleaning" you'll do. What comes to more thorough cleaning, as the first option it's best to try just brushing off any stains or spot clean with water and mild soap. If you manage to get this dirty as hell and absolutely need to use a washing machine, try a gentle wool cycle at 30 degrees Celsius (86 F). Use wool care products while you're at it, it'll make the garment restore its natural woolly goody features. Hang dry, stretch the garment out a bit while it's drying.
One-size-fits-most
Since this is a poncho type cloak the only detail that is somewhat important when it comes to sizing is the hood. The hood is designed to fit "regular" size heads with a wool cap or even fur hat on. Bigger melons might be a tight squeeze with thicker headwear on.
Jämä is upcycled surplus
Click here for the whole Jämä selection.
Jämä is a Finnish word meaning leftovers or scraps. It's also one of our house brands for equipment made from recycled or surplus materials. From time to time we accumulate stuff that doesn't sell well but is made out of outstanding materials. We've also got several capable seamstresses here, and the equation is pretty clear: cut that useless stuff apart and sew it back together to create something useful.
Because Finnish labour is one of the most expensive in the world, these are very simple, practical and rugged in design. Our development and prototype production remains in-house while most of the production is outsourced to Turku - still within Finland. Simplicity means strength: the fewer parts there are, the smaller the chance of breaking anything.
Recommendations
Loading products...
Reviews
You have already submitted a review. You can edit your text by clicking on it.
Log in and write a review.
Remove filter
Suomi
(8)
English
(8)
I would recommend for a friend
Jaakko M.

14.12.2017
Varovainen aloitus, kun hobitti-viitta vasta pätkähti postista kouraan. Kaksi päivää nyt hämmentänyt kanssa-ihmisiä kadulla ja julkisissa.
OK, näyttäähän tämä päällä vähän siltä, että on jatkamassa matkaa suoraan Keski-Maahan. Onneksi lopetin välittämisen joskus 90-luvulla.

Mutta luhka on yllättävän lämmin, kun ilma pussittuu sisään. Olen käyttänyt tätä nyt ensin ohuen takin kanssa, mutta yhdistelmä oli sen verran lämmin, että seuraavan päivän vedin hupun vaan flanellipaidan päälle. Hyvin tarkeni näillä keleillä.

Hihan kiristykset on näppärät, mutta massiivisemmilla ranteilla varustettujen kannattaa miettiä lenkkien siirtämistä avarammiksi. Tämmöiselle narukädelle ei tuottanut ongelmaa. Sen verran pitkä kuitenkin olen, että pelkiltään käytettynä voisi olla vaaksan verran pituutta joka suuntaan. Tämä toisaalta helpottaa tilanteita, joissa luhka on lisälämmikkeenä muun vaatetuksen päällä: liian pitkän kanssa huono toimia.

Kaikkiaan olen vakuuttunut: korkea kaulus nousee hyvin suojaamaan kasvoja, huppu on tilava, materiaali on ensiluokkaista. Sen verran on mittaa, että reppu tai olkalaukku jää helman alle hyvin. Pro tip: laita olkalaukku pään yli _ennen_ hupun pukemista, jos haluat että se jää suojaan. Itse olen mennyt yritys->välitön-erehdys menetelmällä joka kerta liikkeelle lähtiessä.

Rupean antamaan viitalle runtua ja pyörimään metsässä. Hinkkaan arvostelua tulosten perusteella. Veikkaan, että seuraava päiväretki tulee olemaan villapaita + luhka -setillä varsin pian. Jahka pakkaset kovenee, koitan miten pelaa taukovaatteena ja nuotiolla lisälämmikkeenä.
16
0
I would recommend for a friend
Kaisa K.

27.12.2017
Ihan ok luuhake. Materiaali ja mitoitus kelpo. Kategorisoin itseni normaalipäiseksi naiseksi ennen tätä tuotetta. Eipä meinaa kuuppa mahtua aukosta ulkomaailmaan. Taidan antaa tuotteelle hieman höyryä ja venytystä, koska en kaipaa enempää kiristystä huipulleni.
3
0
I would recommend for a friend
Christian E.

20.02.2018
Cuts wind well and covers the whole body when squatting. Arrived a bit stiff, but softened a tad after a handful of uses. I use mine primarily as a rain cape when cycling. The quality is much higher than even the least chincy nylon ones marketed specifically for the purpose, and is less than half the cost of an oilskin rain cape, plus it provides warmth even when soaked unlike either of the aforementioned. Makes you look a bit like hippy, but is in my opinion decently fashionable in addition to being deeply practical.
13
0
I would recommend for a friend
Christian E.

20.02.2018 (Edited 20.02.2018)
I would recommend for a friend
Joel L.

22.02.2018 (Edited 07.05.2020)
Tekee mitä pitää. Materiaalit, saumat ja leikkaus hyviä, huppu just sopivan kokoinen. Kaula-aukko on varsin napakka, kuten kuvauksessakin sanotaan. Puikulanappien "hihansuu" saisi olla aavistuksen löysempi, ½ tähteä pois siitä,
0
0
I would recommend for a friend
Sami C.

27.02.2018
Tänään saapui paketti postiin ja samantien meni luhka testiin. Pakkasta noin -15°C ja kaavun lisäksi alla villapaita, vähän tuli vilu, mutta yllättävän hyvin tuntuu pitävän lämmön sisällään. Pieni tuulenvire aiheutti eniten ongelmaa, puhaltamalla sarkakankaan läpi, jolloin lämpöä pääsi karkuun.

Näin kovilla pakkasilla tarvitsee toisen takin alle, jolloin ei varmasti tule kylmä.

Oma pääni on kokoa 60 ja hiuspehko päälle ja en kokenut pääaukkoa ahtaaksi. Hupussa tosin olisi saanut olla kiristysnyörit, mutta sellaiset saa viritettyä itse. Muuta motkotettavaa on selkäpuolen pituudesta, mieluusti saisi olla vaikka 20cm lisää pituutta, jolloin luhka toimisi samalla takapuolelle lisäerusteenä istuessa ja kävellessä alle sopisi isompi reppu.

Tuli myös ajatus eteen tulevista kädenaukoisa, jolloin tauolla voisi työntää vain sormenpäät ulos, nyt joutuu kaivamaan reunan alta käden esille. Onneksi mitoitus on niin reipas, että tämä ei tuota ongelmia.

Työn jälki on hyvää ja materiaali varmasti toimiva, sarkahousuille hyvä kaveri. Viikonloppuna testaamaan toimivuus metsässä ja nuotin äärellä.
2
1
I would recommend for a friend
Katri K.

04.03.2018 (Edited 04.03.2018)
Näin kuvan facessa ja eilen sitten kävin ostamassa. Tänään päiväkävelylle jäälle testiin. Alla oli merinovillakerrasto ja Muhoksen villan villapaita ja hyvin tarkeni.



Ostohetkellä epäröin ostopäätöstä kaula-aukon ahtauden osalta. Kaula-aukko on sellainen, että silmälasit on riisuttava, jos haluaa, että ne säilyvät ehjänä pukemisessa/riisumisessa, Pääni 56 cm mahtuu juuri ja juuri läpi kun pujottaa juuri oikeassa kulmassa. Ostin kumminkin ajatuksella, että askartelen pienet halkiot tarvittaessa. Ehkä tämä toimii ilman niitä kuitenkin toistaiseksi.



Toinen säätöni liittyy käsiaukkojen nappula-lenkkisysteemin sijoituskohtaan. Ajattelin ommella kokeeksi toisen lenkin nappulasta etupuolelle päin ja testata. HArvoin kuitenkaan kuljen kädet täysin sivulla ja nykysijoituksella eteen jää hiukan liikaa kangasta. Veikkaan, että tämä parantaisi myös käytettävyyttä repun kanssa liikuttaessa - tänään testasin olkalaukulla. Ehkä noita lenkkejä ja nappuloita voisi olla useampi, jolloin voisi säätää oman maun mukaan.



Vaate on joka tapauksessa toimiva ja luulen, että meillä on edessä monia mielenkiintoisia seikkailuja. Pohdinpa, että tämä voi toimia jossain tilanteessa varapeittonakin. Menee yllättävän pieneen nippuun.
3
1
I would recommend for a friend
Jenni T.

06.03.2018
Tästä tuli heti yksi lempivaatteistani, huipptuote. Mitoissa, laadussa tai mussakaan ei moitittavaa. Muutaman kerran käyttökokemuksella olen huomannut kuitenkin kaipaavani jonkinlaista taskua. Kehitysehdotus seuraavaan versioon onkin luhkan etuosaan ns. kengurutasku elämää helpottamaan, johon voisi sujauttaa avaimet, kännykän, koiran kakkapussit (tyhjät) :D jne. Taskun puutteesta miinuksena yksi tähti.
5
0
I would recommend for a friend
Jesse K.

05.05.2018
Talven ajan meidän perheen metsäretkillä testattu ja hyväksi todettu. Unisex malli, joten sopii meille molemmille. Materiaali on aivan superia ja muoto vaatteessa on todella hyvä, koska lapista lainattu.
Ainoa huoli on uskaltaako kalpeanaama näinä päivinä liikkua kylillä tämä päällä vai tuleeko joku syyttämään kulttuurin omimisesta?
11
7