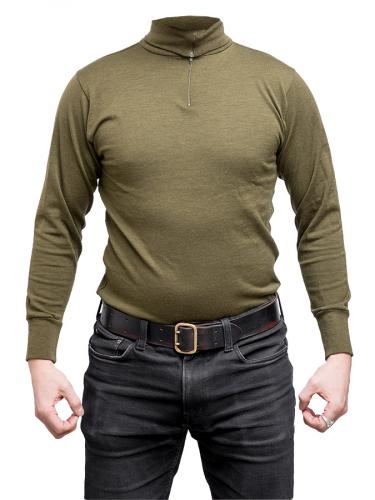 Italian turtle neck shirt, olive drab, surplus
Price 18.99 USD excluding VAT
Flat Rate Shipping to USA $9.99
90 % recommends
Sold 18 pcs in the last two weeks
Loading products...
Trouble with the metric system? Try our converter: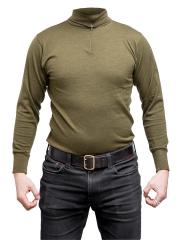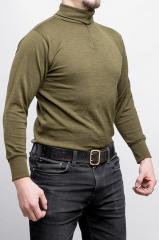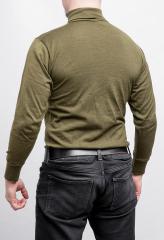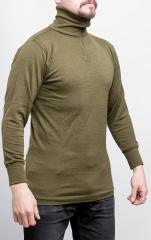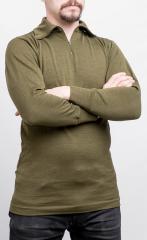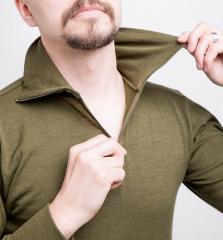 This is The Shit, and although Italian, we don't mean it in a bad way. Half wool, half cotton, for half of the price these turtle neck shirts would cost if manufactured new. Speaking of, these are pretty much in unissued condition.
Not only a pleasing sight for sore eyes with its warm moss green colour scheme, this shirt is amazingly also very functional: suitably long hem, tall zippered collar and a nice form fit. Especially for this price this shirt is some pretty damn good surplus!
The only downsides seem to be the fact that the basic sizes are only made in "Regular" height and the fabric is a tad more coarse than Merino wool. If these don't concern you, Buy This Shirt.
Material and care
Made of 51 % wool, 39 % cotton and 10 % polyamide. The tags advise to wash the garment in 50 degrees Celsius, but we believe a 40 degree wool cycle would also work. Just airing helps.
Size info
Sizes in a simple S, M, L system. In the brackets you see our estimates for recommended user's height and chest circumference; look carefully, these don't have even increments.
The height size seems to be pretty much regular, so these are best for 170-180 cm tall people, except size X-Large is notably longer. The sleeves are cut a bit short on purpose, they are not supposed to extend beyond the wrist. If you have doubts, just pick a size larger. Remember, a slightly tight-fitting shirt will stretch in use.
Our main picture model's strategic measurements are 176 / 96 cm, and he wears size Medium.
Condition
These seemed to be unissued overall. Some were in manufacturer's plastic, some in other bags put on them by our German supplier. Don't panic, these are all genuine Esercito Italiano stuff.
Recommendations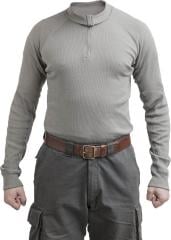 Dutch turtleneck undershirt, zippered, gray, surplus
13.99 USD
Sometimes purchased with.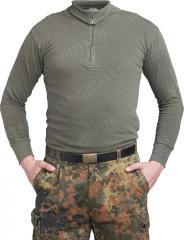 BW turtle neck shirt, olive drab, surplus
3.99 USD
Similar product.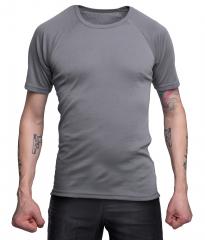 Dutch t-shirt, moisture wicking, grey, surplus
9.99 USD
Sometimes purchased with.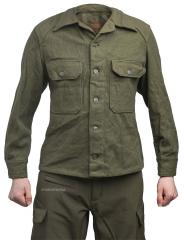 US M-1951 wool shirt, surplus
22.99 USD
Sometimes purchased with.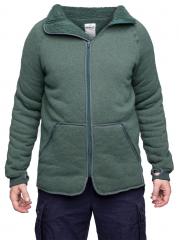 Dutch KL Flame Resistant Bear Shirt, Wool, surplus
22.99 USD
Sometimes purchased with.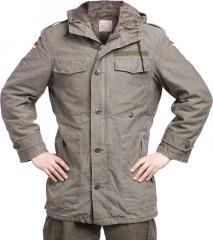 BW parka, olive drab, surplus
55.99 USD
Sometimes purchased with.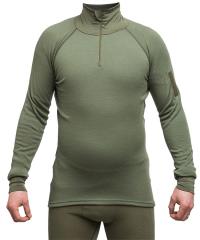 Särmä TST L2 Turtleneck Shirt, Merino Wool
55.99 USD
Similar product.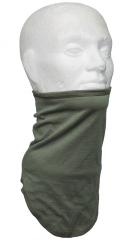 Särmä TST L1 Neck Tube, Merino Wool
11.99 USD
Might be of interest.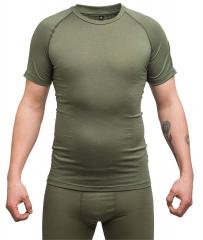 Särmä TST L1 T-shirt, Merino Wool
22.99 - 30.99 USD 30.99 USD
Similar product.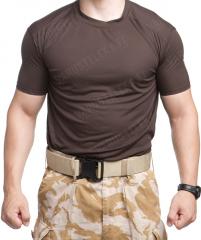 British Undergarment, Body Armour, surplus
7.99 USD
Similar product.

Sonett wool care 300 ml
9.99 USD
Buy also.

Sonett olive laundry liquid for wool and silk 1 l
12.99 USD
Buy also.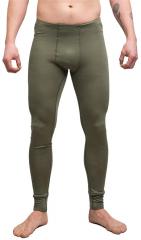 Särmä TST L1 Long Johns, Merino Wool
27.99 - 36.99 USD 36.99 USD
Buy also.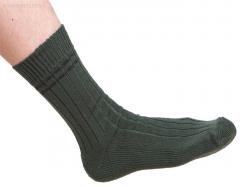 Särmä TST Boot Socks, Merino Wool
12.99 USD
Might be of interest.
Reviews
You have already submitted a review. You can edit your text by clicking on it.
Log in and write a review.
Remove filter
Suomi
(4)
English
(6)
I would not recommend to a friend
Sami K.

28.03.2018 (Edited 28.03.2018)
Disclaimer: omat paitani eivät ole peräisin Lekasta vaan ulkomaisesta ylijäämäkaupasta, mutta samasta paidasta on kyse.



Materiaali on ihan mukava ja sopivan lämmin Suomen lähes jokaiseen vuodenaikaan olematta liian hiostava lämpimämmälläkään kelillä ihan kesähelteitä lukuunottamatta. Mutta sitten ne miinukset: hihat ovat oikeasti tosi lyhyet, 181/97 mitoilla valkatusta paidasta hiha jää noin 5 senttiä liian lyhyeksi. Lisäksi saumojen ompeleet olivat todella kehnoa tekoa armeijavaatteeksi - kummastakin omistamastani paidasta aukesi hihan sauma jostain kohdasta muutaman kuukauden sisään. Eli jos ostat tämän, varaudu henkisesti siihen, että voit joutua ompeluhommiin. On toki mahdollista, että omani olivat jostani hylkyerästä ja että Lekan paidat ovat parempaa erää. Tähtien lukumäärä perustuu siihen, että jos ompeleet kestävät, tämä on ihan ok paita vaikka hihat jäävätkin pohjoismaisella ruumiinrakenteella lyhyiksi, mutta mahdollisesti huonojen ompeleiden vuoksi en voi oikein suositellakaan.
4
5
I would recommend for a friend
N.N.

29.03.2018 (Edited 30.03.2018)
Kivan napakka, ehkä L-koko on hieman tiukempi kuin tavallisesti. Hihojen pituus riittää sopivasti 178cm pitkälle. Kaulus hyvä, mutta jos on kertynyt kaksaria, niin turha yrittää vetää ketjua kiinni. Ihan alkufiiliksillä hyvä aluspaita, menee pitkälle alkukesään ja kukaties kesälläkin jos on tavallinen Suomen kesä.

Edit: kokeilin hiihtolenkillä tätä alle ja olikin juuri hyvä. Villa pitää sen lämpinä vaikka kostuukin ja korkea kaulus suojaa hyvin kaulan. Metsäsuksilla, pakkastakin kanssa tuli ihan kuuma kun aurinko lämmitti.
8
0
I would recommend for a friend
kari l.

08.04.2018
Tuotekuvaukseen olisi hyvä päivittää paitojen kaulusten ympärys. Muuten L-koon paita istui itselleni hyvin, mutta vetoketju kiinni kaulus oli aivan liian tiukka. Jos ei haittaa, pitää kaulusta auki niin hyvän oloinen paita
4
0
I would recommend for a friend
Ingo H.

18.04.2018 (Edited 18.04.2018)
Nice shirt. Mine came in it's original manufacturers wrapping. Very nice material. The zipper is a very flimsy affair. Pretty much like the idea of the Italian nation. Had to fix it already after trying the shirt on 2 times and not holding my breath this thing will last very long. Very likely going to replace it with a stronger one. Still a very nice shirt for a good price given the material. Pretty form fitting like described. If in doubt order one size up. Neck if zipper closed completly is quite tight. Wont choke you but it's tight. In retrospect the 5 stars were maybe a bit too enthusiastic. Still would rate it at 4 stars though. Would buy again or recommend it.
3
0
I would recommend for a friend
Terry H.

19.04.2018
Great deal soft comfortable I'm 42 inch chest large fits great snug not tight great second layer
3
0
I would recommend for a friend
David F.

17.05.2018 (Edited 05.06.2018)
These are incredibly well made. Mine came very close to new. At 186 cm and 80 kilos the XL was form fitting, a bit tighter than I would prefer, but I could put it on. The Medium German T-shirts fit me looser. This is a great shirt but sizes run very small, or at least mine was. I ordered a second and it came new int he bag! Hell yeah! The new one fits much better, I suspect my first one was shrunk at some point in its career.
1
0
I would recommend for a friend
Calvin C.

27.09.2018 (Edited 02.11.2018)
A good turtleneck shirt and comparable to the surplus German ones on this site. There's two caveats to note: 1) as Ingo says the zipper isn't the best and using it is not "smooth", and 2) if you're not wearing this over an undershirt, you might feel a tad itchy as you move your body.



UPDATE: the itchiness doesn't seem like a problem at all. Also, watch out for weak seams on the sleeves.
1
0
I would recommend for a friend
Jouni H.

07.10.2018
Aika hyvä paita
0
0
I would recommend for a friend
Jonathan W.

28.11.2018
Good shirt, a couple of flaws:
-Zipper is sad
-Zipper seams are scratchy and not sewn down super well
-Shirt is a little scratchy

That being said, the shirt is really nice for the money and fits well (I'm 5'10 200 lbs with an athletic cut and the large fits snug-but-good). Honestly I wish they were a regular turtleneck or long-sleeve without the janky zipper.
1
0
I would recommend for a friend
Rolf J.

31.01.2019
Good shirt with a somwhat flimsy zipper wich gets stuck sometimes. It does get smelly a bit faster than pure wool shirts. Sizing is accurate. I am 1.80m with a 102 cm chest and large fits fine.
0
0