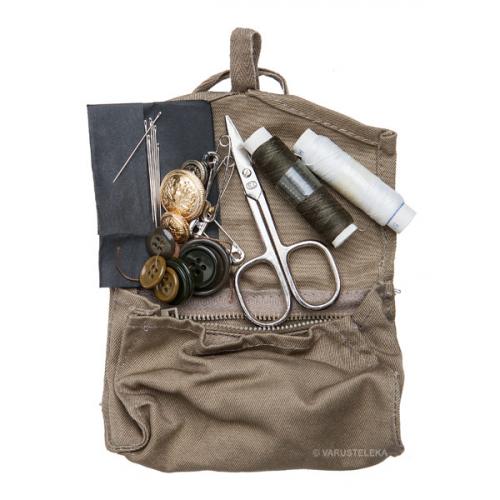 Italian sewing kit, surplus
Price 1.99 USD excluding VAT
Flat Rate Shipping to USA $9.99
100 % recommends
Army surplus
Sold 59 pcs in the last two weeks
In stock 12 pcs. Also available in our walk-in store.
Trouble with the metric system? Try our converter: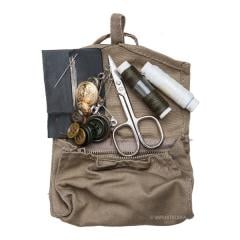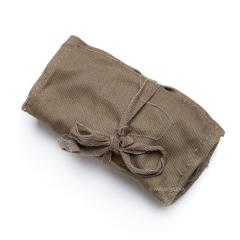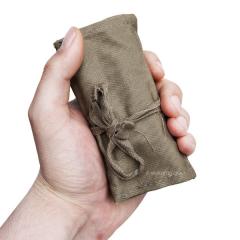 Basic sewing necessities in a handy little roll pouch. Although the Italian workmanship shows, these are perfectly fine sets.
Contains most of the following:
A few needles
Small scissors
Some thread
Some buttons
A few safety pin
Measurements closed about 7 x 12 x 5 cm.
Italian military surplus
These look untouched. The contents may vary a bit though.
Reviews
You have already submitted a review. You can edit your text by clicking on it.
Log in and write a review.
Remove filter
Suomi
(8)
English
(18)
I would recommend for a friend
Nyt L.

29.09.2016 (Edited 18.11.2016)
Esbit- keitin mahtuu tähän pussukkaan.
8
0
I would recommend for a friend
Haakon W.

03.10.2016 (Edited 23.11.2017)
I've used a repro of the WWI British Hussif. This is miles of improvement. Love it, and plan to use it for years to come.

Edit: GF loved mine so much, she wanted her own.
3
0
I would recommend for a friend
Harri K.

11.11.2016 (Edited 18.11.2016)
- hintansa väärti, sakset niitä viilattuani jopa paremmat kalliisiin fiskarseihin verrattuna (voi vaatia timanttiviilan riipuen noiden terävyydestä)
- sisältö kannattaa päivittää paremmilla langoilla/neuloilla, muuten hyvä ostos!
1
0
I would recommend for a friend
Konsta L.

14.12.2016 (Edited 20.12.2016)
Ei maksa juuri mitään ja sisältää tarvittavat ompeluvälineet muummoassa hanskojen korjaamiseen ja kauluspaidan säätämiseen. Esimerkiksi SA kauluspaidasta tuli sopivasti istuva tällä ompelusetillä! Pussukkaan mahtuu vielä paljon lisää ompelutarvikkeita.
2
0
I would recommend for a friend
Markus K.

17.12.2016 (Edited 20.12.2016)
Vaatteet ja vermeet kondikseen.
3
0
I would recommend for a friend
Dean F.

31.01.2017 (Edited 12.04.2017)
Great little kit to keep with your gear for repairs away from home. Costs pennies compared to what these essentials would cost bought separately at a store. Just add some larger needles and button/upholstery thread for really tough repairs and you're all set.
6
2
I would recommend for a friend
Alan H.

04.02.2017
Very handy little kit, great value for money. Needles, two lots of thread, metal and plastic buttons, safety pins, scissors, and a couple of unidentified small metal objects. All in a nice little pouch. Cannot fault it for the money.
6
0
I would recommend for a friend
Mikael O.

14.05.2017
Great little kit for the little wallet.
Have it in my bag for quick-fixes.
2
0
I would recommend for a friend
Eric B.

13.07.2017
Great little kit for the price; mine in particular seems to have been untouched, with two good sized spools of thread (one green, one white, both have 50 metres of thread), some plastic buttons of various sizes (all on a loop of thread) as well as some brass buttons along with a good pair of scissors (in need of some lubrication). The kit also came with ample safety pins and a pair of fairly small, round metal objects of unknown purpose. The kit also came with a good number of needles with varying sizes. Only real quality issue is that the needles arrived with some rust on them, but this is a fairly trivial issue and I can easily rectify it.
4
0
I would recommend for a friend
cedric v.

13.08.2017
Everything in the picture was included. Some rust on the scissors. But for €2 you stuff extra's in it as needed. I bought it for the bag that easily fits in a kit when travelling abroad.
3
0
I would recommend for a friend
Jonathon S.

25.08.2017 (Edited 28.10.2017)
Received a nice kit with all described. Only issue is the zipper is stuck in place, and no amount of WD-40 will move it. Hopefully that changes, but if it does it'll be a 5 star for certain.

(Update)
Zipper freed up after awhile, really amazing just how much this kit has! Plenty of spare needles, all wrapped up, scissors, thread, buttons, the perfect pocket kit for repairs while hiking or otherwise in the outdoors! And they're dirt cheap!
3
0
I would recommend for a friend
Kari K.

07.09.2017 (Edited 08.09.2017)
Got this tday, Nice little pack. Info: those two metal objects are sew throught male snaps (for certain Italian size)
to keep collar etc. up first aider...Scissors are rather good., but don't forged to oil them, after the nickel coating is of those goes - rusts in a second.. If you are super human, you can put the the thread throught needles eye in camp fire with cold fingers... I'm not so I addet a threader in this kit.
2
0
I would recommend for a friend
Samuel B.

07.09.2017
Handy little kit. If you can get yourself a Bundeswehr one. But it fits the needs.
4
0
I would recommend for a friend
Alex S.

02.10.2017
The first thing you'll need to repair with this sewing kit is the sewing kit itself. But for $1.99, one can hardly complain.
2
2
I would recommend for a friend
William W.

20.10.2017
An extremely handy piece of kit very happy with the quality and condition.
2
0
I would recommend for a friend
Kalervo S.

24.10.2017
Matkalle mukaan, kaikki tarpeellinen vaatekorjauksiin kentällä voipi ite lisäillä sopivan värisiä lankoja mukaan.
4
0
I would recommend for a friend
Samu P.

27.11.2017
I have managed to perform all the sewing I've needed to do, only with this kit. One minus star for the threads condition; at least my threads were old and somehow worn out, so it couldn't handle a hard pull when sewing. So I'd recommend you to get some good-quality threads in addition to this little pouch.
2
0
I would recommend for a friend
Steve M.

02.02.2018
Just what you need.
2
0
I would recommend for a friend
darryl b.

09.03.2018
great price, quality product, neato carrying apparatus. splendid little emergency sewing kit.
1
0
I would recommend for a friend
Ladislav S.

06.06.2018
I would recommend for a friend
Taru R.

16.07.2018
Halpa ja hyvä setti. Neuloja, lankoja, nappeja, hakaneuloja, sakset..... kaikki mitä tarvitsee kun nappi lähtee irti tms. Osa neuloista oli hiukan ruostuneet, mutta sehän on ymmärrettävää kun käytetty setti on.
2
0
I would recommend for a friend
Peter D.

03.01.2019 (Edited 13.01.2019)
Quality and state of contents seem to vary between kits, but I seem to have lucked out. Both the pouch and the contents were basically like new. For a couple bucks, it was a steal. For those wondering, since contents seem to vary a bit, mine included three bobbins of thread - red, green, and white, - several buttons of various designs, a few metal rivets which is a bit puzzling since you'd have no tool to put them on, a plethora of safety pins in every size I could think of, and two sewing needles, one smaller one and one larger one. It's by no means a complete kit or a whole slew of stuff, but for the price getting even all the individual contents, let alone together, in a little pouch, would be challenging. Definitely worth the money just to get the contents, let alone the pouch. The pouch itself was immaculate. Kind of had the smell something fabric does when its dusty and has laid around for a long time undisturbed, but other than that it was fine. Zip opened without problems, the material is sturdy and had no stains or wear. Basically like new. The zipper *is* a cheapy one, and if you get a kit that has problems that;'s probably going to be your problem, I imagine. I carry this in a pouch on my belt since the machine shop I work in likes to massacre clothes apparently, and it's already gotten put to work. I added myself some pieces of fabric for patches, but beyond that, it's had everything I'd need.
0
0
I would recommend for a friend
Terry H.

23.01.2019
Great piece of kit to have can't bet the price was fully stocked and the scissors are stainless!
0
0
I would recommend for a friend
Luke M.

09.03.2019
I love these things! Not for the sewing gear (although that's just fine), but for the little pouches, which are outstanding for EDC junkies on a budget. Here's my recipe for great victory:

* Buy 3 of these (or 4, or 5!)
* Identify the one with the most buttons or sharpest scissors or whatever, and designate it as your sewing kit
* Empty the others (keep the sewing stuff at home in a drawer - or beef up your designated sewing kit with extras)
* Turn one into a mini IFAK. No, you won't fit an Israeli bandage in here, but you can make a perfectly good "boo boo kit" for everyday life. A small bandage, some bandaids, alcohol swabs, tweezers, pain killers, etc, fit no worries
* Turn one into a little EDC utility kit. Victorinox pocket knives, BIC lighters, Fisher space pens, small Soviet army combs, USB sticks, ear plugs and plenty of other handy knick knacks fit in these nicely.
* Use your imagination for the others. Fire starting kit, fishing kit, whatever you need.

No, they're not half as well-built or hard-wearing or tacticool-looking as a proper EDC pouch from Maxpedition or Tasmanian Tiger, but they do the job and are ten times cheaper! Use your Italian sewing gear to attach some different coloured bits of fabric to each pouch so you can tell them apart without opening them - or just label them with a Sharpie. If you really wanted to, you could upgrade them a bit by cutting off the tie-up wraps and sewing on some elastic loops or velcro or whatever. Don't forget to wax them up for waterproofing! You can easily stuff half a dozen of these in the pocket of a windproof smock or the smaller side of a Finnish gas mask bag.

These are just super handy, and for 2 Euro you couldn't even buy the zipper, fabric and binding to make one of these yourself. Stock up while you can!
0
0
I would recommend for a friend
Andrés S.

16.04.2019
It contained every item advertised. The only drawback is that the German one feels better made, but for 2€ drop it in your shopping cart and get yourself a sewing kit, because I'm willing to bet that you don't own one.
1
0
I would recommend for a friend
Lila p.

23.06.2019 (Edited 23.06.2019)
Not bad. White and green thread, not of fantastic quality. I cut the ribbons short and tapered them. I put the scissors in the sewing tube to make sure it doesn't stab anything. Does what you expect really.
0
0
Army surplus
Military equipment is traditionally excellent stuff; it combines durability with very affordable prices. Army surplus finds its way to the civilian market in the following way: the armed forces of one country or other decides to get rid of big batches of perfectly serviceable gear due to cuts in military budgets, said gear becoming obsolete or redundant or some other similar reason. Some of this stuff then finds its way to our storehouse, sometimes directly, sometimes through a third party. Every once in a while we even get random batches of collectibles and rarities from obscure corners of the world.