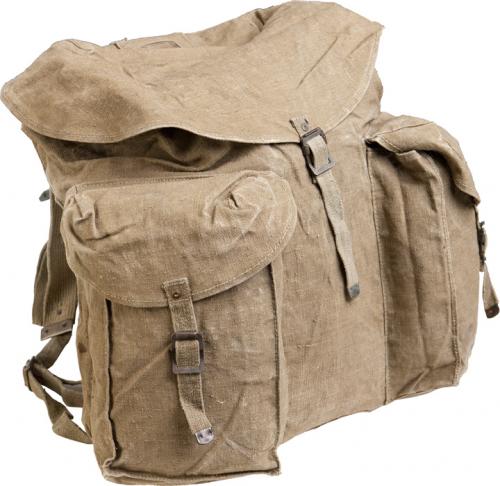 Italian mountain rucksack, surplus
Price 13.99 USD excluding VAT
Flat Rate Shipping to USA $9.99
88 % recommends
Sold 9 pcs in the last two weeks
In stock 50 pcs. Also available in our walk-in store.
Trouble with the metric system? Try our converter: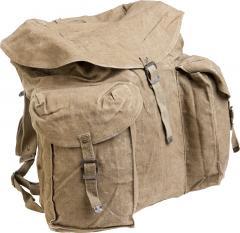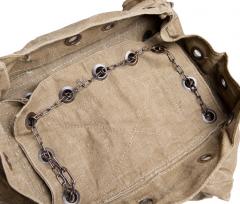 A large canvas/linen blend sack, with some very Italian details. Even though not actually a very good rucksack, this certainly is tough and has a certain retro charm to it.
Made in the days when luxuries like frames and sternum straps were seldom seen, this pack, as far as we know, was meant for mountain troops. It is probably for this reason that the main compartment's closure system is very secure, although thoroughly Italian in complexity: under the lid there's a huge array of metal grommets with a chain to put it all together. "How?" you ask. Well, don't ask us - we have no idea of the correct way to do this. We bet the Italians don't know either. See the picture for how we went about this. That took us a lot of time to do. The mouth itself doesn't have any tightening system - any piece of cord will do. Or chain, if you stay loyal to the style of the pack...
Apart from these oddities the rest of the pack is pretty run-of-the-mill: very basic shoulder straps with a quick release system and two outer pockets. You could easily come up with a DIY stiffener for the back. It could a be as simple as a cut up piece of foam mat.
For you all canvas and flax lovers (we know there's a lot of you around) this is an excellent deal - bomb proof army issue quality for tenth of the price of modern "retro" stuff. When was the last time you saw a linen rucksack as modern manufacture anyway?
Ítalian army surplus
Old, and in used, but serviceable condition.
Reviews
You have already submitted a review. You can edit your text by clicking on it.
Log in and write a review.
Remove filter
Suomi
(3)
English
(14)
I would recommend for a friend
Thomas H.

26.01.2017 (Edited 26.01.2017)
I am amazed at how much this holds. The contents of my LK35 packed to the brim makes this thing look like it's carrying a few pebbles inside. Also, I got it in a new condition with the fabrication notes and everything still attached to the pack. I put a Polish poncho down each of the pockets, fits very snuggly. The only complaint I have is that the clips and the material used in the fastening straps won't cooperate.
9
1
I would recommend for a friend
Patrice B.

07.05.2017
I enjoy this basic rucksack. Old look , old style, rustic ... a mat inside , additional shoulders straps ... Useful like a duffle bag too , in a corner of a jeep, in the trailer , and , easy to load a saddle of a donkey and go across the moutains . I bought several of this italian " zaino alpini" ;-) i like that's , a good deal !
15
3
I would recommend for a friend
Reg M.

01.06.2017 (Edited 01.06.2017)
The Rucksack arrived in pretty much brand new condition and was a dark olive brown/green colour. After checking it out I used my pocket knife to remove the internal flappy bits with chain link attachments by discretely cutting away their stitching - in my opinion the flaps are a silly and complicated design and unnecessarily heavy due to the chain. I replaced the tie down draw string with a piece of paracord and a toggle - perfect closure system. Once I figured out how the shoulder straps went together I also removed the big square metal webbing buckles that sit near your shoulders that served no purpose and jangled noisily. This bag doesn't look that big until you start packing but holy smokes it can hold a lot of gear! Very tough construction. Excellent value for money and a few small mods make it simpler, lighter and more enjoyable to use.
22
5
I would recommend for a friend
Steve B.

21.12.2017
Bought 2 now. 1st was the darker colour and looked unused. 2nd was the lighter thicker material, it stunck to high heaven of that well know storage smell. Sadly people on the underground did not like it so much when I carried it home. Quick wash in the bath and all sorted. I also use shoulder pads sold on here to attach to make them more comfier.
1
0
I would recommend for a friend
Esa P.

19.02.2018
Loistoreppu, ollut minulla jo vuosia käytössä. Kestävä, tilava ja miehekkään karunkaunis, eikä hintakaan päätä huimaa. Laatua halvalla. Ketjusulkua ei ole suunniteltu kiireisille matkaajille, mutta senkin oppii näppärästi hoitamaan. Ketjusulku ja karu ulkonäkö pitää varkaat loitolla.
4
1
I would recommend for a friend
Tom C.

27.04.2018 (Edited 23.05.2019)
My father had a similar one when conscripted in Alpini: he says that the reason for the chain is that you could close it with a lock, so your friendly comrades wouldn't steal your stuff.

The italian army meme lives on.
39
1
I would recommend for a friend
Fredrik T.

28.06.2018
Took me a good 15 minutes to close it with the chain. I also had to remove the first link because it was too big to get through the loops in the corners of the flaps. I chose to remove the exotic closure system entirely, as well as the metal buckles on the shoulder straps because i couldn't figure out their use. This won me 0,5kg and a lot of hassle. Used the spare fabric to make a laptop pocket (a 15" MacBook Pro fits perfectly).
Sadly it smells A LOT, even after a soak, a wash, and even a go in the washing machine. If you don't mind the surplus smell then this is a great bag, especially if you have a thing for rigid canvas. It's extremely roomy and rather comfortable to wear and has already served me well on a couple little hikes and as a gym bag. As a college student though, i feel like i need to get it stink-free before I use it at lectures.
4 stars because of the smell.
5
0
I would recommend for a friend
Jason C.

23.08.2018
It's like some magical Ali Baba sack that *looks* like a reasonable size but can actually contain a whole freaking city. This is what I travel with and it's unbeatable. As a day pack, I take along a veshmeshok, which rolls up smaller than a shirt.
4
0
I would not recommend to a friend
Felix A.

07.02.2019
Bought this rucksack a couple of months ago, when it first arrived i noticed the overpowering smell of mold and rot leaking from the package. And i've been trying to wash the smell out ever since the day i got it with minimal progress. Must have washed it at least 20 times using different methods (Washer, soaked in vinegar for days, soaked in boiling water, covered it in baking powder, soaked in water and washing powder & scrubbed it down with dish soap in the shower and washed , even left it out dry in the dead of winter to kill it off) Somehow the unadulterated fungal smell never seems to dissipate.

The rucksack itself is very nice looking and durable, but the smell is absolutely horrible. So if you enjoy your rucksacks smelling like spores of mold and fungus go ahead and buy this one you'll love it.
5
3
I would recommend for a friend
Andrew D.

14.04.2019
This is the cheapest pack for it's size, it's comparable to a large Alice without all the extra shit. But since it's that big I used the original straps and wrapped them tightly around a Norwegian Telemark/Ludwig pack's frame. Just wrap around outside where the leather straps go three times then wrap around the middle and bottom cross bars and close the canvas straps there making sure it's all in between the frame and pack. Take the D-ring side and push it onto the frame peg and zip tie it closed. Take the loop side and get it over the frame peg and take a pliers and squeeze it closed. Now with those long telemark straps you can strap a duffle bag or w/e you want to the bottom of the frame, if you figured this all out you'll realize it's heavy as shit so don't be a bitch. Also if you figured this out you'll realize everything is tighter than a Large Alice with a MSS carrier and canvas and steel is better than nylon and aluminum. I also padded the white leather straps and added a waistbelt, i still have to figure out how to strap a czech gas mask bag to it for a third pocket in the middle. I tried it once as it was and I wouldn't ever use it like that, might be possible if you added some sort of support in the inside but i was never a fan of internal frames. I like to call mine the Hate Pack.
4
0
I would recommend for a friend
Peter H.

17.04.2019
Brilliant item, easily big enough to fill my needs whilst remaining rugged and tightly sealed. Dropped one star as shipped with no shoulder straps but I can fix this with my needlework skills.
0
0
I would recommend for a friend
Heli S.

14.05.2019
Olisin löytänyt paketin noutopaikasta hajun perusteella. Aviomies ei antanut tuoda reppua sisälle kun se kuulema tuoksahti aika vahvasti... Värjäsin repun, väri tarttui hyvin mutta irtoväriä jäi paksun kankaan laskoksiin. Keitin liiat värit pois, reppu kesti 10min kiehuvassa vedessä -ja haju myös! Liotin vahvassa etikkaliemessä vuorokauden, kuivatin ulkona, pesin 60 asteessa, kuivatin ulkona, pistin jätesäkkiin ja paljon ruokasoodaa perään, annoin olla pari päivää, ja ta-dah! Ei enää haise. Aivan mahtava reppu, mahtuu kaikki treenikamppeet änkeemättä, vaivannäön arvoinen. Tykkään!
6
0
I would not recommend to a friend
Jari N.

20.05.2019 (Edited 19.06.2019)
Tilasin tämän repun keskivakavassa masokismimielessä - enkä pettynyt. Reppu on rujonkomea, mutta siinä sen oikeasti hyvät puolet (tilavuuden lisäksi) käytännössä ovatkin. Olkahihnat ovat "ihanan" epämukavat ja niiden kiinnityssysteemi jännästi kolho; repun sulkuviritykset taas jotain muuta. Ketjukiristystä kokeilin kerran ja totesin: "Ehkä seuraavassa elämässä". Mitäs tuosta Italian ihmeestä voisi vielä muuta sanoa - siis positiivista? No, kangas ainakin on pirun kestävää. Ja saahan repusta hienon sisustuselementin, jos löytää sen kaveriksi jostain parin ammowaarin aikaisia hikisivakoita sauvoineen.

EDIT. Se mitä luulin alunperin tujuksi varastodunkiksi, paljastuikin ehdaksi homeen hajuksi. Itselläni alkoi esiintyä hengitystieongelmia jonkin ajan kuluttua repun kotiin kantamisesta. Tuli sitten mieleen, että joskohan Italian ihmeellä olisi jotain tekemistä asian kanssa - reppu kun lojui pari viikkoa pienen kaksioni nurkassa, parin metrin päässä sängystä. Siirsin repun sitten ullakolle, ja hengityshäikät alkoivat helpottaa (kärsin vasomotorisesta nuhasta, joten ero ei ollut kuin yöllä ja päivällä). Asia varmistui myöhemmin, kun otin repun taas esille ajatuksella hyödyntää osia siitä muuhun käyttöön. Lähes heti tunsin poskionteloissani ja henkitorvessani paljon puhuvia oireita. :( Joten ei, tätä reppua EI voi suositella - jo pelkästään terveyssyistä.
3
0
I would recommend for a friend
Rasmus W.

24.05.2019
Just got mine and wow! Its like i bougt a TARDIS. Its absolutley massive, in a good way. I tried it out by stuffing my jam packed day-ruck and could probably still manage to fit a small japanese hatchback car in there.
Mine has some minor wear and tear from but nothing is missing or broken and some genious actually added a cord to the chain-puzzle for easier closing (yours might not). It weight around 60 kgs empty, but hey, that just means its quality right? Probably not a good daily use bag, but great if you want to pack half your home for camping or sneak an extra person into the movie theather its great!

Pros:
-Cheap
-Huge
-Worn juuuust right for it to have that ''its been around the block'' look.
-It has that nice musky/funky ''Its been stored in some damp military warehouse for 35 years''-smell so you know its legit.

Cons:
- It has that musky/funky smell so your girlfriend/mother/person of responsibility in your life wont let you keep it inside the house.
7
0
I would recommend for a friend
Emil H.

28.05.2019
Mine has bloodstains on it....
But, its huge, fun and very durable! I like it alot!
But also it seems VERY used. But that doesnt really seem like an issue for this indestructable and smelly bag.
Definitely worth the money spent!
2
0
I would recommend for a friend
Jeff D.

29.05.2019
I concur with the other reviews regarding the pack. Mine seems to be unissued or was minimally used condition. Very old school; dark green in color with a date of 196x stamped on it. I can't make out the last number. The fabric is in great condition given its age but a couple spots on the chain and rings did have rust on them. Annoying but I can deal with that. The only practical reason I can see for the chain system, is to insure that the contents in the pack would never fall out while humping it in the mountains. By the way, how you have it depicted in the photo is likely the way it was designed. Yeah mine has that funky been in storage for decades smell to it. I would recommend it as your every day carry pack - use the Dutch Day pack instead. But for camping, hiking in the woods or as gear /duffle bag definitely! This pack is rugged and designed for hard use. It is a great value for the price. I do like the retro look.
1
0
I would recommend for a friend
Steve M.

18.10.2019
Mine arrived today, I'm very impressed with the size and durability of the pack. This could be just the thing to pack my Lavvu into to bring with me for the colder months. The amount if space is crazy, I've got everything in there with room to spare. I'm missing a couple of steel tabs in the end if the straps but hey no big deal. I'm looking forward to getting this out and see how it gets on. Seems like a great pack especially for the money
1
0