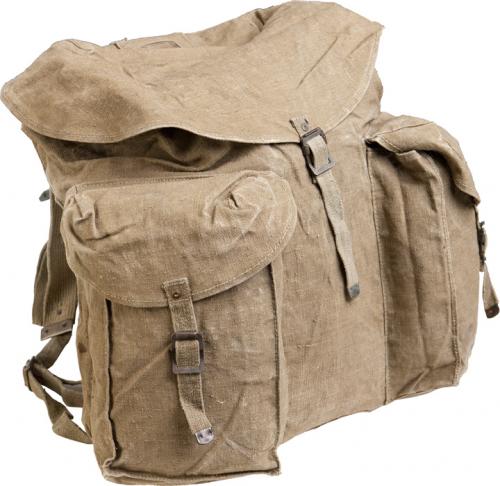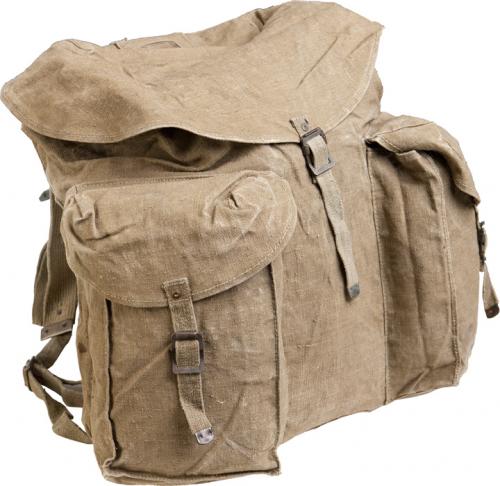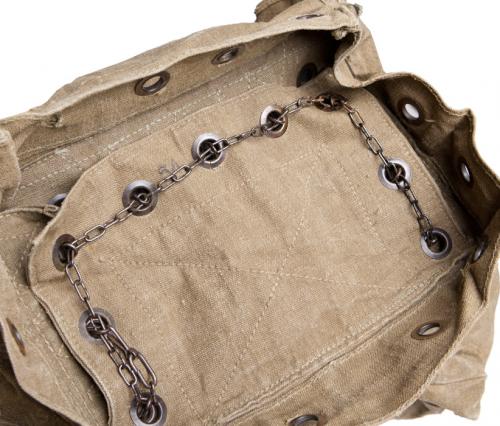 A truly unique closure system. Fortunately it's often enough just to close the actual mouth of the pack.
Italy
Italian Mountain Rucksack, Surplus
Price 19.99 USD
excluding sales tax
A large canvas/linen blend sack, with some very Italian details. Even though not actually a very good rucksack, this certainly is tough and has a certain retro charm to it.
This product is unlikely to be restocked and will be hidden from our website once it's out of stock.
We don't know when this product will be restocked. With surplus the restock date is unknown due to sometimes poor availability. Request restock notification and we will email you as soon as this product is available.
This product has used and returned variations. Used are washed and unbroken. Heavily used are also washed but might be missing buttons, have tears, main zipper can be broken etc. Read more about Kierto.
Trouble with the metric system? Try our converter: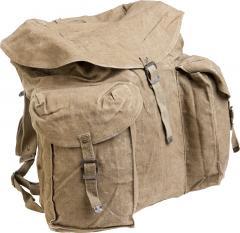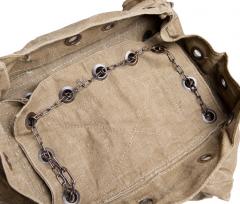 A large canvas/linen blend sack, with some very Italian details. Even though not actually a very good rucksack, this certainly is tough and has a certain retro charm to it.
Made in the days when luxuries like frames and sternum straps were seldom seen, this pack, as far as we know, was meant for mountain troops. It is probably for this reason that the main compartment's closure system is very secure, although thoroughly Italian in complexity: under the lid there's a huge array of metal grommets with a chain to put it all together. "How?" you ask. Well, don't ask us - we have no idea of the correct way to do this. We bet the Italians don't know either. See the picture for how we went about this. That took us a lot of time to do. The mouth itself doesn't have any tightening system - any piece of cord will do. Or chain, if you stay loyal to the style of the pack...
Apart from these oddities the rest of the pack is pretty run-of-the-mill: very basic shoulder straps with a quick-release system and two outer pockets. You could easily come up with a DIY stiffener for the back. It could be as simple as a cut-up piece of foam mat.
For you all canvas and flax lovers (we know there's a lot of you around) this is an excellent deal - bomb-proof army issue quality for a tenth of the price of modern "retro" stuff. When was the last time you saw a linen rucksack as modern manufacture anyway?
Ítalian army surplus
Old, and in used, but serviceable condition.
Kierto Circular Economy
Return this product used but clean and unbroken, and you'll receive half of the product's original price as Varusteleka credits. Service is available only in Finland. Only Registered users can make Kierto returns. See more information about Kierto.
All products: Italy
Recommendations
Loading products...
Reviews
You have already submitted a review. You can edit your text by clicking on it. You can filter the reviews by clicking on the elements of the summary.
Log in and write a review. You can filter the reviews by clicking on the elements of the summary.
Remove filter
Suomi
(5)
English
(16)
I would recommend for a friend
Thomas H.

26.01.2017

Verified purchase
I am amazed at how much this holds. The contents of my LK35 packed to the brim makes this thing look like it's carrying a few pebbles inside. Also, I got it in a new condition with the fabrication notes and everything still attached to the pack. I put a Polish poncho down each of the pockets, fits very snuggly. The only complaint I have is that the clips and the material used in the fastening straps won't cooperate.
9
1
I would recommend for a friend
Patrice B.

07.05.2017

Verified purchase
I enjoy this basic rucksack. Old look , old style, rustic ... a mat inside , additional shoulders straps ... Useful like a duffle bag too , in a corner of a jeep, in the trailer , and , easy to load a saddle of a donkey and go across the moutains . I bought several of this italian " zaino alpini" ;-) i like that's , a good deal !
16
3
I would recommend for a friend
Reg M.

01.06.2017

Verified purchase
The Rucksack arrived in pretty much brand new condition and was a dark olive brown/green colour. After checking it out I used my pocket knife to remove the internal flappy bits with chain link attachments by discretely cutting away their stitching - in my opinion the flaps are a silly and complicated design and unnecessarily heavy due to the chain. I replaced the tie down draw string with a piece of paracord and a toggle - perfect closure system. Once I figured out how the shoulder straps went together I also removed the big square metal webbing buckles that sit near your shoulders that served no purpose and jangled noisily. This bag doesn't look that big until you start packing but holy smokes it can hold a lot of gear! Very tough construction. Excellent value for money and a few small mods make it simpler, lighter and more enjoyable to use.
28
5
I would recommend for a friend
Steve B.

21.12.2017

Verified purchase
Bought 2 now. 1st was the darker colour and looked unused. 2nd was the lighter thicker material, it stunck to high heaven of that well know storage smell. Sadly people on the underground did not like it so much when I carried it home. Quick wash in the bath and all sorted. I also use shoulder pads sold on here to attach to make them more comfier.
1
0
I would recommend for a friend
Esa P.

19.02.2018

Verified purchase
Loistoreppu, ollut minulla jo vuosia käytössä. Kestävä, tilava ja miehekkään karunkaunis, eikä hintakaan päätä huimaa. Laatua halvalla. Ketjusulkua ei ole suunniteltu kiireisille matkaajille, mutta senkin oppii näppärästi hoitamaan. Ketjusulku ja karu ulkonäkö pitää varkaat loitolla.
6
1
I would recommend for a friend
Tom C.

27.04.2018

Verified purchase
My father had a similar one when conscripted in Alpini: he says that the reason for the chain is that you could close it with a lock, so your friendly comrades wouldn't steal your stuff.

The italian army meme lives on.
63
1
I would recommend for a friend
Fredrik T.

28.06.2018

Verified purchase
Took me a good 15 minutes to close it with the chain. I also had to remove the first link because it was too big to get through the loops in the corners of the flaps. I chose to remove the exotic closure system entirely, as well as the metal buckles on the shoulder straps because i couldn't figure out their use. This won me 0,5kg and a lot of hassle. Used the spare fabric to make a laptop pocket (a 15" MacBook Pro fits perfectly).
Sadly it smells A LOT, even after a soak, a wash, and even a go in the washing machine. If you don't mind the surplus smell then this is a great bag, especially if you have a thing for rigid canvas. It's extremely roomy and rather comfortable to wear and has already served me well on a couple little hikes and as a gym bag. As a college student though, i feel like i need to get it stink-free before I use it at lectures.
4 stars because of the smell.
5
0
I would recommend for a friend
Jason C.

23.08.2018

Verified purchase
It's like some magical Ali Baba sack that *looks* like a reasonable size but can actually contain a whole freaking city. This is what I travel with and it's unbeatable. As a day pack, I take along a veshmeshok, which rolls up smaller than a shirt.
5
0
I would not recommend to a friend
Felix A.

07.02.2019

Verified purchase
Bought this rucksack a couple of months ago, when it first arrived i noticed the overpowering smell of mold and rot leaking from the package. And i've been trying to wash the smell out ever since the day i got it with minimal progress. Must have washed it at least 20 times using different methods (Washer, soaked in vinegar for days, soaked in boiling water, covered it in baking powder, soaked in water and washing powder & scrubbed it down with dish soap in the shower and washed , even left it out dry in the dead of winter to kill it off) Somehow the unadulterated fungal smell never seems to dissipate.

The rucksack itself is very nice looking and durable, but the smell is absolutely horrible. So if you enjoy your rucksacks smelling like spores of mold and fungus go ahead and buy this one you'll love it.
7
3