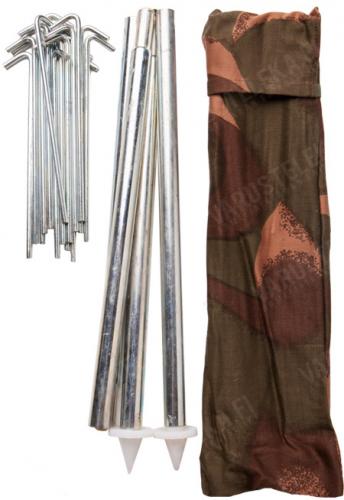 Hungarian tent accessory set, surplus
Price 7.99 USD excluding VAT
Flat Rate Shipping to USA $9.99
100 % recommends
Sold 2 pcs in the last two weeks
Trouble with the metric system? Try our converter: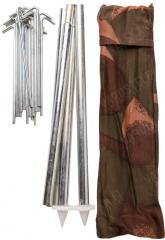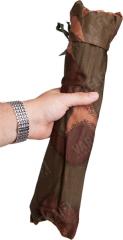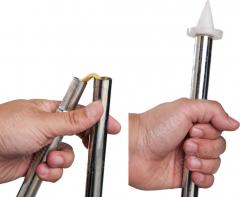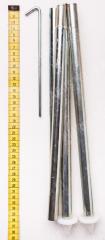 A set of tent pegs and poles in a camouflaged bag. We mostly sell these for the pegs, which you get a nice bunch. These are military surplus, so they might be cheap, but not cheapo.
The amount of stuff seen in the pictures is an approximate of the contents you'll get.
The folding pole is about 1,2 metre tall and pegs are 18 cm long. Bag length about 40 cm.
Condition
Used, not each and every peg might be straight, these are used and used again. Still we would say most - if not all - are quite serviceable. Hey, at this price it's still a great deal.
Reviews
You have already submitted a review. You can edit your text by clicking on it.
Log in and write a review.
Remove filter
Suomi
(6)
English
(8)
Joel W.

08.06.2016 (Edited 09.06.2016)
I would recommend for a friend
Kari B.

06.08.2016 (Edited 07.09.2016)
jumaklavit, lähetystä hakiessani ihmettelin että onko sinne joku alasin isketty kylkiäisenä mutta ei, paino johtui ihan siitä että noita kaivattuja kiiloja oli 18! ja salollekin keksii käyttöä sitten vaikka lipputankona.
ei tarvitse loppuelämän aikana uusia kiiloja katsoa kyl.
1
1
I would recommend for a friend
Nyt L.

12.08.2016 (Edited 01.09.2016)
Salon kanssa onnistunee myös sadeviittateltan pystyttäminen .Ja tietty sen unkarilaisen taisteluparinteltankin.
4
0
I would recommend for a friend
Mika J.

12.08.2016 (Edited 01.09.2016)
Kieltämättä, kyllä piisaa kiiloja.
0
0
I would recommend for a friend
mobi

06.11.2016 (Edited 29.11.2016)
You get what you see. Heavy bit of kit but for convenience the pegs and pole come in handy in the field. For the cash you can't complain. Just keep the bag close to you, that camouflage is excellent stuff as I found out when I misplaced it in the woods once
1
0
I would recommend for a friend
Jonathon S.

25.07.2017
The ones I received were in very good condition, with very little oxidation on the pole and stakes and the bag is 100% intact. 7.00$ for such good stuff makes it a great buy!
1
0
I would recommend for a friend
Mark H.

06.09.2017
These are worth every penny! While heavy, and not intended for backpacking, they are made to last in the field. The two sets I got, both with 18 pegs and a pole, never saw dirt or moisture! Zero oxidation! By the way...What tent uses a single pole and 18 pegs?
2
0
I would recommend for a friend
joseph m.

17.01.2018
great set work well
0
0
I would recommend for a friend
Jeff D.

10.02.2018 (Edited 23.02.2018)
If my set was ever used I can not tell, looks new, unissued. I'm going to order another. To any one considering buying a set, don't buy just one set, get two.

The second set arrived today (22.02.2018) . Once again I am impressed. The bag 's cammo pattern is slightly different from the first one I ordered (brown vs. black) and shows minimal usage. There is some oxidation on the tent pegs and pole, but to be expected it they were in storage for an extended period of time and a trivial matter to me. Overall condition is excellent. Well worth the money.
4
0
I would recommend for a friend
Aleksi B.

15.06.2018
Toimii erinomaisesti myös unkarilaisten sadeviittojen kanssa.
0
0
I would recommend for a friend
Ville L.

09.08.2018
Mitäs tästä ny sit sanoisi? Kasa kiiloja ja salko pussissa joka on vähän heppoisen oloinen. Ajaa asiansa ja tuskin menee helposti rikki paitsi ehkä se pussi voi ratketa. Ei tämmöistä kukaan huvikseen osta.

Toimii just vaikka sadeviitan kanssa.
0
0
I would recommend for a friend
Johannes J.

20.05.2019
Excellent, never used! Will be perfect for my NVA tarp/shelterhalf or what it's called. Glad by the way l got one of those. Like a Plash palatka for half tje money, and likewise unissued
0
0
I would recommend for a friend
calvin l.

11.07.2019
For the money, it is well worth it. Few spots of oxidation on one of the sets I got but some baking soda and water took it right off. Other than that I would say neither of my sets have been used.
Tons of pegs and the poles actually work really well with my tarps. Strapped both of these to my pack and definitely adds some weight but nothing to be concerned about.
Shipping was unbelievably fast! Ordered on a Thursday, order shipped on Monday and was in my hands on Wednesday.
Second time ordering from these people and will definitely continue to do so!
0
0
I would recommend for a friend
William L.

20.12.2019
Got my 2nd set of these a couple of weeks ago and everything was pretty much like new. Just a little surface corrosion on one of the poles but an SOS pad, 5 minutes of elbow grease and some wax shined it right up.
Like someone else questioned before, I was wondering why all of the pegs and just a single pole. After a little research I found out that these are for use with a shelter system that the Hungarians designed after the Polish army's. Basically a tipi, or teepee, setup. Hence the 18 pegs and single pole.
Anyway, these are great for using with a tarp, plash palatka or something similar.
Pretty neat setup and are really a great bargain.
0
0