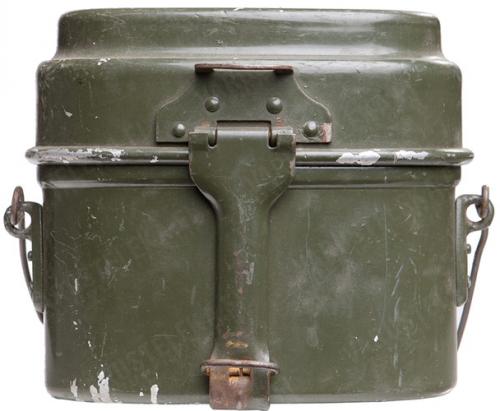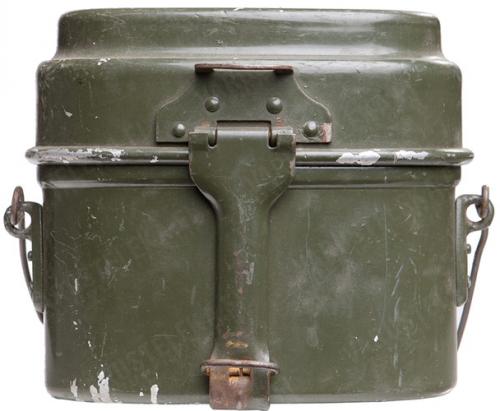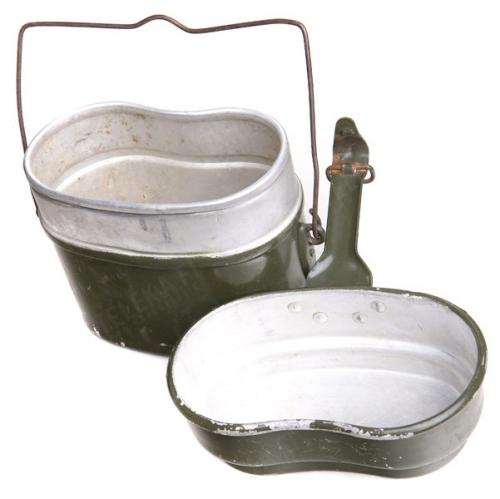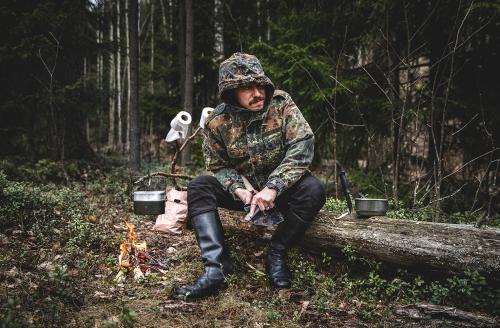 Hungary
Hungarian mess kit, surplus
Price 12.99 USD
excluding sales tax
Used for decades, this classic aluminium mess kit is just like all the others - not to say it's a bad thing! Very likely Hungarian surplus.
This product is unlikely to be restocked and will be hidden from our website once it's out of stock.
We don't know when this product will be restocked. With surplus the restock date is unknown due to sometimes poor availability. Request restock notification and we will email you as soon as this product is available.
Trouble with the metric system? Try our converter: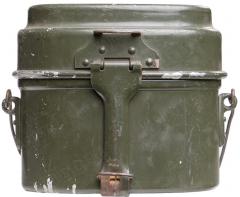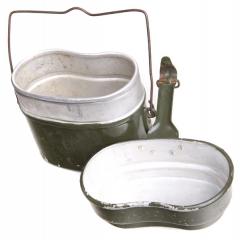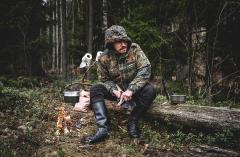 Used for decades, this classic aluminium mess kit is just like all the others - not to say it's a bad thing! Very likely Hungarian surplus.
General info
The German pattern of making a mess tin is very smart. First of all it's a good bowl for eating whatever grub the Cookie of your garrison has come up with. Once the soup is in the bowl, you can sprint towards shelter without spilling anything. It also can be used as a kettle when cooking, and the carrying handle can be used to hang it over open fire. The lid has a handle for use as a frying pan - though you may want to insulate it with something first.
The material is aluminium, so it doesn't weigh much and rust won't be an issue. The carrying handle and lid handle are usually steel and might show some rust, but these aren't parts that touch your food.
When carried, the lid handle closes the package together. The handle has a steel loop and slot for a carrying strap to secure the thing on your pack or belt. The inside has enough space to pack something else you might need when eating, but be sure to pack it so it doesn't rattle!
The rough spots
These are East-Bloc surplus, most likely of Hungarian origin. The finish is as crude as you might expect, but these still get the job done. In some cases the steel wire handle is a bit out of shape and might be attached poorly, but it's nothing you couldn't fix with pliers and one minute of your time.
Used army surplus
Apart from the occasionally poor attachment of the wire handle, these are good to go. Just wash it before eating, unless you plan on growing unknown organisms inside you.
All products: Hungary
Recommendations
Loading products...
Reviews
You have already submitted a review. You can edit your text by clicking on it.
Log in and write a review.
Remove filter
Suomi
(3)
English
(13)
I would recommend for a friend
Jeffrey M.

16.10.2017 (Edited 31.05.2021)
Can't beat this sturdy mess kit for the price.
18
1
I would recommend for a friend
Kari K.

03.07.2018 (Edited 01.06.2021)
It Came well packed AND environment friendly (no f..ing pllastic wrap(atleast in Eu?) U can burn the whole filling without immediade cancel thread!!



When you buy a surpus - u get a surplus. (and surprice present) One that I got had) no dents, no outside sraches (who hell has these and don't scrath it). The cap hinge was stuck about 5 min and vaseline took care off it.." Washed it and will see how it takes winter cooking.
5
0
I would not recommend to a friend
Pete

22.09.2018 (Edited 08.09.2021)
These are pretty crappy mess tins. They don't sit stable on camp stoves and they don't really make a good cup or pot.
I left mine hanging on a tree at the confluence of the Keele and Tsichu rivers, high up in the MacKenzie mountains with a pencil and notepad inside. Here if you want to leave a message... 63.310741, -129.213475
It should make a great cache so I'm still giving it 1 1/2 stars.
Get the Czech mess tin instead, those are great.
Edited to add... the one they sent me was in better shape than the one in the picture, the Varusteleka folks don't bullshit you with pretty pictures. Great people.
Edited For Update On The Cache!!! Some people found the note I left in 2018. The mess tin protected it for three years, hanging in a tree, on a damp, high mountain riverbank. That's worth an extra half star.
Still a shitty mess tin.
4
0
I would recommend for a friend
Jussi E.

03.01.2019 (Edited 02.06.2021)
I would recommend for a friend
Jussi E.

21.01.2019 (Edited 02.06.2021)
Mitä tästä nyt voi sanoa, se on itäblokkia, mutta se toimii niin kuin pakin kuuluu. Omani oli ainakin melkein täysin käyttämätön, jota oli luultavasti pidetty varastossa ainakin 60 vuotta. Ruostetta ei ollut näkyvissä.
Osta tai ole ostamatta, mutta suosittelen lämpimästi pakin pesemistä, sekä veden kiehauttamista pariin kertaan ennen käyttöön ottoa.
1
0
I would recommend for a friend
Eric A.

06.08.2019 (Edited 05.06.2021)
The one I received was in nearly perfect condition. No rust, barely any scratches, deep green color. Dated 1984. Very nice, solid. Varusteleka always post pics of the worst possible condition or average conditions of items, so much of the time you receive an item practically new. I wish I would have ordered 2, hopefully they still have them on my next order. Very pleased.
5
0
I would recommend for a friend
Mark W.

21.12.2019 (Edited 06.06.2021)
The mess kit I received was in much better condition than the one pictured on the web site. I received the older, Model 1950 style, that has a solid metal loop on the cup handle end (the picture shows the later model with the wire loop). The wire pot handle was in good condition and only needed slight bending to make it straight. The date on my cup was 1951. The mess kit came with the added bonus of some genuine Hungarian dirt and dried "?????". Definitely wash this mess kit first! Overall, a great deal with a fantastic price!
1
0
I would recommend for a friend
Erik M.

08.02.2020 (Edited 06.06.2021)
Just a tad bit of rust and a few scratches on mine. Otherwise very nice quality. Mine came from Poland, not Hungary, but works nicely. Rust came off with a bit of sanding, and it's shiny clean after a wash. Keeps food nice and warm. Fits very easily into a Särmä TST Large m05 pouch, with some spare room for a BW Field Cutlery set and some extra condiments and after-eating wash-up supplies. Works nicely outdoors too.
1
0
I would recommend for a friend
Aivars S.

22.04.2020 (Edited 06.06.2021)
Trusted friend in the woods.
1
0