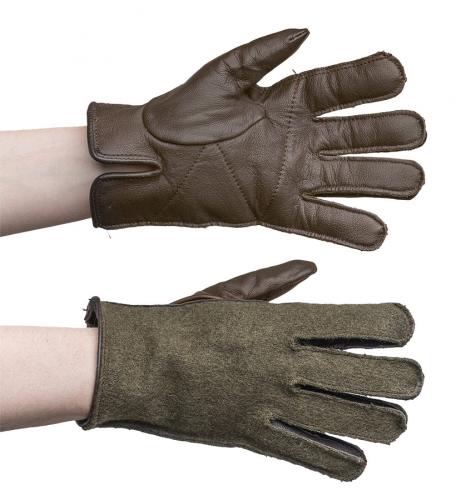 French wool/leather gloves, surplus
Price 13.99 USD excluding VAT
Flat Rate Shipping to USA $9.99
92 % recommends
Sold 17 pairs in the last two weeks
In stock 81 pairs. Also available in our walk-in store.
Trouble with the metric system? Try our converter: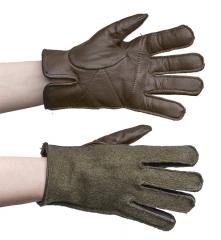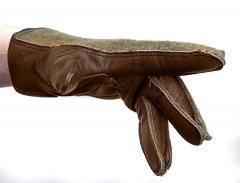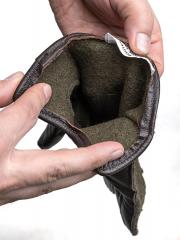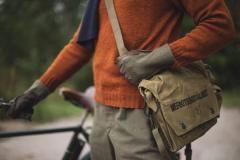 The US Army developed a Very Nice leather & wool glove during the Second World War. Long after the Americans ditched them, the French army was still satisfied with their copy - according to the tags, some of these are made in the 80's! A very nice pair of military-gentlemanly fashion.
Top fabric probably 100% wool, with leather palm and thumb. No lining inside the thumb, but everything else is woollen. Seems pretty high quality.
Size info
We didn't find any size markings on these. The sizes might vary, but most are very close to size Medium / 9. Thanks to the woollen half of the construction, these do form to your hand better than full leather or cotton lined gloves. If you have larger hands and these feel a tad tight at first, you could try soaking them up in water and wearing until about dry.
Genuine military vintage
Old stuff, seemed practically unissued. The tags say these have been made at least in the 70's and 80's. Probably earlier too, as the design dates back to WW2. And oh, these do smell like naphtaline, it'll probably fade off in use.
Reviews
You have already submitted a review. You can edit your text by clicking on it.
Log in and write a review.
Remove filter
Suomi
(3)
English
(10)
I would recommend for a friend
Ladislav S.

16.06.2018 (Edited 16.06.2018)
Pretty decent. Quite warm, needed a bit of a clean due to storage crap on it, but other than that like new. Dated 1967. Bit of a wipe, light amount of grease and they are ready to go. Mine varies a little from the picture and description as the thumb is lined with wool and there is no little notch at the wrist on the palm side. Other than that exactly as pictured.
3
1
I would recommend for a friend
Luke M.

02.11.2018
Fairly good for the price, mine were near new, looked in almost perfect condition except one small repair at the base of the thumb. Dated 1979 and completely clean with no smell or marks from storage. I have size 9 hands which are fairly average and the gloves are slightly oversized

These were very stiff when I initially got them but broke in fairly quickly and are reasonably warm, I could fit a thin pair of woolen gloves underneath when I first tried them on but having worn them for a few days without a liner they have shrunken and I can't get them on with a liner already on so I would recommend choosing how you want to wear them as soon as you get them

Only negative I can find is that the stitching on the little finger side of the ring finger is a bit weak, it gave on one glove right at the end after two hours of wearing them and I can see it starting to come apart on the other glove, not difficult to mend but it is somewhat annoying when you're only halfway home in pissing rain
1
0
I would recommend for a friend
Jonathan W.

06.11.2018
Awesome gloves for the price, mine came stitched together new from the factory. They are thin and the leather will need some serious grease, as it comes a little papery. They fit me great but the fingers are just a tad long, I wear a size 8 in Held motorcycle gloves. Hard to beat for 15 bucks, assuming they hold up well.
1
0
I would recommend for a friend
Ingo H.

11.11.2018
Got a pair of new old stock gloves. They are excellent, the smell is like it has to be with surplus goods. This goes away with the time if they are exposed to fresh air and some wind. I soaked them in water for a night and them let them more or less dry on my hands what gave me a kind of a tailor made gloves. They are now snug enough to sit perfect on my hands but not to tight (usually wear size 10 or 11). The leather inside the palm is new, no scratches or other signs of usage. the wool is a kind of lighter OD green while the leather is a dark brown. Will wear them this winter as dress gloves in the city and out in the field.

Happy that I found these here. The material mix fits my needs.
3
0
I would not recommend to a friend
Ville L.

15.11.2018
Siistit hanskat ovat, mutta tuo vuoriton peukalo on minusta aika iso miinus. Peukalo muutenkin palelee ensimmäisenä, niin se käytännössä tarkoittaa, että näitä sinänsä paksuhkoja hanskoja ei kovin kylmällä voi käyttää. Mutta lämpimämpään menoon jees.
2
3
I would recommend for a friend
Harry S.

18.11.2018
Very good, in a stiff, new condition. A bit of light work breaks these in nicely, but it's not really a working glove, better suited for daily commuting.

Mine had a wool lining throughout, with the exception of the thumb.

Amazing value for the price.
1
0
I would recommend for a friend
Oldrich K.

04.12.2018
Like new, the leather is stiff but will ease after conditioning. Ok fit for sleek M hands with long fingers, little wide perhaps but can wear liners underneath. Will be nice for rough stuff in winter.
0
0
I would recommend for a friend
Jonathan K.

10.12.2018 (Edited 16.01.2019)
Very high quality. The ones I got seem unworn and don't have a particular smell. Dated 1979. Has wool behind the leather except on the thumb. Good fit, have average hand size, but my ladywrists mean there isn't a very tight seal from the cold, but that's just me. Should fit most people fine.
1
0
I would recommend for a friend
Sami K.

16.12.2018
Hyvän näköiset, villaisilta osiltaan myös aika lämpimät, mutta vuoritonta peukaloa tosiaan suojaa vain ohut nahka. Pistää kyllä ihmettelemään, että mihin tarkoitukseen nämä on alun perin suunniteltu, koska sellaisilla ilmoilla kun muut sormet ovat vielä sopivasti lämpöiset, peukalo jäätyy - tai kun peukalolla on lämmin, muu käsi hikoaa. Aktiivinen käyttöaika on siis rajattu aika pitkälti syksyyn, muuten joillakin sormilla on joko liian lämpöiset tai kylmät olot. Näin pikkupakkasilla kyllä käyvät vielä kun voi pääosin seisoskella kädet rennosti manttelin taskuissa, mutta muunlaisina kuin elvistelykäsineinä alkaa peukalo jo paleltua. Tilannetta voi toki paikata ohuilla villasormikkailla jos vain mahtuvat alle - omaan koon n. 8½ käteen saamani hanskat mahtuvat sen verran löysästi, että alle mahtuu vielä esim. belgialaiset neulesormikkaat.
1
0
I would recommend for a friend
Ben W.

03.02.2019
Great shell for clumsy tasks. I use mine to cycle with and can't feel a thing through them. Not very dexterous but you're not buying mechanix. Mine held up to an hour of dragging them through snow (don't ask) without liners so get a 9/10.
1
0
I would recommend for a friend
Kahl M.

23.02.2019 (Edited 08.03.2019)
Great gloves. My came stinking of mothballs and old peoples wardrobes but I soaked them, aired them outside, bit of lanolin wash, aired outside again and applied leather grease. Perfect and good as new. Bought a second pair yesterday to stick in storage. Using Mechanix gloves as a benchmark I have XL hands and these french surplus gloves fit fine. EDIT: Second pair arrived and these are different. The wool is less thick and there is no insulation in the thumb whereas the first pair i received had wool lining in the thumb. The second pair also smells a lot less than the first. All in all i like the first pair more as they are more rugged but either way these will be great for driving in the winter and i'm glad i got two pairs.
1
0
I would recommend for a friend
topi h.

30.07.2019
Hienot hanskat. Tilaamani pari uudenveroinen, mutta nahka täysin kuivunut. Öljyämälllä ja varovasti taivuttelemalla nahka vertyi ennalleen.

Vähän hassun pituiset sormet; keskisormelle napakka ja pikkurillillä väljää melkein sentti. Tosin kastelemalla ja pitämällä kädessä pari tuntia märkänä kokoerot tasottui.

Haju senverran kammottava että kadulla vastaantulevat koirat kiinnittävät huomionsa siihen. Ehkä se tuulettamalla häviää..

Villaselkämys muuten pitää yllättävän hyvin vettä ennenkuin kastuu kokonaan läpi.

Omaan silmään hyvännäköiset.

Yksi tähti pois sormien hassuista kooista ja hajusta.
0
0
I would recommend for a friend
Mats L.

18.01.2020