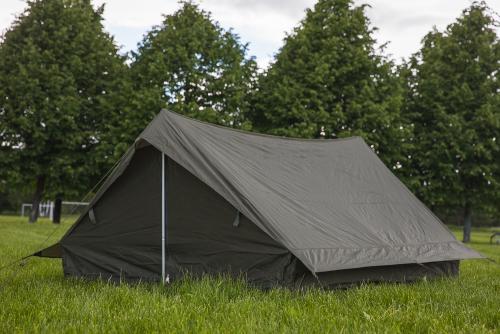 French two-person tent, olive drab, surplus
Price 45.99 USD excluding VAT
Flat Rate Shipping to USA $9.99
100 % recommends
Sold 17 pcs in the last two weeks
In stock 12 pcs. Also available in our walk-in store.
Choose accessories:
Trouble with the metric system? Try our converter: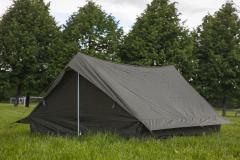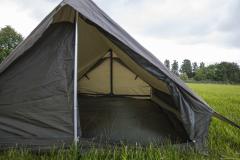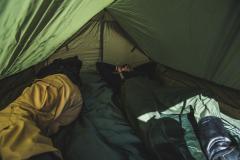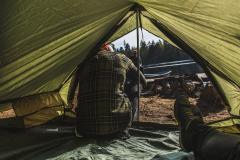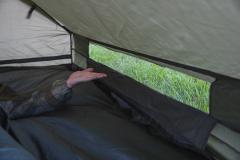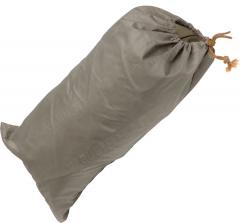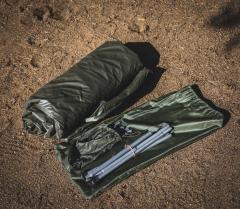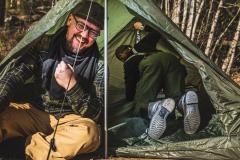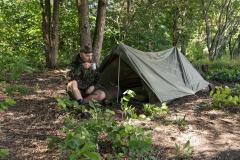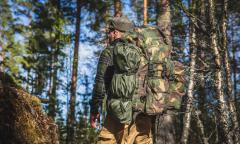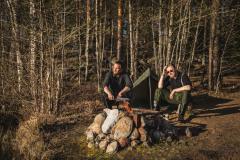 The French army pup tent looks like a traditional boy scout contraption but scaled down for two persons. Made of nylon with waterproof floor.
Big enough for two persons, king size for one and barely fits three, the French tent looks like something used decades ago. Well, actually these are just that. If traditional design inspires you, this isn't a half bad option for leisurely camping or festival life: it's sturdy, reliable, neutral shade and for a this price you can't go wrong.
Made of nylon
Inside length about 2,1 m, width 1,4 m and height 1 m
Easily set up by two persons, but one is enough
Measurements packed about 50 x 23 cm
Insect-proof!
Tent fabric weight with guy ropes: 2140 g
Pole set weight: 330 g
Tent peg set weight: 900 g (!)
The ends can be opened up quickly if necessary and the closed design means nothing gets inside if every opening is shut. Additionally they included insect net covered ventilation holes on each end and sides (velcro operated).
Contents
The tent itself
Two poles
A bag of pegs (17 pcs: 8 pcs for the ropes, 9 pcs for anchoring the tent base to ground)
A bunch of cords to secure the tent to ground, but we can't promise all are there (easy to replace with your own paracord etc.)
A nylon stuff sack
French army surplus
Used, but in good serviceable shape, sometimes even unissued.
Modifications

You can lighten your load by using lighter pegs. The ones included are definitely strong but weigh a ton. You can also use wooden sticks to anchor the tent to the ground, so you really need maybe 8 pegs. We recommend using 6 pcs smaller pegs and 2 pcs bigger ones to each end.

Additionally you can consider removing most of the tent floor if you do not need it. This will also help cleaning and drying the tent but also removes the "Insect-proof!" bit. Your call!
Reviews
You have already submitted a review. You can edit your text by clicking on it.
Log in and write a review.
Remove filter
Suomi
(14)
English
(12)
I would recommend for a friend
Jason S.

29.07.2016 (Edited 04.08.2016)
I would recommend for a friend
Timo S.

20.01.2017
Toimiva ja kestävä perusteltta kestävällä telttakankaalla jossa plussana verkotus tuuletusaukoissa, jolloin yöunet myös lapissa taattu. Kestää isältä pojalle, jos ei kovin pahoinpitele. Hiukan painavahko, saattaa vaatia telttakyllästettä mutta muuten 5/5.
10
4
I would recommend for a friend
Anonymous

01.07.2017
If we compare this tent to modern designs its construction is obsolete, and yet I find it quite charming. Perhaps because it reminds me of the first tent I've had as a boy. Nostalgia aside, this tent is quite good if we consider the price. I've received the brand new and complete nylon version. The stakes needs to be replaced for the aluminium ones since the ones included with a tent weight as much as the tent itself but everything else is good. The tent is still to heavy for backpacking though unless you are on a budget, if so you might wish to use hiking poles instead of the tent poles to cut on weight even more. However for car camping or canoeing this tent is very suitable. Not sure how the condensation will be in this tent but increased condensation in a single wall tents is common so will see. Like I said for the price very good.
13
4
I would recommend for a friend
Aleksi L.

21.07.2017
Huikea härveli, iteltä löytyy tuo puuvillainen versio ja sen säänkestävyyttä testasin Nummessa jussina. Välillä vettä tuli enemmän ja välillä vähemmän, mutta vasta neljäntenä aamuna alkoi nurkista tulla vettä sisään. Tähän hommaan olisi pieni ojitus varmasti jeesinyt. Kattoon olen kerran kyllästettä ruikkinut ja se kesti moitteetta koko setin ilman pressuja tms virityksiä.

Syssyllä tää lähtee viikon vaellukselle. Katotaan miten äijän käy.
3
0
I would recommend for a friend
Russell F.

02.10.2017
Suuri teltta, nopea toimitus. Käytetään vuoristossa.
3
0
I would recommend for a friend
Jouni H.

14.10.2017 (Edited 28.05.2018)
Tosi hyvä ja helppo teltta. Myös tarpeeksi miehekäs.

Olen pystyttänyt teltan kovillakin vesisateilla, eikä ole tullut vesi läpi. Yksin saa pystytettyä naurettavan helposti. Parempaa saa etsiä.
3
0
I would recommend for a friend
Jeffrey M.

25.10.2017
This is a good, sturdy tent. Easy to set up. These do not include the rain fly but just use a DD tarp or a similar tarp. Has good ventilation.
2
1
I would recommend for a friend
Stuart W.

13.12.2017
Arrived virtually brand new. Had that milsurp storage smell No rain fly. Replace the pegs (1lb) to lose a little weight. Set it up in -10C Canadian backyard for the week and tested it out a few nights for condensation. Snowed heavily and it stood up well buried in snow. It's nylon. Walls got pretty wet without everything open. Very good ventilation all things considered, spacious, comfortable. 50$. Win.
6
2
I would recommend for a friend
Christopher K.

06.02.2018 (Edited 06.02.2018)
I own the canvas version and did a side by side comparison with the nylon version. Nylon will require seam sealing with attention to the ridgepole especially but has a kilo less weight advantage. I substitute V poles for the single for faster entry and exit. If you are in mosquito country the zipper intersection needs attention. I have used mine in summer desert and our last snowfall. Two Plash Palatka fly makes a bombproof basecamp.
3
1
I would recommend for a friend
David F.

01.03.2018 (Edited 20.03.2018)
It's better than what you could get elsewhere for the money. I see this more of a casual camping tent than a military item, perhaps to throw a couple kids in or take off with your gal for a weekend this would work well. I like the wrap around vent at the bottom . Would be fun to try a canvas one! Maybe a option for this in the future?
5
2
I would recommend for a friend
Josef G.

01.07.2018
Mycket bra tält för ett lågt pris. Inte det lättaste tältet, och en hel del kondens på insidan när man tältar på sommaren. Störs du ej av dessa brister har du ett mycket ekonomiskt och slitstarkt tält som fungerar året om.
2
0
I would recommend for a friend
Rasmus R.

05.07.2018
Teltta saapui, ilokseni sain huomata että pussin kera, vaikuttais liki käyttämättömältä ja näytti pikasella vilkasulla olevan kaikki tarpeetki mukana.. ainakin tämän perusteella uskaltaisin suositella.
1
0
I would recommend for a friend
osmo h.

10.07.2018 (Edited 19.07.2019)
Nailoninen versio (mallinimi F2) on osoittautunut ennakkoluuloja huomattavasti paremmaksi. Kun teltan pystyttää oikeaoppisesti ja narut sitoo kireälle pysyy teltta paikoillaan kovassakin tuulessa ja pitää veden ulkona. Kauppiaan olisi syytä kalibroida vaakansa, mukana tulevat teräskiilat painavat 25g/kpl eli yhteensä 425g.
3
0
I would recommend for a friend
Mika S.

12.08.2018
Posti toi täysin käyttämättömän nailon-version kaikkine varusteineen. Alumiiniset päätysalot ja kaksi ylimääräistäkin maakiilaa. 2018 helteillä oli mukava viettää öitä tässä. Hyttysverkkojen ansiosta ilma vaihtuu mainiosti. Multamaahan pystytettynä päätyjen maakiilat irtosivat tuulessa pari kertaa ja teltta meni kasaan. Veistelin tilalle ankarammat kiilat ja ongelma poistui. Teltan sivuilla riittää mukana tulleet kiilat. Pystytys ja purku todella nopeaa ja helppoa.
8
0
I would recommend for a friend
Mikko K.

17.01.2019
Hyvin toimii teltta ja sisällekin mahtuu mies kera kannossa olevien tavaroiden ja 25 kiloa märkää koiraa. Syksyn ja kevään kylmemmissä keleissä kosteus tiivistyy teltan sisälle, kuten varmaan arvasittekin, mutta kun molemmat päädyt saa auki on teltta kuiva jo aamupalan jälkeen. Sateella homma ottaa kauemmin, mutta mihin mettässä on kiire.. Ei se kaikista kevein telttasysteemi, mutta silti useimmin mukana omasta telttanelikosta.
1
0
I would recommend for a friend
Jörgen P.

15.02.2019
Awesome tent!

It smells like it's brand new and there are no signs of use.

It's a great budget tent and it's not that heavy either, especially when you replace the tent pegs. There are cheap aluminium tent pegs on AliExpress or eBay.

And I also recommend buying odorless white spirit and 100% transparent silicone, you can mix them together and brush this solution on the seams, which will prevent the rain seeping through.
5
0
I would recommend for a friend
I.G. N.

01.04.2019
Plussaa:
-Halpa
-Helppo pystyttää
-Tilava
-Suht. kevyt
-Tuntuu kestävän
-Edelleenkin todella halpa
-Helppo tuulettaa

Miinusta:
-Voi vaatia kyllästettä. Ilmankin pärjää mutta sillä parempi
-Niger-tyylinen teltta on aina helposti notkolla ja vaatii kiristämisessä huolellisuutta (joskus jopa päivittäin jos ei telttaa siirrä sinä aikana)
-Kylmä. Mieleltään terve ei seikkaile enää kovin kauaa ensilumien jälkeen tällä.
-Myös kuuma. Mieleltään terve asentaa telttansa varjoon.
-Pohja on kumitettu vedenpitäväksi mutta nurkista voi tulla pyytämättä lisää keittovettä trangiaan.

Yhteenvetona halpa teltta jolta ei voi pyytää enempää. Tässä teltassa kaksi ihmistä nukkuu mukavasti ja kolme ihmistä epämukavasti. Sopiva tosielämän Nuuskamuikkusille.
12
0
I would recommend for a friend
Ashley B.

09.04.2019
I got a canvas (much heavier!) model from a british seller, but these are great tents. If you want a tough classic A frame tent these will do you well, especially if you are camping from a vehicle.
1
0
I would recommend for a friend
Kimmo S.

07.05.2019
Vie tilaa pienimpiä ihmeitä enemmän, mutta toisaalta on helpohko koota ja tiivis. Tiiviyden huonona puolena on muidenkin mainitsema kosteuden tiivistyminen. Kiiloja voi tarpeen mukaan pohtia korvaavansa väkevämmillä. Kokonaisuutena kyse on vaivattomasta teltasta, jonka saa kätevästi kokoon ja pakettiin. Ei harmita pistää aamulla pakettiin ja illasta uudestaan pystyyn. Kyllästettä tuli ruiskittua kylkiin eikä tämä tunnu ainakaan haitanneen menoa.
1
0
I would recommend for a friend
Mikko S.

08.06.2019
Olen nyt käytyänyt telttaa kaksi kertaa. Ensimmäisellä kerralla koekasasin takapihalle ja nyt toisella kerralla metsäretkellä se toimi majoitteenani. Teltta on helppo kasata yksin ja mukana tulevat kiilat toimivat erittäin hyvin Suomen metsässä, missä kalliokin saattaa olla muutaman sentin päässä maakerroksen alla. Itse kasasin teltan tällaiseen maastoon ja kiilat pitivät teltan hyvin ryhdissä, kun ne löi viistosti maan sisään. Tälle retkelle osui sadekuurokin ja vesi ei tullut teltan sisään, ötökät pysyivät myös ulkopuolella.

Teltan laatu on mielestäni erittäin hyvä, kangas vaikuttaa kestävältä, kepit ja kiilat tuskin koskaan hajoavat. Säilytyspussit ovat tarpeeksi tilavat, että teltta on helppo pakata kenttäolosuhteissa. En usko, että tähän rahaan saa yhtä hyvää telttaa, voin suositella tätä lämpimästi monikäyttöiseksi teltaksi.

Festareille en niinkään tätä suosittele, koska kännissä tämä on varmaan haastava kasata, ihmiset saattavat potkis narut irti ja teltta on niin hyvä, ettei sitä viitsi hylätä darra-aamuna, kun se on kyllästetty kusella ja oksennuksella.
1
0
I would recommend for a friend
Bryan M.

29.06.2019
I took my 4 year old boy camping in this tent and we had a great time. As the other comments stated, it's an amazing value for what you pay. Mine was brand new out of the bag and after sustained water and rain testing, it held up very well overall with very minor dampness in the four corners - but nothing that would ruin an outdoor experience. My son LOVED feeling "part of it" by helping with the set up and slept great next to me . There was a ton of room to spare and i think it'll be passed on to his kids. With any outdoor shelter: pre-test and seal the seams.

Thanks for helping to make good outdoor family memories on a budget Varusteleka.
2
0
I would recommend for a friend
Mika R.

29.06.2019
Hyvä ja tilava teltta.
Juhannuksen sateet eivät tulleet läpi, ilmanvaihtoräppänien ansiosta ilma kiersi kohtuullisesti.
Pystytys onnistui yksin oletettua helpommin.
Sisään ja ulos liikkuminen helppoa: känninen nahkatukka onnistui juhannus-seikkailujen jälkeenkin löytämään tiensä makuupussiin.
2
0
I would recommend for a friend
Johnny H.

05.07.2019
I would recommend for a friend
Tommi K.

13.07.2019
Omalle kohdalle sattui ihan pakasta vedetty teltta. Hintalaatu kohdallaan
1
0
I would recommend for a friend
Jouni T.

30.07.2019
I would recommend for a friend
Juho H.

11.08.2019
Helppo kasata ja purkaa yksinkin. Kovalla sateella tuli muutama tippa keskisauman läpi, muuten piti yllättävän hyvin. Festareille en suosittele suuren narumäärän takia. Wackenissa sai olla joka päivä laittamassa kiiloja uudelleen maahan kun oli lähtenyt porukan jalkojen mukana. Jos ei ihmisten ilmoilla telttaile niin ajaa asiansa ja edullisesti.
1
0