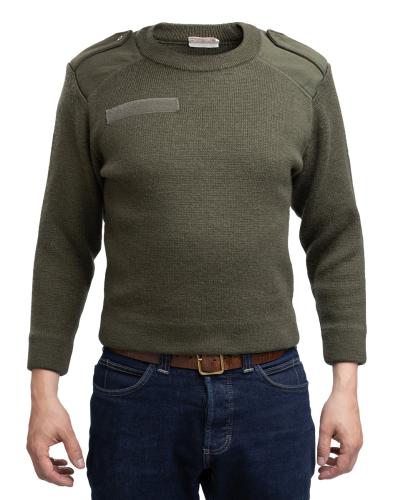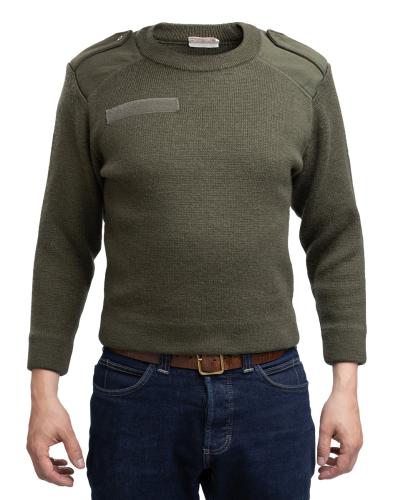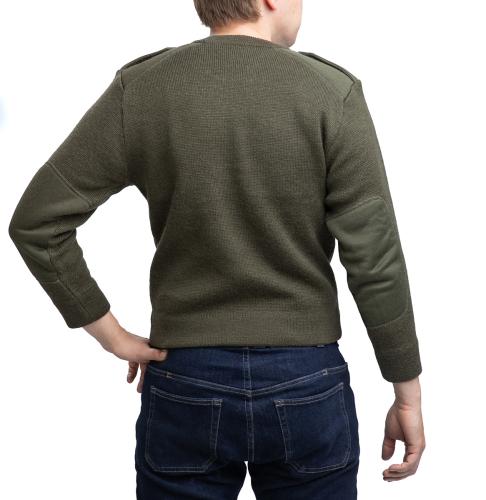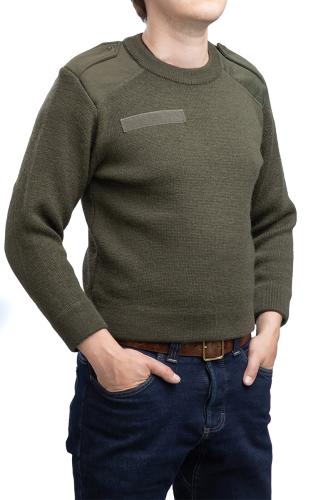 The model is 175 centimeters long and wears a size 96.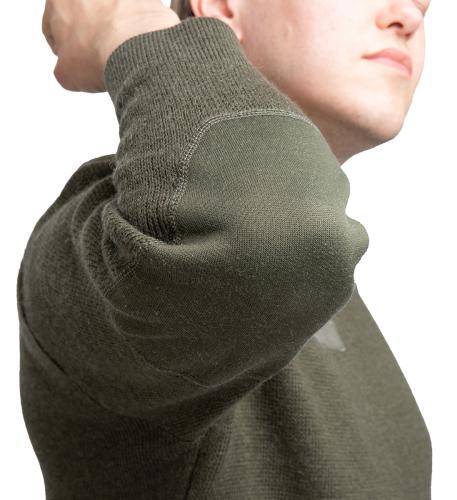 Reinforcements on the elbows.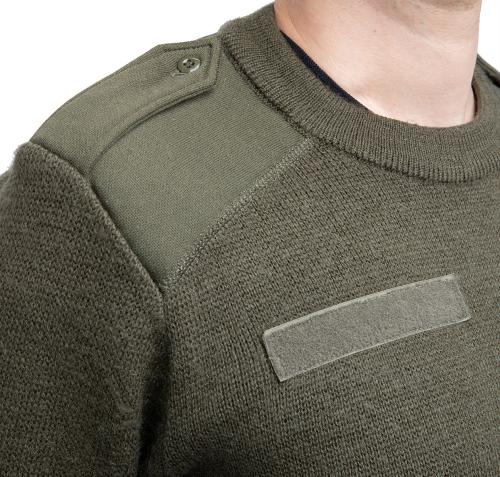 The name tag can be unstitched.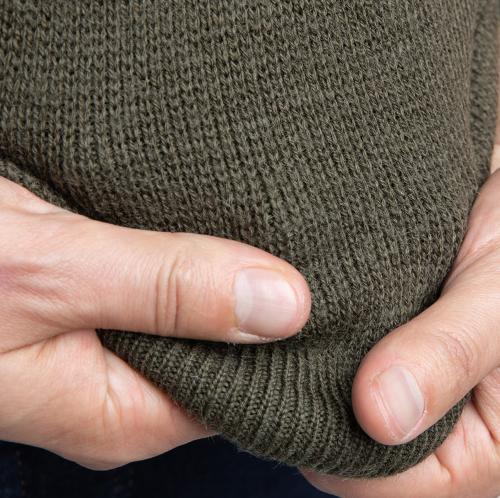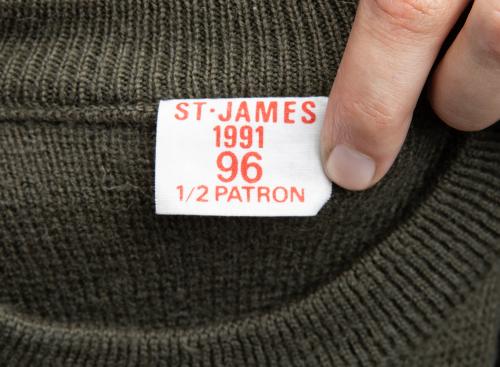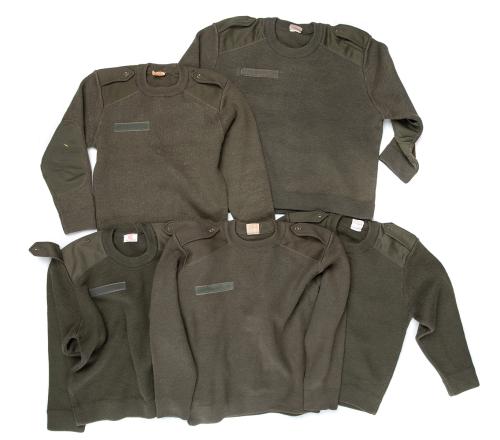 France
French Pullover, Olive Drab, Surplus
Price 19.99 USD
excluding sales tax
We got a batch of French wool pullovers. These are kind of short, so if you fancy wearing your pants like Clint Eastwood, here's a thick and pretty sharp woolen sweater on the cheap.
Loading products...
Trouble with the metric system? Try our converter: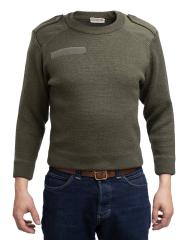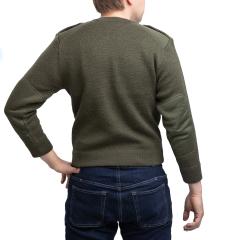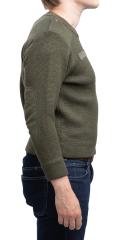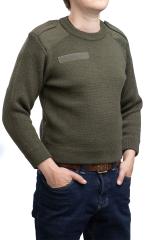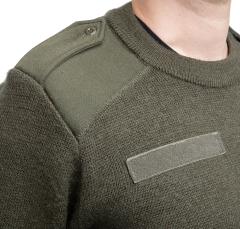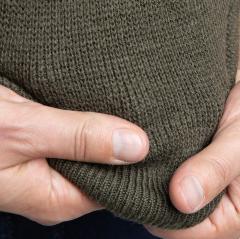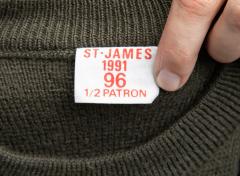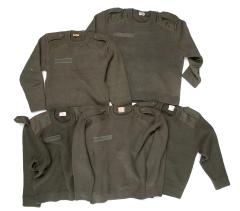 We got a batch of French wool pullovers. These are kind of short, so if you fancy wearing your pants like Clint Eastwood, here's a thick and pretty sharp woolen sweater on the cheap.
FEATURES
This garment conforms to the traditions of the military woolen sweater. Reinforcements on the shoulders and elbows in case you want to use this as a top layer. A pair of epaulettes on the shoulders and usually a place for a name tag on the chest. You can unstitch the name tag off if you wish. The fabric itself is thick and well suited for winter use. The neckline is round and the pullover looks pretty sharp in general.
As mentioned, these are short. They probably never have been very long, but have shortened a little bit more from shrinkage due to washing. However, they are perfectly functional if you wear your trousers where they should be, which is high. The sleeves share the shortness, but you should roll them up anyway, before raising a glass of Pastis to your lips on a sunny Alpine morning. In reality they have probably thought that the sleeve cuffs of the sweater should not crumple up under the jacket's sleeve cuffs or extend beyond them to hinder the use of gloves or something. You should also consider such matters when thinking about the attire of the day.
Material and care
The fabric is 55% wool and 45 % something called "chlorofibre" which is kinda like polyester, but not quite. It has pretty good characteristics when it comes to insulation, moisture wicking properties and fast drying. It does not melt when burnt, but emits toxic particles amongst the smoke, so you'd be best keeping the shirt and open flame apart from each other, like any garment containing "plastics". You can machine wash these at 30 °degrees Celsius (86 °F) with a wool cycle.
Note: these pullovers have a distinct smell, probably caused by a conserving agent used to store them. Regular users of military surplus clothing might not find anything unusual about it, while for others, it might be too much. You can mitigate, or even remove, the odor by airing them out well and subjecting them to a more pleasurable scent, such as cedarwood. In any case all of the old odors will likely dissipate over time.
SIZE
These are pretty simple: your chest in centimeters. This is more of a guideline than an accurate measurement due to the usage and washing history of each example. You can lengthen the short sleeves by unpicking them open from the cuff and sewing them on again to a different spot.
Our model is 175 cm tall (with arms more fit for a 178 cm person) with a 96 cm chest and chose his recommended size, which is 96, or Medium. He's wearing our Tactical Jeans to show where the hem reaches with a standard height waist.
FRENCH SURPLUS
You won't find any field repairs or holes here. They are in pretty decent condition, apart from the shrinkage and scent.
All products: France
Recommendations
Loading products...
Reviews
You have already submitted a review. You can edit your text by clicking on it. You can filter the reviews by clicking on the elements of the summary.
Log in and write a review. You can filter the reviews by clicking on the elements of the summary.
Remove filter
Suomi
(2)
English
(2)
I would recommend for a friend
Samuel R.

02.11.2022

Verified purchase
Hyvä paita. Pesin paidan pyykkikoneessa, ja annoin kuivua jonkun vartin, ja vedin sitten päälle. Lämmitti jo hyvin, ja kuivui nopeasti loppuun päällä. Eli tuo tekokuitu villan lisänä on todellakin hyvää matskua. Ja lämmin on. Ei tietysti niin siisti kuin Britti tai Suomi villapaidat, mutta metsässä jne tätä pitää hyvänä välikerroksena.
0
0
I would recommend for a friend
Olli S.

30.01.2023

Verified purchase
Hyvä paita hintaisekseen. On myös sen verran ronski ja sisäänajettu, ettei tule sääli retuuttaa sitä metsissä repun alla.

Armeijaviittausten poistaminenkin on kohtuu helppoa, jos ne liikaa hiertää mieltä tai hartioita. Epoletin nappi sijoittuu juuri reppuremmin alle.

Hihat ovat funktionaalisesti mukavan lyhyet, mutta helma on hieman nafti.
Rinnanympärys on omien mittojen mukaisena sopiva.
(Selkeitä käytönjälkiä vuoden 1990 kappale. )
1
0
I would recommend for a friend
Didier M.

23.02.2023

Verified purchase
Well,

Since I am french and so I have used one of this sweater in armed forces I could say that they are very good. Usually they are made by Saint James or something like , this is very good quality (and yes they tend to be short).

Chlorofiber is a special very secret typical french fiber : it is more like polypropylen BUT it doesn't easily schrink AND melt in front of fire. It is the fiber of the famous (in France) "Damart" who was used in numerous mountain ascent (even by our nice english neighbours). Combined with nice "combed" wool you have a nice "guide sweater" warm, rugged and ready for the worst from our nice neighbours.

From wikipedia (in french) : "Competition from polyester, which is five times cheaper, has led to the cessation of the manufacture of chlorofibres worldwide, with the exception of the Rhovyl plant in Tronville-en-Barrois (Meuse). The latter, which produced up to 13,000 tons of fibers per year with 2,000 employees, produces only 500 tons in 2015 with 38 employees. The market has diversified: if the French army uses the Rhovyl for non-flammable suits, this last quality is also appreciated for the armchairs and curtains of theaters (Opéra Bastille, Opéra de Lorraine, the Géode in Paris...) and acoustic panels and coatings. In addition, Japan has become Rhovyl's main market: three-quarters of sales in 2016, because the Japanese attribute soothing virtues to the negative ions of chlorofibers".
3
0
I would recommend for a friend
Kyle H.

28.09.2023

Verified purchase
Exactly as described, a little short and a fair bit of that milsurp clothing smell, but chest size is bang on. I don't layer up much, but if you want to have many shirts under this, you may want to go up a size as they are snug.
0
0