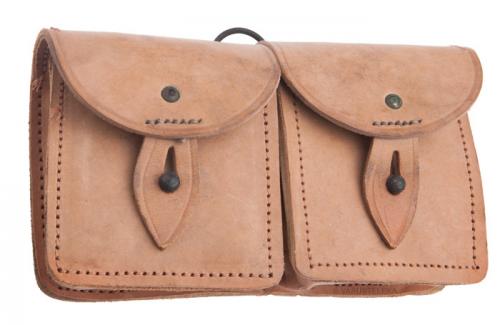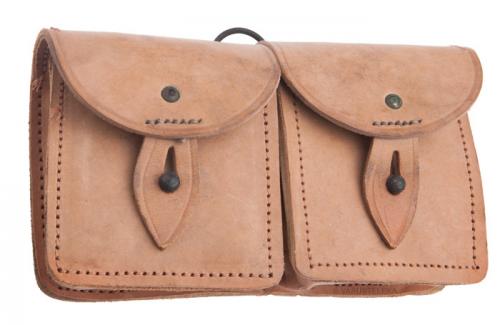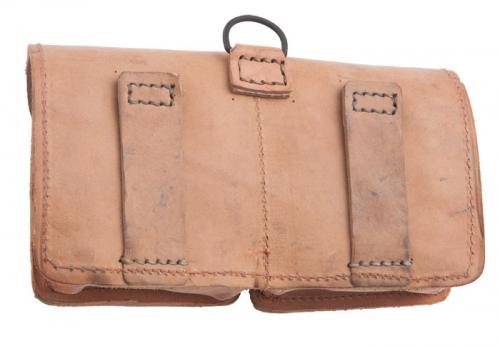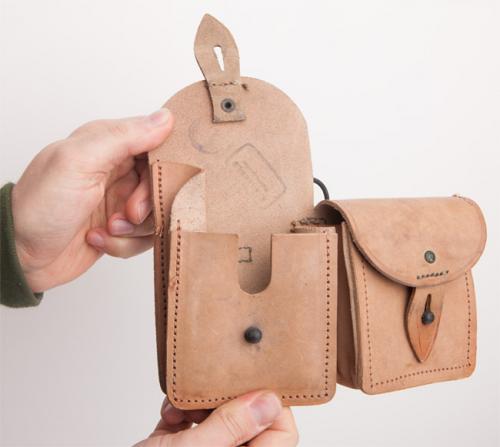 France
French MAS-49 ammunition pouch, leather, surplus
Price 7.99 USD
excluding sales tax
Classic MAS-49 cartridge pouches, proper old-timey design with stud closure, thick high-quality leather with strong stitches, and metal hardware. Belt loops and shoulder strap attachment ring.
Sold 6 pcs in the last two weeks.
This product is unlikely to be restocked and will be hidden from our website once it's out of stock.
We don't know when this product will be restocked. With surplus the restock date is unknown due to sometimes poor availability. Request restock notification and we will email you as soon as this product is available.
This product has used and returned variations. Used are washed and unbroken. Heavily used are also washed but might be missing buttons, have tears, main zipper can be broken etc. Read more about Kierto.
Trouble with the metric system? Try our converter: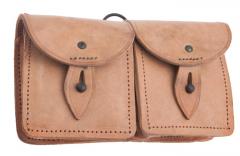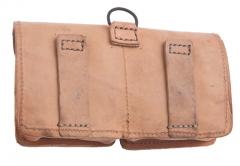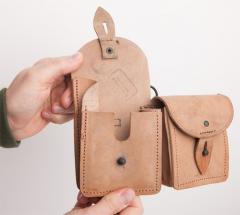 Classic MAS-49 cartridge pouches, proper old-timey design with stud closure, thick high-quality leather with strong stitches, and metal hardware. Belt loops and shoulder strap attachment ring.
Dimensions 10 x 10 x 4 cm. Belt loop width 40-45 mm.
French army surplus
Old military surplus, most of these seem to be completely unissued, but the ~60 years of age shows. We recommend greasing the leather up generously before use!
Kierto Circular Economy
Return this product used but clean and unbroken, and you'll receive half of the product's original price as Varusteleka credits. Service is available only in Finland. Only Registered users can make Kierto returns. See more information about Kierto.
All products: France
Recommendations
Loading products...
Reviews
You have already submitted a review. You can edit your text by clicking on it.
Log in and write a review.
Remove filter
Suomi
(3)
English
(10)
I would recommend for a friend
Harri K.

13.11.2016 (Edited 23.05.2019)
- tästä saa varsin hienon koriste/käyttö-esineen vyölle, kun viitsii ratkoa vanhat tikit, liimata saumat, tikata vahalangalla uudet & 2-3 kerrosta valjasrasvaa, kiillottaen tietysti välillä
- tässä yksilössä ainakin nahka mielettömän hyvässä kunnossa ja jotain tiedän n.20-vuoden kokemuksella, ettei noin hyvää/paksua nahkaa halvalla saa
- suosittelen jo ihan ihmisen oman jaksamisenkin vuoksi
13
12
I would not recommend to a friend
Richard T.

19.11.2019 (Edited 05.06.2021)
Sadly the item I received was well beyond repair and in poor condition. The brass connections were all corroded and the leather itself (even after conditioning) was brittle and snapped right away.
Perhaps you would be lucky and receive one closer to the one in the photo - mine had gone through war, and never survived.
Sadly I cannot recommend it, and consider it a waste of money.
8
0
I would recommend for a friend
Jett H.

10.01.2020 (Edited 06.06.2021)
Contrary to the other english review, mine came in practically factory-new condition, and I mean brand new, the leather looked like it was put together last week, and it was stuck hard in it's compact storage form (pouch collapsed, cover flap extended). I'm currently attempting to remedy this by putting something that fits tight in there (scrap wood blocks? M16 magazines?) and leaving it for a few days with the flap shut, I believe this will idly wear in the leather so it's a little bit more practical. EDIT: I figured it out! Put a Schokakola tin in each pouch and let it sit shut for a couple nights, it will loosen up
7
0
I would recommend for a friend
Curtis M.

19.01.2020 (Edited 06.06.2021)
I ordered two last summer and they both were in brand new condition. They even smelled like a western tack shop (brand new leather smell). I purposed them for carrying ammunition for my M39, 7.62x54R for the curious. I cut the plastic packaging from S&B ammo boxes to fit so each pouch will hold 10 rounds perfectly and accessibly for a total of 40. That's enough for the old rifle's turn on range day or more than enough for a hunting trip. They have done their job flawlessly with fairly regular use of monthly trips to the range. I expect these to last for years with regular care.
2
0
I would recommend for a friend
Perttu T.

15.01.2022
Pirun hyvää nahkaa ja tän taustasta sai täydellisen kotelon tehtyä Tanskalaiselle kirveelle.
0
0
I would recommend for a friend
Ean S.

16.02.2022
I purchased one of these for my step-father a little while ago. It was on the dry side and soaked a lot of oil, but now it is great. The leather is nice and thick and the closures are very secure. No funky mold whatsoever.
1
0
I would recommend for a friend
Corbin C.

21.04.2022
Ordered two pairs of these and both were in great condition. They don't appear completely unused but they are not in disrepair. Standard surplus "character". They were packed flat and very stiff so they'll need conditioned but overall I'm very pleased with them. I haven't decided what exactly to use them for yet but I'm certain I'll be glad to have them on hand soon enough. I'm confident they will last a lifetime.
1
0
I would recommend for a friend
Brandon P.

31.07.2022 (Edited 08.09.2022)
Mine was a more well-used than the ones pictured, but it was not a lost cause! It was very tan from sun exposure, which was pretty cool, but storage had taken a toll on the brass hardware. Both of the rivets holding the straps in place were corroded through and I was able to break them out just by pulling them with my fingernails. The straps themselves were pretty ratty compared to the pouches. Luckily I do leatherworking as a hobby, so I cut the stitching and pulled the old rivets and made new straps and attached them with new rivets. I applied neatsfoot oil to the outside of the leather and stuffed the pouches using the packing paper that came in my Varusteleka box. I will let it sit for a few days and apply some more oil, should regain its shape in no time!
Edit: Some oil and some time spent stuffed in the Sun and it's as good as new and back to its normal shape! Fits on a Varusteleka 2" leather belt and I'll probably use it to carry rifle cleaning supplies as well as some Mauser clips for camping in the wintertime
1
0
I would recommend for a friend
Gordon T.

09.08.2022 (Edited 21.09.2022)
Very nice (unissued, probably) condition: flap leather unfolded (no creases).
Leather is same colour as photos; will need oiling.
Incredible amount of verdigris present on brass - so much so that three of the four rivets fell off as the brass had deteriorated and cracked; on the plus side the leather is undamaged and new rivets can be installed (did not affect the button tabs for the closure flaps).
Props to reviewer Jett H. who suggested using Sho-Ka-Kola tins to open up pouches during treatment.
Nice kit. Very pleased.
1
0