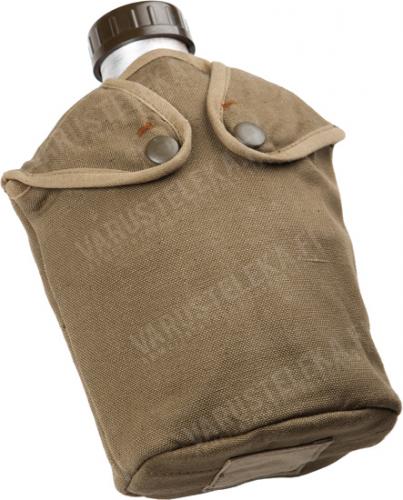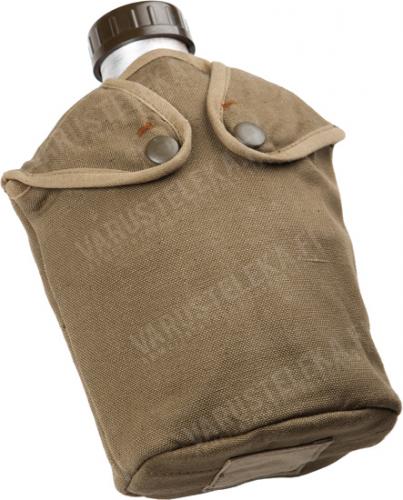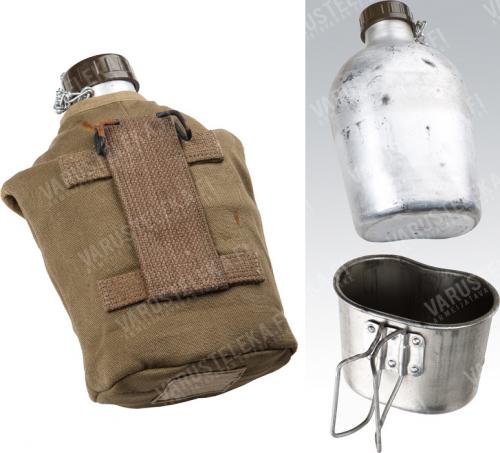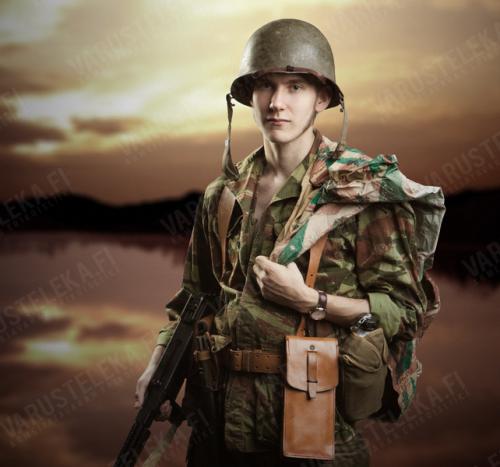 French M47 canteen with cup and pouch, used
Price 14.99 USD excluding VAT
A French-made copy of the American M-1910 canteen, but somewhat bigger than the original - these hold almost 1,5 litres of water! Comes with a compact cup and a carrying pouch.
This product is unlikely restocked.
We don't know when this product will be restocked. With surplus the restock date is unknown due to sometimes poor availability. Request restock notification and we will email you as soon as this product is available.
Trouble with the metric system? Try our converter:



A French-made copy of the American M-1910 canteen, but somewhat bigger than the original - these hold almost 1,5 litres of water! Comes with a compact cup and a carrying pouch.
This model has seen action in all sorts of African quarrels and the Vietnam War. Not exactly a gold-egg laying hen for us, we just keep these in stock when we can for the historical value. These have both an M-1910 wire hanger and belt loop for attachment. The total volume of the bottle is about 1,5 litres!
The pouches in the latest lot were made around the 80's-90's and are in a nice condition. The canteens seem much older and are scruffy. The cap is bakelite or plastic.
French army surplus
In used but serviceable condition. We recommend a thorough cleaning before use! Also a word of warning: some of these were never used and may contain loose bits of aluminium inside. Fortunately the mouth is big enough for just about any brushlike thing, so wash and scrub well before drinking from it.
Recommendations
Loading products...
Reviews
You have already submitted a review. You can edit your text by clicking on it.
Log in and write a review.
Remove filter
Suomi
(3)
English
(4)
I would recommend for a friend
Sami K.

18.07.2017
Vanhanaikaiseksi kenttäpulloksi iso ja tukeva, jolla voi tarvittaessa rusikoida vastustajan hengiltä. Miinuspuolena on sitten, että tämä on aika painava ja korkki vuotaa melko suurella todennäköisyydellä, joten siihen tarvitsee keksiä uusi tiiviste. Taskun nepparit saattavat olla pahasti hapettuneita ja vyökiinnityksessä ruostetta - missä lie kellarissa näitä sitten ovatkaan varastoineet. Osa näistä on varmaan aika uutta tuotantoa, omassani oli leima 1989 - tosin kunto oli selkeästi käytetty, vaikka mitään ei varsinaisesti ollut rikki: mitä nyt taskusta yksi läpihapettunut neppari mureni heti kättelyssä palasiksi. Muuten sellainen mukava retroiluesine, johon mahtuu muista sellaisista poiketen riittävästi vettä, ettei aivan heti tarvi kärsiä nestehukasta. Tosin ranskalaisen tavan mukaan tässä varmaan pitäisi kantaa halpaa punkkua.
8
0
I would recommend for a friend
Jonathan W.

07.04.2018
Be prepared to clean the crap out of these things. Whoever used mine last stored the cup and canteen together with water between them, and they had some serious gunk. I gave them a 3 day bath in white vinegar and now they're good to go.

On the plus side, the seal works AWESOME. I shook the hell out out of mine during the cleaning process and had 0 leaks.

Again good canteen, but be prepared to put in some elbow grease.
1
1
I would recommend for a friend
James V.

08.04.2018
Does not fit in the Turkish combat vest also sold on this site. It was in pretty good shape but the cover is very tight and extremely hard to get both snaps closed. The canteen has some black streaks running down the inside of it that I have not been able to get off with thorough scrubbing and shaking pebbles with water and dish soap inside. Wish I could have inspected the inside of it before purchase but I unfortunately cannot travel to Finland. Undecided if I will actually use it .
0
3
I would recommend for a friend
Kalle L.

14.11.2018
Tämä on aina mukana rinkassa! Kaikennäköiset jupit akkukäyttöisine hiilikuitu juomapulloineen ovat vihreinä kateudesta kun tämä roikkuu rinkassa! Kestävä, iso ja kaunis. Jostain syystä en saa sitä tunkkasta hajua pois pullosta, olen kokeillut fairyä, soodaa, kuumaa ja jopa huutanut sinne muttei auta. Ei silti haittaa kun en juodessa nenää sinne tungekkaan ja eikä mitään makua tule veteen.
3
0
I would recommend for a friend
Stevan Z.

26.11.2018 (Edited 09.12.2018)
This is a good quality canteen. Good inox steel, plastic cap. Do keep in mind that this is surplus and it doesn't come factory made. I had to clean mine before using it and the lid seal has rotten away so mine leaks.
0
0
I would recommend for a friend
Aleksi B.

20.06.2019
Saapui nopeaa postista. Oikein hyvässä kunnossa, ainakin mukana tullut kuppi taitaa olla käyttämätön. Ei vuodakkaan.
Tilasin samalla US Alice juomapullon taskun ja pullo kuppeineen mahtuu oikein jämäkästi taskuun. Tämä on hyvä bonus, sillä ideana on käyttää pulloa ja kuppia ihan erä/metsästys ja intti hommissa.

Suosittelen.
0
0
I would not recommend to a friend
Brandon A.

28.06.2019
Mine came dirty and the seal is no good. Other then a good cleaning its not to bad.
0
0