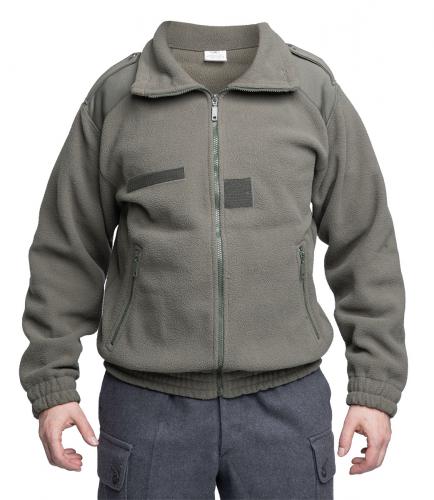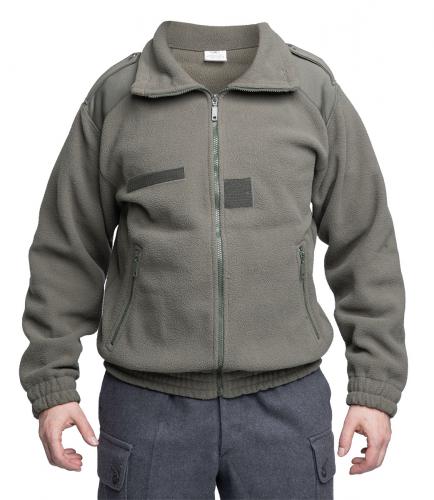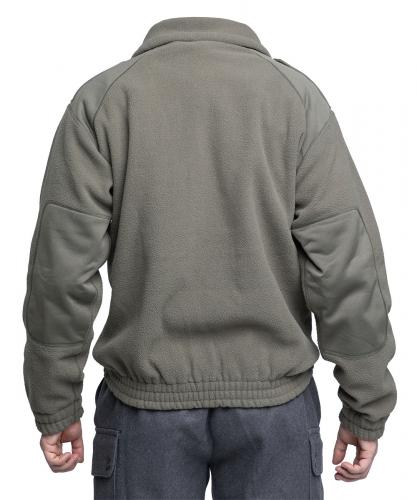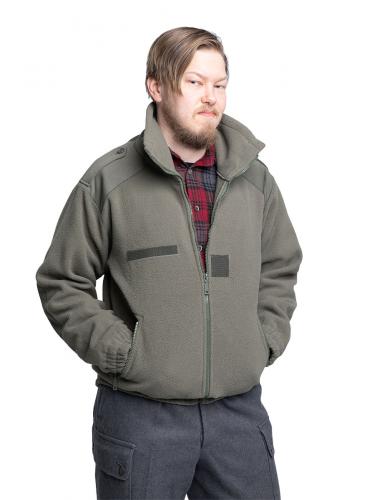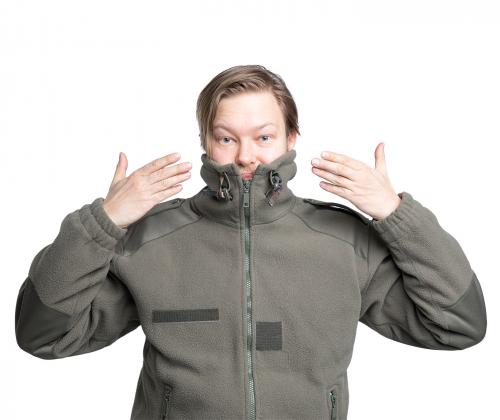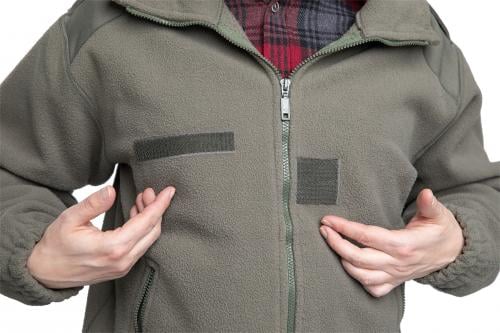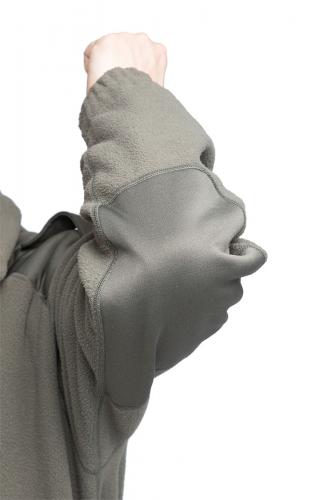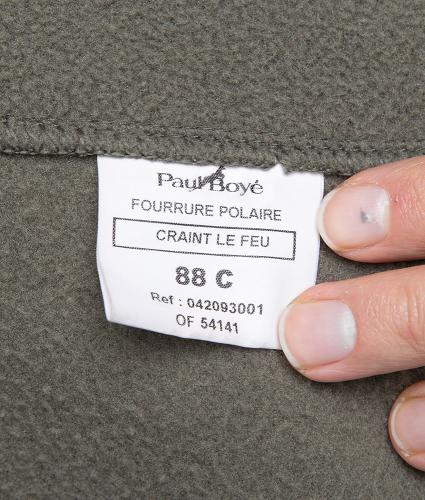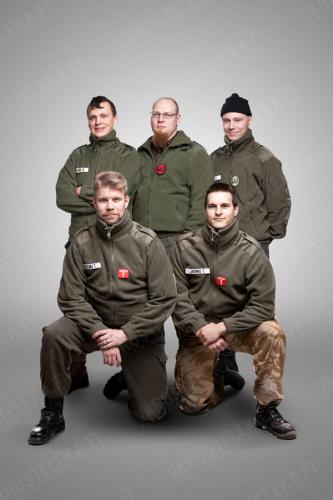 Show all: France
French Fleece Jacket, Green, Surplus
Price 20.99 USD
excluding sales tax
It's amazing how the best fleece jacket ever comes from France. This is proper thick, generously sized and works as a top layer too. Real deal used French army kit.
Loading products...
Trouble with the metric system? Try our converter: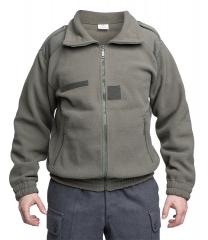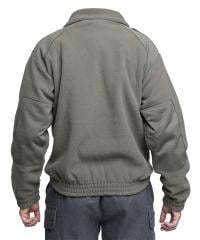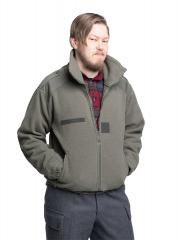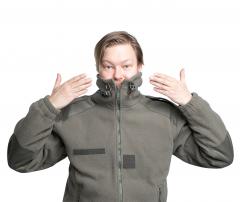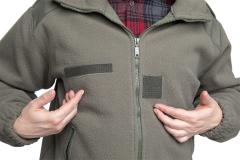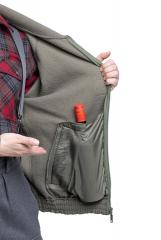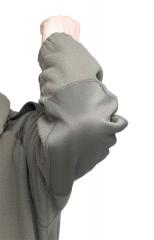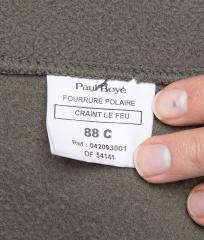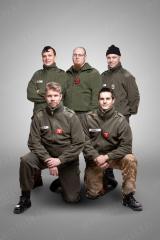 It's amazing how the best fleece jacket ever comes from France. This is proper thick, generously sized and works as a top layer too. Real deal used French army kit.
These are cut very big! Pick one size smaller than your normal size would be!
The jacket is actually very simple: zipper closure with two zippered hem pockets, reinforced shoulders and elbows, velcro for name tag & national insignia on the front, elastic cuffs, hem and collar. Naturally the quality is great, these being made for the military. The cut is generous to fit everything you could imagine underneath, so it's safe to say you can easily pick a size smaller than the recommended size would suggest.
The French didn't mess around with this, they made the fleece fabric nice and thick. We've seen too many paper thin abominations that this is a welcome change indeed. Thumbs up from the Finns, this is a proper cold weather garment!
Fleece is great and all, just don't take it too close to an open fire. Wash in about 40 degrees Celsius. Hang dry.
Size info, important - read before buying
Sizes in the simplified French army system: user's chest circumference in centimetres / length as a letter (C = Short/Regular, L = Long). Comparable US style size shown in the brackets. If you need explanations for these,take a look at the instructions for US jacket sizes we wrote.
These run very large, so don't upsize - more like downsize one or two notches; our tests showed a size 88L (Small Long) fleece was perfectly OK for a 187/105 cm (Large Long) guy, even with a light jacket worn underneath. We suggest not scrutinizing with the sizes too much, just pick one. The model in the picture is size 175 / 98 cm (5' 9" / 39": Medium Regular) and is wearing a 88C Small Regular) fleece. It still has loads of room for extra stuff.
TL;DR
Pick at least one size smaller than your recommended size (by chest size, of course) if you don't want an oversized jacket.
Used French army gear
In used but serviceable condition. However, these have clearly been used as jackets on their own, so the general look is a bit scruffy. We recommend washing before use.
Recommendations
Loading products...
Reviews
You have already submitted a review. You can edit your text by clicking on it.
Log in and write a review.
Remove filter
Suomi
(5)
English
(11)
I would recommend for a friend
Markus W.

13.02.2021 (Edited 15.06.2021)
I've never really been a fleece person but wow ... damn lucky the French blew up their fleece factories before the Germans came otherwise the Russian would probably have had it damn hot around the ears.
Did not buy my jacket here but after four days of freezing my ass off during a poorly planned trip to northernmost Sweden I kicked open the door of the local surplus store and snatched the first best warm jacket I found and it happened to be this One.
since then I have not walked a meter outdoors in this white hell without my snail and wine-marinated ultra fleece.

Sorry forgot to mention size but as the description says these jackets are Huge i run a 128L on My 186cm/126cm i could easily size down two sizes for a more snugg fit
I had no problem wearing a thick wool sweater and a hoodie under the jacket when it got really cold.
4
0
I would recommend for a friend
cyril t.

13.02.2021 (Edited 15.06.2021)
One of the best french army piece of gear : after nearly 20 years, mine is as warm, comfy and goodlooking as it was when issued !
1
0
I would recommend for a friend
Aki T.

18.02.2021 (Edited 15.06.2021)
Juuri tuli omani, ei ole hinnalla pilattu kun on ihan uusi...ei minkäänlaista käytönjälkeä ainakaan. 180/115, niin toi 96L hyvän kokoinen kevään mökkiaskareihin ja eräjormailuun. Uudenveroinen kun on, niin hihansuut niin tiukat ettei veri meinaa kiertää sormissa :-) Ei pääse pakkanen sisään.
1
0
I would recommend for a friend
Simon K.

20.02.2021 (Edited 22.06.2021)
Very comfortable and it looks cool too. Goes perfect with olive green pants!
And a steal at this price, I reckon civilian fleece jackets of similar quality are at least twice as expensive.

I picked one size lower than my normal size and it's a good fit (my usual size is S and I ordered XS).
0
0
I would recommend for a friend
Jari J.

09.03.2021 (Edited 24.06.2021)
No on! Tosissaan hyvä fleecetakki! Hyvän näköinen ja ainakin omani ei ole käyttöä nähnyt, ihan pakasta vedetty! Fleeceä kun on, ei juurikaan pidä tuulta mutta kuorikerroksen alla aivan saakelin lämmin! Ikävä sanoa, mutta nyt joutaa aiemmin käyttämäni Varustelekan huputon vihreä fleecetakki heittää muovijätekierrätykseen! Ja hinta-laatu-suhde aivan mielettömän hyvä! Yksi asia tästä puuttuu: niskalenkki! Mutta hei: Ranskan armeija. Niillä on taistelussakin henkarit mukana.
1
0
I would recommend for a friend
Eero K.

20.03.2021 (Edited 24.06.2021)
Meillä oli näitä PV:n puolesta Afganistanin RT-hommissa ja tässä on varma luottorotsi. Ei oo kaunis, mutta helkkarin mukava päällä ja lämmin kuin mikä. Yksinkertaisesti paras taukotakki mitä löytyy ja aivan ilmanen hinta. Ainut miinus siitä, että tän kanssa kannattaa pysyä kaukana tulesta ja kipinöistä.
0
0
I would recommend for a friend
Antti H.

24.03.2021 (Edited 24.06.2021)
Tilasin tämän ja se menee palautukseen. Ei niinkään ominaisuuksien takia vaan koon. Minulla on käytössä Särmän vanhat fleecet (huputon ja hupullinen) sekä belgialainen windstopper fleece koossa XL ja ne ovat täydellisiä istuvuudeltaan. Siksipä koon L/104C takki luulisi menevä päälle kuin nakutettu kun piti huoletta valkata normaalikokoani pykälän-pari pienemmän ja sen olisi pitänyt istua ihan hyvin.

Paitsi että ei istu. Hartiat ja rinnat ovat juuri kohdillaan mutta tämä on kinnaa todella paljon vyötäröstä joka tarkoittaa että vetoketjua ei meinaa saada kiinni. Lisäksi fleece on tosi lyhyt kaltaiselleni 175cm hukkapätkälle. Suosittelen tuotetta varauksin lyhyelle He-Manille jolla on Mentulan hartiat ja Freddie Mercuryn vyötärö.

Tuote oli laadukkaan oloinen, paksu, kaulus paras mitä fleeceissä olen nähnyt (ei varmaan tarvi erillistä kauluria) ja taskut olivat hyväntuntuiset. Tämä yksilö tuoksui mielestäni mielestäni hieman havulle, joka ei ole paha asia.
1
0
I would recommend for a friend
Antti L.

26.03.2021 (Edited 30.06.2021)
Hain tänään postista oman takkini. Varmaan eka medium-kokoinen vaate mitä olen aikuisiällä ostanut. Leikkaus tosiaan suosii enempi hartioita kuin mahaa, mutta vaikka minulta löytyy molempia, oli 96L juuri passeli kuljettajanvartaloiselle käyttäjälle (183 cm/110 kg). Hihatkin kerrankin tarpeeksi pitkät vasta äskettäin puusta laskeutuneelle. Kunto ei uudelle häpeä, hinta/laatusuhde huikea.
1
0
I would recommend for a friend
Patrick Y.

31.03.2021 (Edited 30.06.2021)
You can't beat the quality for the low price. I am 6'2" (189 cm) tall and weigh 185 lbs (84 kg [13 1/4 stone]) and usually wear a US size 44 to 46 regular coat. Size 96L fits well. The bottom is snug around the waist (my size is about 34"), but the sleeves are long enough and the shoulders and chest fit well. I'm glad I chose this one instead of my usual 104L size.
I also considered the Austrian windstopper fleece jacket. This French fleece jacket was less than half the price, so I went with the lower cost. This makes sense to me as I will have few chances to use it in sunny Southern California.
It's starting to disturb me how much French surplus I'm getting from Varusteleka. Am I wrong to suspect a conspiracy? Am I going to start lusting after Lebel rifles?
2
0
Kierto Circular Economy
Return this product used but clean and unbroken, and you'll receive half of the product's original price as Varusteleka credits. Service is available only in Finland. Only Registered users can make Kierto returns. See more information about Kierto.