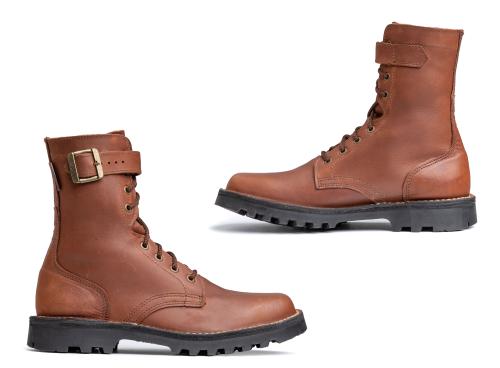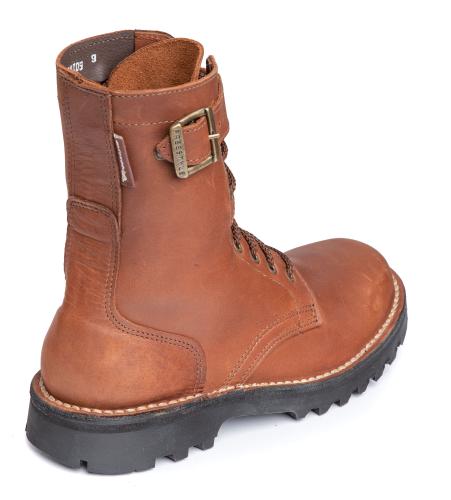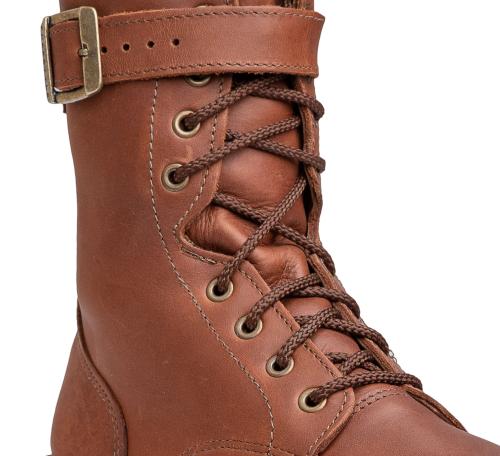 A notch in the middle of the lacing makes these very flexible.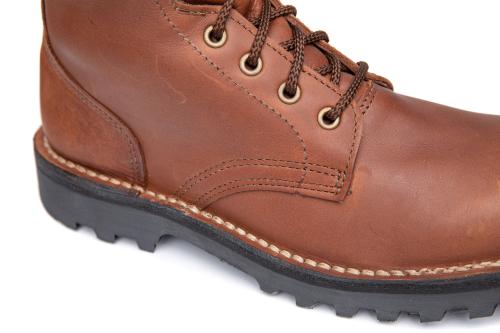 If you didn't notice by now, the sole construction includes real (double) stitching, which makes it repairable.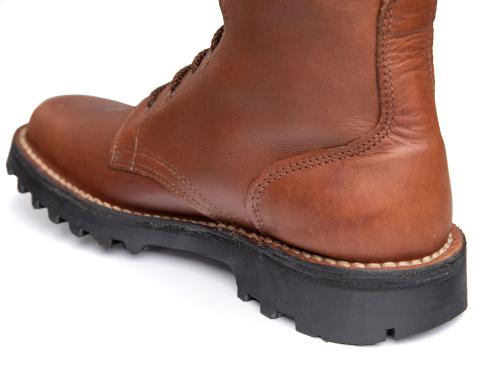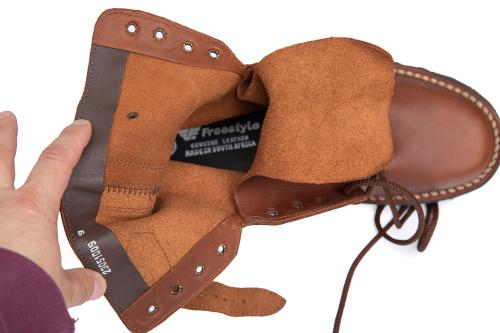 The tongue is bellowed up to the notch in the lacing, which is perfectly adequate.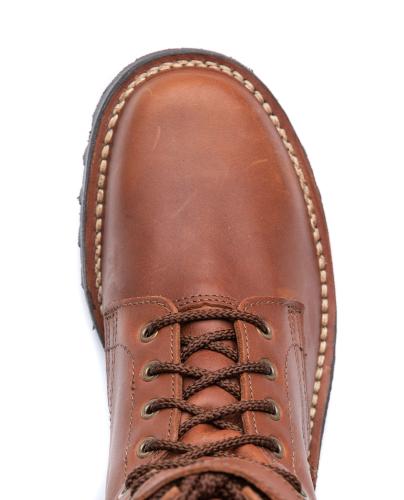 The last is actually shaped like a human foot.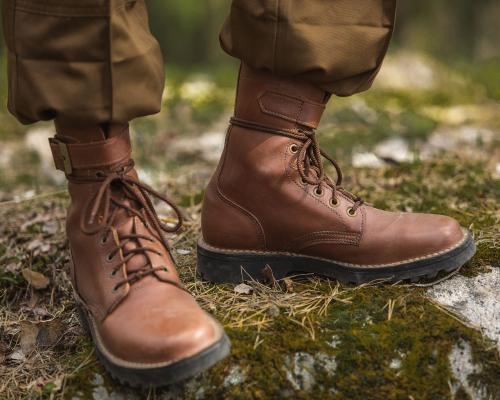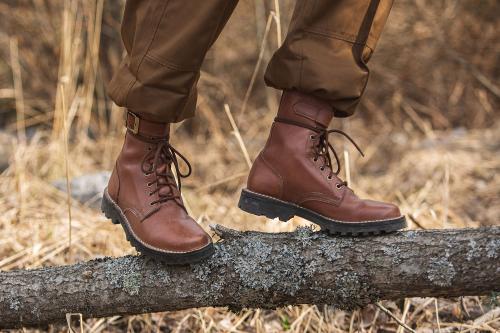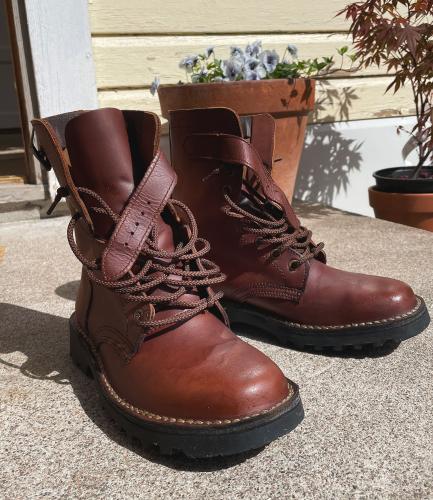 Pictured is a pair treated with colourless leather grease.
South Africa
Freestyle RECCE Style Combat Boots, Brown
Price 278.99 USD
excluding sales tax
A proper pair of adventuring boots for those looking for light leather footwear without any GTX features. Even the sole construction is stitched and repairable, goddammit. Made in Cape Town by a veteran manufacturer, which nowadays goes by the name of Freestyle. Don't be fooled by the name, they make some badass boots!
Loading products...
Trouble with the metric system? Try our converter: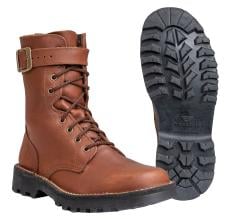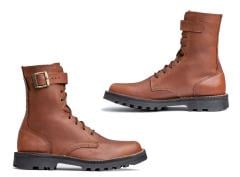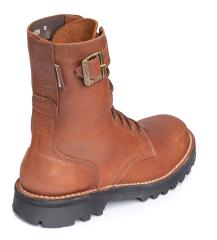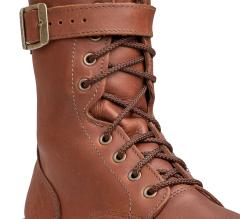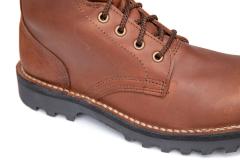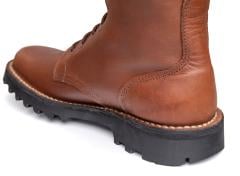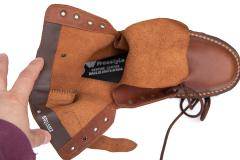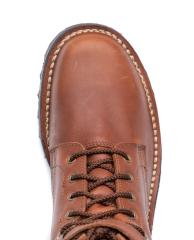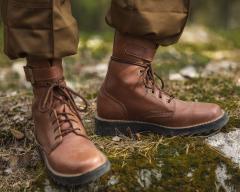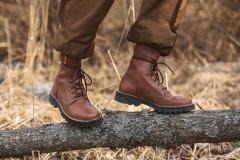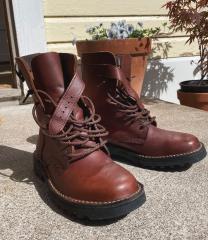 A proper pair of adventuring boots for those looking for light leather footwear without any GTX features. Even the sole construction is stitched and repairable, goddammit. Made in Cape Town by a veteran manufacturer, which nowadays goes by the name of Freestyle. Don't be fooled by the name, they make some badass boots!
In this case RECCE means the South African special forces and these boots are styled after the footwear they used. The South African combat boot philosophy revolves around an unlined full leather boot with a durable hard wearing rubber sole and a wide last to accommodate foot swelling - no fashionable pointy and crammy noses on these! If you want to go by the book, you'll use these with double socks "summer and winter", but naturally one pair of socks will also work. Of course your experience may vary depending on the summers and winters of your country; in Finland these will work during spring, summer and fall but as proper winter boots for field use in freezing temperatures they are inadequate (in our opinion, that is). However as light three-season general adventuring boots they're great!
Data
Outsole material rubber, with a thin and slightly shock-absorbing midsole
Upper double stitched on a leather midsole, on which the outsole is glued on; the whole construction is repairable!
Upper made of 2.0 - 2.2 mm thick, flexible but strong unlined leather, which is very welcoming for grease (read more about it in the care instructions)
All parts properly stitched together
A cushioned footbed, on which you can also drop in your own insole
Total height about 23 cm
Tongue bellowed from the lower part
Standard lacing with strap & buckle closure on the top
Notches in the middle of the lacing for more flexibility
Not at all stiff, these are extremely flexible overall!
Care
The boots can be treated with colorless grease or brown shoe polish. The manufacturer recommends a thorough treatment with grease before first use to prevent water from forming ugly dark stains on the leather. The treatment naturally darkens the boot a bit, but such is life. These will darken with use and care anyway, so use plastic boots if you're looking for that "sterile" look.
Clean these with a brush and/or a moist rag. Don't dry them near a heat source!
Size info
Sizes in the UK system, with comparable US and EU size in the brackets. The sizes run true and are quite accurate. Foot swelling is accommodated in the sizing. The last is quite wide, also from the toe.
Made by Freestyle
These are made for us by a South African company called Freestyle. They've been in the business for quite a while, and in the old days they made boots for the South African military. Although the name is quite, uh, civilian, their boots are handmade with a purpose in mind, not just to look nice on the sidewalk.
FAQ
"Are these the same as Waxi boots?" -No. These are an entirely different animal from a different company. Without mocking Waxi, these are better quality. The quality is more comparable to Courteney (!).
"These seem rather expensive compared to the prices on the Freestyle website. What's the deal with that?" -Indeed they are. Ordering directly from Freestyle is expensive, time consuming and overall difficult (of course nothing stops you from trying). For the reference, even our purchase price for these is more expensive than the prices on the Freestyle website. They're still worth it all!
"Is the sole slippery in freezing temperatures?" -Yes. These are not winter boots. We carry better options for that stuff. As summer boots these are the dog's bollocks!
Kierto Circular Economy
Return this product used but clean and unbroken, and you'll receive half of the product's original price as Varusteleka credits. Service is available only in Finland. Only Registered users can make Kierto returns. See more information about Kierto.
All products: South Africa
Recommendations
Loading products...
Reviews
You have already submitted a review. You can edit your text by clicking on it. You can filter the reviews by clicking on the elements of the summary.
Log in and write a review. You can filter the reviews by clicking on the elements of the summary.
Remove filter
Suomi
(1)
English
(3)
I would recommend for a friend
Gerard B.

01.05.2023

Verified purchase
First time when you hold these boots in your hands, you think what the heck?
Thin leather, soft and flexible. I immediately started to make comparisons with my stiff leather Norwegian M77 Combat Boots and nubuck Danner Tachyon Boots .
Are the Freestyle Recce boots good?

Yes. If you know the difference between usual top grain leather and aniline leather. Don't be fooled.

>> The Freestyle Recce Boots are made of aniline leather. Aniline leather is the most durable and strongest part of the animal hide. (more dense) For this reason, this aniline leather is good at resisting moisture.

>> My Norwegian M77 Combat Boots are made of cow top grain leather. Top grain leather is less processed. Do not show their natural flexible features. They also feel harder than aniline leather.

Since I knew these boots being made from Aniline leather, I not needed to order 1 size larger.
Even with (rather thick) Jalas insoles, no problem. Aniline leather is soft and adapts within minutes to your feet.

For shoe care?
> first Tallipoika natural tar on the double stitches;
> Saphir Medaille d'Or Pommadier; first layer shoe polish; feeds the leather and makes it more water repellant
> for last, Saphir Medaille D'or Mirror Gloss; I want mirror shine. Nasty habit from past compulsory military service ;) ??

small advice:
Since aniline leather is very soft, better use flat laces.
During walking in warm weather feet have tendency to swell.
No need to suffocate your feet during long walks.
11
0
I would recommend for a friend
Henri L.

Varusteleka employee

26.05.2023

⚠ Unverified purchase
Törkeen hyvät kengät. Nämä ovat hiton notkeat hankalassakin maastossa, lesti on tosi ihanan leveä ja nahka laadukasta. Tämmöisiä kokonahkaisia "kesäpainoisia" varsikenkiä ei hevillä löydy, mutta onneksi Etelä-Afrikassa tiedetään tästä hommasta juttu jos toinenkin. Puoli tähteä pois koska omissani pari nauhasirkkaa oli karvan verran huolimattomasti lyöty, piti vähän fiilata etteivät kuluta nauhoja, mutta tämä oli semmoinen viiden minuutin homma. Yhtään tähteä ei lähtenyt pois pohjan liukkaudesta pakkasella, koska nämä eivät ylipäätään ole talvimaiharit ainakaan Suomen olosuhteisiin. Suosittelen näitä kyllä väkevästi kaikille seikkailijahenkisille ihmisille, vaikka hintalappu onkin kova!

Superbly nice pair of boots! These are very manouverable even in difficult terrain, the last is wonderfully wide and the leather quality rocks. These kind of "summer weight" leather boots are hard to come by, but in South Africa they know a thing or two about these things. Half a star off because a couple of lace grommets on my boots were a bit hastily installed, resulting in a rough edge here and there. I just filed them smooth, a 5 minute job. No stars off due to the sole rubber getting slippery in freezing temperatures, because these are not winter boots anyway, at least for the Finnish conditions. Highly recommended for budding adventurers looking for good boots, despite the seemingly high price tag!
3
1
I would recommend for a friend
Alexander V.

30.05.2023

Verified purchase
Very nice quality contruction. The leather is very soft and flexible, and also very thirsty; it will absorb any oil/grease/fat you feed it. It will darken when lubricated.

The leather strap is a bit of a gimmick, but seems just fine. The lack of speed hooks does make tying these boots a bit more timeconsuming when compared to the Norwegian M77 boots.

The soles are soft and flexible, but they don't seem to wear out particularly quickly, so that's good. Can't comment on winter-time grip, as that will take a few more months.

Sizing seems on point; though they are definitely set up for thick, proper, knitted woolen socks. I normally wear size 42EU / 8UK / 9US. The size 8 RECCE's fit as expected. I would not advice sizing down; you'd be better off just wearing an extra pair of socks.

The insoles are fine.
2
0
I would recommend for a friend
spattiska h.

31.05.2023

Verified purchase
very good-looking pair of shoes and seem very nicely constructed maybe a few loose threads but overall seem tough.

Things I did not like
- it takes a lot of time to tie and lace and untie unless maybe you are a pro speed lacer
- I'm normally a size 10 or 10.5 US but these shoes just don't fit properly for me. Maybe I just got weird feet Took them for a short hike and could already feel the back of my heel rubbing the wrong way and could feel a callous developing. I'm going to try with a size 9 and revise this post.
- maybe a few loose threads as mentioned before but not that much of a big deal

for a summer boot if they fit I would probably love them! most definitely not a winter boot unless your winter is 60F
1
0