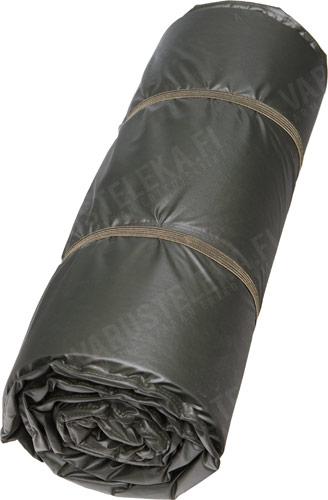 Finnish sleeping mat
Price 55.99 USD excluding VAT
Flat Rate Shipping to USA $9.99
100 % recommends
Sold 51 pcs in the last two weeks
In stock 197 pcs.
Trouble with the metric system? Try our converter: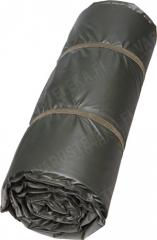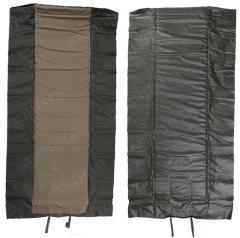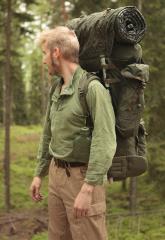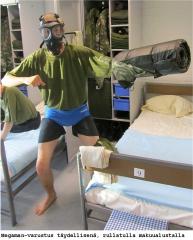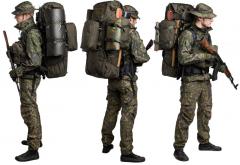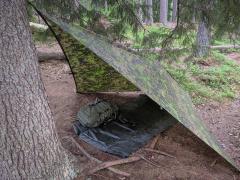 Now, if there's something the Finnish army can do right, it's the sleeping gear. Our kip mat is the best one we've ever seen, to be honest. These are made by the official army contractor, Savotta. You can see from the price you've got quality coming.
Admittedly a traditional sleeping mat is OK, but if you want to take it a few steps further, try this:
The 1,2 cm thick foam keeps cold away and cushions just enough.
25 cm wide foldable extensions on both sides and a 20 cm long one on the foot end. These are super - you won't touch the wet ground even if you slip while asleep...
...which is unlikely, thanks to good friction on the top of the mat.
Length 190 cm (+ 20 cm), width 50 cm (+ 50 cm), weight 1 kg.
Elastic loops to secure the mat - you won't be needing extra straps to keep this rolled. You can also use the loops to secure the mat to the rucksack, like some of us did in the army. If you did this wrong, the mat constantly banged against the back of your helmet, which is something that god fairly annoying on a long tab.
Made of very high quality materials. These are meant to work in Finnish weather conditions, which are very cold when they're not otherwise wet and nasty.
The workmanship is also top notch, and to the best of our knowledge fill the army requirements. Well OK, you wouldn't expect any less from a kip mat this expensive.
Compared to inflatable mats, the advantage of a "traditional" foam mat is the impeccable durability and ease of use. These won't mind if you happen to shove them into something sharp.
Salesman video:
SWEAR TO GOD HONEST test video:
Made by Savotta, made in Finland
These are the same stuff Savotta makes for the Finnish military, the only difference is in the tags where the official FDF "castle" has been left out. Bombproof, high quality kit!
Reviews
You have already submitted a review. You can edit your text by clicking on it.
Log in and write a review.
Remove filter
Suomi
(6)
English
(15)
I would recommend for a friend
Patrik A.

24.03.2017
A really good sleeping mat, the extensions are great!
33
1
I would recommend for a friend
PettuLeipä

09.09.2017 (Edited 09.09.2017)
Plussaa:
+ Liepeet
+ Kangas solumuovin päällä tekee tästä periaatteessa tuhoutumattoman.
+ made in finland
Ja ne pakolliset miinukset
- paino
- hinta
Kysytte varmaan, että miksi pitäisi maksaa huima hinta painavasta patjasta? Tässä Vastaus: Se sattumoisin vaan on paras makuualusta koskaan.
24
2
I would recommend for a friend
David F.

16.01.2018
Excellent quality, brand new with tags. Description is very accurate. Whether your going camping or to war, you want to bring this with. With even the tiniest amount of care it should last practically forever. It's also quite easy to to roll into a small bundle thanks to the design. (air/drainage/hole thingy-good!) I thought I went a bit looney paying $60 for a sleeping mat, but I am impressed and glad I did. If you throw this on a cot you might not wake up till high noon, so be warned. You deserve it, go ahead.
17
0
I would recommend for a friend
Pasi K.

17.02.2018
Hyvä alusta liepeineen kaikkineen
6
2
I would recommend for a friend
Juho R.

31.05.2018
The Best.
4
1
I would recommend for a friend
Kalle H.

08.06.2018
Suunnilleen nollakelissä piti maan kylmyyden pois hyvin... yllättävän hyvin.
Kyljellään ollessa lonkassa tuntuu, mutta ei kai tää paljo paksumpikaan voi olla.
Liepeet jees.
2
1
I would recommend for a friend
Simon S.

15.06.2018
I would recommend for a friend
Tish T.

24.06.2018 (Edited 18.08.2018)
This is an excellent cold / wet weather sleeping mat. It is indeed waterproof and very durable. It is very light and rolls onto the top or bottom of a large rucksack (ie. Berghaus Centurian), and is quite durable. For extreme cold conditions I would use it under my bivi bag and will likely put a thin thermal foam mat inside my bivi bag under my sleeping bag.
3
2
I would recommend for a friend
Johan G.

03.07.2018
Anyone thats looking for a sleeping mat just buy this. its way better than any of those low budget foam mats and this is still pretty cheap for a high quality sleeping mat.
12
0
I would recommend for a friend
Stuart S.

21.07.2018
Having now used this sleeping mat in all seasons I can honestly say that it's the dogs testicles. The extensions are especially useful when I'm using a hooped bivy. Keeps your sleeping bag dry, is light weight and easy to clean.
Buy one. Just don't tell the Mrs how much you paid for it!
14
0
I would recommend for a friend
Kalle L.

16.09.2018
Ei kevyin tai helpoin kantaa mukana mutta tuntuu aika jämerältä tuotteelta! Oli lämmin ja pysy mukavasti paikoillaan.
3
1
I would recommend for a friend
Mika K.

27.02.2019
I would recommend for a friend
Farasha E.

11.03.2019
If you camp with a tarp or floor-less tent, this is an ideal companion. It may not be as fluffy as the latest and greatest air mattress, but it is indestructible, and that is worth a heck of a lot more.
5
0
I would recommend for a friend
Ben M.

25.04.2019
I picked this up over a year ago and love it as a part of my camping gear and bushcraft kit very light weight and great to keep you off the ground.
1
0
I would recommend for a friend
Joshua A.

18.05.2019
Can't say enough good things about this pad. It's an instant classic. It's incredibly tough, comfortable and warm to use. The side wings are a brilliant addition and really keep the sleeping bag dry and off the ground if not using a bivy bag. It's stupidly robust, you'd have to take a knife to it with some effort to even get half way to putting it out of commission, and if you did do that all you've really done is create two slightly smaller but excellent pads :-)

Rolls up fairly small, comfortably fits under even small 30 litre packs, the elastic is way stronger than you'd think too. Yes this is expensive but really you're getting a massive upgrade on the normal foam mats and it'll last forever. Get one.
3
0
I would recommend for a friend
Chris K.

27.05.2019
Usually I am not a big fan of rolling sleeping mats and more the Bundeswehr foldable version, since it's not as bulky. But this mat is definitely worth it and insulates very well. The extensions are a great idea and make another waterproof layer underneath unnecessary.
0
0
I would recommend for a friend
Johnny H.

05.07.2019
I would recommend for a friend
Zsolt K.

21.08.2019
I would recommend for a friend
Thomas D.

03.09.2019
So, i have a Brigade exercise in October and i needed the feel of having something REALLY good, during the bootcamp in the French army i got issued a really shitty mat that didn't hold it's way up my entry at the company life, since then i used a foam mat from a sport seller very famous in my country, it did it's job, wasn't bad, wasn't great either.
When i opened my parcel and took this baby out, i immediatly felt how strong it is, and the extensions are just well thought, time is finally over to make abs at morning in the woods while you have to dress yourself up for a new day out there in winter after a night in wich you slept with your cold FAMAS on your back in the sleeping bag.
All i can say is: you like sleeping outside or you have no choice because of your special work, then well just invest in this thing, it will change you the way of sleeping, all it misses is a bit of "water made with potato" by your side to have this relaxed feeling when laying on this mat.
4
0
I would recommend for a friend
Anton K.

14.10.2019
I would recommend for a friend
Chris K.

29.01.2020
It's a Savotta. Any questions?
0
0