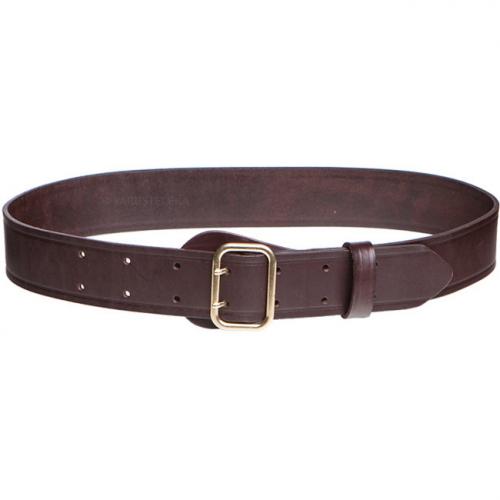 Finnish Service Belt
Price 27.99 USD excluding VAT
Flat Rate Shipping to USA $9.99
82 % recommends
Sold 111 pcs in the last two weeks
Loading products...
Trouble with the metric system? Try our converter: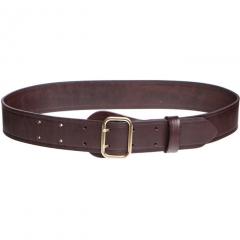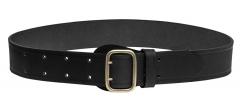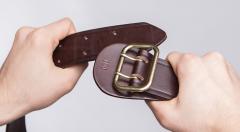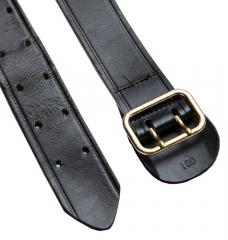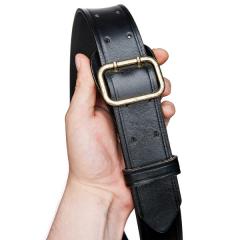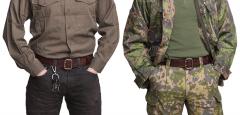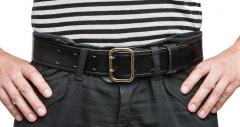 One of the most beloved pieces of issued gear the Finnish military has to offer, these belts have been around for over half a century and are still going strong. Rugged, stylish and tough, and for those of us who've done service these naturally come packed with fond memories of honor and all that.
The Finnish army has used two prong leather belts like these since WW2, but the real breaktrough happened in the 60's when this became the standard service belt to be worn with the M62 camo suit. These are one of the oldest pieces of kit still in use by our military, after the few imperial Russian Mosin Nagant bolts and the mess kits. Nowadays these are used as trouser belts with the M05 uniform.
About 45 mm wide, fits most civilian jeans too!
Size info
The length is the total length, so choose a size at least 10 cm longer than your circumference to be able to close the belt.
Reviews
You have already submitted a review. You can edit your text by clicking on it.
Log in and write a review.
Remove filter
Suomi
(13)
English
(21)
I would recommend for a friend
Pavel S.

16.09.2016 (Edited 20.09.2016)
Extra qualified belt, great leather and great solid buckle. Thank you!
35
7
I would recommend for a friend
Brian C.

28.09.2016 (Edited 29.11.2016)
Excellent belt. You can't get any better than this.
32
7
I would recommend for a friend
Juho S.

23.05.2017 (Edited 08.06.2017)
Vyö vaikuttaa hyvältä kapineelta. Aika pehmyttä nahkaa..

Meni vaan vielä palautukseen ja vaihtoon, koska en sit kuitenkaan ymmärtäny tota kokohommaa vaan ymmärsin väärin et mitta olis reikiin..
Lukee, et pituus on vyön maksimipituus, joka ilmeisesti tarkoittaa vyön koko pituuttaa.. en silti saa sitäkään mistään suunnasta mittaamalla kuin 112 cm vaik sekin pitäis 115 olla?? No uusi pidempi koko arvontaan..

Kyllä mä silti tätä lähtisin suositteleen.. tosi monikäyttöinen..
Jos saisin autiolle saarelle valkata vaan kaks vyötä mitä käyttäisin, niin ne vois olla nää pirulaiset mustana ja ruskeana..
9
6
I would recommend for a friend
Jani N.

29.05.2017
25v samalla vyöllä menty. Ainoa mitä tarvitset. Ikinä.
16
8
I would recommend for a friend
Patrice B.

11.08.2017
WWoooaahhh , Nice, exellent belt !!! Great and strong style, one of the best belt i have . I'm in love ... Thank you Varusteleka !
22
6
I would recommend for a friend
Haakana T.

23.09.2017 (Edited 23.09.2017)
I would recommend for a friend
Haakana T.

23.09.2017
Suosittelen varauksella. 2 vuotta kesti ja solki murtui. Ei päivittäisessä käytössä. Loistava vyö jos solki pitää.
18
1
I would recommend for a friend
Jim A.

03.10.2017
Exellent, nice leathery smell!
8
5
I would recommend for a friend
Elias I.

24.10.2017
This is a superb quality belt, but it is unfortunately just a bit too wide to fit into a couple of my trousers' belt loops. No fault of the belt of course, as the extra width makes it even sturdier and more comfortable in the other 90% of my trousers.
2
5
I would recommend for a friend
JOAO K.

01.11.2017
BEST BELT I HAVE EVER SAW IN MY ENTIRE LIFE! Was afraid I would be looking a little bit like Santa, but no. The buckles are just the right size. Belt is elegant, discreet, made for war, super rugged, and with a lot of thought and quality out into it. For the price is a steal. 6 Stars guaranteed. Keep the excelent work Varusteleka!!
4
4
I would recommend for a friend
gregory d.

12.02.2018
great belt, only size was a 105cm..... should have been big,, didnt fit too small. I have a 34-36 waist, 40 in belt should fit. It didnt.. Ill find someone skinnier in my family.
1
3
I would recommend for a friend
simon s.

18.03.2018
Amazing quality product for an amazing price AND my pants haven't fallen down once since. Win
4
2
I would recommend for a friend
William W.

07.04.2018
Good belt, my trousers no longer fall down.
9
2
I would recommend for a friend
Frank L.

20.04.2018
As usual great service and a great price, even with UK shipping. I'm very pleased with the belt it goes well with casual wear and is long enough to wear over a jacket or heavy wool blanket shirt. Looks well made and robust and I am expecting it to wear well as it ages and softens and I am expecting to get years of service from it. The easiest way to do the sizing is to get a belt that already fits well and measure it from the end of the buckle to the other end. Go up a size rather than down if you fall between two measurements as that gives you the option of wearing it like the Fjallraven equipment belt, which is way way more expensive and doesn't even have a brass buckle by the looks of it.
1
1
I would recommend for a friend
Jouni R.

12.05.2018
Ostin alkuvuodesta ensimmäisen miehistövyön ja olen niin tyytyväinen tuotteeseen, että tilasin toisenkin. Kankeus vyöstä häviää parin viikon käytön jälkeen.
1
2
I would recommend for a friend
David F.

05.06.2018
Mine appears to be new. Very well made belt. The leather is soft and quite flexible. Fit as described. It may well outlast me.
3
1
I would recommend for a friend
Harri K.

07.06.2018
- päivittäisessä käytössä ollut vuosia, ainoastaan takapuolelta kulunut
- muutin omaani lisäämällä siihen tuon m/22 soljen ja pika irrotettavan koukkupuolen (neppareilla)
- mustat tikkaukset (vaikka olisivat kestäneet) muutin valkoisella vahalangalla tikatuksi, tuli hyvä
0
2
I would not recommend to a friend
Markku S.

27.06.2018
Muuten ihan toimiva vyö mutta 7kk arkikäytön jälkeen meni soljesta toinen piikki poikki.
14
2
I would recommend for a friend
Adam T.

08.07.2018
Possibly the nicest military leather belt you can get, at great price too! My first time dealing with Varusteleka - fast service and delivery with no problems - now I have to get another belt for my demanding little daughter!
5
2
I would recommend for a friend
Fraser H.

26.07.2018 (Edited 30.09.2018)
Great belt although make sure you go size bigger. I went for the 125 cm belt for my 110 cm waist. It fits but wish I'd gone for the 135cm so if I was wearing thicker clothing it would go around.



Looks even better than in the photo

About to order my 4th so I now have 2 brown and 2 black for work
3
1
I would not recommend to a friend
Michael N.

02.08.2018
one item that i dont like at all...not what i want for my Gear
3
13
I would not recommend to a friend
Adam T.

24.08.2018
The belt bleeds dye like hell. It's like wearing an ink pad! The horrible reddish brown dye leaks stains everything. The leather itself is some cheap rubbery stuff, not the strong belt leather you'd expect. It looks nice in photo, but that's all. :-/
4
13
I would recommend for a friend
Linus B.

27.08.2018
Jag köpte det här bältet i svart version för ett år sedan. Nu bestämde jag mig för att köpa den bruna varianten också. Ni förstår att jag gillar bältet! Varusteleka har alltid gjort mig nöjd. Några fler dagar i transport till Sverige är väl värt det.
5
1
I would not recommend to a friend
Göran G.

21.09.2018
Looks sturdy but feels a bit cheapish IRL. It's alright but the Särmä leather belts which I also own are of much higher quality (thick quality leather, rivets instead of somewhat weak looking stitching and a sturdier buckle too).
3
5
I would recommend for a friend
Kalle H.

20.11.2018
This is the belt for it's reputation and the feeling of an army-use.
0
2
I would not recommend to a friend
Ville H.

19.12.2018
The material of the belt is bizarre. It's not like any leather I've encountered before - it has a rubbery look and feel all over, and it's seems to be much lower quality than what I expected. This most certainly isn't the ever-lasting army belt that we all wore back in the day. The buckle looks nice, as expected, but the rest just feels off.
4
3
I would not recommend to a friend
Atte R.

26.01.2019
Olisi pitänyt ostaa vähintään 20 senttiä pitempi kuin vyötärönmitta, kun housut ja paita vievät vielä 10 senttiä. Ei kai tätä kukaan nakuna pidä, vaikka komea onkin. Kokoselostuksesta siis miinusta.
2
2
I would recommend for a friend
Ilkka J.

02.05.2019
Toisin kuin jakotavara, tässä soljen piikit liikkuvat toisistaan riippumatta. Oivallinen housunkannatin, mutta käytettävyysarvo putoaa tuon takia monta pykälää. Juottakaa piikit keskusakseliin, niinkuin alkuperäisessäkin, niin 5* on varma.
2
0
I would recommend for a friend
Chris W.

12.05.2019 (Edited 12.05.2019)
These are excellent quality belt's. I say belt's because I liked the first one so much I purchased another. I like the looks of the Finnish Service belt and have received compliments on them. superb workmen ship at an excellent price. I highly recommend. The Finnish belts I have purchased are the very best I ever owned
0
0
I would recommend for a friend
Peter D.

02.06.2019
Gotten two of these so far, one for a friend, the other for myself. It lasted for quite a little while for me, but eventually, the piece of metal with the two prongs broke exactly in the middle when I was putting it on, and unfortunately, it isn't something you can really fix without being destructive with the belt. The other is still going strong, so I'm not sure what caused the failure, but I have the suspicion that it's a softer metal that had some metal fatigue. Going to get a replacement at some point, and it's worth mentioning the belt I got my friend has lasted them through daily use for months, so hopefully it was just a fluke. I'll update this review at some point when I've worn the replacement for a little while. All in all I'd recommend them if you can be wary of the ones that might be susceptible to fatigue.
1
0
I would recommend for a friend
Aaron F.

13.06.2019
Great belt, but I wish they'd have found a way to permanently affix the belt loop to the belt... hence the 4 star rating.
0
0
I would recommend for a friend
Riku s.

22.07.2019
Minulla on näitä useampia kun tykkään siitä ettei tarvitse joka kerta vaihtaa vyötä kun ottaa eri housut. Edellisellä kerralla oma kokoni oli loppu (taas) joten tilasin 20 cm pitemmän. Liika pituus ei ole ongelma, koska vyötä pystyy leikkaamaan tavallisilla Fiskarsin saksilla .
1
0
I would recommend for a friend
Chris K.

26.08.2019
This is the only belt you'll ever need. This belt works with everything from jeans to combat-pants and doesn't disappoint. Mine went through a lot with me and is still as good as new. The thick leather feels great and is not as stiff as you'd might expect. Definitely worth the money.
0
0
Andreas R.

30.05.2016 (Edited 31.05.2016)
Nice belt. Watch the sizing! It's the length of the belt from buckle to the end of the Belt, not of the last holes!
9
4
I would recommend for a friend
Tero K.

01.08.2016 (Edited 04.08.2016)
Päivittäisessä käytössä! En edes käytä enään muita nahkavöitä kuin tätä sa-mallia!! Kestävä ja laadukas! :)
20
9