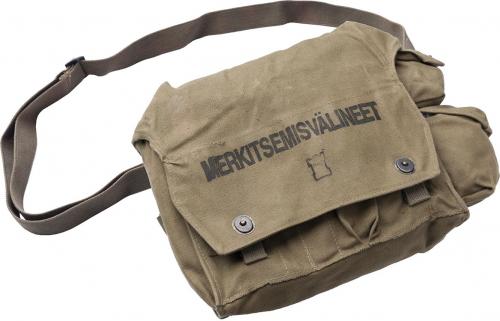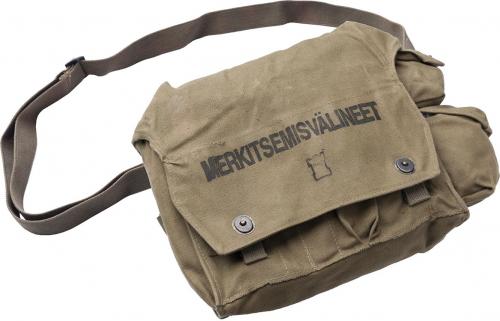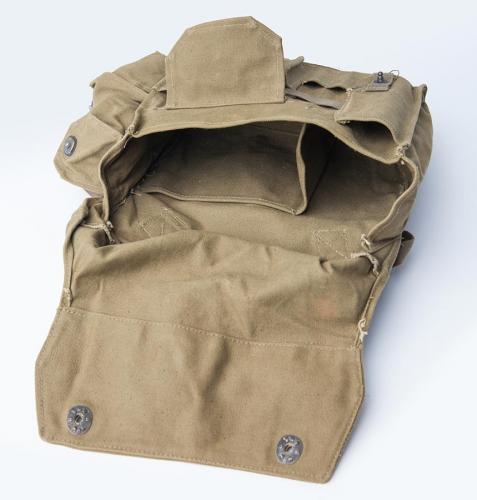 Divided main space. The divider can be cut off if necessary.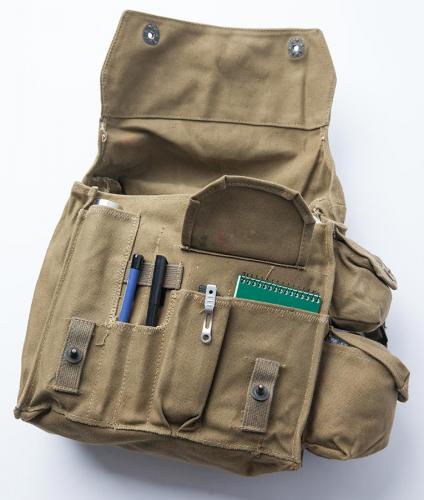 An example of contents: Särmä TST notebook (small), a multitool, couple of pens and an Ukkomatti hip flask.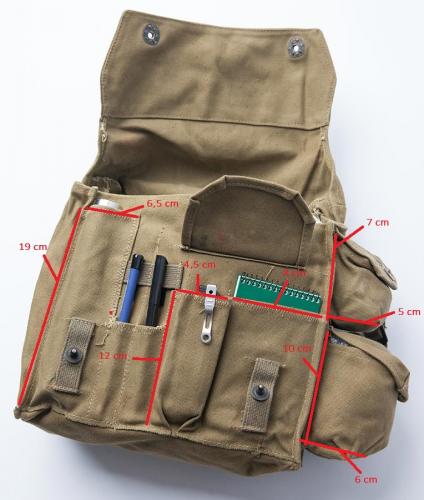 Pocket measurements. The multitool pouch is a bit baggy in construction. The upper side pocket is about 7 cm wide, the lower 10 cm, these are a bit rough measurements.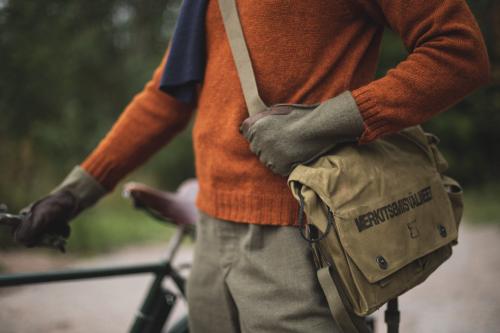 Finland
Finnish marking equipment bag, surplus
Price 19.99 USD
excluding sales tax
A canvas case used to hold marking equipment, or that's what it says on the lid. A nice multi-purpose manpurse, real deal Finnish army fashion design. One-off lot!
We don't know when this product will be restocked. With surplus the restock date is unknown due to sometimes poor availability. Request restock notification and we will email you as soon as this product is available.
Trouble with the metric system? Try our converter: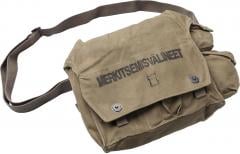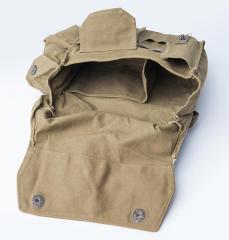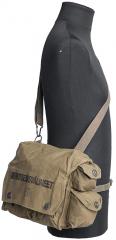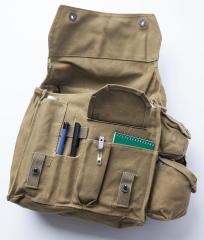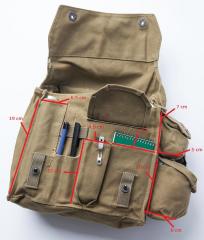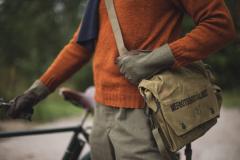 A canvas case used to hold marking equipment, or that's what it says on the lid. A nice multi-purpose manpurse, real deal Finnish army fashion design. One-off lot!
Consists of a divided main space, smallholders for various things on the front, and two blobby pockets on the side - these take in chargers and such. Lift-the-Dot closure. Carried with a shoulder strap and a waist strap, both adjustable of course. These have a real premium feel to them compared to many others, with high-quality materials and workmanship.
Main space dimensions approx. 25 x 22 x 8 cm / (10" x 8.5" x 3").
Condition
Genuine Finnish military surplus, some used, some not. All are good to go.
All products: Finland
Recommendations
Loading products...
Reviews
You have already submitted a review. You can edit your text by clicking on it. You can filter the reviews by clicking on the elements of the summary.
Log in and write a review. You can filter the reviews by clicking on the elements of the summary.
Remove filter
Suomi
(4)
English
(12)
I would recommend for a friend
Denis S.

11.09.2018

Verified purchase
The Perfect bag for a hammock. You can roll the tree-huggers/straps in the outside pocket and add a few carabiners too.
Inside there is ample room for a Nalgene bottle in the shorter compartment and loads of room for your hammock in the large one.
Mine arrived all new, not a speck of dirt, not the slightest discoloration. Just that familiar surplus smell we all adore.
So if you want to make the perfect gift for a "hanger" friend or want to make the dream hammock kit, this is it.
6
0
I would recommend for a friend
Glenn

14.09.2018

Verified purchase
I have several Finnish gasmask bags (also sold here, they are excellent, buy them!) but even though they are excellent, there is no 'one bag to rule them all'. I try to buy used stuff, because I love how it looks and feels, and you can't beat surplus quality for the money. This bag is superb, as it is of massively high quality, and will probably outlast me.



The gasmask bag is what I use everyday, but it lacks a divider for a water bottle, and some other basic organisational features. the pockets on the inside make it pretty much idiot proof, but they can be hard to reach, and the bag sags a bit when it's full. all very minor things but enough to seek out a complementary piece to go with it.



Enter this bag, mine came brand new, no dust, no stains, no nothing. It even lacks the typical surplus character. It has the smell though, which is a good thing for me. The pockets on the side are big and bulky, and made for a specific piece of equipment, probably. you could stick a charger in there, or a mouse for a laptop probably, but unless the pocket is full, the flap does not properly close it, so small stuff could fall out. My solution is to fold the pockets and their lids flat, and stitch the lid to the bottom of the pocket so that they lay flat. Two stitches on each side is enough to keep them closed, but will easily be cut to use the pocket when i want to use them.



The rest of the pockets and sleeves and all that are good for storing the small things I keeps with me on a regular basis, and the bag is pretty much perfect for a water bottle and a pair of binoculars, flashlight, basic first aid kit, small snack, flask of whisky, you name it, it's all good.



So I don't like the pockets on the side, which was easily fixed. There was however another issue with the bag, in that the shoulder strap was sewn on backwards. This means that the sliding buckle on the strap has the flat side on the outside, and the 'pointy' side was on the inside. Super uncomfortable, and probably an uncommon mistake as the bag is of excellent quality otherwise. I could have sent it back, but that would cost money and as I am a grown ass man, I can sew a strap. Anyway, I cut the stitching off the sliding buckle, flipped the thing over and sewed the thing back together. Took a couple of minutes, and makes a man feel good! Regardless of the 'defect' the bag still gets the full 5 stars as it is excellent.
5
0
I would recommend for a friend
Gareth B.

17.09.2018

Verified purchase
Really great man-bag. For when a rucksack or something bigger is just too much. I've used this bag on a few occasions now. Out for the day in the countryside, you can stick some food, phone, pens, compass, knife, maps or whatever in here and you're good to go. And on a trip to a local city, had what I needed for the day in here. For the price, it's wonderful, looks great, and blends in really. (Apart from feeling a bit self-conscious about walking around London with some Finnish on my bag, but, dare to be different!!)
Save the pockets on your jeans, shove everything in your Finnish Marking Equipment Surplus Bag!
5
0
I would not recommend to a friend
Juha K.

18.09.2018

Verified purchase
Ny kyllä poijjat lähetti häjyimmän home korppu sa*tanan kassin... Ei hyvä, se joka postis tuli ei perk*le oo lähelläkään kanvas kassia. Tiärä mitä tollekki on vuosien mittaan tehty mut tollasta korppua on si vit*umainen saara postis.. Notta näin!!! Haisee homeelle viiden pesun jälkeen ja on jäykkä ko Einarin Kul*i...
16
1
I would recommend for a friend
The F.

07.10.2018

Verified purchase
Great little bag, Really cool with the Finnish writing on it. Nice little compartments and pockets and loops for pens, mobiles, headphones, charging cables etc etc. I can fit a few shirts, underwear, toiletries for trips into Europe for a few days in it for traveling light on planes and trains.

Fast delivery to the U.K. from are friends in Finland, Hope to buy something from Varusteleka again in the near future. Kiitos ja kippis :-)
0
0
I would recommend for a friend
Erik Z.

10.10.2018

Verified purchase
Bag arrived in used condition, with some very local discoloration from wear on the lid and on the snaps. The shoulder- and hip strap has a black discoloration from rubbing on what I'm guessing was a leather belt or oxidizing metal.
The bag is a bit smaller than what I thought, from looking at the pictures. Will probably fit 6-7 50 cl beer cans in the larger compartments, and a plethora of slim-jims or sausage snacks in the smaller compartments.

I own two similar milsurp purses, the polish breadbag and a Swedish small general purpose shoulder bag from the 60s (oldies says it's a "grenade bag"). Of the three the most design time was probably spent on the Finnish bag, as it is clearly sewn with the intent of holding a specific kit. Material qualify and workmanship is about equally high in the Swedish and the Finnish bag, but the Swedish one has luxury leather straps which is always a big plus.
The polish bread bag can't compete with the Finnish or Swedish bags in either material- or workmanship quality, but on the other hand it's way cheaper and probably holds more stuff.

The Finnish marking equipment bag is a lovely piece of vintage manpurse, if Vausteleka restock them do yourself a favor and buy one. You can always find a use for a fine bag like this!

A special shout out to Magnus at Varustelekas customer service, who hooked me up with two free cans of Shokakola when my order was delayed. The professionalism of Varustelekas customer service is why I keep coming back here, despite Sweden obviously having the best military surplus :)
11
1
I would recommend for a friend
Sami K.

13.10.2018

Verified purchase
Sain laukun, jossa ei lukenut mitään, eli kaikissa ei siis välttämättä ole tornilogoa saati tekstiä. Lift-the-dotit tuntuvat olevan jäykempää tavaraa kuin useimmissa nasselaukuissa ja pysyvät jopa kiinni. Taskujen koko saattaa vaihdella hieman: omassa laukussani tuo kuvassa näytetty 4.5 cm tasku, jossa on joko veitsi tai yleistyökalu, oli jaettu kahteen osaan, jolloin kumpaankaan ei mahtunut juuri mitään - siitä selvisi kuitenkin ratkojaa käyttämällä. Laukku oli käytetty - ulkoisen taskun läpässä oli jotain oranssin värisestä kynästä tms. peräisin olevaa suhrua mikä ei kuitenkaan juuri näy ulospäin - mutta muuten kaikki oli hyvässä kunnossa.
1
0
I would recommend for a friend
Fabien T.

23.10.2018

Verified purchase
Wonderful little butt bag, mine is in perfect condition with a nice darker od green shade.
In the city there is just enough space for my studio headphone case, a 1L canteen and a notebook with a few pens.
While doing some hunting its perfect for a poncho, the same bottle and some extra shells!

The push/pull buttons have a positive lock and the connected belt makes it almost safe to run after the bus.

25 Maple bucks!?! God bless this shop.
7
0
I would recommend for a friend
Kari-Antti K.

01.11.2018

Verified purchase
Ehkäpä paras olkalaukku minkä olen hankkinut. Juuri sopivasti taskuja ja lokeroita kaikenlaisille taiteilutarvikkeille ja luonnoslehtiöille. Ulkonäkö omassa laukussa oli vielä aivan priimaa, eikä pelkäämääni "Merkitsemisvälineet"-tekstiä oltukaan läppään painettu.
1
0