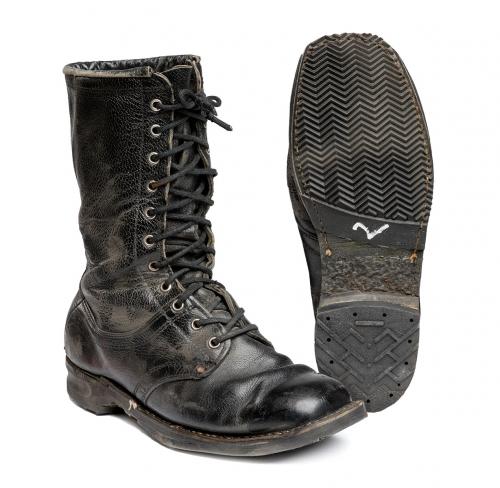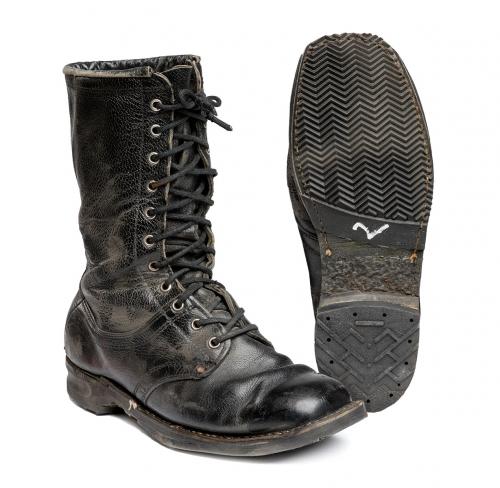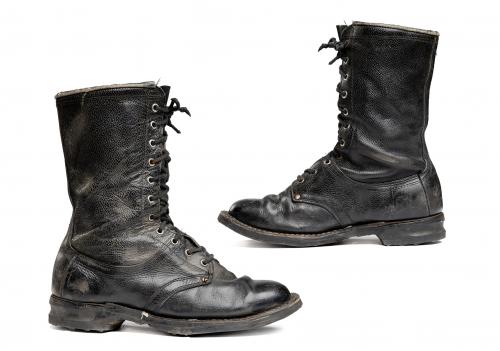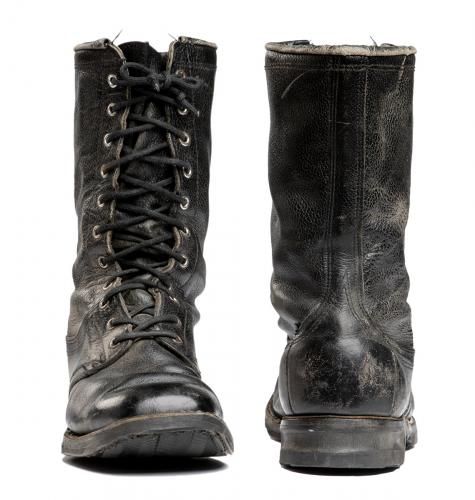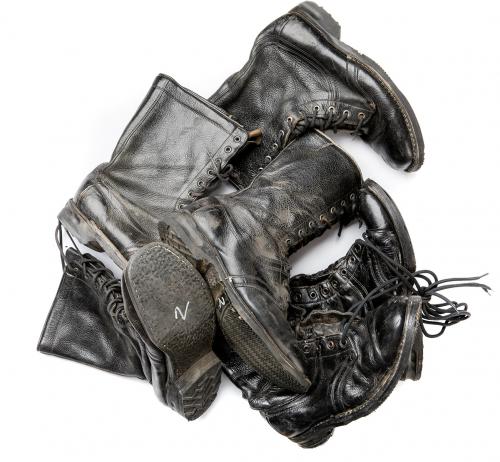 Finland
Finnish M75 Combat Boots, Surplus
Price 29.99 USD
excluding sales tax
We are "proud" to present the first real lace-up combat boots of the Finnish Defence Forces. It appears they took a basic jackboot, shortened the shaft and added lacing grommets. The result is, shall we say, something that develops the character.
Loading products...
Trouble with the metric system? Try our converter: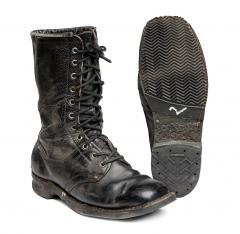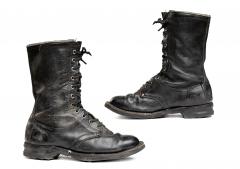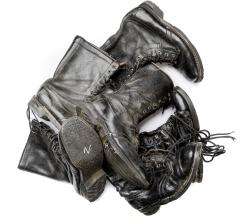 We are "proud" to present the first real lace-up combat boots of the Finnish Defence Forces. It appears they took a basic jackboot, shortened the shaft and added lacing grommets. The result is, shall we say, something that develops the character.
Our staff includes old-timers who had the privilege of using these during their conscript service. The feedback was such that we started to question the domestic footwear design but it appears the writing on the wall was clear enough to make the M/91 combat boots vastly improved over these.
We have heard that the M75 boots were at one point shipped to some African country as war aid. They were returned quite swiftly: perhaps footwear designed with the Nordic environment and feet in mind were not the best choice in Africa. Makes you wonder who thought it's a good idea to procure combat boots from Finland, as tried and tested solutions would have been available from the southern region of the continent...
Anyway, these boots can still serve a purpose. Reviving old boots is a therapeutic hobby in itself and you'll dodge the bullet in the form of modern space-age techno-shoes.
First, we recommend slipping thick felt insoles (maybe below ordinary ones) into the boots and wearing two pairs of socks at least - with the outer being thick. If you think like us, you probably figured out that these could be quite good during the winter.
When worn out, the outsoles can be replaced. Not many modern boots offer this Goodyear-type option!
Size info
The numbers refer to European sizes but these are very, very roomy. Do not pick a larger size than usual: you'll have lots of clearance anyway!
| EU Size | Foot Length | US Size |
| --- | --- | --- |
| 41 | 260 mm | US 9.0* |
| 42 | 267 mm | US 9.5 |
| 43 | 273 mm | US 10.5* |
| 44 | 280 mm | US 11.0 |
* This size falls in between half and full sizes of the US system and our chart indicates the larger US-size. The rounding is just 2 mm (0.08") so the boot is still going to be large enough.
Materials and construction
The materials and workmanship are high-quality but bear in mind the age. Weight 1750 g / 3.9 lbs (pair, size 42 / US 9.5).
These are single-layer without any lining or membrane. The FDF doctrine is to wear rubber boots in wet conditions and the necessary insulation of the boots is done by layering at least one pair of socks over your ordinary ones - much like the principles of layered clothing.
The stiffness is 2 on a 1-4 scale: by no means are these floppy below the feet but certainly no hiking boots either.
Care advice
Leather boots without a membrane are among the easiest to maintain: leather oil refurbishes old leather and leather polish creates a protective and good-looking surface. Read this article for more information.
Finnish surplus
These are used and it definitely shows but nothing is broken. We recommend to buy new laces, felt insoles and a shoe care set right away, unless you already have these covered. The product pictures are a realistic depiction of the condition of what you may expect when unboxing.
All products: Finland
Recommendations
Loading products...
Reviews
You have already submitted a review. You can edit your text by clicking on it.
Log in and write a review.
Remove filter
Suomi
(4)
English
(9)
I would recommend for a friend
ismo l.

18.06.2021 (Edited 30.06.2021)
Kunnon Retro meininkiä.
Hintaan nähden täydet Tähdet.
Käytän vielä Suutarilla laitatan uudet Pohjat Talvea varten.
3
2
I would recommend for a friend
pete d.

24.06.2021 (Edited 29.06.2021)
got my boots.....stuffed em with newspaper,gave them a good saddle soap wash and rinse dried them overnight
dubbin on the tongue (yuk!)...then polished to within an inch of their life...beautiful boots!!!!
4
0
I would recommend for a friend
Pete M.

28.06.2021 (Edited 28.06.2021)
Eihän nämä nyt varsinaisesti haitekkia ole mutta pohjalliset tupaan ja lankkausta niin ihan on soivat kengät. Hinta/laatu 4,5/5, puolikas pois koska ovat sen verran iäkkäät jo että vaatii huoltamista.
1
3
I would recommend for a friend
Shawn H.

01.07.2021 (Edited 28.07.2021)
My pair were resoled,and had no use. They are soft leather and extremely lightweight. They fit like a glove. Considering buying another pair. And I love they can be latter laced,perfect for us punks,skins,metal heads,and anyone who wants a sexy pair of square toe old school boots.
3
1
I would recommend for a friend
John L.

02.07.2021 (Edited 28.07.2021)
This are like Real shoes! most other 'shoes' are copied from.
1
0
I would not recommend to a friend
Eric S.

11.07.2021 (Edited 15.07.2021)
Eric S. 11.07.2021
First, I love Varusteleka. I check the website every day just for fun.
Second, Really liked the boots. I would give them a 5 if they fit.. Soft leather shafts. Good outer sole. No insole. Toes curled up as if they've been jammed into storage for years.
Third, Please firnd someone else to determine sizes. I have a 10 EEE US foot. I went with the 43. Supposedly so roomy they need extra sock and insoles. These boots crush my toes with my thinnest socks and no insoles at all. My size 44 unissued jack boots "from Varusteleka" have at least 2 CM more length inside the boot and they are not even broke in. Those feel roomy.
I would order again if there was a chance I could get a pair correctly marked.
2
0
I would not recommend to a friend
Erik M.

14.07.2021 (Edited 14.08.2021)
**Edit 2** - Received a replacement pair which were not damaged and less sole wear. Seems a few nicks could have removed them from duty. Production is different in a few places but still look great and fit the same, I recommend and don't at the same time. It certainly seems like it will be a gamble so only get a pair if you know they will fit and do not mind the gamble.

**EDIT**: tried with the Jalas insoles from my jackboots, 43 insoles fit the m75 exactly the same as the jack boot so you can get the exact inner length that way for sizing.

First pair review: I so much want to recommend. The boots are beautiful thick leather but the pair i got the right boot looks like it was stabbed clean through twice to thrice with a knife. Once on the inner ankle side with either a second or exit on the outside, and once right on top the toe, the bad one. Effectively compromising if not destroying the boot, will look into if they can be repaired at all. I know the process is a get what you get from the lot, reflected in the price, but this pair could have been singled out with a 5 second look as it took me... Took longer to notice the ankle holes.

Toe of soles are worn flat but not unusable, though would need to be replaced soon which is fine worth it for the leather. Heels are new but only glued on, i would get them nailed. Not sure if it is worth to return from Canada or not. 2.5 star for the beautiful left boot, 0 for the right boot. So far my first bust for the site.

As for sizing, cause i know that's what people want: I have a pair of 43 in the Jackboot version and got the 43 in these. The foot length fit is pretty much the same as far as i can tell, my calves are lean biking legs and with 1 pair thick wool socks they are not tight but not flopping on the end of my legs. 2 pair would be comfortable. Which is the same for when i was wearing the Jackboot in winter/spring.
0
0
I would recommend for a friend
Marko O.

16.07.2021 (Edited 27.07.2021)
Maiharit tulivat tänään ja ovat jopa paremmassa kunnossa kuin odotin. Pohjat ovat näemmä vaihdettu, eikä sen jälkeen ole käytetty. Muuten itse kengät ovat kuluneet, mutta ovat silti paremmassa kunnossa kuin ne joita itse käytin armeijan harmaissa. Eihän nämä mitkään huippu maiharit ole, mutta hinta/laatusuhde on erittäin hyvä! Käyttöön päätyvät ja uskon että palvelevat minua monta vuotta!
1
4
I would recommend for a friend
Gwyndolin O.

21.07.2021 (Edited 27.07.2021)
They're great old ugly boots. They needed leather rehabbing, but I love the smell of Obenauf's oil, so that's not so bad.
0
0