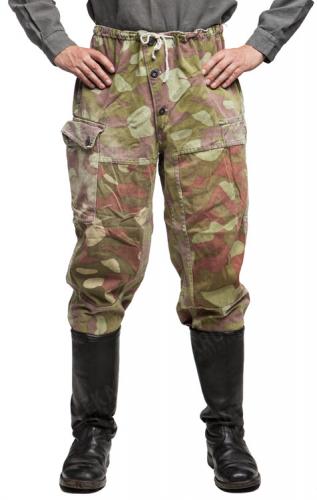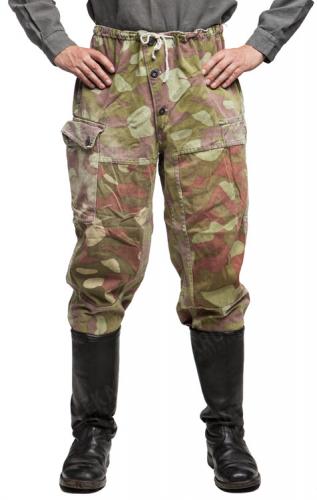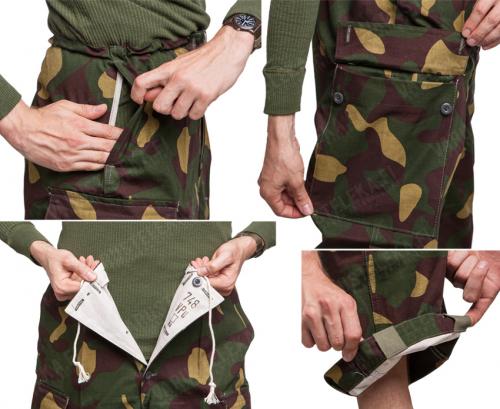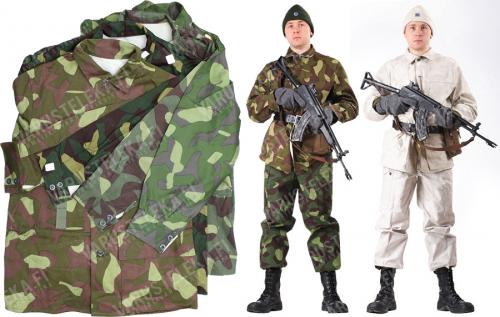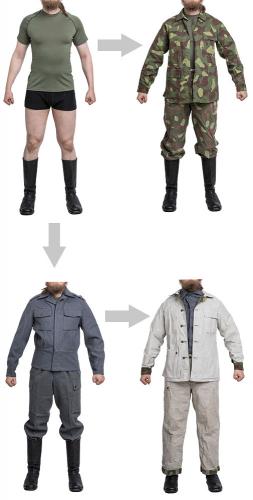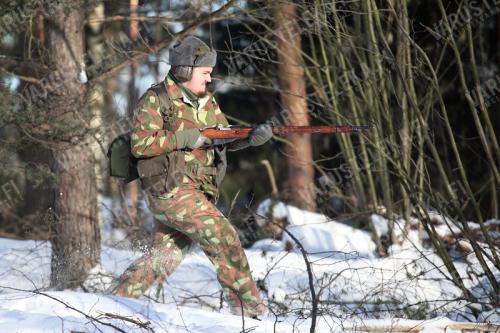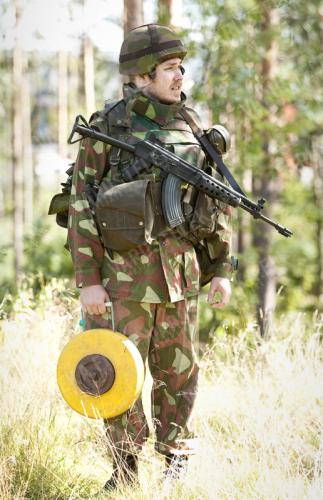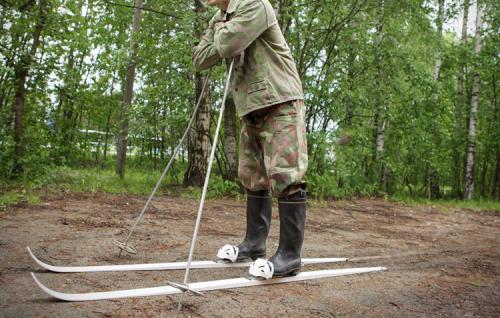 Finnish M62 trousers, surplus
Price 15.99 USD
excluding VAT
A local legend, the reversible M62 camouflage field uniform drags us back to the good old bad old days when zippers were unheard of and waterproofness meant a vinyl poncho.
Loading products...
Trouble with the metric system? Try our converter: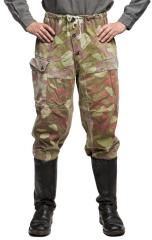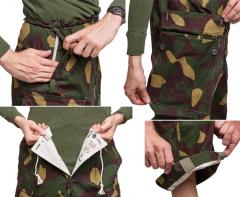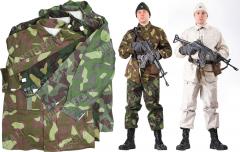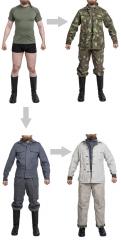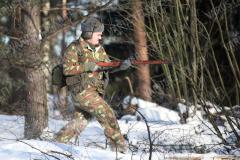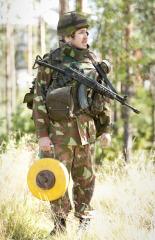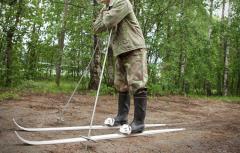 A local legend, the reversible M62 camouflage field uniform drags us back to the good old bad old days when zippers were unheard of and waterproofness meant a vinyl poncho.
In '62, the Finnish army was surprisingly modern - on paper. We had reversible camouflage uniforms, proper assault rifles, and everything. The thing was, all the nice new kit was kept tightly locked, and just about everyone kept using World War 2 style stuff from uniforms to rifles until the late Cold War period when the formerly modern gear finally became a widespread issue. The huge stockpiles of unissued M/62 camouflage uniforms released into the market in the early 2000s are a grim reminder of how much they actually had stuff hoarded away. Meanwhile, the same old used uniforms circulated among the conscripts until you couldn't tell which one was the white side.
As said, the M/62 is a reversible uniform. It has both summer and winter side. When the snow falls you flip it around and when it melts away during the spring you flip it around again - no wash needed! A bit like underwear...
The trousers have an extremely loose cut, button fly, and two "false" pockets on the sides for playing with your jewels, or to access the pockets of the wool trousers worn underneath in cold weather.
The pants also have two cargo pockets: one on each side (summer/winter). Normally the trousers are worn with snap-hook braces, so the Finnish army saw no need for belt loops. However, the waist can be tightened with a simple tie-string.
A word about the camouflage: the color shades vary like in the acid-infested art videos from the '60s, see the extra pictures - there can be even many different shades in the same garment! That's the way it goes, naturally, the army doesn't give a shit about issuing "matching" rags, and we don't either. Accept this fact when ordering. We will not pick the shades, sorry! You'll get what you get, just like if you were a conscript in the Finnish army! At least you can pick the size though.
Size
Sizes in the standard euro system, and run quite large sideways. Don't be too picky, this will look like crap on you anyway, and compliments the black wellies normally worn with it rather nicely. We also got issued totally wrong sizes in the army, so it's only realistic not to care! Just make sure it's not too small and you're good to go.
| | | |
| --- | --- | --- |
| EU | Centimeters | Inches |
| 46 | 92 cm | 36" |
| 48 | 96 cm | 38" |
| 50 | 100 cm | 39.5" |
| 52 | 104 cm | 41" |
| 54 | 108 cm | 42.5" |
| 56 | 112 cm | 44" |
| 58 | 116 cm | 45.5" |
| 60 | 120 cm | 47" |
| 62 | 124 cm | 49" |
| 64 | 128 cm | 50.5" |
| 66 | 132 cm | 52" |
Used condition
These are mostly used and have already been broken in! The superior features and brilliant original shade variations are displayed with unissued uniforms.
Recommendations
Loading products...
Reviews
You have already submitted a review. You can edit your text by clicking on it.
Log in and write a review.
Remove filter
Suomi
(8)
English
(10)
I would recommend for a friend
Kari S.

16.06.2016 (Edited 23.05.2019)
Perinteet kunniaan.
Tippa linssissä kun muisteli, ah niin ihanaa, kesä-intti-aikaa jonka vietin Vekaranjärvellä tälläiset pöksyt jalassa.

Ilmavat, upeat, toimivat, ja helppo pääsy konehuoneeseen.

Pari nappia ja narukiristys, mikään ei voi mennä vikaan näitten kanssa.
21
1
I would recommend for a friend
tero k.

02.02.2017
Henkseleiden kanssa loistavat
9
1
I would recommend for a friend
Perttu T.

02.11.2017
Ihan parhaat intti-larppaamiseen. Ja käytännölliset ja kestävät käyskentelyyn metsässä.
6
0
I would recommend for a friend
Seth B.

02.11.2017
These are not really 'trousers' as advertized. Do not buy them thinking they are pants by mistake - these are actually OVERPANTS intended to be worn over other clothing.

Solid, rugged overpants. Mine had a couple small repairs and general fading. Missing any sort of ankle strap but they had the basic waist rope for tightening.

Gave 3.5 stars because the design is so-so.
Effort was put into putting a pocket on each 'seasonal' side of the pants but not two both sides, so accessible pockets are limited to 1x pocket on the outside and whatever the hip pockets on your pants are wearing underneath.
I personally do not need two cargo pockets but I know a lot of people who buy this type of pants do.
5
3
I would recommend for a friend
Michael N.

04.12.2017
This is my third purchase of these pants and you always get a different style of the camo color which is no problem because I am trying to get all the different patterns since I collect military surplus. Well built pair of pants.Great uniforms if you are looking for camo if you do paintball.Very happy with the purchase!
5
1
I would recommend for a friend
David G.

28.12.2017
Fit is nice and baggy enough to wear over other garments if you wish, With a bit of dye the white side could be white enough to do winter activities again.
I bought a couple of pairs as I didn't know which size would be the better fit, and I can cut the pockets off of one side to stitch onto the relevant side on the the opposite pair for practicality.
4
0
I would recommend for a friend
David F.

17.05.2018
Very well made and I like the material. Great to throw on over your trousers. These are field pants folks so don't ask for your missing pockets. Mine came in great shape. Almost like pajamas. I would wear these on their own as they are very comfortable, but I dont wear underware and dont want anyone cock gazing through my pocket holes.
7
0
I would recommend for a friend
Riikka R.

10.07.2018
On nää vaan kivat. Taskut aion vielä ommella läpivienteihin niin johan kelpaa rymytä.
3
0
I would recommend for a friend
Kristofer O.

11.07.2018
Mine when reversed, werent really white. You could see a lot of the green through so didnt really look like snowcamo. Still good
1
0