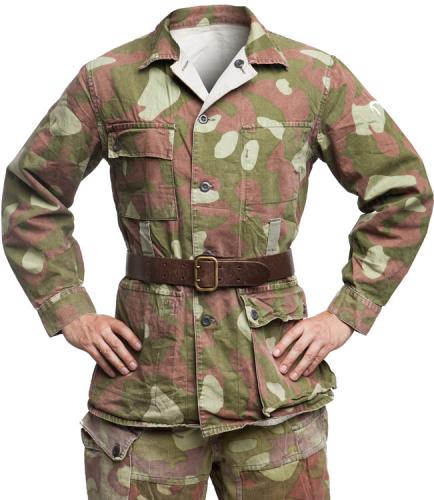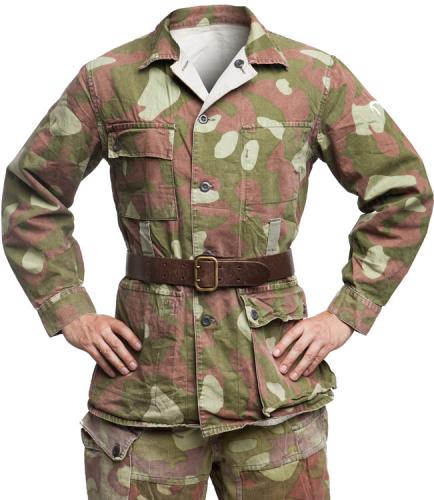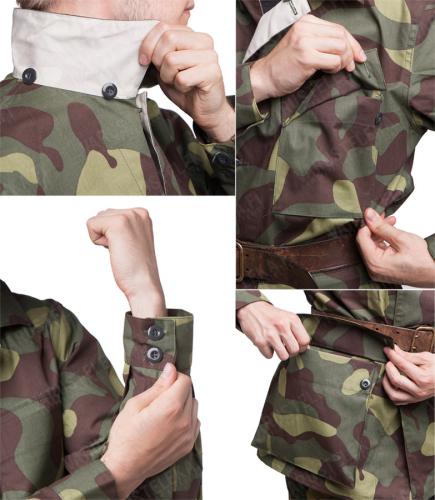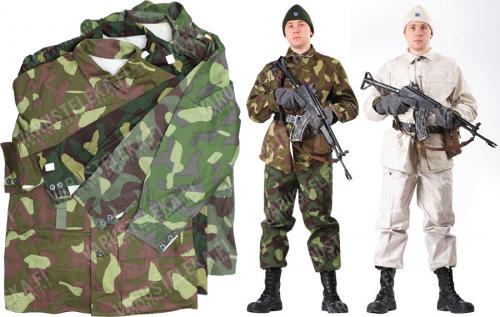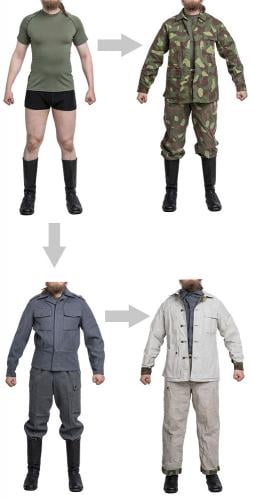 What possibilities! The combination of the reversible M62 camo uniform and wool uniform is the clothing equivalent of Vivaldi's Four Seasons!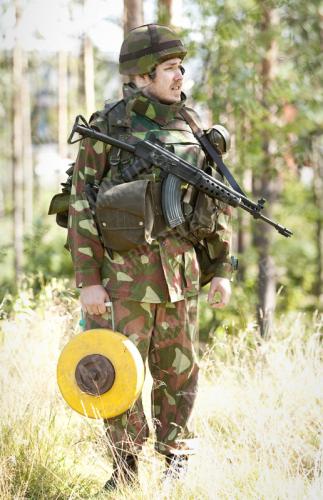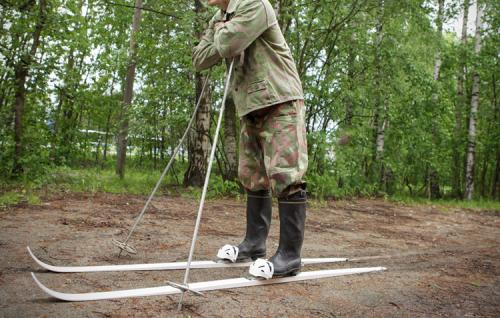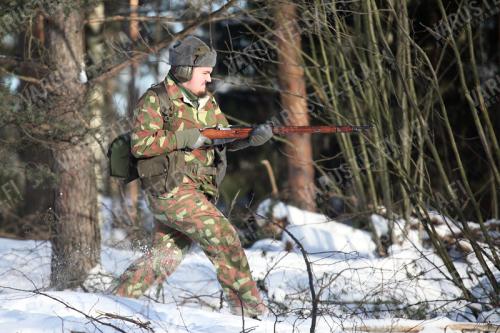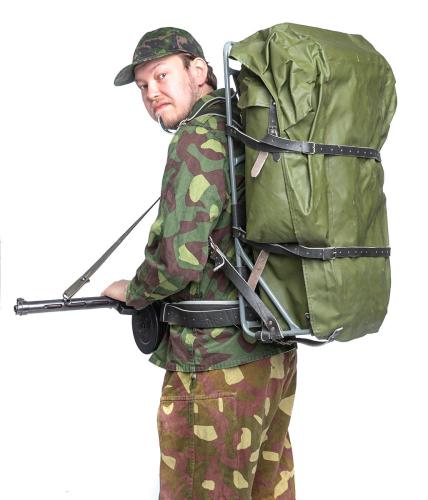 Finland
Finnish M62 camouflage jacket, surplus
Price 14.99 USD
excluding sales tax
A local legend, the reversible M62 camouflage field uniform drags us back to the good old bad old days when zippers were unheard of and waterproofness meant a vinyl poncho.
Loading products...
Trouble with the metric system? Try our converter: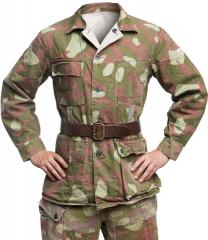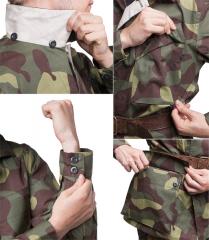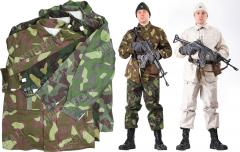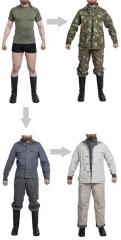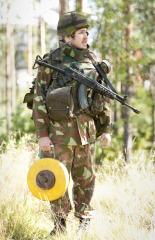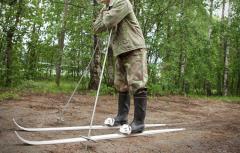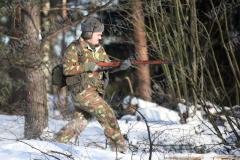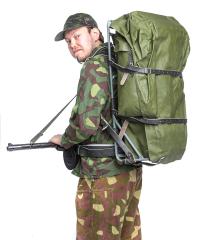 A local legend, the reversible M62 camouflage field uniform drags us back to the good old bad old days when zippers were unheard of and waterproofness meant a vinyl poncho.
The leather belt and other extra kit pictured is not included with the jacket!
In '62, the Finnish army was surprisingly modern - on paper. We had reversible camouflage uniforms, proper assault rifles, and everything. The thing was, all the nice new kit was kept tightly locked, and just about everyone kept using World War 2 style stuff from uniforms to rifles until the late Cold War period when the formerly modern gear finally became a widespread issue. The huge stockpiles of unissued M/62 camouflage uniforms released into the market in the early 2000s are a grim reminder of how much they actually had stuff hoarded away. Meanwhile, the same old used uniforms circulated among the conscripts until you couldn't tell which one was the white side.
As said, the M/62 is a reversible uniform. It has both summer and winter side. When the snow falls you flip it around and when it melts away during the spring you flip it around again - no wash needed! A bit like underwear...
From the jacket you'll find four pockets (two on both sides), button closure, and sometimes belt loops. If worn open, the collar shows the other side a bit.
A word about the camouflage: the color shades vary like in the acid-infested art videos from the '60s, see the extra pictures - there can be even many different shades in the same garment! That's the way it goes, naturally, the army doesn't give a shit about issuing "matching" rags, and we don't either. Accept this fact when ordering. We will not pick the shades for you, sorry! You will probably have non-matching ones just like if you were a Finnish conscript.
Size
Sizes in the standard euro system, and run quite large sideways. Don't be too picky, this will look like crap on you anyway, and compliments the black wellies normally worn with it rather nicely. We also got issued totally wrong sizes in the army, so it's only realistic not to care! Just make sure it's not too small and you're good to go.
| | | |
| --- | --- | --- |
| EU | Centimeters | Inches |
| 46 | 92 cm | 36" |
| 48 | 96 cm | 38" |
| 50 | 100 cm | 39.5" |
| 52 | 104 cm | 41" |
| 54 | 108 cm | 42.5" |
| 56 | 112 cm | 44" |
| 58 | 116 cm | 45.5" |
| 60 | 120 cm | 47" |
| 62 | 124 cm | 49" |
| 64 | 128 cm | 50.5" |
| 66 | 132 cm | 52" |
Used condition
These are mostly used and have already been broken in! The superior features and brilliant original shade variations are displayed with unissued uniforms.
Kierto Circular Economy
Return this product used but clean and unbroken, and you'll receive half of the product's original price as Varusteleka credits. Service is available only in Finland. Only Registered users can make Kierto returns. See more information about Kierto.
All products: Finland
Recommendations
Loading products...
Reviews
You have already submitted a review. You can edit your text by clicking on it. You can filter the reviews by clicking on the elements of the summary.
Log in and write a review. You can filter the reviews by clicking on the elements of the summary.
Remove filter
Suomi
(13)
English
(21)
I would recommend for a friend
Jaakko M.

01.07.2016

Verified purchase
Kunnon no-nonsense takki kaikkeen touhuun. Jos sattuu saamaan käyttämättömän tai hyvin vähän käytetyn yksilön, voi ominaisuuksista jopa yllättyä: nämähän on käsitelty jollakin aineella, joka sai päälle kaatuneen paputölkin sisällön valumaan tahraamatta pois. Saman myrkyn voisi kuvitella myös auttavan kosteutta vastaan.

Jos on ollut fiksu ja hankkinut riittävän suuren on myös hihojen kääriminen helppoa. Ja jos oikein suuren puvun, voi käyttää kylmemmällä ilmalla kuten tarkoitettu, alla sarkapuku.
17
2
I would recommend for a friend
Heikki E.

07.07.2016

Verified purchase
Hyvä puku mettässä rymyämiseen, hengittää hyvin ja kestävyydestä ei tarvitse edes mainita.

Joutuuhan näissä henkseleitä ja vyötä käyttämään että istuu. Taskuja on vain yksi per puoli, mutta näppärä ihminen vaihtaa lumipuolen taskun toiselle puolelle.

Hinta/laatusuhde 5/5
17
4
I would recommend for a friend
julius c.

20.09.2016

Verified purchase
this is a good solid crude army shirt very much like german ww2 camo. the condition of the shirts i got was very good. the material is much heavier than a regular military shirt and quite still for the price they are well worth it.
10
2
I would recommend for a friend
Seth B.

15.10.2016

Verified purchase
These are really good value for the money. I have two , both are obviously different years and materiels. One is sort of thinner cotton poplin, the other is heavy and almost canvas.

The newer one had a couple frays the size of a pen nib but nothing bad, very servicable. I use it as a paint smock and it will ultimately be a fabric donor for when the nicer jacket breaks down. My second jacket has had the cuffs replaced at some point, so theres a cool sort of pattern mismatch going on. Nothing is "wrong" with it at all except that somebody left a pen in the pocket and it bled through the white side. To fix this I stole a piece of materiel from the thinner jacket and patched over the stain, now I can hide in snowbanks again!
11
2
I would recommend for a friend
Ryan L.

31.03.2017

Verified purchase
Came with a bonus dirty old earplug in the pocket! Very nice!!
82
2
I would recommend for a friend
Lucas L.

08.04.2017

Verified purchase
This is a solid light coat/field shirt. The price is unbeatable. The one size currently available, Large 52, will comfortably fit an XL wearing, 72-inch (182cm) tall person, but with fewer layers underneath. The horrid woodland-reminiscent camo is contrasted well by the white innards and gives it a chic look at a far cheaper price than some hipster clothing shop would. You can wear this in public and mostly not be accused of looking like a militia-maniac. At this price, everyone should own one.

Edit: When I originally bought my jacket, the price was about $7 USD, and the price has doubled at present, so my old comments, while still somewhat true, are a little less so now. Also, my piece was a fairly recent product dated to 1991, so in better shape than perhaps something from 1970 would be. Still a great jacket that looks okay, just less of a thrifty buy now.
8
5
I would recommend for a friend
Kari S.

01.06.2017

Verified purchase
Bought two and both were in really good condition.
4
0
I would not recommend to a friend
N.N.

10.10.2017

Verified purchase
Jos tätä itse on käyttänyt 11kk intissä, niin ei enää IKINÄ halua sekaantua tähän pukuun. Mikä tahansa moderni maastopuku on parempi ja käytännöllisempi. Ja hinta on kyllä tällaisesta vaatekappaleesta aivan liikaa.
21
93
I would recommend for a friend
Perttu T.

02.11.2017

Verified purchase
Ihan parhaat intti-larppaamiseen. Ja käytännölliset ja kestävät käyskentelyyn metsässä.
12
0