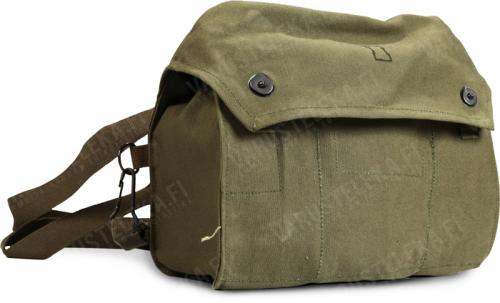 Finnish gas mask bag, surplus
Price 11.99 USD excluding VAT
Flat Rate Shipping to USA $9.99
100 % recommends
Sold 1 pca in the last two weeks
Trouble with the metric system? Try our converter: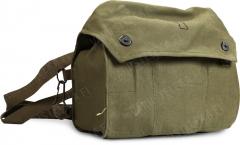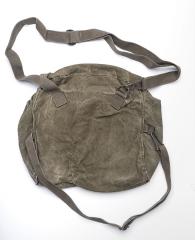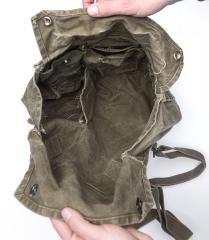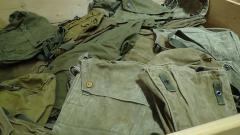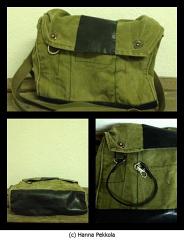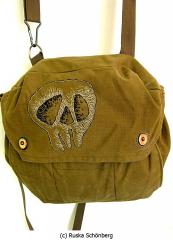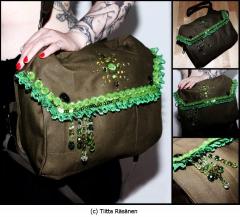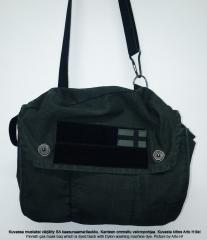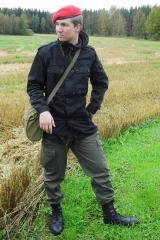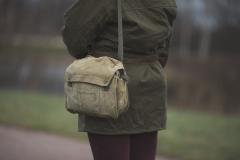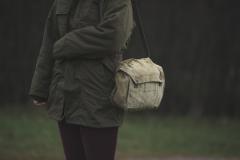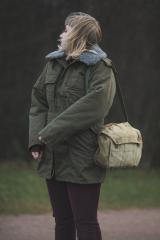 Our local classic, the Finnish gas mask bag. A roomy bag made of thick cotton material. Available again for a while!
This is somewhat of a legend in Finland, as the bag is very good looking, very versatile and handy. Get yours while they are available, there's no better milsurp bag in this size category.
Dimensions approx. 30 x 25 x 10 cm. Will fit a sixpack of 0,33 l beer cans, for real life reference.
Condition
Genuine Finnish military surplus, some used, some not. All are good to go.
Reviews
You have already submitted a review. You can edit your text by clicking on it.
Log in and write a review.
Remove filter
Suomi
(16)
English
(9)
Jesse S.

27.05.2016 (Edited 31.05.2016)
I would recommend for a friend
Jonathan M.

25.07.2016 (Edited 26.07.2016)
Nice bags...similar in design/size to the old Iraqi army bags I used to have in my collection.
Two "Lift the Dot" type fasteners mean that the flap will only open when you want it to open. A few small internal pockets, which again fasten with press-studs, so good at securing items from loss or damage.
The ones I have vary in material a little. One is a very heavy weight canvas, the other a thinner canvas; both well worth the asking price, just different material. Both of mine appeared to be unused, so they either were unissued or were barley used as they were un-marked.

Make ideal day bags or "bug out bags" - keep a couple in the car - or even a school bag for younger children.
A minor issue for some buyers may the straps, as the bag is designed for over one shoulder wear: with the second lower strap to keep it at waist level. Easy enough to use as is though - with the single main carry strap.

Very well built bags for not a lot of money.
12
0
I would recommend for a friend
Anssi P.

19.08.2016 (Edited 01.09.2016)
Mainio laukku, ollut vuosia käytössä satunnaisen säännöllisesti. A4 kokoinen esine ei päätaskuun valitettavasti mahdu taskun osioihin jakavan kankaan takia, tämänkin varmasti pystyy ratkaisemaan jos tarve vaatii. Pakkaamisen kanssa saa olla tarkkana sillä päätasku tuppaa aukeamaan itsekseen jos sisällä on liiaksi tavaraa. Kyllä tässä kirjat, kynät, kumit ja kaljat kantaa myös pyörän päällä etenkin jos vyötäröremmin ympärilleen kietaisee. Vielä nykyhinnallaan ja ilman itse kaasunaamariakin erinomainen ostos
4
0
I would recommend for a friend
Elisa H.

12.10.2016 (Edited 29.11.2016)
I would recommend for a friend
Seth B.

15.10.2016 (Edited 29.11.2016)
High quality bags, but with a problem - the "dots" will pop open if you overload the bag and spill the contents rather easily. Be mindful of this when packing and you'll have yourself an excellent bag!
4
1
I would recommend for a friend
Tero S.

07.03.2017
Toimii. Toimii kaikkialla. Ja aivan erikoisesti toimii Turkin lomilla :) +38 asteessa ei mitään reppuja kannella, mutta tähän saa justiinsa aurinkorasvat, pari vesipulloa ja röökit, Riskeillä pelaavat myös kännykän. Hotellikortti on kätevä laittaa nepparivarmisteiseen sisätaskuun.
3
0
I would recommend for a friend
Risto L.

12.03.2017
I would recommend for a friend
Chadwick C.

29.07.2017 (Edited 29.07.2017)
Recieved my bag earlier today. First impressions of this bag. I got mine brand new, there is very tiny hints of rust here and there, but it's surplus. Great space for a simple everyday carry kit when you're doing simple errands. What made it more awesome was the fact I found a tiny manual in Finnish about using the gas mask and about chemical attacks and how to address the issue. It also came with a sealed pack of mini cleaning cloths, I'm guessing to clean the lenses of the mask. The material is really durable and seems like it will hold up against my everyday adventures. And who can resist the price. And for me, growing up going to surplus stores, you get that epic surplus store smell included.
6
0
I would recommend for a friend
Albert H.

18.09.2017
Aivan loistava laukku. Sopii kaikkeen käyttöön, siinä voi kantaa vettä sisällä, eli toimii ämpärinä.
Hinta on vähän korkea, sillä esim SA-kaupan hinnoilla kympillä saisi 4 laukkua. Muuten todella hyvä tuote.
5
0
I would recommend for a friend
Perttu T.

12.10.2017
Täydellinen miehen käsilaukuksi pienen muokkauksen jälkeen, kun katsot laukun etupuolta on jostain oudosta syystä vasemman puoleinen taskuun sisällä ommeltu L-muotoon, olen poistanut tuon sauman ja silloin saa koko taskun käyttöön.
0
0
I would recommend for a friend
esko i.

16.10.2017
Oiva kantoväline.
0
0
I would recommend for a friend
Sakari S.

19.11.2017
Nepparisulku on nerokas, ei aukea jos kiskoo väärään suuntaan. Värjäsin omani harmaalla pesukonevärillä jolla tuli tummempi aavistuksen vihertävä väri. Sopivan kokoinen tarpeellisen ja tarpeettoman roinan kantamiseen. Minulla on SA logo tornilogon sijaan.
0
0
I would recommend for a friend
Valtteri H.

10.12.2017
Laukku kestää varmaan ydinpomminikin. Kuitenkin itselle inauksen liian iso. Lisäksi kuulemma SA-kaupasta saa paljon halvemmalla.
2
0
I would recommend for a friend
alexander n.

19.01.2018 (Edited 19.01.2018)
Now that I will soon own 4 of theese (bought my first in -98 and having lost a few) I feel that I can write a rewiev. It is a true cultural icon and I just ordered 3 because my kid needs a bag for school. This was THE bag in the 90-s/early 2000s when they came out on the market. In Finland this was the basic hippie-punk-bag, because a vagrant lifestyle is the best quality control. Everyone with dreadlocks or a mowhawk had one of these. Because unlike the hairstyles, these were practical, and you can only carry one good-looking unpractical thing at a time.



If you are lucky, you will get the new model with 2 compartments (will still carry an 8-pack), but it can be stuffed whith more shit and stay closed. (The "open" ones take dye much better though, so they can be made into "civilian hipster-bags" more easily.) If you get the open model you might have to use the hip-strap to secure all the stuff you've stolen or found on the way, as they tend to open if you carry to much wheight or big stuff. The hip strap can be neatly tucked away, or be very practical @ festivals or when running from the cops. It is also practical for fastening extra items of clothing or other extra gear in clubs etc. There are also spaces in the pockets ideal for hiding small red-line bags of morale-boosters. This bag has gotten me trough customs, police-hazzels, drunken nights, relationships and general hardships. Now that I think about it I'm suprised to be alive, not as surprised that the bag is alive though, these are designed to outlive us all after WWIII. Makes a handy weapon whith some wheight in them also.



I don't want any other "male-purse". I hope Varusteleka still have a few more next month so that i can die peacefully knowing I won't ever need to buy another handbag. Comming to think of it, don't buy these. Leave them for me. Forget all I said, buy a veshmeschok.
7
0
I would recommend for a friend
Alexander d.

22.01.2018
absolutely great bag for storing your daily bits and bobs to carry around. my friends say i look like a walking bomb threat but i tell them to häivy. 11/10 great bag would recommend
2
0
I would recommend for a friend
Calvin C.

19.09.2018
One of the button snaps for the flap covering the interior pockets broke while opening it. Otherwise this is a nice and cheap shoulder bag for daily street use.
0
0
I would recommend for a friend
Alex R.

11.10.2018 (Edited 25.03.2019)
I lucked out and got one that seems to have never been issued. Great piece of kit. Perfect size too — not too big and not too small for most situations.

Edit: I removed the waist strap and the internal divider, and the bag is pretty much perfect for daily use now.
0
0
I would recommend for a friend
Benjamin G.

30.10.2018
My bag arrived today, after much anticipation.
First of all: I was dissapointed because it was a model that I had not expectated. The bag I got looked like it was turned upright (meaning: it was taller than it was long, in contrast to the bags shown in most of the pictures), meaning that the mentioned 6-can sixpack DOES fit, but only tilted upright.
Nevertheless, and despite the small repairs that seem to have been done on it (sewn holes etc.) it's a very nice shoulder bag that looks awesome and unique.
The strap is unfortunately sewn on it and there are no hooks or rings whatsoever for attaching a strap of my choice.
0
0
I would recommend for a friend
tat w.

30.01.2019
Great bag.
Great construction.
I love the shape, too. Easy on the eye.
I used to take a 35l rucksack everywhere. Carrying a smaller bag has really helped me carry less stuff.
0
0
I would recommend for a friend
Denis S.

31.01.2019 (Edited 31.01.2019)
I would recommend for a friend
Jasper L.

25.02.2019
I would recommend for a friend
Juha K.

04.03.2019
Got mine in the post today, and man it´s an unissued unused new bag. I'm so happy that they sent me a unused one so I'm almost sh..ting my self... Thanx guys... Laittoovat poijjat si viimesen päälle uuren ja käyttämättömän nasselaukun, kyll ny kelpaa elvistellä... Kiitos...
0
0
I would recommend for a friend
Niko S.

06.05.2019
Omassa yksilössäni napit eivät ole kovin pitäviä, joten täydessä lastissa (vaikka kaupassa käydessä) läppä aukeaa todella helposti. Myymänne uudempi Britti-armeijan MTP-nassekassi on tarranauhasululla korvannut tämän klassikon omassa käytössäni.
0
0
I would recommend for a friend
Samuli M.

26.07.2019
8-pack sopii sisään.
0
0
I would recommend for a friend
Mikko O.

22.10.2019
Tässäpä oli loistava tuote. Itse omistan kaksi kyseistä laitosta. Toisesta väkersin kameralaukun, toinen taas menee ihan normaalikäytössä arkena. Nikonin D810 upposi heittämällä ja pienempään lokeroon saa vaikka toisen linssin/vesipullon tai mitä nyt ikinä keksitkään kantaa mukanasi kivistä heinään.
0
0