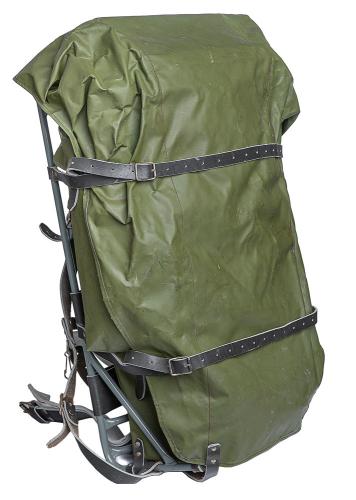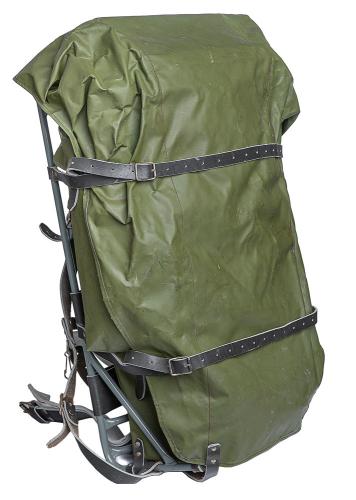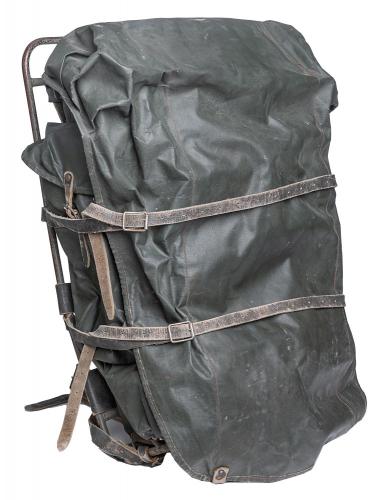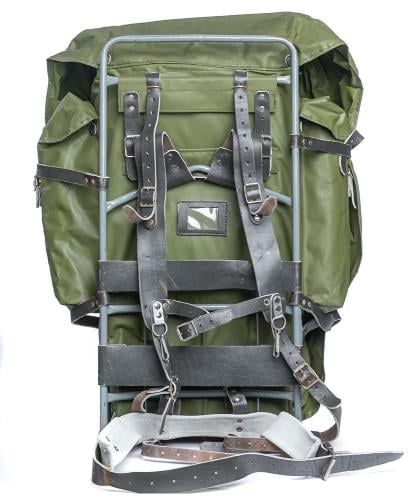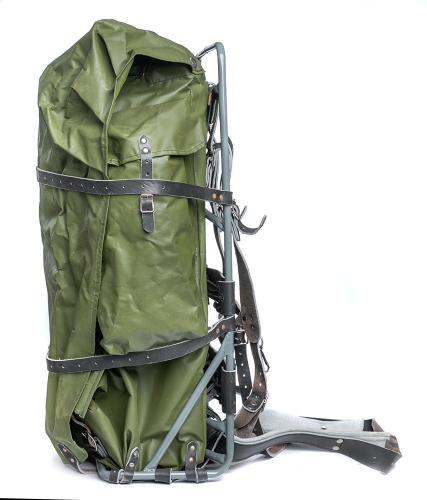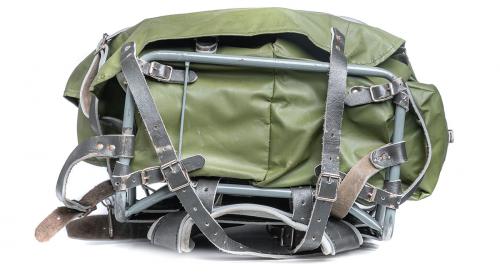 Grade 1. Note the metal "strap ladders" on the front.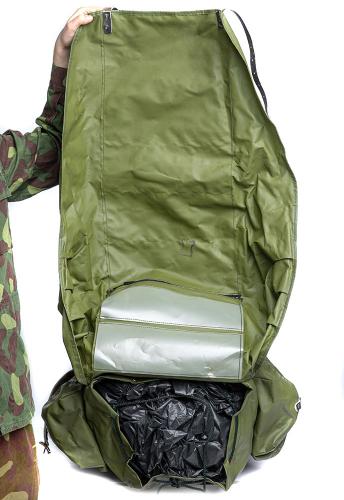 Grade 1. The lid is enormous.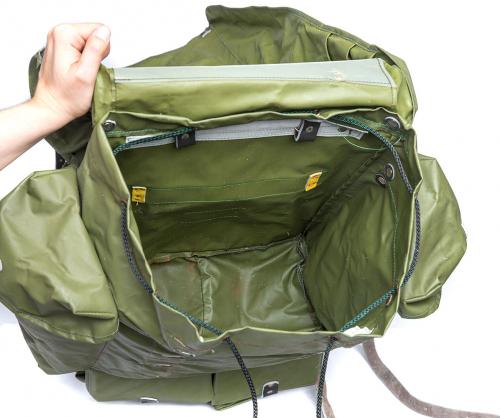 Grade 1. A view inside the main compartment.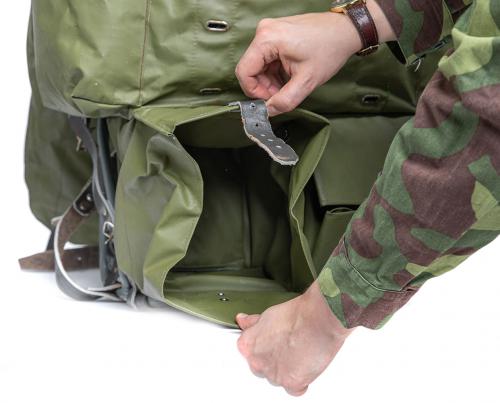 Grade 1. The lower pockets open up towards the user.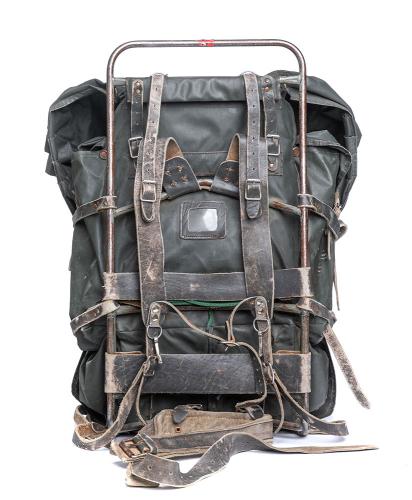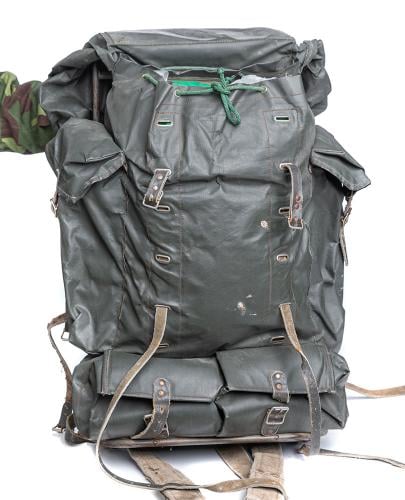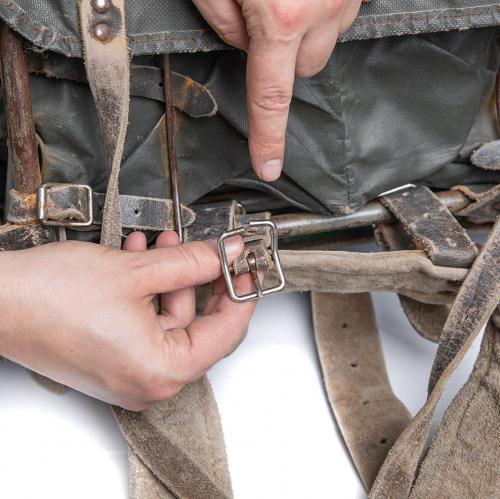 Grade 2. There might be faults like this too.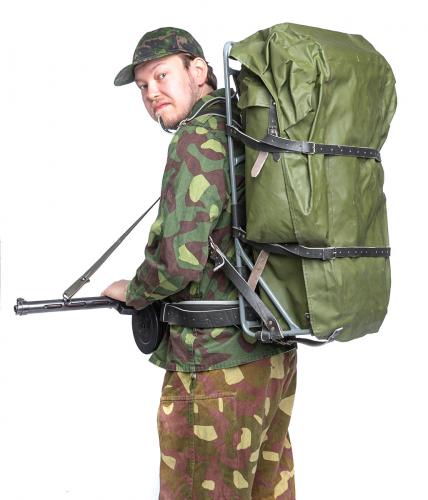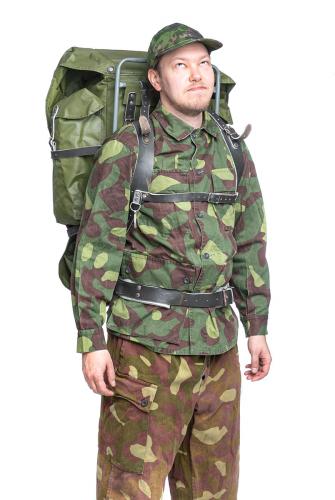 Grade 1. Note the sternum and waist straps, which can't be taken for granted when it comes to army stuff!
Finland
Finnish external frame rucksack, green, surplus
Price 39.99 - 59.99 USD
excluding sales tax
The rubberized ugly cousin of the legendary LJK rucksack, this monstrosity is probably meant as a medic ruck. However, apart from a few small details, it could be like any external frame ruck made a couple of decades back.
Loading products...
Trouble with the metric system? Try our converter: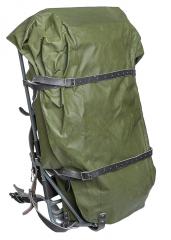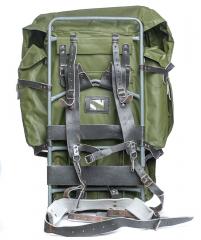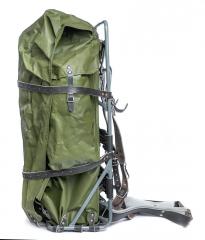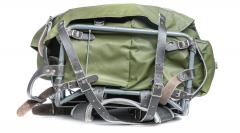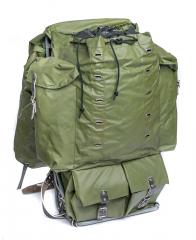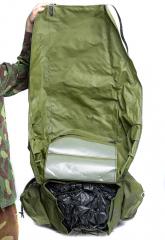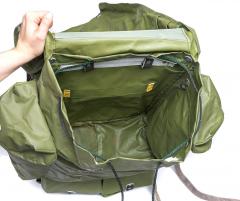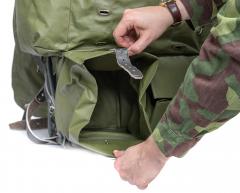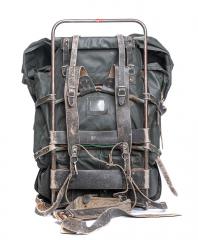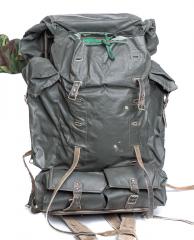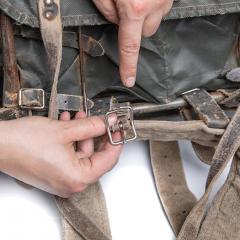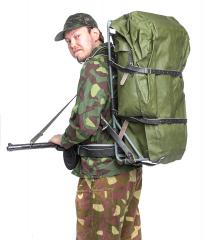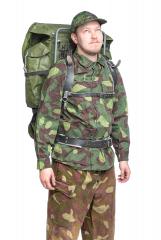 The rubberized ugly cousin of the legendary LJK rucksack, this monstrosity is probably meant as a medic ruck. However, apart from a few small details, it could be like any external frame ruck made a couple of decades back.
Waterproof external steel frame ruck
Height 72 cm, width 46 cm, weight 3,4 kg, volume maybe 100 litres
Possibly medic issue
Like most others, this is one helluva big external frame ruck, with a surprisingly advanced harness system made of... leather. The insides comprise a large main compartment, two side pockets, and two interesting frontal openings lower pockets. All of these are covered with a huge lid. The whole thing is waterproof thanks to the rubberized fabric.
When you throw the lid out of the way, there's a ladder-style attachment base which you are supposed to run straps through to attach more stuff. The lid is so big you can even fit your partner under it, so don't worry about it. The straps might not be included, but any up 17 mm (0,67") diameter ones will do. When you're ready, the package can be secured with two horizontal compression straps.
The frame is steel and harness leather. The rucksack can be removed from the frame if you want to use the frame for anything else, like carrying firewood or the kids. The harness system is actually pretty cool, with such features as a sternum strap, padded hip belt, and metal clip hooks meant for God-knows-what.
A word about the materials. The main fabric is rubberized nylon or something, and quite thick. The leather parts are properly thick too and FDF grey in color. Everything else is steel!
Two grades
Grade 1
In lightly used, very good shape. There might be some rust on the metal parts due to long storage.
Grade 2
Heavily used. There's a lot of wear and you might have to even repair something. Fortunately, these kinds of things actually can be repaired!
Finnish army surplus!
Genuine Finnish army surplus, probably made in the '80s. We don't know a lot about these. We were told they were medical rucksacks but go figure. There are two distinct colors; dark green and light green. We won't pick, you get one or the other.
Kierto Circular Economy
Return this product used but clean and unbroken, and you'll receive half of the product's original price as Varusteleka credits. Service is available only in Finland. Only Registered users can make Kierto returns. See more information about Kierto.
All products: Finland
Recommendations
Loading products...
Reviews
You have already submitted a review. You can edit your text by clicking on it. You can filter the reviews by clicking on the elements of the summary.
Log in and write a review. You can filter the reviews by clicking on the elements of the summary.
Remove filter
Suomi
(2)
English
(6)
I would recommend for a friend
Harri K.

20.01.2020

Verified purchase
Tuollaisia rinkkoja kuului aikoinaan ns kevyen JSP:n ja komppaniatadon sidontapaikan kalustoon 2-3 kpl.
11
0
I would recommend for a friend
Steffen R.

22.01.2020

Verified purchase
I bought the Grade 1 rucksack. It looks like it was never used. The leather straps will need some TLC but otherwise this rucksack is great.

SPOILER: Unfortunately the sexy Finnish soldier from the pictures was not included in the shipment. This should have been noted in the description.
33
1
I would recommend for a friend
Chris K.

03.03.2020

Verified purchase
A very nice and interesting backpack, with some unique features. I bought the Grade 1 and got a decent one. More like something between the Grade 1 and Grade 2, but well, still good though. The material is sturdy, the leather straps need a lot of grease (and there are a lot of them) and the steel frame will last forever. Some of the leather-backings where the straps are riveted to the fabric are missing, but that doesn't have any negative impact so far.
The harness-straps are not padded, with exception of the hip belt. This is no problem when you carry moderate loads up to 35kg. Beyond that you might consider adding pads. Overall quite comfortable to carry and for that price absolutely recommended.
8
1
I would recommend for a friend
Mikko K.

20.03.2020

Verified purchase
Pelonsekaisin tuntein odottelin tilauksen saapumista ja kun se viimein saapui, revin laatikon auki lapsenomaisella innostuksella. Sisältä paljastui rumilus, joka muistutti lähinnä yliajettua sammakkoa, ja joka lisättynä leffaan Uinu uinu lemmikkini olisi taatusti saanut yleisön poistumaan oksennellen salista. Katsokaapa vain tuon kakkoslaatuisen kuvia, koska omani taitaa olla juurikin tuo kuvissa esiintyvä yksilö :)
Ei siinä mitään. Aikani hirviötä tutkittuani tulin siihen tulokseen että tämähän piru vieköön on pientä reikää ja vääntynyttä solkea lukuunottamatta ehjä, joten pussiosio irti ja pesuun ja samalla kunnostin nahkahihnat, joista yksi näytti vähän väsymisen merkkejä ollen venynyt, muiden ollessa lähinnä rapeita.
Vaan pienellä vaivannäöllä tästä sukeutui, jos ei näyttelyiden kehutuin yksilö, niin ainakin kovaa käyttöä sietävä ja hemmetin tilava rinkka, jota on vieläpä äärimmäisen mukava kantaa isossakin lastissa. Kokeiltu on. Onneksi maailmasta löytyy vielä nahkahihnojakin niin tämä on helppo korjata jos joku niistä pettää.
Tähtiä nuinkin paljon koska tämä yllätti positiivisesti.
8
0
I would recommend for a friend
Dean V.

23.06.2021

Verified purchase
Bought the grade one rucksack got one in amazing condition. Not even a bit of that mold/rubber smell, I didn't expect that as other waterproof surplus rucksack I got before this one had an awful smell so I'm extremely happy.

I got tons of leather straps more than I would know what to do with them. All of the leather was in fine shape needs just oiling, very little mold on some pieces that can be easily removed. Just one buckle had a very little rust which again can be easily scraped off. All the other buckles and metal parts are in perfect condition.

Rucksack is not that gigantic as I thought it would be when empty but can be gigantic because of the huge upper lid. You can pack all your wordly belongings in it and overpack it with the loot of conquered foes and you would still have room in it because of the huge side and lower pockets.

Its very comfortable when on your back as all other external frame rucksacks and can be adjusted pretty easily. The way that the pack is strapped to the frame gives me a feeling that you can carry extremely heavy load without danger to the pack or to your back.

All in all this might have been the best buy I had on Varusteleka and that says a lot as I have bought fair amount of things and I'm very pleased with everything but this pack is God's gift especially considering the price which is hilariously cheap. Varusteleka hats off to you.
8
0
I would recommend for a friend
William S.

09.07.2021

Verified purchase
If I could give this 6 stars out of five, I would. Very impressed by the condition, the only damage was dust and rust from 30-40 years of storage, otherwise MINT- So, SO pleased with this purchase. I have the "famous" LK 70 but it is shitty in the rain, so I will use this MONSTER to lug supplies to my cabin in wet weather. Perhaps the biggest ruck I own - well over 70l, maybe over 100. Very glad to own it.
7
0
I would recommend for a friend
BENJAMIN G.

05.08.2021

Verified purchase
Great quirky rucksack. I detached it from the frame and use it to hold my base camp kit. It can't hold everything that I bring for base camp, but it holds most of it, sans the netting and tarps.

I then attached a FILBE rucksack, replaced the hip belt with a FILBE hip belt, and added shoulder pads for a little extra comfort, and this thing is comfortable. I do regret not using hip belt that can be tucked inside itself, so that it can be comfortably used by shoulder straps alone... but at the same time... I doubt I'll ever need to use it in such a way, as it doesn't have any quick releases.

I have yet to take it out into the bush, but I've taken it for a few klicks through deep sand and I was surprised by how much I like the leather harness and chest strap. The harness feels like something you would use on a horse, and using it to carry 40% your body weight for a couple miles really makes you feel beastly, although it's more akin to a beast of burden. The two leather straps that are used as back rests are also fairly comfortable when properly adjusted.

I bought the grade 2, and honestly, it didn't need any repairs. Mine came with 2 leather compression straps and 4 leather utility straps, and only one of the leather compression straps looked like it was heavily used, as it was stretched from usage over time. The compression straps are 2 peices, with each piece being attached to the frame via staples. I've been debating removing them... as I hate excessive strap dangling... but we will see. Also, after removing the vinyl rucksack and hip belt, I found there were 2 buckles that are also mounted to the frame via staples, which is my only real gripe, that tools are required to properly replace the straps. Even the harness is stapled to itself.

The frame is larger than an Alice pack frame, which is exactly what I wanted. I wanted something that would let me carry a full 5 days worth of gear and water. And this frame is a great base for building a unique and individualized pack.

Overall, this is a great investment for those who like rising to the challenge, as opposed to those who prefer decreasing the challenge.
4
0
I would recommend for a friend
michael b.

03.01.2022

Verified purchase
Grade 1 was near mint. Only way i could tell it was used was from a ranking list inside. This is an awsome pack! Took off the bag and had my girl sit on it and busted out some squats. Pack held up and wasnt uncomfortable. This thing will outlast any modern pack with the standard maintenance of the leather. All leather straps, sternum and load lifters! The only reason all bags arnt like this today is because of planed obsolescence. (Hard period)
2
0