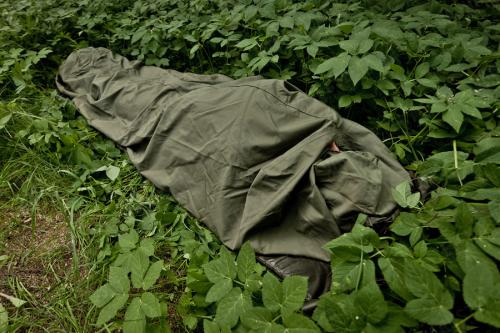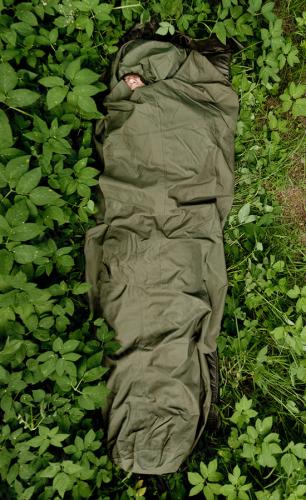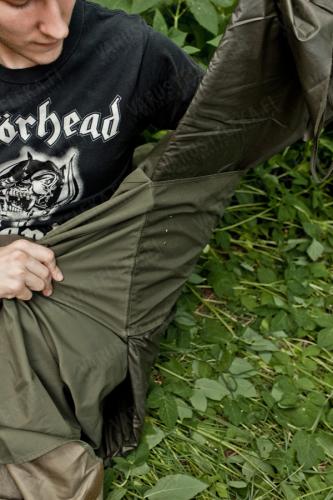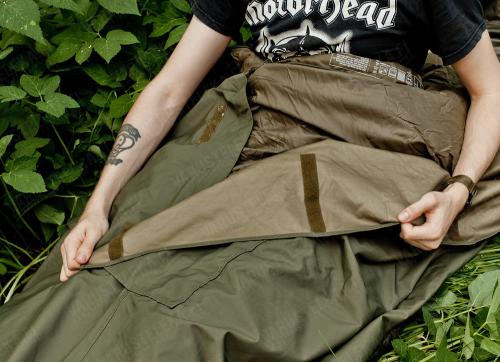 Netherlands
Dutch sleeping bag Gore-Tex cover, surplus
Price 89.99 USD
excluding sales tax
With this Gore-Tex bivouac bag you can drastically improve almost any sleeping bag - rain doesn't matter and you do not need a tent, as this will hold water outside.
We don't know when this product will be restocked. With surplus the restock date is unknown due to sometimes poor availability. Request restock notification and we will email you as soon as this product is available.
This product has used and returned variations. Used are washed and unbroken. Heavily used are also washed but might be missing buttons, have tears, main zipper can be broken etc. Read more about Kierto.
Trouble with the metric system? Try our converter: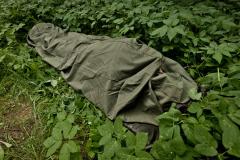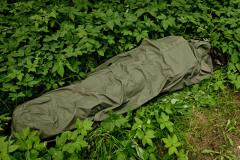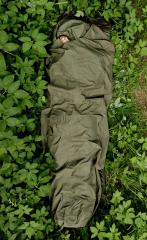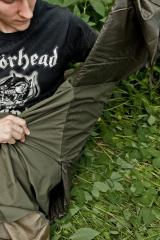 With this Gore-Tex bivouac bag you can drastically improve almost any sleeping bag - rain doesn't matter and you do not need a tent, as this will hold water outside.
Note: there are two different models - one like the example in the main picture, other with a bit larger head opening. They work just as well, we do not separate.
If you hate wet sleeping bags or simply want to improve your existing bag, this is the solution. This bivy cover protects from rain and moisture from the ground while at the same time makes the bag a bit warmer. Being Gore-Tex, it lets sweat evaporate, unlike rubberized waterproofs. An essential accessory for any sleeping bag.
Measurements flat, about:
Shoulder width 89 cm
Bottom width 72 cm
Total length 220 cm
Condition
Used military surplus, but still in perfectly serviceable condition. Of course, we have no resources to test each and every one individually, thus can't promise 101% waterproofness in a thunderstorm, but at least they should keep you dry in moderate moisture and maybe more, which is a whole lot better than nothing!
Kierto Circular Economy
Return this product used but clean and unbroken, and you'll receive half of the product's original price as Varusteleka credits. Service is available only in Finland. Only Registered users can make Kierto returns. See more information about Kierto.
All products: Netherlands
Recommendations
Loading products...
Reviews
You have already submitted a review. You can edit your text by clicking on it. You can filter the reviews by clicking on the elements of the summary.
Log in and write a review. You can filter the reviews by clicking on the elements of the summary.
Remove filter
Suomi
(7)
English
(10)
I would recommend for a friend
Alan S.

06.06.2016

Verified purchase
I would recommend for a friend
Ewen C.

05.08.2016

Verified purchase
Nice and great condition. All the tapes on the seams in very good condition and goes well with the soldier 95 sleeping bag.
Press Studs on bag for connecting to Dutch military bag promises a good system and I like the mat sleeves under the bag.
9
1
I would recommend for a friend
Raimo L.

22.08.2016

Verified purchase
Good condition, smelled like AMRMY! (that's only goooooood:) )
Did cover my swiss army sleeping bag well, also gave some extra protection against wind. Recommend to everyone who likes to sleep in a hammoc.
8
0
I would recommend for a friend
Ilari H.

31.12.2016

Verified purchase
Tosi hyvä pussi, oma tosin oli ihan erilainen kuin noissa kuvissa. Suuaukossa ei oo mitään kiristyssysteemiä eli se on sen kokonen ku on. Yläreunassa on kiinni joku epämääränen säkki johon varmaan ois tarkotus tunkea koko setti pakatessa, en mitään muutakaan järkevää selitystä sille keksinyt. Ehkä siitä sen verran voi olla iloa et sateella viskaa sen aukon päälle nii pysyy naama kuivana, tai sit vaan leikkaa omatoimisesti pois.
Tositosi paljon plussaa loistavasta kunnosta ja siitä et omassa kappaleessa on ihan jalkoihin asti yltävä vetoketju jota peittää koko matkalta neppareilla suljettava läppä ettei kosteus tuu vetskarin kohalta läpi. Vetoketjussa tosin on hassua se että se on vaan ulkopuolella, ja ite huomasin että paksun US modulaarisen makuupussin sisältä vähän hankala vetää tota vetoketjua kokonaan ylös mut ehkä se on vaan omaa taitamattomuutta.
Kokonaisuudessaan kuitenkin tosi toimiva pussi ja loistava hinta-laatusuhde!
4
1
I would recommend for a friend
Geoff T.

27.03.2017

Verified purchase
Fantastic item , wish I hadda bought it soona.
1
0
I would recommend for a friend
Joonas K.

20.06.2018

Verified purchase
Tasan vuosi sitten tuli ostettua tällainen ja pääsi heti kenttätestaukseen kunnon juhannussäässä. Käytetty yhdessä Carinthia M05-pussin kanssa, eli mahtuu vähän kookkaampikin pussi hyvin sisään. Omassa yksilössäni on ainoastaan kuvassakin näkyvä harvahko velcro-tarrakiinnitys, mikä tarkoittaa, että suorassa sateessa jos tämän kanssa nukkuu, täytyy nukkua toisella kyljellään, jotta vesi ei valu sisään. Suuaukkoakaan ei täysin kiinni saa, joten vettä voi vähän ripsiä naamalle. Plussaa selkämyspuolen kätevistä siivekkeistä, joiden kautta saa makuualustan pujotettua läpi.

Jos kuitenkin edes jonkinlaista suojaa on käytettävissä, eikä ihan suorassa vesisateessa tarvitse nukkua, niin tämä on kyllä melko ehdoton kapine pitämään kosteuden loitolla ja kamppeet kuivana.

Hieman jäin itse kaipaamaan mahdollisuutta sulkea koko pussi, joten hankin tänä keväänä tämän kaveriksi hooped bivyn, jonka saa täysin suljettua vetoketjulla.
10
0
I would recommend for a friend
Tish T.

24.06.2018

Verified purchase
Definitely worth the price. A very good army surplus product. I needed an inexpensive extra gore-tex bivi bag for my car kit consisting of a surplus Dutch sleeping bag and foam roll up sleeping mat. I field tested it in my back yard in heavy rain, about 12 to 15 degrees Celsius with my Dutch surplus sleeping bag (modeled after the Carinthia Defence 4). The bivi bag worked as described and was waterproof and had almost no condensation inside overnight. Note that the bag has NO zipper at all. It has these strange studs that are probably meant to snap onto a liner or sleeping bag (not the Dutch surplus bag which does not have corresponding fittings). The velcro fasteners seemed to work ok. The only reason I am deducting one star is because the velcro fasteners are probably not water and snow resistant enough to resist wet / cold Canadian falls and winters.
6
0
I would not recommend to a friend
Steven F.

17.12.2018

Verified purchase
The velcro fastening system is poorly designed. It does not stay closed when you turn or move inside the bag. I found myself rolling on my side and holding the flap over me to keep warm. The quality of materials is good and the bag is quite roomy but I will have to add some Canadian style buttons to keep it closed and make it functional. Compared to the zipper closures on other bivy bags this one falls short.
10
2
I would recommend for a friend
Andrew D.

14.08.2020

Verified purchase
Just received--excellent quality material, very roomy. The one I got is in 95% condition; very lightly used. Yes, the hook and loop closure system is not that great (would otherwise be five stars), but this is a tremendous value compared with the other bivy bags out there--I'm glad I ordered it.
0
0