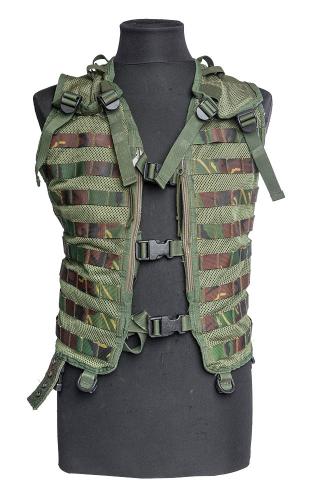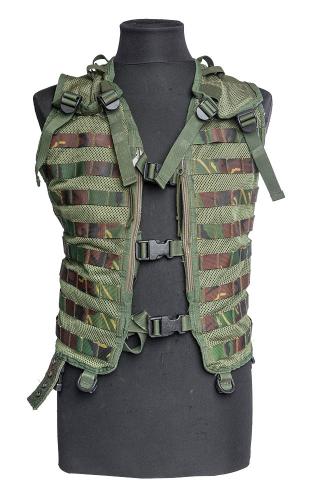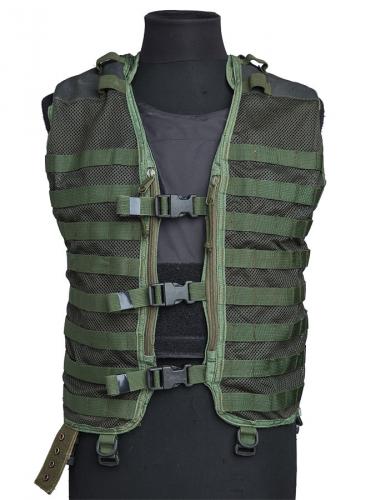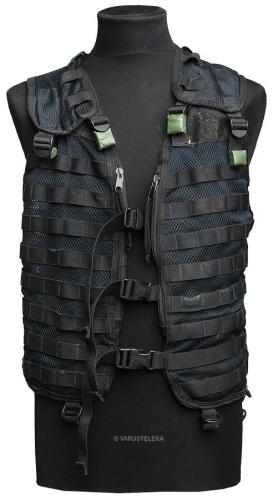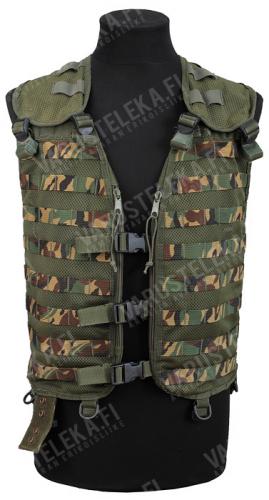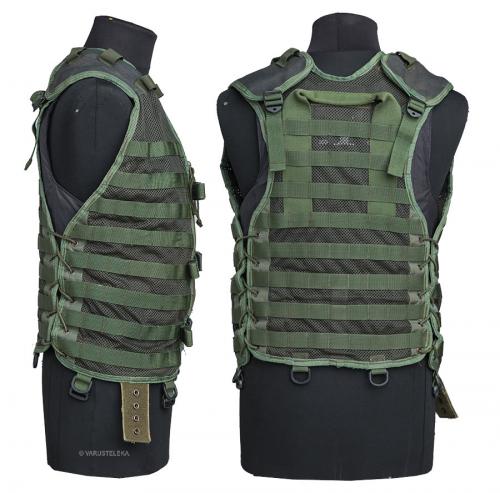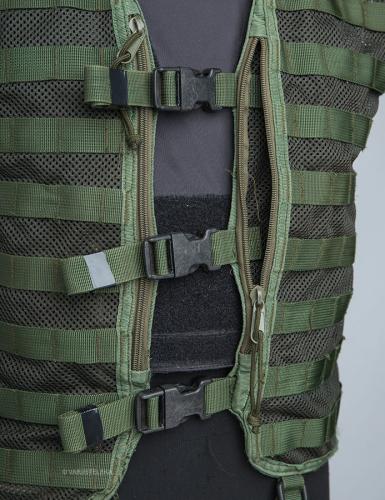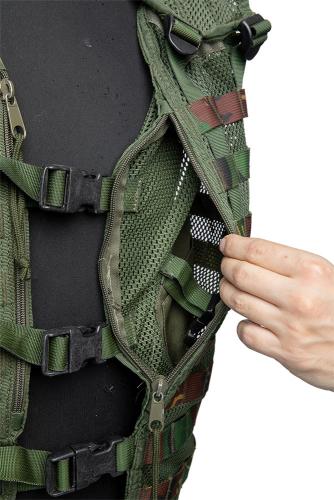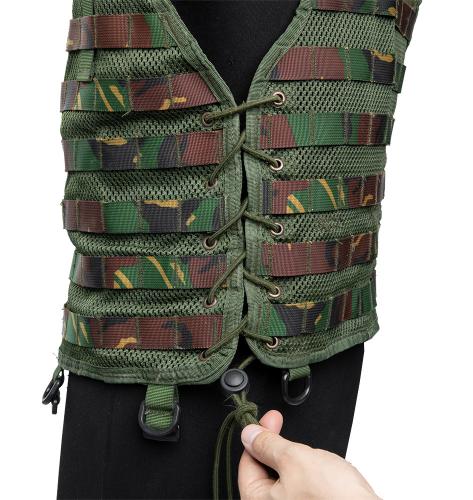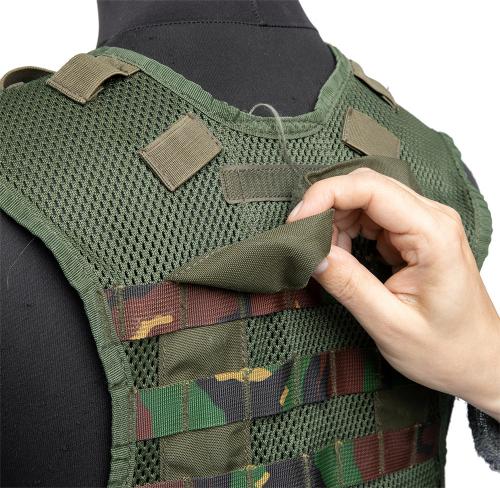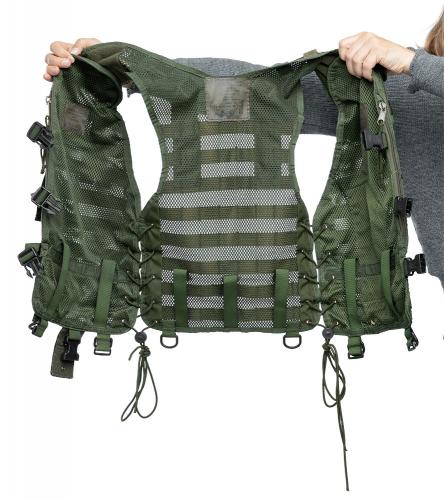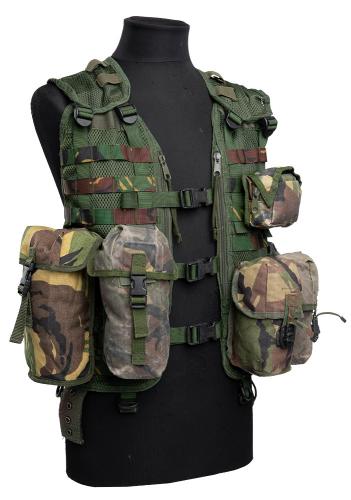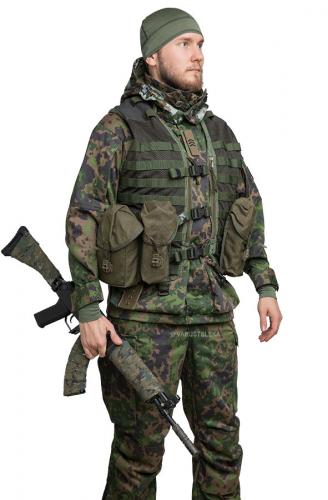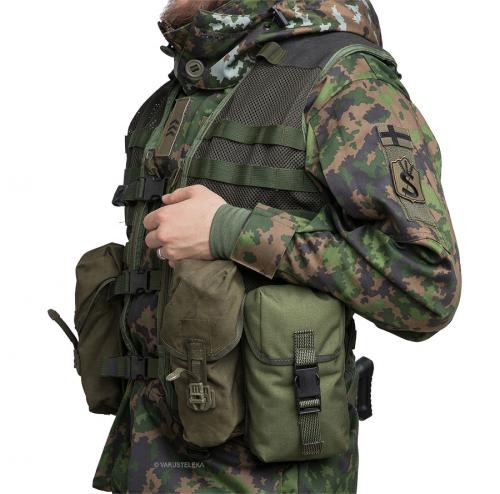 Dutch modular vest, surplus
Price 31.99 - 41.99 USD
excluding VAT
A pretty damn good MOLLE compatible combat vest. Well made, tough, and cheap, as military surplus should be.
Loading products...
Trouble with the metric system? Try our converter: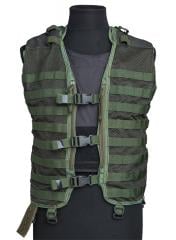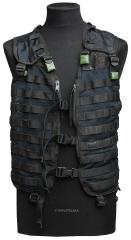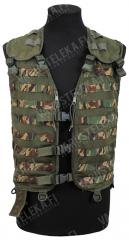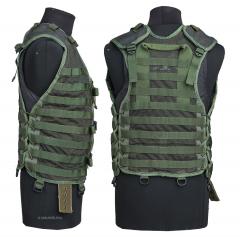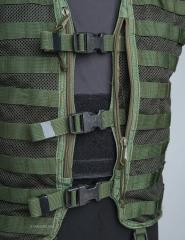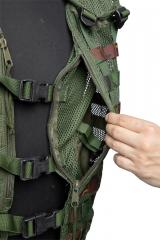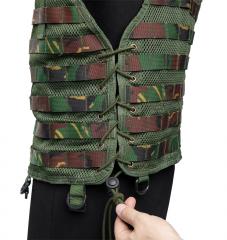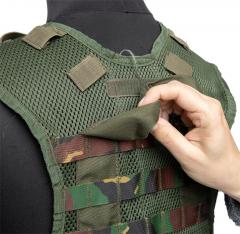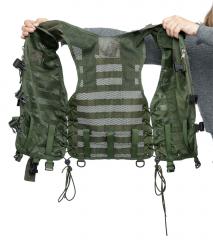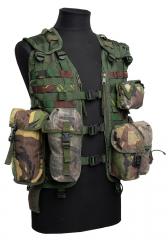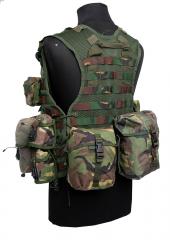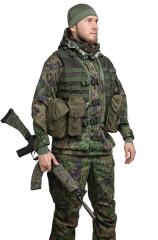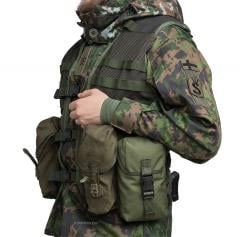 A pretty damn good MOLLE compatible combat vest. Well made, tough, and cheap, as military surplus should be.
Of all the armies, it's funny how the Dutch military seems to make particularly simple, efficient, and no-bullshit combat gear. They also let it go for cheap, which means you get proper mil-spec quality stuff for a very decent price, you just have to accept the fact it's used.
A solid package
Covers the whole upper body, PALS webbing all around.
The base material is breathable mesh.
Three quick-release buckles close the front.
Elastic loops on the shoulders for hydration bladder tubes etc.
A belt "tunnel" on the inside, can perfectly well be worn without a belt.
Adjustable shoulders, sides and front. Well adjustable and wearable with or without body armour underneath.
D-rings around the bottom for attachment of extra kit.
Large, zippered document pockets against the chest, one has a hidden pistol holster within.
Rescue handle on the back.
Naturally the whole thing is made of mil-spec materials, so it's tough and has some kinda NIR properties.
Used military surplus
These show clear signs of wear, but all are in perfectly serviceable shape with all the zips and buckles still working. There are just a few different models, but the practical differences are so small it's a non-issue. We won't pick these.
Recommendations
Loading products...
Reviews
You have already submitted a review. You can edit your text by clicking on it.
Log in and write a review.
Remove filter
Suomi
(5)
English
(3)
I would recommend for a friend
Thomas S.

06.03.2020 (Edited 06.06.2021)
Very nice piece of equipment. The description says "surplus" but mine seems brand new except for the laundry instruction tag. Very sturdily built. I bought this as a short patrol vest to hang a Blackhawk combat belt on because my USMC fighting vest has no MOLLE on the back. My only dislike is the bungee cord side adjustments. That was an easy fix. I replaced them with 550 Paracord. Good To Go!
2
0
I would recommend for a friend
Matti R.

11.03.2020 (Edited 06.06.2021)
Yllätyin käytetyn kamppeen kunnosta. Kuin uusi oli se tuote, joka minun lähetykseen osui.
Edellinen omistaja oli trimmannut sivussa olevat säätökuminauhat itselleen sopivaksi ja leikannut loput pois. Nyt sille olisi ollut käyttöä... kuminauhan vaihto on yhtä helppo homman kuin kengän nauhojen vaihto.
Ostaisinko toiste? Tämän tilasin kuvien ja kuvausten perusteella postimyynnistä.
Kyllä. Laittaisin tähän pystypeukun jos voisi :)
6
0
I would recommend for a friend
Gerald A.

06.08.2020 (Edited 06.06.2021)
Vest was perfect in condition, fit and quality. Orders 6 pouches including 3 magazine and 3 medium utility. 5 were good 1 was rough but barely useable. For the money the vest alone was great pouches also.
3
0
I would recommend for a friend
Niko H.

16.09.2020 (Edited 06.06.2021)
Erinomainen liivi pikkurahalla! Oma liivini oli lähes käyttämätön, pieniä kulumia soljissa ja teipattuja remminpäitä lukuunottamatta. Liivin saa säädettyä mukavaksi päälle ja hengittävyys on erinomainen.
1
0
I would recommend for a friend
Henri K.

26.11.2020 (Edited 06.06.2021)
Olin hieman pettynyt kun oma liivini (vihreä) ei vastannut tuotekuvia. Olan yli olevat kiristykset olivat kuvien perusteella selkäpuolella, mutta ah ja voi kun tuote saapui se olikin samanlainen kuin musta ja DPM kuvioidun liivin etupuolella.

Tästä karvaasta pettymyksestä huolimatta tällä hinnalla parempaa liiviä saa hakea.
1
0
I would recommend for a friend
Wilson H.

19.04.2021 (Edited 19.04.2021)
In my experience, the green came in near perfect, if you had told me it was brand new I would have believed you. The black however is a little more beat up, but it is all purely cosmetic and works as intended. Overall a very great vest and i highly recommend it for those who want a quality budget vest.
2
0
I would recommend for a friend
esko i.

30.07.2019 (Edited 05.06.2021)
I would recommend for a friend
Miika K.

31.05.2016 (Edited 01.06.2016)
Tässäkuin sain paketin ja pääsin kokelemaan tätä Hollanin tappelukamaroikotusvekotinta niin täytyy myöntää että ihan loistotavaraa. Liivi on nähnyt menoa ja meininkiä mikä on vaa parempi ja diilin vielä viimeistelee rullatut ylimittaset nyörit ja vielä taisteluteipillä teipattu. Jokuhan muotipelle vois valittaa että väri on pikkaisen kulahtanu ja tuotteessa teipattu, mutta itsehän olen sitä mieltä että liivi on perhanan mukava päällä, helppo säätää (jopa päällä ollesssaan).

Sääli vaa että voivat kaupungissa kattoo kieroon (tai kateellisina) jos nää päällä kulkee, joten saapi olla vaa metsäkäyttöön.

Voipi olla että parempiakin LBE liivejä löytyy, mutta tällä hinnalla ihan viis kautta viis.
7
0
Kierto Circular Economy
Return this product used but clean and unbroken, and you'll receive half of the product's original price as Varusteleka credits. Service is available only in Finland. Only Registered users can make Kierto returns. See more information about Kierto.