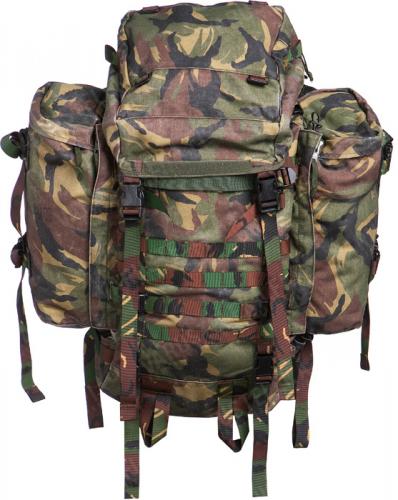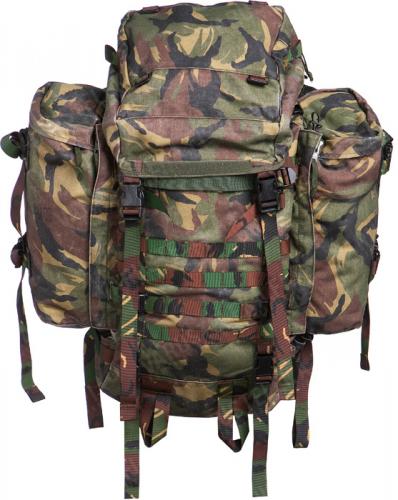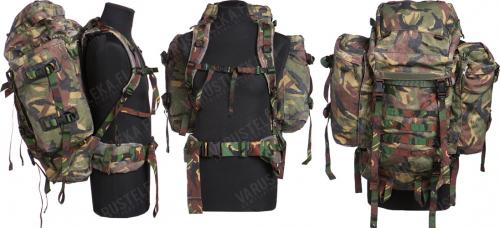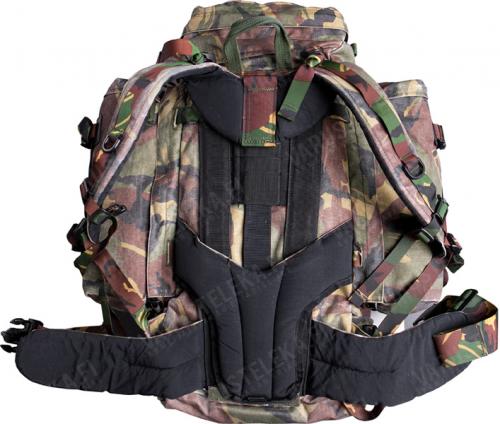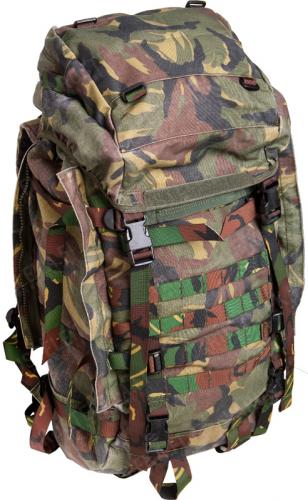 Remove the side pouches for a slimmer pack. Note the compression straps on the sides.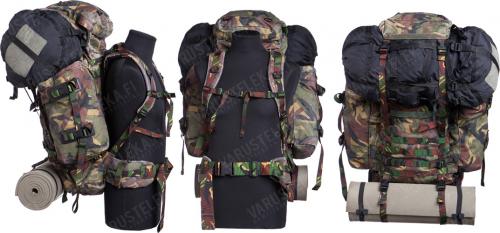 Examples of kit slapped on the ruck. Sleeping bag and mat not included.
Netherlands
Dutch "Lowe Alpine Sting" Rucksack DPM, surplus
Price 99.99 USD
excluding sales tax
A well-designed rucksack named after a famous singer for an unbeatable price - a Dutch army copy of the Lowe Alpine Sting (made by ARWY). This one has 60 + 20 = 80 liters (4882 cu in) of capacity and an adjustable back. Modern stuff through and through.
Sold 1 pcs in the last two weeks.
Waiting for restock, no estimated time for arrival. With surplus the restock date is unknown due to sometimes poor availability. Request restock notification and we will email you as soon as this product is available.
This product has used and returned variations. Used are washed and unbroken. Heavily used are also washed but might be missing buttons, have tears, main zipper can be broken etc. Read more about Kierto.
Trouble with the metric system? Try our converter: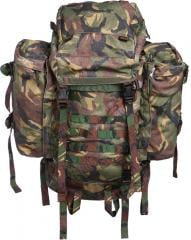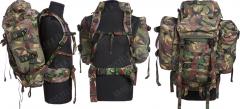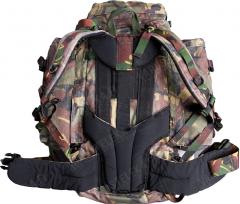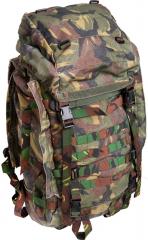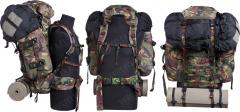 A well-designed rucksack named after a famous singer for an unbeatable price - a Dutch army copy of the Lowe Alpine Sting (made by ARWY). This one has 60 + 20 = 80 liters (4882 cu in) of capacity and an adjustable back. Modern stuff through and through.
The Dutch are out of their mind to let stuff this good go. This kit is as good as they come, suitable for situations where poor quality items could mean serious failure. These are current-issue army rucksacks with a pretty much direct lineage to the Lowe Alpine original, just made for the Dutch armed forces. It's a medium-sized ruck that carries a few days' gear for the woods or a few weeks' stuff for urban environments.
Modern design
The bag
Total volume 60 + 20 liters (4882 cu in)
A large undivided main compartment, save for two low profile pockets
Weather sock on the mouth
Removable side pouches,10 l each (610 cu in)
A huge amount of attachment points for extra stuff and PALS/MOLLE compatible stuff.
An inside pocket for a standard hydration bladder (Source WXP will fit)
Compression straps on the sides, hidden behind the side pouches. When you remove the pouches, the zippers can be closed, making the pack extra slim. The side pouches can also be zipped together to form a daypack, but the straps for this are not included. The space between the rucksack and the side pouch is left open for carrying longer stuff.
Carrying
Internal metal frame
Padded shoulder straps with proper good adjustments
Strap location can be adjusted according to user's size
Sternum strap often included
Padded hip belt with "Bergbuckle"
Padded back
Dimensions
Fully packed ruck measurements about 63 x 80 x 35 cm (25" x 31.5" x 14")
Main compartment size roughly 35 x 60 x 25 cm (14" x 23.5" x 10")
Side pouch dimensions about 20 x 35 x 12 cm (8" x 14" x 4.5")
Weight roughly 3 kg (6.6 lb)
Material and care
The material is water-resistant, IRR treated DPM camouflaged Cordura equivalent. Military-grade stuff, very strong. As for care, brush the dirt off, use a mild soap if necessary. The pack won't mind getting wet, of course, but don't try to stuff it inside a washing machine.
Dutch army surplus
Used but in serviceable condition. The fabric may be faded, and there's bound to be some signs of use, but all of the vital parts work. Below is a little list of notable things:
The frame might require some re-shaping (use your hands)
There might be extra general-purpose straps somewhere attached to the ruck, or not.
The chest strap might be missing.
Some random not-so-important bits may be damaged.
Most things are easily repaired!
Kierto Circular Economy
Return this product used but clean and unbroken, and you'll receive half of the product's original price as Varusteleka credits. Service is available only in Finland. Only Registered users can make Kierto returns. See more information about Kierto.
All products: Netherlands
Recommendations
Loading products...
Reviews
You have already submitted a review. You can edit your text by clicking on it.
Log in and write a review.
Remove filter
Suomi
(18)
English
(7)
I would recommend for a friend
Petri H.

25.07.2016 (Edited 26.07.2016)
I would not recommend to a friend
sami s.

09.11.2016 (Edited 03.05.2017)
It was in a very well used condition, broken zippers, missing straps, probably washed in a stone crusher and then left in the desert sun for years. Over priced and in a poorly shape..the bag has been a good servant for some one, some time,not me thou . I'm putting it on the fire, don't want to resend it, risking some one else will end up with the disappointment owning a worn out over priced crappy bag..
57
21
I would recommend for a friend
Timo S.

11.04.2017 (Edited 31.05.2021)
Todella kestävä rinkka ja tuntuu mukavalta selässä hieman raskaammassakin lastissa. Sivutaskut sen verran isot että meinaa mennä epäkäytännöllisen puolelle kun niihin saa melkoiset määrät tavaraa. Hyvin säädettävissä, vetoketjut tuntuisi olevan kestävää sorttia. Kunto näissä vaihtelee aika reippaasti, suosittelen paikan päällä tonkimista.
10
0
I would recommend for a friend
Mikko S.

26.07.2017 (Edited 31.05.2021)
I would recommend for a friend
Kääriäinen J.

24.08.2017 (Edited 31.05.2021)
Pari vuotta ollut käytössä ja hyvin toiminut. Ollut mukana thaimaan reppu reissulla, mökillä, metsässä jne... Tilaa riittää ja sivutaskut vaan plussaa. Kestää hyvin riepottelua, ei tarvii sääliä käytössä! En vaihda pois ennen kuin hajoaa käytössä.
3
2
I would recommend for a friend
Sami S.

02.10.2017 (Edited 31.05.2021)
Reppu on ollu käytössä muutamalla vaellusreissulla ja ei voi kuin kehua! Reppu oli hieman haalistunut väriltänsä, mutta se ei vaikuttanut sen kestävyyteen. Remmit olivat ensiluokkaisia, kuten myös muutkin kiinnikkeet. Reppuun mahtuu sisälle vaikka koko omaisuus ja ulkopuolelle saisi roikkumaan vaikka matkakumppaninkin tavarat. Irrotettavat sivutaskut ja niiden kantoremmit muodostavat pirun näppärän pikku repun kalastusreissulle tai ihan mihin keksitkin.
Jos etsit todella monipuolista rinkkaa, joka taipuu viikon metsäkeikkoihin tai miksei lyhyemmillekin reissuille, niin tilaa heti!
1
1
I would recommend for a friend
Kasper K.

02.05.2020 (Edited 06.06.2021)
25kg lasti ei ole koskaan tuntunut selässä näin kevyeltä! Selän säätö riittää pisimmillään juuri ja juuri 187cm pitkäselkäiselle ja on erittäin helppo säätää. Jos jokin nakertaa niin se, että omassani ei ainakaan ole käytännössä juurikaan ylipakkausvaraa. Läppä ei ole täysin kelluva, toisin kuin kuvauksessa kerrotaan ja kuten isoveljessään (Saracen). Läpän alle on turha kuvitella pakkaavansa esim retkipataa tai kovin isoa taukotakkia varsinkaan, jos rinkka on muuten kovin ylös asti pinkeä. Itse tein brittien kaasunaamarilaukusta ja parista pikku-molletaskusta trangialle ja sen polttoaineelle tuohon mollekujastoon lisätaskun, niin jää rinkan sisälle enemmän tilaa. Toimii!

Kaikkinensa loistotuote, joka kestää ja toimii varmasti! Säätöjä on enemmän kuin riittävästi.
2
0
I would recommend for a friend
Annukka H.

23.07.2020 (Edited 06.06.2021)
Ostin tämän kakkosrinkaksi, minulla on ennestään Fjällräven Kajka. Tämä on mukava kantaa ja isot sivutaskut ja kaikki ihanat kiinnityspaikat lämmittävät sydäntä. Sivutaskuun menee mm. makuualusta ja menisi telttakin ellei olisi vähän pitkä sinne. Junassa täyteen pakattuna kuitenkin mahtui ylähyllylle koska on litteä. Sain siistin yksilön jossa on toki jonkun nimi tussattuna mutta ei se sieltä erotu. Matkavirvelit ja vaellussauvat kukevat hyvässä suojassa sivutaskujen ja rinkan välissä.
1
0
I would recommend for a friend
Janne M.

02.08.2020 (Edited 06.06.2021)
Ei tämä mikään 70 litran rinkka ole, kuten Leka väittää. Rinkka on huomattavasti isompi kuin markettien 70 litraiset, eikä ihme; rinkan sisällä oleva lappu väittää kooksi 120 litraa, mikä vaikuttaakin huomattavasti totuudenmunaisemmalta arviolta.
Parin viikon vaelluskamat mahtuu tämän no-bullshit monsterin sisään kevyesti.
Kookkauden lisäksi rinkka on myös kestävä ja mukava selässä. Ei voi muuta sanoa ku hattua nostaa!
4
0