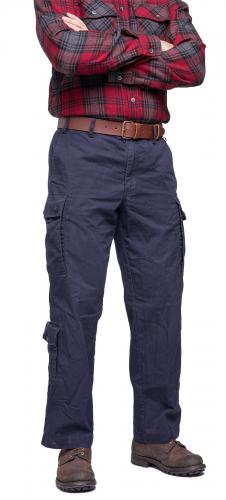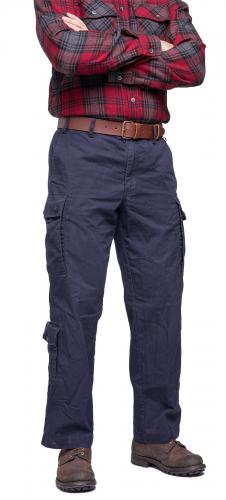 Our usual 176 cm tall Medium-guy wearing size 7080/8090.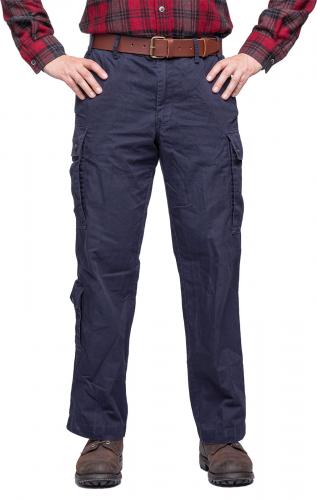 Our usual 176 cm tall Medium-guy wearing size 7080/8090.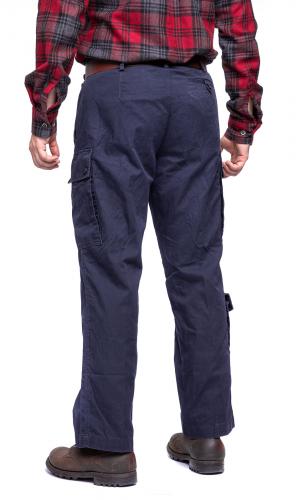 Our usual 176 cm tall Medium-guy wearing size 7080/8090.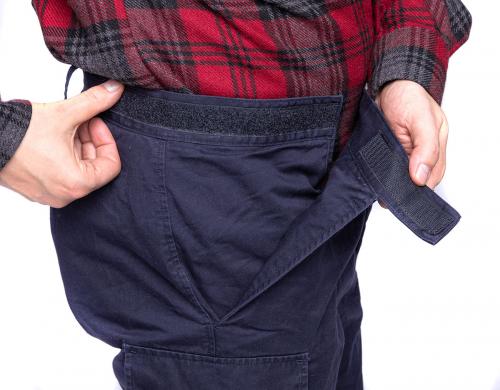 Ingenious waist adjustment.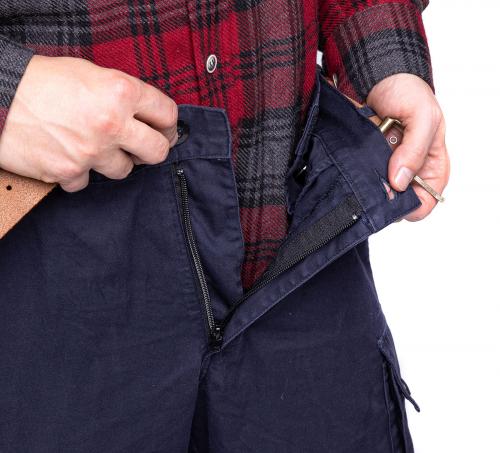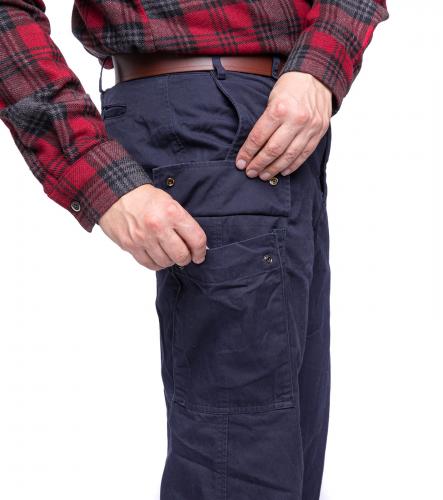 Cargo pocket flap with sturdy snap-fasteners.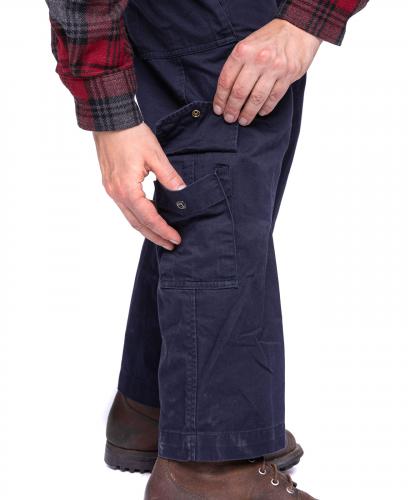 Pressure bandage pocket in the lower leg.
Netherlands
Dutch KMar Cargo Pants, Surplus
Price 19.99 USD
excluding sales tax
Royal Navy Blue cargo trousers from The Netherlands!
Loading products...
Trouble with the metric system? Try our converter: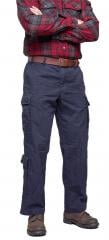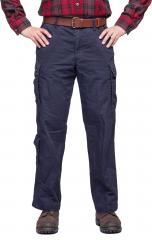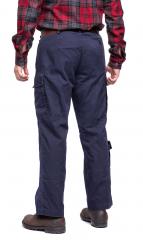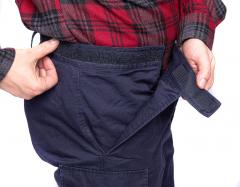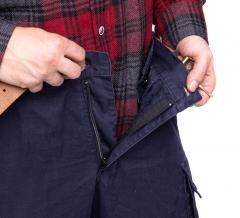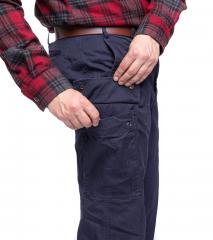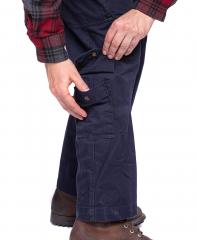 Royal Navy Blue cargo trousers from The Netherlands!
Due to navy traditions, dark blue surplus clothes often have a high degree of sex-appeal, but these are honest worker's trousers.
In addition to the usual pockets, these have a pressure bandage pocket in the lower leg. Pocket flaps are secured with sturdy snap-fasteners and there's one pocket on the back, as often seen in European military trousers.
The peculiar thing about these trousers is a hook-and-loop waistband adjustment, which allows you to get the fit just right without drawstrings or wrinkling.
Size info
Basic NATO sizing according to user height and waist. The cut is not very baggy, but the inseams have shrunk somewhat. So if you like your trouser cuffs to touch your heel, pick a longer size than indicated.
Thanks to the adjustable waist, these actually look good between the designated waist range, and goes a little bit beyond at both ends. If you like to choose a tight fit, you'll be glad to know that the button won't be stressed.
Inseam lengths
| User height range | Inseam cm | Inseam inches |
| --- | --- | --- |
| 165-175 cm | 70 cm | 27.5" |
| 170-180 cm | 75 cm | 29.5"" |
| 175-185 cm | 80 cm | 31.5" |
| 180-190 cm | 85 cm | 33.5" |
| 185-195 cm | 90 cm | 35.5" |
| 190-200 cm | 95 cm | 37.5" |
Please note: actual trousers may have shrunk up to 2.5 cm (1") from these nominal sizes.
Waistband sizes
| User waist range | Waistband cm | Waistband inches |
| --- | --- | --- |
| 70-80 cm | 78 cm | 30.5" |
| 80-90 cm | 88 cm | 34.5"" |
| 90-100 cm | 98 cm | 38.5" |
| 100-110 cm | 108 cm | 42.5" |
Waistbands measured with a 2.5 cm (1") clearance at the pocket tops. The clever adjustment system really maintains a sharp look from 1" over to 3" under the nominal waistband size.
Material and care
50/50% Poly-Cotton. These can be machine-washed at 60° C / 140° F , but less will do.
Dutch Military Surplus
These trousers are part of the boat uniform (boordtenue, BT) or field uniform (veldtenue, VT) of the Royal Navy and Royal Marechaussee. They are required to retain a sharp look and uniform colour even after repeated washing and wear. As such, these are in respectable condition. The VT versions have 40 cm / 15.5" deep baton pockets at the side seams below the regular side pockets. We haven't sorted these apart.
NSN: 8405-17-116-9023 (BT)
NSN: 8405-17-117-5826 (VT)
Kierto Circular Economy
Return this product used but clean and unbroken, and you'll receive half of the product's original price as Varusteleka credits. Service is available only in Finland. Only Registered users can make Kierto returns. See more information about Kierto.
All products: Netherlands
Recommendations
Loading products...
Reviews
You have already submitted a review. You can edit your text by clicking on it. You can filter the reviews by clicking on the elements of the summary.
Log in and write a review. You can filter the reviews by clicking on the elements of the summary.
Remove filter
Suomi
(4)
English
(7)
I would recommend for a friend
J-P M.

07.11.2019

Verified purchase
Vyötäröni on joku vajaa 100cm, sisäsauma n. 85cm joten tilasin tarkoituksella hieman pidemmät, 8595/9000 koon pökät. Vyötärön säätö toimii juuri niin kuin tuotekuvauksessa kerrotaan ja velcro on ainakin näissä yksilöissä erittäin pitävä. Pituus on tässä koossa housut napaan asti vedettynä ja lahkeetkin särmättynä lähes täydellinen. Leikkaus itsessään on näissä aika löysä, paljon tuotekuvia tilavampi. Tulee vähän brittien cs95-housut mieleen näistä omistani.

Nämä ovat varmaan olleet jollain toimistoupseerilla vuosien ajan koska kangas on haalistunut ja pehmentynyt lukemattomista pesuista (pesulappu on jo lähes lukukelvoton, käpristynyt ja puoliksi irti) mutta varsinaisesti kulunut vain hieman ohuemmaksi ja kiiltävämmäksi perseestä ja sepaluksesta. Lisäksi ompeleet sivutaskujen suuaukosta, vyölenkeistä ja vyötärölinjan sisäpuolelta ovat alkaneet vähän rispaantua, sivutaskujen reunoja onkin jo paikkailtu vähän sinnepäin. Toisen reisitaskun yksi neppari on irronnut (ja sen pari onkin näköjään vaihdettu erilaiseen), vetoketjun vetimen maali irronnut, muuten ihan ok.

Sivutaskut ovat aika hyvät, tilavat ja syvät. Reisitaskutkin ovat yllättävän tilavat, sa-intin kulmikas kenttäpullo mahtuu heittämällä sisään mutta läppä ei ihan mene kiinni. Reisitaskun sulku on ehkä vähän löperö, sain normaalikokoisen puhelimen kotelossaan sujautettua ongelmitta suljettujen nepparien välistä (ja ongittua myös pois, istualtaankin) ja ainakin näiden alkuperäisetkin nepparit aukeavat melkein hipaisusta.

En kuitenkaan kadu ostostani kun kerrankin oli sopivia kokoja (ja hyvällä hienosäädöllä) suht halvalla ja näistä saa todella mukavat kevytretkeilypöksyt. Uutena olisivat varmaan aika helvetin hyvät melkein mihin vaan.
2
0
I would recommend for a friend
Marko L.

13.11.2019

Verified purchase
Ostin näitä aluksi yhdet ja perään toiset, mikä kertoo jo arvostuksestani. Toiset housuista ovat ilmeisesti käyttämättömät, toiset käytetyt mutta täysin kelpokunnossa (väri haalentunut lähes mustanpuhuvan sinisestä mustikkaiseksi ja kangastuntuma pehmeämpi).

Mukavat, monikäyttöiset housut niin kylille kuin korpeen, ja ilmeisen kestävää laatua. Säädettävä vyötärö antaa loistavasti pelivaraa ja mahdollisuuden saada juuri oikea vyötärökoko (kunhan olet kokohaarukassa). Toimin Lekan ohjeen mukaan ja ostin varmuudeksi pidemmän mitan mukaan: olen saanut kääräistä lahkeet, mutta se ei nyt haittaa ja mahdollisesti ajan myötä menee lyhennykseen.

Oman kokemuksen mukaan suosittelen lämpimästi, joskin toinen arvon arvioitsija näyttää saaneen enemmän käyttöä nähneet housut, eli arpapeliähän tämä myös on.
5
0
I would recommend for a friend
João e.

14.04.2020

Verified purchase
One of the best fitting trousers that I ever had.
The "hook-and-loop waistband adjustment" should be a feature in every trouser made by man. It is just brilliant.
I will buy more of these.
My review should be negative so I'm the only buyer from now on.
1
0
I would recommend for a friend
ERIC S.

13.05.2020

Verified purchase
Although they're very well made, the fit is awesome (unlike many military surplus items they are not baggy at all) and the velcro adjustment system is genius, I am giving them three stars because the ones I received had no cargo pockets or pressure bandage pocket on the lower leg; I went back and read the description, which states there are two versions, so apparently I got the 'VT' style with a baton pocket (I have no batons, alas). I think this difference should be noted more directly, but I can't really complain since they're still awesome trousers and I'm ordering another pair (and hopefully I'll get the other 'BT' version).

UPDATE: So I ordered a second pair and requested the 'BT' version, and got it super fast (2 days from Finland to New York!!! For 10 bucks!) and I'm in love. Trousers looked brand new. I'm in love, upgrading to 5 stars. Ordering more.
2
1
I would recommend for a friend
Thomas J.

19.06.2020

Verified purchase
Okay, so after a bit of use I can say that these are super nice, practical, well-fitting pair of military surplus, they don't even look that militaristic! I've used these out in the wild and as work trousers, and they are perfect for both uses. I am 185 cm tall, and lengthwise i chose 180-190, and they're a bit long in the leg but not overly so (Just fold the end up or use trouser-blousers).
Only complaint: The snap-fasteners can be a bit well-used, and have a unfortunate habit of opening up when just brushing them on trees or anything else. But these are surplus, so I can't complain too much.
3
0
I would recommend for a friend
David H.

07.09.2020

Verified purchase
You won't win the beauty contest wearing this piece of gear. But the quality is great and so is the practical adjustable waistband. It looks unused, and it might last for a long time. Good strong fabric.
1
0
I would recommend for a friend
Nicolai R.

01.08.2022

Verified purchase
Well new and nice, (ugly) pants.
hook-and-loop adjustment is nice and this is my new workpant.
Would buy more if there was a restock.
0
0
I would not recommend to a friend
JHIH W.

15.05.2023

Verified purchase
非常的糟糕 褲子都破損了 還拿出來賣 非常的差
0
3
I would recommend for a friend
Topi H.

01.06.2023

Verified purchase
Siistit pögät. Tarrakiristys tekee näistä mahdottoman mukavasti istuvat.
0
0