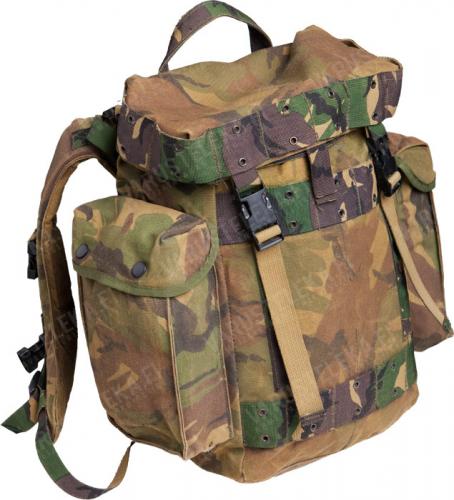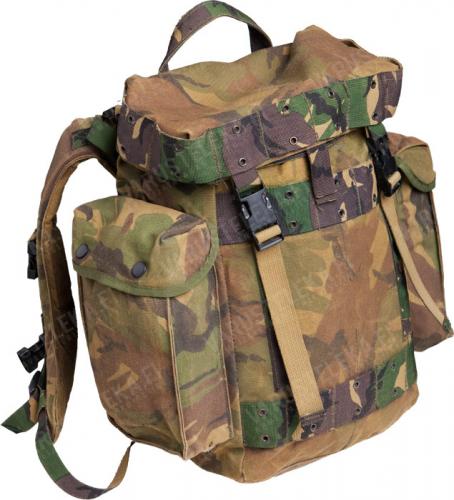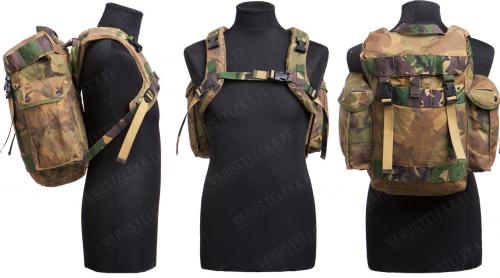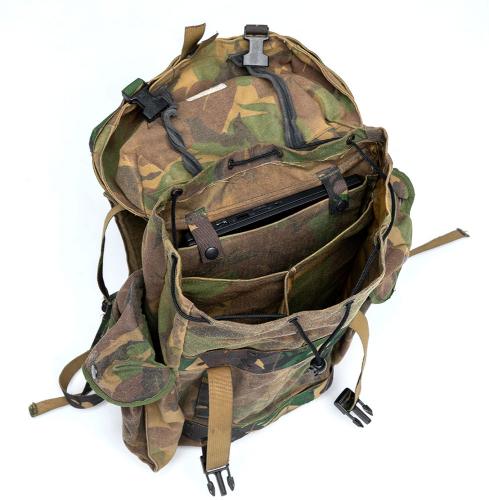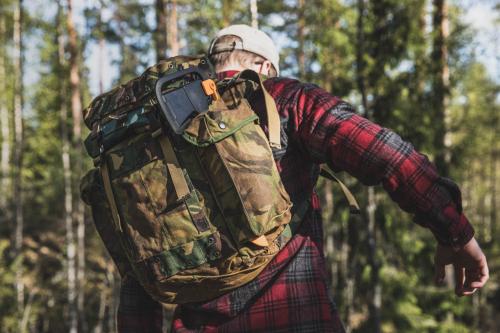 Dutch day pack, 35 l, DPM, surplus
Price 31.99 USD
excluding VAT
A small, well-designed day pack. Ex-Dutch army issue and used. These are made so well that we'd be tempted to give a lifelong guarantee.
In stock 45 pcs.
This product is unlikely to be restocked and will be hidden from our website once it's out of stock.
Trouble with the metric system? Try our converter: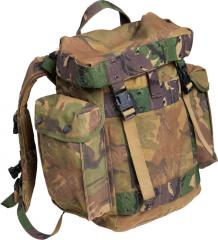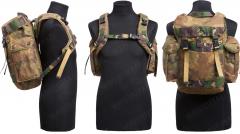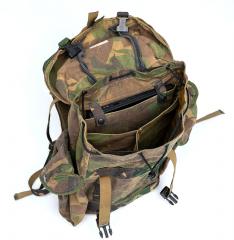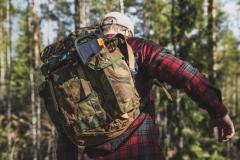 A small, well-designed day pack. Ex-Dutch army issue and used. These are made so well that we'd be tempted to give a lifelong guarantee.
In short: If you can get past the camo, this is the perfect little daypack for an unbeatable price/quality ratio! Like a good life, it's well compartmentalized for convenience and even fits a laptop inside. No breaky breaky, this pack is made super mega well.
The modernish Dutch stuff is generally pretty good, and this pack is no exception:
Padded, uniquely designed shoulder straps with good room for adjustment.
Adjustable sternum strap.
A place for a name tag.
Carrying handle.
Main comparment divided into three parts. The dividers can be cut off if necessary, but they really help organizing your stuff.
Against the back, a flat compartment for foam padding (likely not included). Any piece of foam will do. The compartment can also be used for storing documents.
Side pouches with snap closure. These are open on the backside - useful for long objects.
The lid is closed with quick release buckles, and features a flat compartment inside. Thanks to the good adjustments, the pack can be overpacked.
ALICE- and M1910- (and MOLLE- ) compatible attachment points on the front and lid.
Measurements of the main compartment about 28 x 38 x 14 cm. Don't take these too literally, though.
Made of durable, military grade DPM-camouflaged nylon material, which most likely is IRR-treated and at least water repellent.
.
Genuine army surplus
In used but in good serviceable shape. The best kind of surplus: quite a modern design and made to last.
Recommendations
Loading products...
Reviews
You have already submitted a review. You can edit your text by clicking on it.
Log in and write a review.
Remove filter
Suomi
(5)
English
(20)
I would recommend for a friend
Harri K.

06.03.2019 (Edited 06.03.2019)
Mikä uutuus... ;) Näitähän oli Lekassa jo joskus vuosien 2005-2010 välillä sekä vihreänä että dpm-kuvioisena. Reppu on vähän ahtaan tuntuinen kaiketikin siitä syystä, että se on ommeltu tasamittaiseksi "laatikoksi"; pohjan ja suun ympärysmitta on kutakuinkin sama. Esim BW:n jääkärirepussa suuaukon ympärys on selkeästi suurempi kuin pohjakappaleen ympärys.
4
0
I would recommend for a friend
lasse l.

15.03.2019
I would recommend for a friend
Jeff D.

01.04.2019
An outstanding backpack, very well made; designed to give many years of rugged dependable service. My pack was in near new condition/ very minimal uses. The pack has some what old school look to it. I'm going to make this my every day carry pack.
6
0
I would recommend for a friend
Sami K.

12.04.2019
Hyvä ja mukavan erilainen pikkureppu. Istuu korkealla eikä hiosta alaselkää. Jämäkkyys ja kestävyys näkyy painossa, enkä luota läpän taskun velcroon, niistä puoli pinnaa pois. Mutta mistä vetäisty että muka 35 litraa? Kuten mitoistakin voi laskea, todellisuudessa hädin tuskin 20l. Tähän ei mahdu oikeasti paljon mitään ja se on hyvä tiedostaa ostaessa.
6
0
I would recommend for a friend
Shawneen D.

12.04.2019
Nice little pack for us small folk...
Needed washing, but otherwise in good shape.
The inside of the main compartment and the side pouches are coated with some kind of waterproofing which was also in good condition.
My pack came with a piece of thick foam padding in the sleeve with the snaps.
The other dividers in the main compartment had been carefully removed by the previous owner...saved me from doing it.
Shoulder straps have wider spacing because of the odd cut...so less likely to cut into side of your neck.
Very comfortable.
4
0
I would not recommend to a friend
Markus M.

19.04.2019
Tätä reppua tuli kuumoteltua jo pitemmän aikaa. Kun sen viimein hyppysiini sain, jouduin pettymään. Kaksi solkea oli hajalla ja sisätaskun lokerointi oli poistettu, vaikka se jostain syystä oli yksi tärkein tekijä tämän repun hankintapäätöksessä. Olkainta kiinnipitävän soljen sai korvattua vahvalla avainrenkaalla ja nippusiteellä. Toimii, mutta säätövaraa ei enää ole. Ulkomuoto vastasi muuten tuotekuvaa. Puutteista huolimatta otin repun päivittäiseen kantokäyttöön, sillä kulmikkuus ja DPM vetoavat meikäläiseen. Kuvittelen, että muoviosat näissä kyllä pettävät muissakin yksilöissä ja kun asianmukainen korjaaminen ei ole helppoa, tuotetta on hankalaa suositella hyvillä mielin.
5
0
I would recommend for a friend
Jason M.

24.04.2019
The rucksack I received looks almost identical to the one pictured on the Varusteleka's website, maybe a little less faded. These are very well-built packs. The pack I received also had the inside divider removed somewhere along the way. The straps on these are well padded and at first fit it appears quite comfortable. These are not large packs, but should make an excellent day pack.
1
0
I would recommend for a friend
Sam W.

28.04.2019
The backpack I received was in great condition, as far as I can tell the only damage to the pack was a missing clasp. This is a pack made to last, and I've never held anything this substantial in my own two hands. The Stitching is perfect all around, and the only flaw (if you can call it that) with the pack is the slightly faded camo. Like varusteleka, says this pack is made super mega well.
1
0
I would recommend for a friend
Greg B.

03.05.2019
A very well made pack as advertised.Mine came in a slightly dirty issued state.Cleaned up real nice with little if any fading.I like the dividers so they're staying.Mine even had the foam back cushion included, a plus in my books. Expect may years of use of of it.An A+ to Verusteleka for the quick and cheap shipping to Canada.Great costumer service to!
2
1