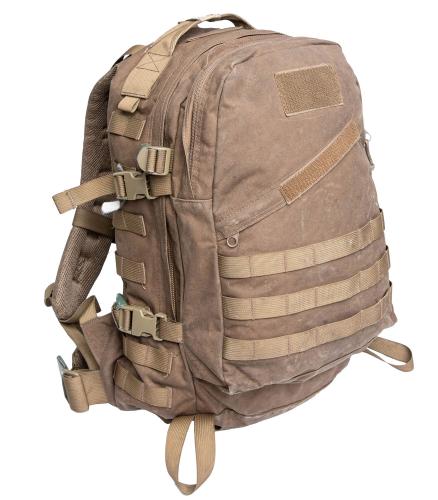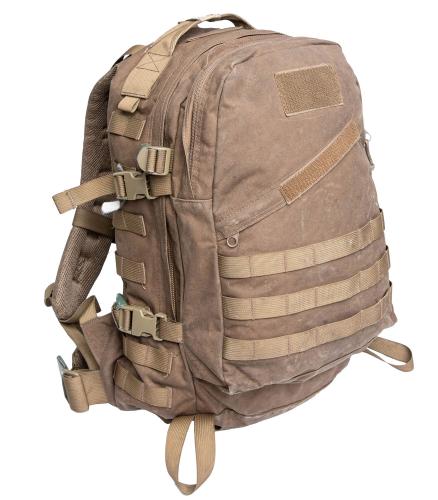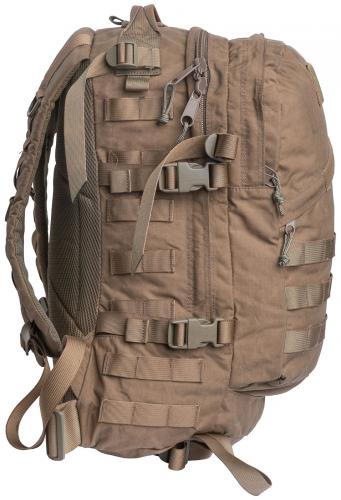 Compression and accessory straps and PALS webbing make this pack easily expandable and customizable.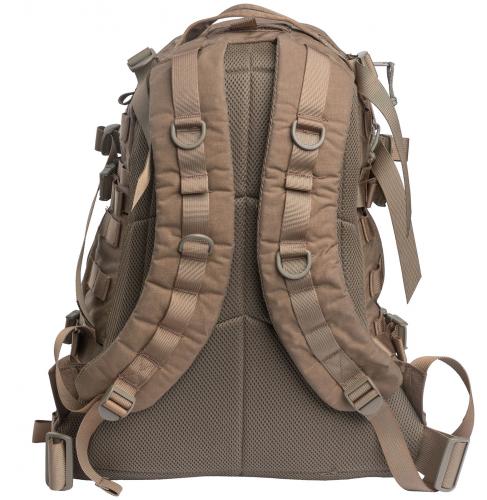 Anatomic shoulder straps with attachment loops and rings.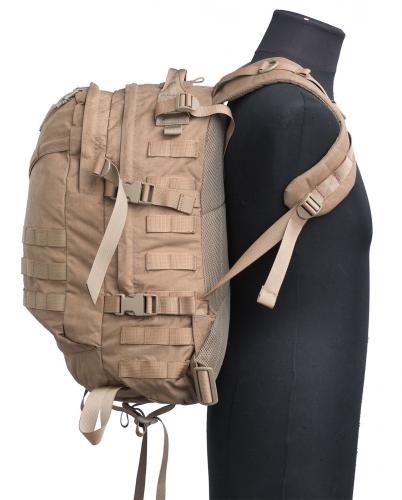 Provision for a hip belt, which is likely not included.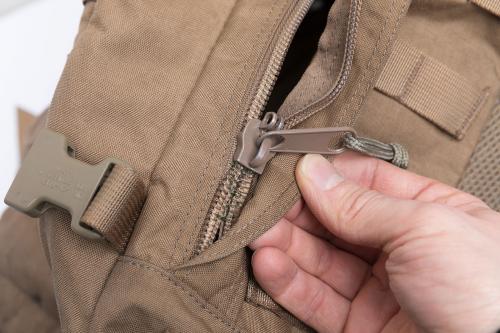 Used military surplus - packs might have small faults, nothing major.
Netherlands
Dutch 3-Day Assault Pack, Coyote Tan, surplus
Price 59.99 USD
excluding sales tax
We got another batch of the classic 3-Day Assault Pack made for the Dutch armed forces. This type of backpack has been issued to various special forces for a long enough time that the design can be considered historical. Still a very fine backpack for anything you need.
We don't know when this product will be restocked. With surplus the restock date is unknown due to sometimes poor availability. Request restock notification and we will email you as soon as this product is available.
This product has used and returned variations. Used are washed and unbroken. Heavily used are also washed but might be missing buttons, have tears, main zipper can be broken etc. Read more about Kierto.
Trouble with the metric system? Try our converter: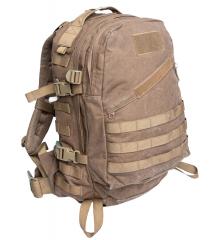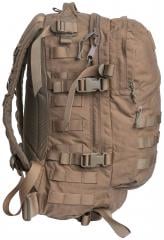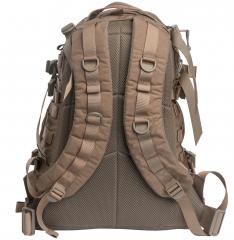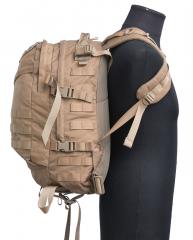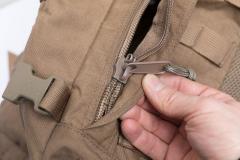 We got another batch of the classic 3-Day Assault Pack made for the Dutch armed forces. This type of backpack has been issued to various special forces for a long enough time that the design can be considered historical. Still a very fine backpack for anything you need.
Features
The main compartment has a 2-way zipper and a compartment with hanging loops for a hydration bladder. A passage for the drinking tube is concealed under the carry handle.
The secondary compartment has a significant volume to it and also features a 2-way zipper. It is unaffected by compression straps, which makes the contents more quickly available.
Finally, there's a third pocket with a slant opening and a regular zipper for small stuff. The pocket extends all the way up so it's not really tiny.
Other features include:
PALS-webbing for expanding and customizing
Compression straps to make the pack small (doubles as a fail-safe of the main zipper)
Ice axe / accessory loops at the bottom
Sleeping pad straps
Hook-and-loop bases for a name tag and 3" flag patch
Padded and ventilated back and shoulder straps
Specs
Total volume: 35 litres (2135 cu in)
Outer measurements: 48 x 37 x 18 cm (20" x 14.5" x 7")
Weight: 1.2 kg (2.65 lbs)
Material: PU-coated nylon, 280 g/m2
NSN 8465-17-123-0411
Dutch army surplus
As the model has a long service life and the manufacturing is high-quality (typically by Arwe), you can't get into trouble with these packs due to the product itself. These were made for serious business and you can expect these to outlast anything you could buy new for this price point or a notch or two above.
Used, but serviceable condition. You might want to wash these before use. Sternum straps and waist belts may be missing. Luckily these can be replaced easily without sewing, using standard webbing and buckles.
P.S. The availability is uncertain, act now!
Kierto Circular Economy
Return this product used but clean and unbroken, and you'll receive half of the product's original price as Varusteleka credits. Service is available only in Finland. Only Registered users can make Kierto returns. See more information about Kierto.
All products: Netherlands
Recommendations
Loading products...
Reviews
You have already submitted a review. You can edit your text by clicking on it. You can filter the reviews by clicking on the elements of the summary.
Log in and write a review. You can filter the reviews by clicking on the elements of the summary.
Remove filter
Suomi
(9)
English
(12)
I would recommend for a friend
Hiroki A.

17.01.2020

Verified purchase
I've had one of these for a year, to save me from using the awkward bergan side pouches as a daysack on exercises. It's large enough to hold my gore-tex suit, warm kit, 24hr ration, Camelbak, with kneepads and gloves in the smaller compartment when I'm not using them. The coyote tan colour matches well with MTP and most other Multicam based patterns.

Mine has seen a fair bit of abuse, including use as a cushion on stag duty, and has held up nicely.

Update: While the above is still true, there is a slight snag; The shoulder straps are really wide. On occasions where you swing your arms a lot e.g. loaded marches, this can cause chafing around the shoulders. Still, it's a steal at £44; The Camelbak daysacks used by a lot of soldiers are around the £150 mark.
1
0
I would not recommend to a friend
Riku I.

23.01.2020

Verified purchase
Ei voi kyllä suositella, sen verran kaltoinkohdeltu yksilö sattu tulemaan...
6
2
I would recommend for a friend
Matti-Sakari A.

30.01.2020

Verified purchase
Erinomainen reppu joka kummasti vaikuttaa ulkoisilta mittasuhteiltaan 35 litraa pienemmältä, mutta pystyy imemään sisäänsä järjettömän määrän tavaraa ilman mitään erityisen tarkkaa pakkaamistakin. Omastani puuttui lantiovyö, mutta nappasin sellaisen hieman risasta Särmän assault packista, jonka jälkeen painavienkin kantamusten roudaaminen sujui oikein mukavasti.
3
1
I would recommend for a friend
Juha P.

28.07.2020

Verified purchase
Ensimmäinen kappale meni vaihtoon, vaihtokappale tuli tänään 03.08.20.

Parempi, lantioremmi löytyi, vetoketjut ehjät ja kohtuu siisti yksilö. Yksi kompressiohihna poikki mutta korjattu ompelemalla (kiitos vaimo) pari paikkaa ja pienempää ruhjetta löytyy mutta käytetystä kyse joten niihin en puutu. Hyvä ja tukeva selässä ja tilaa omiin tarpeisiin riittävästi. Nyt uskaltaa suositella. Yksilö valmistettu 2019 joten selittää kohtuullisen kunnon.

Päivitys: Hyvä kantaa, on kuin paita päällä. Mikään paikka ei rasitu eikä repun asentoa tarvitse korjailla reissun aikana.
4
1
I would not recommend to a friend
Mike G.

03.08.2020

Verified purchase
Easily the nastiest piece of gear purchased from Varusteleka. Looks like it was stored in a vat of light oil or grease and it stinks! Washing it a 3rd time, hope it is usable this go around.
10
7
I would recommend for a friend
Lila p.

08.12.2020

Verified purchase
this is a sick fucking bag. i collect bags and this is my favourite backpack ever. just hits all the right spots. need a backpack? you probably need this one. mine had the hip belt included. probably going to use it for the rest of my life.
11
0
I would recommend for a friend
Timo Y.

01.02.2021

Verified purchase
Sain varsin hyvän repun. Ehyt, kaikki toimii. Oli myös lantiovyö ja rintaremmi mukana. Pesukoneen kautta käyttöön. Täytynee hankkia vähän pienempi juomarakko, koska entinen on tähän hieman turhan iso.
2
0
I would recommend for a friend
Nathan H.

03.03.2021

Verified purchase
This Dutch 3-Day Assault Pack is exactly as described (and more, if you're lucky). In fact, the one I received exceeded my expectations! Despite Varusteleka's recommendation to wash the backpack before use, mine came sufficiently clean out of the packaging, so I didn't bother washing it; a little "surplus smell" never hurt nobody! As far as the sternum strap and waistbelt go, both were present on my pack which I was pleasantly surprised to see. The backpack as a whole is in near-mint condition, aside from a negligable tear (about 1 cm wide) on the inside of the main compartment and slight discolouration from use in the field. Being Dutch Army surplus, there is (presumably) the previous owner's last name written in permanent marker on the right shoulder strap, which I think is a cool historical element that makes the pack unique! Currently, this pack is serving as my everyday bag for university, but I also plan to use it on short hikes, while travelling, etc. so the sky is the limit for how you want to use it! For example, I am utilizing the water bladder pocket to store my laptop. Bought as an upgrade to my 5.11 Rush 12 and I can honestly say this pack is superior in almost every way.

It has 11 L more carrying capacity, larger surface area (more webbing), four compression straps instead of two, sleeping mat straps underneath (I recommend rolling and taping up when not in use so they are not tickling your rear end as you walk), lockable main compartment zippers (nice for travelling), plus it's nearly half the cost; the only downside is that the secondary compartment doesn't have additional pockets on the inside, but that can be remedied with external pouches! I know it's like comparing apples to oranges, but I seriously think this pack also beats 5.11's 3-day equivalent, especially considering price. This is a high quality pack made with rugged materials, plus it's surplus! Who doesn't love army surplus?

For those interested, there is one ID tag that reads: "DAYPACK, 35 LITER, COYOTE TAN NSN 8465-17-123-0411 SAMENSTELLING [COMPOSITION]: POLYAMIDE GECOAT PU"
10
0
I would recommend for a friend
Stefan M.

05.04.2021

Verified purchase
this is basicly a LBT 3-Daypack in a differnt colour and without a tag, issued for Dutch SF. and that for ~50€.(instead of 220$)
I made a Lucky pick with this one beside a loose thread and the mandatory mil-surp smell there was nothing to complain about. Best price-performance ratio i ever had for a Backpack
4
0