Used as a simple blanket.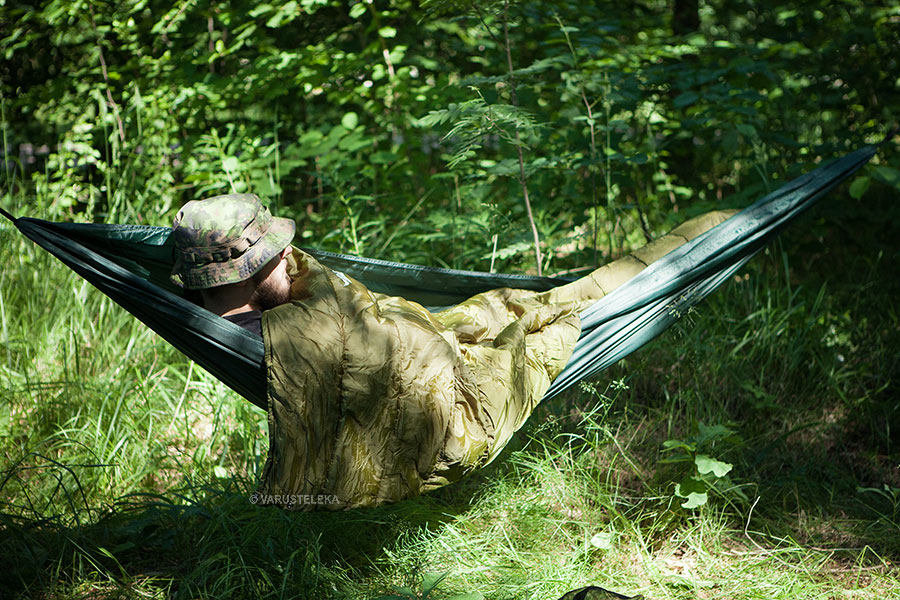 Price 64.99 USD. In stock 7 pcs.
Saatavana käytettynä!
Products in stock are also available in our walk-in store.
Trouble with the metric system? Try our converter:
These might also interest you
A sleeping bag is not the one and only option for hammockeers, the Quilt by DD Hammocks is a clever choice for warmer weather. This is basically a crossbreed of an old timey blanket and a modern sleeping bag, very versatile and a perfect companion to go with the Underblanket. The leg portion and neck can be snapped and tightened shut to form a sort of pseudo-sleeping bag, or you can just throw the Quilt over you like a blanket.
The Quilt is not design to cover the sleeper completely, instead only from feet to neck. Recommended max length is 180 cm, unfortunately no longer sizes are avaible. The shell material is lightweight ripstop-reinforced nylon, filled with 200 g/m2 synthetic silk.
Weight 875 g. Comes with a handy compression bag. Below are the measurements when opened and laid out flat:
Top width: 128 cm
Bottom width: 92 cm
Length: 194 cm
Made by DD Hammocks
Founded in 2005, the British DD Hammocks supplies proper quality hammocks, tarps and other related stuff. Along with the common joe, campers, hikers etc., a large customer base is in the British military. If it's good enough for war zones, it should do well in civilian life too. Go check out their web page, DDhammocks.com.
Log in and write a review.