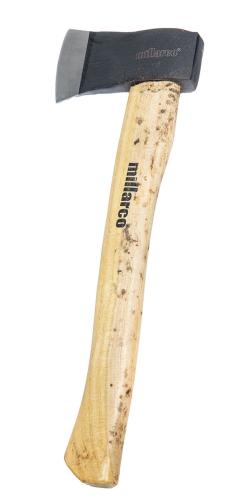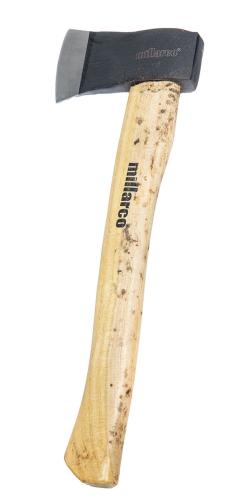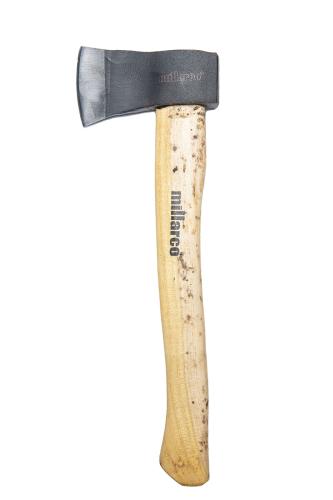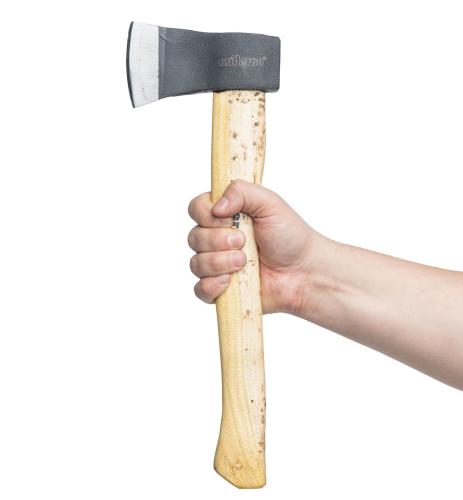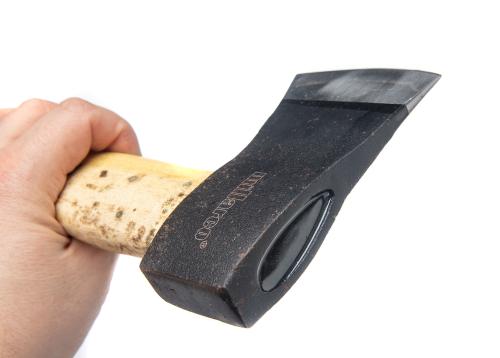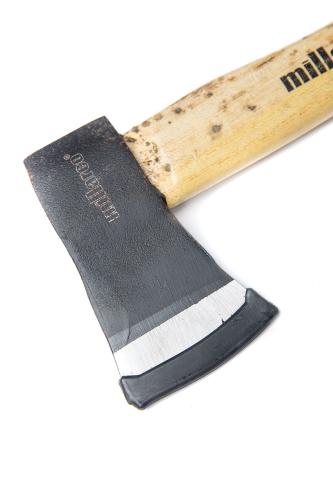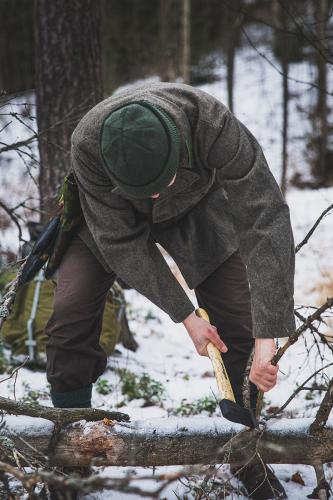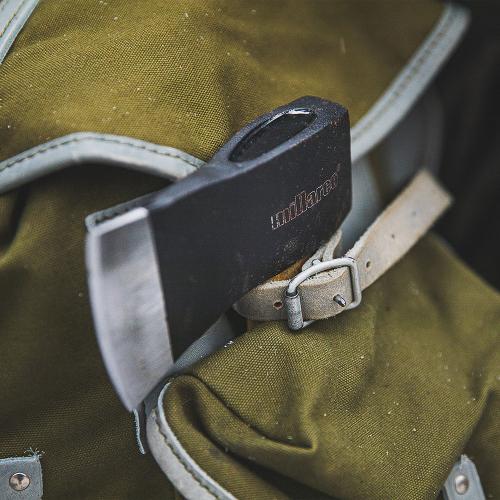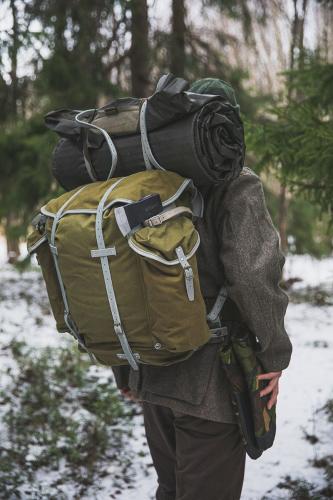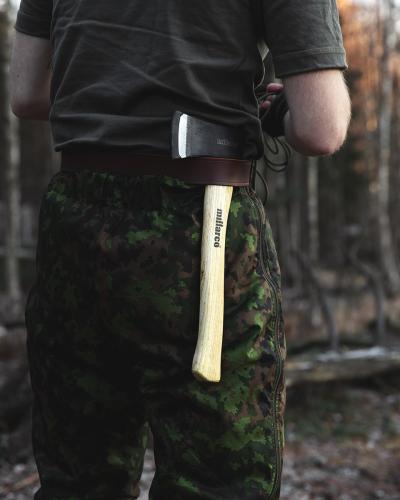 Denmark
Danish Hatchet, Surplus
Price 14.99 USD
excluding sales tax
A compact, handy, and cheap wood-handled axe from the land of the Vikings. Possibly from some bomb shelter but quite nice as a hiking axe if you want to travel light but don't want to go without an axe.
Trouble with the metric system? Try our converter: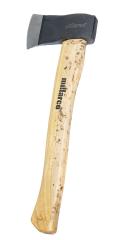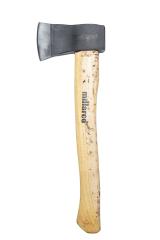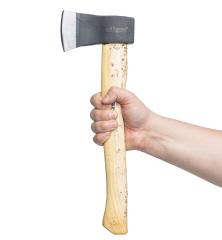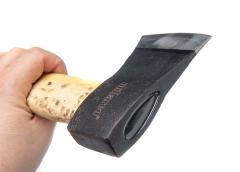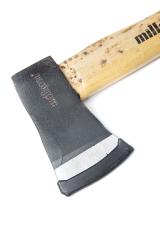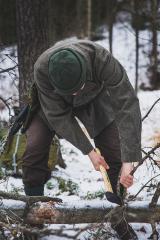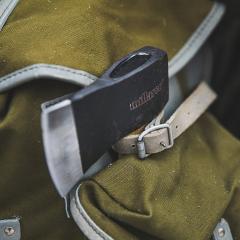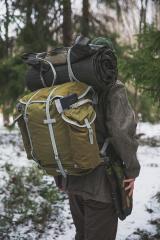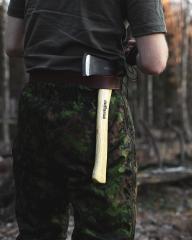 A compact, handy, and cheap wood-handled axe from the land of the Vikings. Possibly from some bomb shelter but quite nice as a hiking axe if you want to travel light but don't want to go without an axe.
Features
This is a very simple basic camping axe with no fancy bullcrap. The total length is 365 mm (14.4"), the blade length 70 mm (2.75"), and the total weight c. 730 grams (1.6 lbs). The choppy-choppy comes with a wooden handle. The blade has a very minimalistic blade guard made from silicone or some other elastic material, and it is there just for warehousing purposes. For camping, you should make a proper one from leather. The axes have the logos of the Danish Millarco but the company most likely had them made somewhere further away.
Condition
These have most likely been lying in some bunker unused for quite some time. The blade doesn't show any signs of use but it left the factory unsharpened. Many axes were delivered this way so that folks could sharpen them to their liking. There can be some warehouse crap on the axe handles. Sanding and oiling will make it very pretty.
Kierto Circular Economy
Return this product used but clean and unbroken, and you'll receive half of the product's original price as Varusteleka credits. Service is available only in Finland. Only Registered users can make Kierto returns. See more information about Kierto.
All products: Denmark
Recommendations
Loading products...
Reviews
You have already submitted a review. You can edit your text by clicking on it. You can filter the reviews by clicking on the elements of the summary.
Log in and write a review. You can filter the reviews by clicking on the elements of the summary.
Remove filter
Suomi
(2)
English
(3)
I would recommend for a friend
Perttu T.

04.01.2022

Verified purchase
Ihan kelvollisen oloinen pikku kirves. Pinnassa oli jotain homeen tapaista jonka sai fairylla ja tiskiharjalla pois. Alkuun pitää kyllä poistaa lakkapinta varresta hiomalla ja käsitellä öljyllä tai vastaavalla sopivalla aineella. Sitten hierotaan terää viilalla sopiva kulma ja viimeistellään sopivalla hiomakivellä. Eiköhän siitä soiva peli tule. Ei ollut ainakaan hinnan kiroissa.
2
0
I would recommend for a friend
Henri L.

Varusteleka employee

14.02.2022

Verified purchase
Hommasin tämmöisen tanskalaiskapulan näpertelykirveeksi. Ihan ekana kävin fiilailemassa teräkulman uusiksi ja teroitin koko hässäkän. Kivasti toimii. Nyt jonkun aikaa klapeja hakattuani terä on alkanut snadisti heilua. Noh, katsotaan, ehkä sinne voisi tunkata jotain ruuvia kiristelemään ja jos sekään ei auta, niin sitten tehdään uusi varsi. Terä on muuten suht helppo muotoilla uusiksi, sillä teräs on suhteellisen pehmeätä. Teränsä tämä kuitenkin tuntuu pitävän ihan suhteellisen hyvin.

Millarcon lapussa lukee että firma tekee "parhaiten myyviä tuotekonsepteja". Juu juu, mitähän sekin tarkoittaa. Jos Hultaforsin kirveet ovat elinikäisiksi kumppaneiksi tehtyjä kapineita, niin tämä on se sitten se hulttioserkku jonka kanssa tulee toimeen, mutta ei sen varaan henkeään pistäis. 3/5: halpa, tekee tehtävänsä ja tarjoaa kivan alustan teroitusharjoittelulle. Jos odotat heti käyttöön -ratkaisua, katso muualta tai valmistaudu kuppaisiin hakkuukokemuksiin.
2
0
I would recommend for a friend
Chris W.

11.03.2022

Verified purchase
I am very happy with this hatchet- with a couple caveats. It's rugged, simple, will do the job just fine- and for a very reasonable price. However, this is still a cheap hatchet and like all cheap axes there is some work you need to do before it will work as intended.
First- it comes completely blunt, like just a rounded piece of metal blunt. Without a sharpening stone (which you would need when getting a more expensive axe anyway) it will be no good to you.
Second, it does not come with a proper blade cover. I made one in about an hour, a newbie leather worker could do it in a little more than that. You wouldn't need much leather, and maybe only an awl, some needles and a sharp knife. A press stud setting set would be good to have too. At this point our overall package is climbing in price if you don't already have these materials.
Third, you need to sand off the varnish, and apply oil. Everyone's favourite is boiled linseed oil, imo most natural oils will work fine. This needs to be repeated multiple times. Money and time requirements are rising, although some midrange axes will also need oil.
So overall price is not as low as initially seems, unless you already have this stuff. However it is still much better value than many other more expensive hatches.
Time, however- it depends how much you value yours. You need to spend a while getting this up to spec, and considering the low initial price (and perceived 'quality') thos may be a turn off to some. I enjoy the activity though.
My only actual, real, substantial issue is this: the axe has been stored improperly for quite some time, and has received a 'veteran's bend', where the handle leans over to one side because the weight of the head has pulled it that way over time. Axes should always be stored hanging up from the head with nails, to prevent this. This is... less than ideal, and will reduce the lifespan of the handle. However, all handles will break eventually, and knowing how to replace them is a useful skill. Again, handle breaking is a possibility even with more expensive axes.
This axe loses 1 star for the bend, and half a star for the labour and cost that goes into getting it ready for use. If this project sounds like fun to you, go ahead and get it. If you're looking for something you can grab out of the box, go to the woods with and smack wood all day, I would recommend a Fiskars. If you're looking for an axe you can take to the woods to get pretty Instagram photos, get a Gransforth Bruk. All axes need care.
12
0
I would recommend for a friend
Thomas d.

11.05.2022

Verified purchase
Like Chris W. said in his review, you'll need to do some work! I didn't have sand paper so I used my knife to scrape off the varnish very carefully, if you watch a few videos by wranglerstar on youtube you'll eventually find a video where he teaches you how to do this. The handle looks and feels BEAUTIFUL without the varnish!
I oiled it with olive oil which will do just fine, you'll just have to re-oil it more often. and for the edge, it seems there is some sort of clear coat on it which could be bad for the environment AND your stone as it could clog it up, i suggest starting with a file to remove the clear coat before moving onto your stone.
No bow in my handle lucky me, the handle is absolutely beautiful and the grain is great, but I just like all wood.
me and my friends cut down a small tree 17 inches in diameter but very tall with this, we all took turns because those monkeys wanted a chance to swing it too.
I would recommend this to a friend for sure, but due to shipping and the labour needed as people are lazy I'd probably also suggest they just search home depot for a decent hatchet and whetstone.
0
0
I would recommend for a friend
Srdjan I.

18.05.2022

Verified purchase
Seems like I got lucky with my piece, since there are almost no blemishes on the handle, I counted less than ten little black dots. The blade is also "sharpned" if you can call it that, meaning it at least comes together in a tip, not completely rounded, so it will be easier to sharpen it up with a file. Some small rust specs, but not worth the mention. No bends in the handle either and I don't think I ever saw straighter grain on an axe handle, not even on pictures. Anyway, don't count on your luck being the same, but for the price, I recommend you roll the dice.
I would consider this a great product for the price that I paid for it. Should have bought two.
1
0