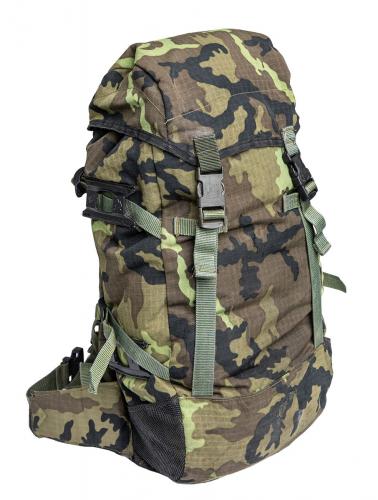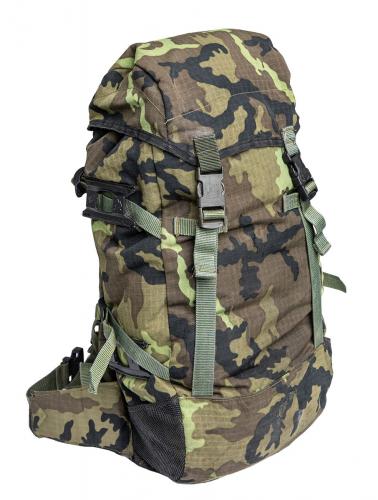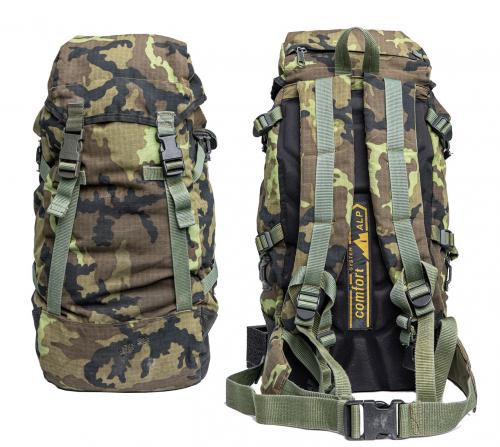 This example has had one of the closure buckles changed for a new one, as the picture shows.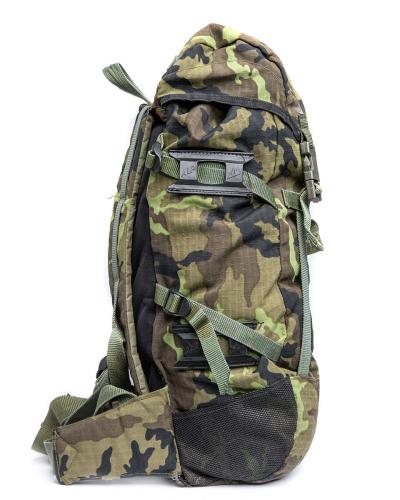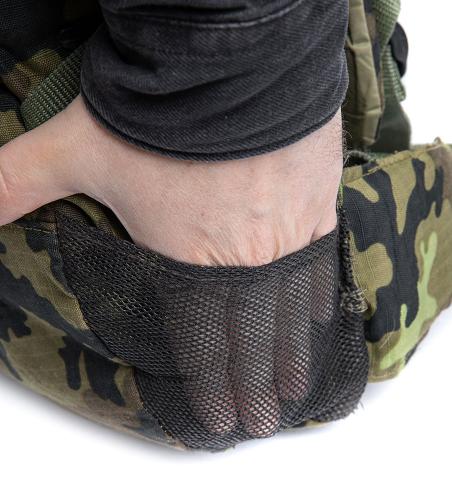 A view at the mesh pocket.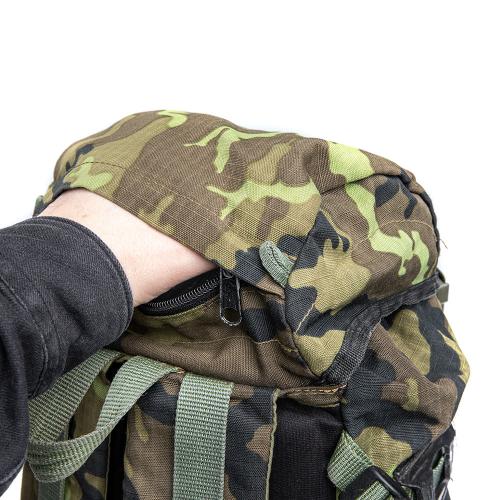 A zippered pocket inside the lid.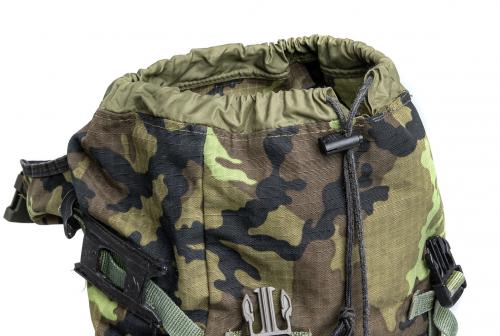 Drawcord closure at the mouth.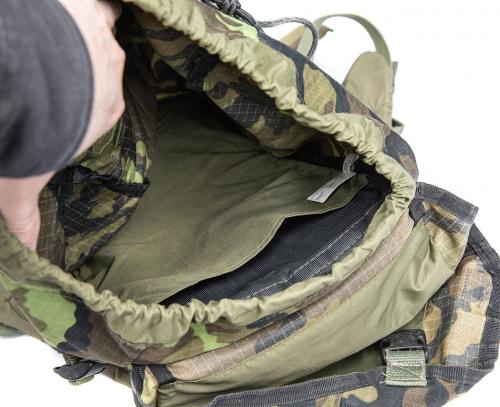 Hydration bladder pocket. Will fit most 2 and 3 litre bladders, like Source WXP.
Czech Republic
Czech Daypack, Vz95, Surplus
Price 24.99 USD
excluding sales tax
A fair-sized, about 30-liter daypack with the Czech Vz95 camouflage. A pleasantly straightforward solution, quite robust and comfortable to carry. Made mostly in the '90s so these are kinda vintage! This might be a one-off lot.
This product is unlikely to be restocked and will be hidden from our website once it's out of stock.
We don't know when this product will be restocked. With surplus the restock date is unknown due to sometimes poor availability. Request restock notification and we will email you as soon as this product is available.
This product has used and returned variations. Used are washed and unbroken. Heavily used are also washed but might be missing buttons, have tears, main zipper can be broken etc. Read more about Kierto.
Trouble with the metric system? Try our converter: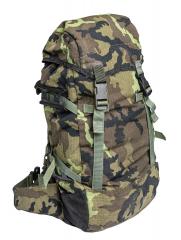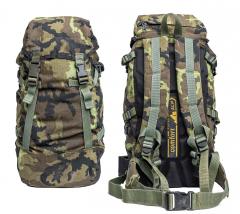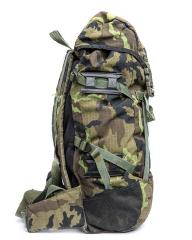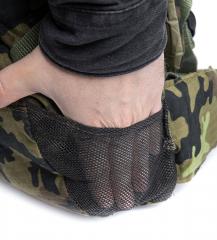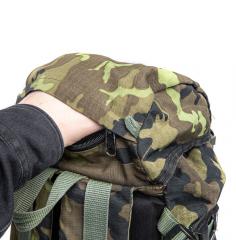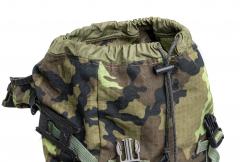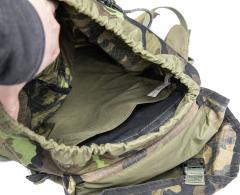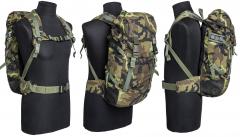 A fair-sized, about 30-liter daypack with the Czech Vz95 camouflage. A pleasantly straightforward solution, quite robust and comfortable to carry. Made mostly in the '90s so these are kinda vintage! This might be a one-off lot.
In the '90s, they totally redesigned the soldier's combat equipment and the local company ALP got a lucrative deal in manufacturing this new kit. With everything covered with PALS now, this slightly older gear is being phased out and it's suddenly available as surplus. For those in search of a reasonably priced, durable daypack, here's a good companion! Packs down pretty small and weighs relatively little, so it'll work as an emergency pack in your car or just as a daypack inside your rucksack.
Material and features
Made of ripstop-reinforced polyester fabric, with PU coating on the inside for some water repellency.
Padded, ventilated back
Contoured, wide shoulder straps with a sternum strap
Waistbelt with a QR buckle
Carry handle on the top
Weight about 750 grams (about 26 oz.)
Main space dimensions about 24 x 47 x 15 cm (9.5 x 18.5 x 6"), volume about 30 liters (1830 cu in)
A hydration bladder pocket inside, measures about 23 x 42 cm (9 x 16.5")
Drawcord mouth and proper large lid with QR buckle closure
Flat zippered pocket on the top for documents and such
Fixed compression straps and plastic attachment points on the sides
Mesh pockets on the bottom - if you carry long items, you can use these as the lower support for them
Used military surplus
These have seen genuine use, but are intact and repaired where necessary. We cannot give a full guarantee for the waterproofness of the PU coating, but with a separate dry bag, you're well off. The overall shade of the camouflage print might vary just a bit depending on the manufacturing year.
Kierto Circular Economy
Return this product used but clean and unbroken, and you'll receive half of the product's original price as Varusteleka credits. Service is available only in Finland. Only Registered users can make Kierto returns. See more information about Kierto.
All products: Czech Republic
Recommendations
Loading products...
Reviews
You have already submitted a review. You can edit your text by clicking on it. You can filter the reviews by clicking on the elements of the summary.
Log in and write a review. You can filter the reviews by clicking on the elements of the summary.
Remove filter
Suomi
(4)
English
(5)
I would recommend for a friend
sami t.

01.04.2020

Verified purchase
Olipas käyttöön tehdyn olonen. Tilasin kiiruulla pari lisää.

edit. Ensimmäinen oli kuin uusi. Kaksi seuraavaa enemmän käytettyjä, mutta ehjiä.
Väritkään ei oo juurikaan haalistuneet.
Sisustan pinnoite kylläkin hilseilee ja pitää raapia ennen käyttöönottoa.
Vieläkin hinta tuntuu mukavalta.
2
1
I would not recommend to a friend
Sami K.

02.04.2020

Verified purchase
Tosi kurja ostos. Posti toi loppuun asti käytetyn, likaisen ja rähjäisen pussin, joka juuri ja juuri tuntui pysyvän yhtenä kappaeena. Ällistyttävin ominaisuus oli kuitenkin se, että olkaviilekkeiden säätö ei riittänyt 180cm/85kg miehelle edes pakkaamattomana ja näytti siltä että hihnat oli ihan orkkispituisia. Mahdollisesti ollut ok uutena lapsille tai muuten pienille ihmisille. Tää ois lekan pitänyt mainita, typerää myydä käyttöön kelpaamatonta kamaa. 25e:n hinnassa 23e liikaa. Meni naapurin junnulle treenikassiksi.
5
2
I would recommend for a friend
Jani-Pekka K.

05.04.2020

Verified purchase
Vaikuttaa ihan pätevältä repulta hintaan nähden, hihnat piisas muuten ihan hyvin paitsi tossa lantiovyössä ois saanu olla semmonen 15cm lisää jostain syystä :D Veikkaan että tää voi olla kestävempi kuin edellinen lekasta ostettu Miltecin? brittien day assault bagi, hieno mutta paskalaatuinen kapistus jonka hihnat/vetoketjun vetimet mätäni käytännöllisesti käsiin vaikka reppua käytettiin about kerran vuodessa.
1
0
I would recommend for a friend
Matthew H.

06.04.2020

Verified purchase
Bought two of these day packs, they are nothing like the pictures shown, extremely beat up, even as far as military surplus goes. Still seem strong and able as a day pack, but the aesthetics of the pack are marred and discolored, weird smells as well. Definitely going to need a trip to the laundry mat for these.
5
0
I would recommend for a friend
Samuel A.

07.04.2020

Verified purchase
Purchased one of these packs. The hip belt is really more of a stabilization belt - mine had a repair on the padded portion that makes contact with the wearer's back - but overall I'm pleased. Took it for a spin at a local trail today, I'm about halfway through my hike taking a boot break as I type this and so far it's been a comfortable little pack.
3
0
I would recommend for a friend
Jac G.

07.04.2020

Verified purchase
My pack was in decent overall shape. The color was slightly faded as I expected, but some of the straps were beginning to separate from the main bag body. A small amount, but noticeable for sure. The pack itself is great though, especially for the price. I just wish the little mesh pockets were a bit larger and made out of a better material.
1
0
I would not recommend to a friend
Samu J.

12.04.2020

Verified purchase
Todella kulunut reppu rasvatahroilla höystettynä. Paikattuja ja paikkaamattomia reikiä, remmit lopussa ja pehmusteet näkyy pitsiharsoksi muuttuneiden sisäkankaiden välistä. Kylkien verkkotaskut puolta pienemmät, 8 koska on niin monesti parsittu kokoon. Olisin pärjännyt ilmankin tätä reppua.

Yksi ekstra tähti Varustelekalle, kun laittoivat kadonneen kiristysnarun tilalle uuden 1m pätkän paracordia.
4
0
I would recommend for a friend
Bryce M.

19.05.2020

Verified purchase
I have 2 of these, both different. The first is OK, but there are some weak spots appearing in the rip stop near the bottom. Threw a Swiss sleeping bag cover in as a liner, should fix that issue as well as waterproof it. There is a very ugly (but robust) repair done on the bottom corner. This would have been covered by the outside by the mesh pockets, but both were very poorly cut off. Plus, the straps are very hard to adjust, but maybe this is because they are very stiff from being very good quality. Also a weird patch on the side that makes contact with your back. Camo looks good, though.

The second pack is kind of a mess. There is a crumbling waterproofing layer that is going to flake on everything. The nylon feels very thin and flimsy. The camo is a lot greener and darker than I picture Vz95, which I don't like.

These would have been great packs new, I think. Both are definitely usable but at the very bottom of serviceable for military surplus. I think if I had gotten these from any other place I would have been satisfied, but I have had nothing but A+ stuff from Varusteleka in the past and am spoiled a bit. At the end of the day, probably worth the $30 CAD.
3
0
I would recommend for a friend
Steven F.

22.05.2020

Verified purchase
My new backpack just arrived in excellent used condition. It is exactly as advertised and it seems as though it will last a long time. Everything is functioning and in good condition. It was a great price and is an interesting and unique piece of kit.
0
0