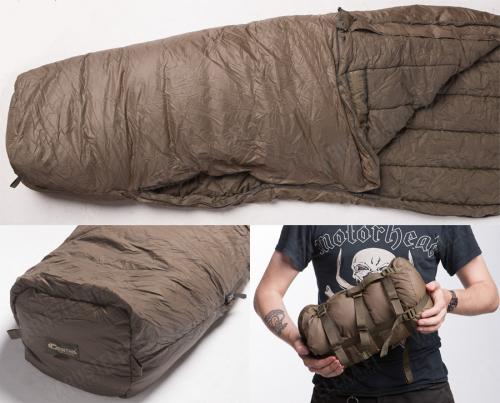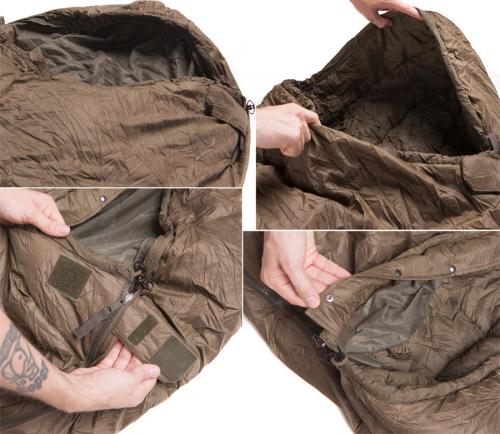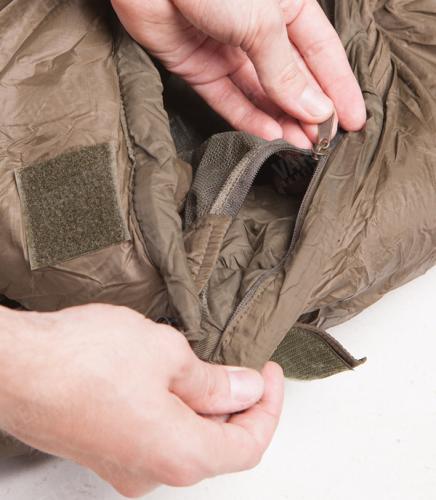 Carinthia Tropen sleeping bag
Price 129.99 USD excluding VAT
The perfect summertime sleeping bag, the Tropen is designed for comfort in warm temperatures, it's highly breathable, very lightweight and equipped with a mosquito net! Top of the line military quality for heavy use!
Loading products...
Trouble with the metric system? Try our converter:




The perfect summertime sleeping bag, the Tropen is designed for comfort in warm temperatures, it's highly breathable, very lightweight and equipped with a mosquito net! Top of the line military quality for heavy use!
One season bag: Comfort 5° C
Weight just a bit over one kilogram, depending on the size
Military grade materials
Built-in insect net
Unlike Carinthia's Defence series of sleeping bags the Tropen is not waterproof, which makes it very, very breathable which is a key point in keeping you comfortable when sleeping out in warm weather. The breathability also makes Tropen the perfect liner bag - stuff this into another bag (Carinthias Defence 4 for example) and you have a very, very warm combo that keeps you warm in extreme temperatures. The Tropen and Defence 4 can be packed into the compression sack of the latter and the zippers are positioned differently to minimize heat loss. Overall a very nice combo!
Comes with a compression bag, which packs both height- and lengthwise.
Bag model and features
The mummy shape: Here the criteria of stuff size, weight and warmth are most important. The tapered foot section reduces weight and stuff size. The main advantage is, however, that from the knee downwards there is increasingly less internal volume to keep warm. The foot section should not be so small that the feet cause the layers of insulation to poke out. A trapezoidal foot section has proven to be ideal. A wedge shape, declining evenly in width from top to bottom, does not fit the true proportions of the body.
Two-way zipper: All Carinthia military sleeping bags are equipped with a two way zipper. The glider on the top does not lock, allowing a quick step out if necessary (in case of alarm for example). The bottom glider does lock and can be opened for ventilation.
Trapezoidal foot section: Experience has shown that the trapezoidal cut provides the ultimate foot space. In a normal sleeping position, the feet do not poke the insulation outward, avoiding cold spots. There is also enough room to store a shoe bag or extra clothing.
The outer shell fits loosely over the bag innards, providing an extra insulating layer of air. This also eliminates heat loss due to seams combining the shell with the fillings. Overall this feature enhances the bags performance considerably!
Materials
Shelltrans outer shell and lining - a soft to the skin ripstop reinforced, highly breathable polyamide with excellent moisture wicking capabilities.
Thermoflect, a very thin, very lightweight aluminum material which reflects body heat. Thermoflect raises the sleeping bag's heat-retaining capacity by about 11 %.
G-Loft filling - Carinthia's own, in-house "hollowfiber", made in Austria. Highly compressible, excellent weight-insulation ratio and also moisture resistant, meaning that it will work even under long-term use in damp conditions.
Tropen uses single layered, lightweight G-Loft filling. In this lightweight design, the outer shell is loosely attached to the bag. The G-LOFT Plus filling is quilted to an insulating scrim. As a result, an additional air pocket is formed between the quilted insulation layer and the shell, yet no cold seams can occur.
Carinthia sleeping bags are not entirely PFC-free, but do have the Oeko-Tex certificate, Standard 100.
Temperature recommendations and size
Comfort 5° C, Extreme -12° C, perfect for summer use and even some of the cooler nights, by adding a bivvy or liner bag you can take this into even colder places.
Available in two sizes: 185 cm (weight 1100 g) and 200 cm (weight 1300 g).
Made by Carinthia
Carinthia is a well known sleeping bag and existence gear manufacturer. Outside of their homeland Austria they have equipped many European countries, including Scandinavia and our very own Finnish Defence Forces too! Carinthia manufactures their products in Moldova.
Recommendations
Loading products...
Reviews
You have already submitted a review. You can edit your text by clicking on it.
Log in and write a review.
Remove filter
I would recommend for a friend
Manu S.

17.09.2016 (Edited 20.09.2016)
I would recommend for a friend
Timo V.

27.05.2017 (Edited 27.05.2017)
Erinomainen kesäpussi, tilaa rittää isollekin miehelle. Ja tuo ötökkäverkko on hätätilassa hyvä bonus.

Valitettavasti vain verkon sulkeminen ja avaaminen on erittäin vaikeaa, vetskari jumittaa yms. Lisäksi makuupussin suuaukon säätimiin tai vetojetkuun ei pääse käsiksi verkon takaa vaan se on ensin "purettava" tieltä pois. Ja kun tähän yhdistää sen, että pussi hiostaa kuumina kesäöinä, niin eipä tee mieli ötökkäaikaan käyttää. Verkon materiaali on itsessäänkin ihan pirun huonosti hengittävää.

Mielummin nukkuu vaatteet päällä, pussi auki, Lekan nahkahanskat kädessä, hattu päässä ja hyttyshuppu hatun päällä kuin hikoilee tukahduttavassa pussissa perkeleellisen hankalasti yöllä pimeässä aukeavan tukahduttavan verkon alla.

Mutta hyvä pussi muuten.
6
12
I would recommend for a friend
Eero T.

09.08.2020
Ihan hyvä kesäpussi. Huomionarvoiset jutut on että kun pää-aukko on niin suuri ja suomen kesät välillä niin kylmiä joutuu aukon vetämään ihan kiinni yöllä kuitenkin. Koska aukko on niin suuri tulee pääpäädystä vähän jännä, tuntuu kuin ylikiristäisi aukkoa. No ei siinä mitään kyllähän se onnistuu mutta tämä yhdistettynä siihen että hyttysverkkoa ei käytännössä oikein voi käyttää ja irrallinen hyttyspäähine yms. mitä Timokin kirjoitteli on yleensä paljon käytännöllisempää kuin pussin verkko pistää minut miettimään että miksi en vaan ostanut suoraan Defence ykköstä. No nyt sellainen on ja voin sanoa että ulkona nukkumiseen suomen kolmena ei niin kylmänä vuodenaikana defence 1 on käypäisempi mielestäni. Toki suuresta aukosta on joskus ollut iloa, mutta harvoin.
0
0