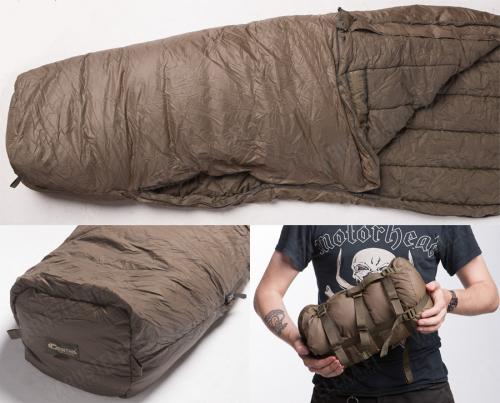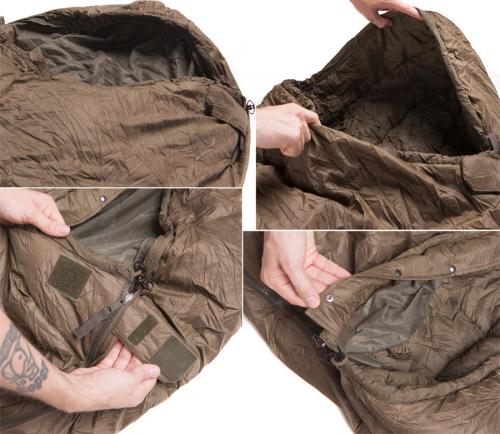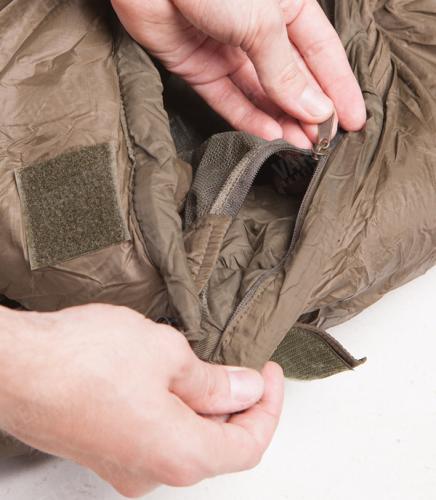 Carinthia
Carinthia Tropen sleeping bag
Price 169.99 USD
excluding sales tax
The Carinthia Tropen is lightweight and very breathable sleeping bag for summer and indoor use. Equipped with a mosquito net to shield you from bugs. It's difficult to imagine a better summer sleeping bag, this is top-tier military quality for the demanding user! Issued by the FDF for peacekeeping missions.
Loading products...
Trouble with the metric system? Try our converter: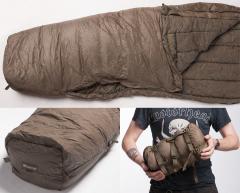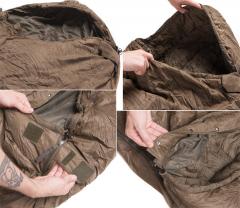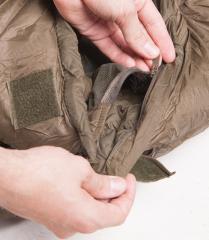 The Carinthia Tropen is lightweight and very breathable sleeping bag for summer and indoor use. Equipped with a mosquito net to shield you from bugs. It's difficult to imagine a better summer sleeping bag, this is top-tier military quality for the demanding user! Issued by the FDF for peacekeeping missions.
Comfort rating 5.1°C / 41.1°F
Weight 1100 g / 2.4 lbs (Medium)
Military-grade materials
Integrated mosquito net
Differing from Carinthia's Defence series, the Tropen has a breathable Shelltrans outer layer. This keeps you comfortable when sleeping in warm weather. Use a tarp or tent to shield you from rain.
Comes with a compression bag that allows various packing options.
Tropen shape and features
The mummy shape: Here, the criteria of stuff size, weight, and warmth are most important. The tapered foot section reduces weight and stuff size. However, the main advantage is that there is increasingly less internal volume to keep warm from the knee downwards. The foot section should not be so small that the feet cause insulation layers to poke out. A trapezoidal foot section has proven to be ideal. A wedge shape, declining evenly in width from top to bottom, does not fit the body's true proportions.
Two-way zipper: All Carinthia military sleeping bags are equipped with a two-way zipper. The glider on the top does not lock, allowing a quick step out if necessary (in case of alarm, for example). The bottom glider does lock and can be opened for ventilation.
Trapezoidal foot section: Experience has shown that the trapezoidal cut provides the ultimate foot space. In a normal sleeping position, the feet do not poke the insulation outward, avoiding cold spots. There is also enough room to store a shoe bag or extra clothing.
The outer shell fits loosely over the bag innards, providing an extra insulating layer of air. That also eliminates heat loss due to seams combining the shell with the fillings. Overall, this feature enhances the bag's performance considerably!
Combine two bags, get three
By layering the Carinthia Defence 4 inside the Carinthia Tropen, you get a combination that works in extremely freezing temperatures. These two make an excellent pair for users in intermediate weather areas: use the breathable Tropen in the summer, switch to the Defence 4 in fall, and bring along both into the heart of winter.
This combo is endorsed by Carinthia and zippers of these bags are positioned differently to minimize heat loss. They can be packed together into the Defence 4 compression bag for ease of carrying. The Tropen's inside measurements match or exceed the outer dimensions of the Defence 4 so it's the better outer bag.
Materials
Shelltrans outer shell and lining - a soft to the skin ripstop reinforced, highly breathable polyamide with excellent moisture-wicking capabilities.
Thermoflect, a very thin, very lightweight aluminum material that reflects body heat. Thermoflect raises the sleeping bag's heat-retaining capacity by about 11 %.
G-Loft filling - Carinthia's own, in-house "hollow-fiber", made in Austria. Highly compressible, excellent weight-insulation ratio and also moisture resistant, meaning that it will work even under long-term use in damp conditions.
Tropen uses single layered, lightweight G-Loft filling. In this lightweight design, the outer shell is loosely attached to the bag. The G-LOFT Plus filling is quilted to an insulating scrim. As a result, an additional air pocket is formed between the quilted insulation layer and the shell, yet no cold seams can occur.
Carinthia sleeping bags are not entirely PFC-free, but do have the Oeko-Tex certificate, Standard 100.
Measurements
Temperature specifications
Comfort represents enjoyable-to-sleep temperature while Extreme is the rating where an average-sized male will survive through the night, so go for Comfort when choosing a suitable sleeping bag.
Comfort: 9.4°C (F) to 5.1°C / 48.9°F to 41.1°F
Extreme: -7.9°C / 46.2°F
Size and weight
| Size | User height | Inner Length | Inner Width* | Weight | Compr. size |
| --- | --- | --- | --- | --- | --- |
| Medium | Up to 185 cm | 220 cm | 85 cm | 1100 g | 19 x 24 cm |
| Large | Up to 200 cm | 235 cm | 87 cm | 1300 g | 19 x 25 cm |
*Measured at shoulder height
| Size | User height | Inner Length | Inner Width* | Weight | Compr. size |
| --- | --- | --- | --- | --- | --- |
| Medium | Up to 6' 1" | 7' 2.5" | 33.5" | 2.4 lb | 7.5" x 9.5" |
| Large | Up to 6' 7" | 7' 8.5" | 34.5" | 2.85 lb | 7.5" x 10" |
*Measured at shoulder height
Kierto Circular Economy
Return this product used but clean and unbroken, and you'll receive half of the product's original price as Varusteleka credits. Service is available only in Finland. Only Registered users can make Kierto returns. See more information about Kierto.
Made by Carinthia
Carinthia is an Austrian family-owned business best known for its sleeping bags. Apart from their homeland, they have equipped many European countries' armed forces, including Scandinavia and our very own Finnish Defence Forces too!
All Carinthia products are made in their own factory in Slovakia and in their Austrian headquarters in the state of... wait for it... Carinthia.
All products: Carinthia
Recommendations
Loading products...
Reviews
You have already submitted a review. You can edit your text by clicking on it. You can filter the reviews by clicking on the elements of the summary.
Log in and write a review. You can filter the reviews by clicking on the elements of the summary.
Remove filter
Suomi
(7)
English
(2)
I would recommend for a friend
Manu S.

17.09.2016

Verified purchase
I would recommend for a friend
Timo V.

27.05.2017

Verified purchase
Erinomainen kesäpussi, tilaa rittää isollekin miehelle. Ja tuo ötökkäverkko on hätätilassa hyvä bonus.

Valitettavasti vain verkon sulkeminen ja avaaminen on erittäin vaikeaa, vetskari jumittaa yms. Lisäksi makuupussin suuaukon säätimiin tai vetojetkuun ei pääse käsiksi verkon takaa vaan se on ensin "purettava" tieltä pois. Ja kun tähän yhdistää sen, että pussi hiostaa kuumina kesäöinä, niin eipä tee mieli ötökkäaikaan käyttää. Verkon materiaali on itsessäänkin ihan pirun huonosti hengittävää.

Mielummin nukkuu vaatteet päällä, pussi auki, Lekan nahkahanskat kädessä, hattu päässä ja hyttyshuppu hatun päällä kuin hikoilee tukahduttavassa pussissa perkeleellisen hankalasti yöllä pimeässä aukeavan tukahduttavan verkon alla.

Mutta hyvä pussi muuten.
13
15
I would recommend for a friend
Eero T.

09.08.2020

Verified purchase
Ihan hyvä kesäpussi. Huomionarvoiset jutut on että kun pää-aukko on niin suuri ja suomen kesät välillä niin kylmiä joutuu aukon vetämään ihan kiinni yöllä kuitenkin. Koska aukko on niin suuri tulee pääpäädystä vähän jännä, tuntuu kuin ylikiristäisi aukkoa. No ei siinä mitään kyllähän se onnistuu mutta tämä yhdistettynä siihen että hyttysverkkoa ei käytännössä oikein voi käyttää ja irrallinen hyttyspäähine yms. mitä Timokin kirjoitteli on yleensä paljon käytännöllisempää kuin pussin verkko pistää minut miettimään että miksi en vaan ostanut suoraan Defence ykköstä. No nyt sellainen on ja voin sanoa että ulkona nukkumiseen suomen kolmena ei niin kylmänä vuodenaikana defence 1 on käypäisempi mielestäni. Toki suuresta aukosta on joskus ollut iloa, mutta harvoin.
5
2
I would recommend for a friend
Mikko G.

06.02.2021

Verified purchase
Tropen on nyt ollut retkeily- ja sisämajoituskäytössä viitisen vuotta. Aikanaan ostopäätös syntyi "milspec"-ajatuksesta, sekä ideasta käyttää myöhemmin tuplapussina Defence 4 kanssa. Tropenin lämpötilaraja tuli vastaan syksyllä, kun teltassa meni yölläkin alle +5 ja makuualusta oli huono. Tämän jälkeen hommasin Carinthian makuupussilakanan, joka on muuten tehty Defence-sarjalle, eli päältä aukeavaksi! Jos ei ole trapetsitaiteilija, niin kiinnityksiä joutuu muuttamaan. Lakanalla lämpörajaa sai venytettyä nollan tienoille, mutta se itsessään on suhteettoman painava ja bulky. Joku ohut fleece-sisälakana olisi parempi.

Tropen siis toimii +5 asti hyvin, ja nollaan varauksin ja lisävarustein, sisätiloissa tai suojan alla. Kosteutta se ei hylji mutta hengittää lupausten mukaan. Pääaukko on ehkä turhan iso leveyssuunnassa ja kiristysnarut eivät kokonaan korjaa tilannetta vaan pussi jää hartioista "auki". Hyttysverkko on kätevä, kun ei sitä irtonaista verkkoa ole/muista ottaa mukaan, joskin hiukan hankala näprätä paikoilleen. Varsinkin jos ramppaa yöllä kusella.

Viime yön vietin -18 asteessa laavulla Tropen päällä ja Defence 4 sisällä, eli vahingossa toisin päin kuin ohjeissa. Eihän niitä kukaan lue ja Tropen on sisämitoiltaan suurempi niin TUNTUI loogiselta. UM! Keskiyöllä piti riisua merinoväliasu pois, lypsyaikaan sen sai pukea takaisin. Tropen hengittävyytensä kanssa tietenkin ensi kerralla sisäpuolelle, se helpottaa myös pääaukkojen hallintaa. Ja kastepiste siirtyy ulommaiseen pussiin, joka on parempi. Taas kerran alusta oli se mikä petti, ja pukeutuminen.
12
0
I would recommend for a friend
Niko K.

06.10.2021

Verified purchase
Kohta kuusi vuotta pussilla aamuja takana ja vahvasti palvelee edelleen. Vaimolla on tapana ryöstää peitto yöllä, joten on tullut kymmenisen vuotta nukuttua yöt makuupussissa myös sisällä.

165cm/70kg ja otin isomman pussin, jolloinka pussissa on hyvin tilaa pyöriä ja nukkua kyljellään tai mahallaan. Iso suuaukko on aivan ehdoton omaan käyttöön.
Aivan niin harva talo ei ole, että hyttysverkkoa olisi joutunut käyttämään, mutta ei se kyllä ole pätkääkään häirinnytkään, kun on rullattuna omaan taskuunsa.

Sitten kun nukun tämän puhki, niin ostan uuden samanlaisen. En silti usko että tulee aivan heti ajankohtaiseksi, vaikka pari tuhatta yötä onkin jo takana.
6
0
I would recommend for a friend
Timothy H.

15.02.2022

Verified purchase
An amazing bag. I cannot imagine using this bag in the hot and humid summer as it is very warm for being so lightweight. I was expecting a surplus bag and was delighted when I got a brand new bag! Also it came with a compression sack which is not stated in the description. It is a bit awkward to attach the polycotton liner which is a center-zip into this bag that is a left-hand zip. You will be very happy with the Tropen. (Later) I live in Oklahoma in the US so it does not get as cold as it does in Finland. I added a Carinthia Grizzly fleece liner and slept very comfortably in 28°F(-2°C). This is an amazing bag.
Tim Hudson
Noble, Oklahoma USA
10
0
I would recommend for a friend
Teemu S.

21.05.2022

Verified purchase
Tuote tekee mitä lupaa. Carinthian tuotteet tehdään kovaan käyttöön ja perus jampan joka jaksaa vähän pitää huolta varusteistaan tarvitsee ostaa ne vain kerran.
1
0
I would recommend for a friend
Anonymous customer

19.11.2022

Verified purchase
Nyt muutama yö nukuttu makuupussilla sisäpussilakanalla varustettuna. Erämökissä +14 lämmintä. T-paidalla ja boksereilla just sopiva nukkua. Hieman epäilyttää comfort +5 vaikka olisi kerrastoasu päällä.
Pussi on mukavan tilava. Vetoketjun kohdalta tuntui se kylmä pussiin valuvan. Vetoketjun eteen olisin kaivannut jotain suojakaistaletta.
Hyvä unet sain molempina öinä.
1
0
I would recommend for a friend
Tewes S.

03.03.2023

Verified purchase
Got the medium size a while ago, and it's an awesome sleeping bag! Came in brand new with the compression bag, tested it in fall at a 2°c overnight with a fleece liner and it was almost too hot in there!
I'm curious to see how it will perform in the hot summer nights, but for that price and good packability (+ the mosquito net), you can't do anything wrong, the quality is absolutely amazing.
0
0