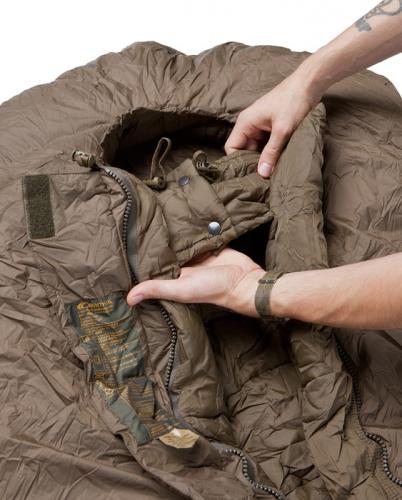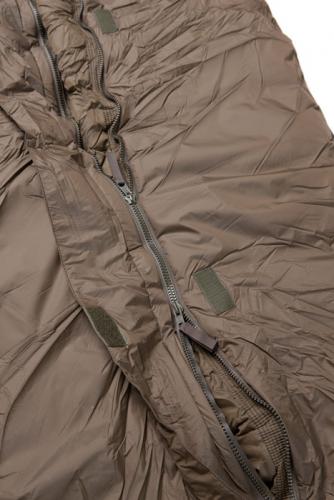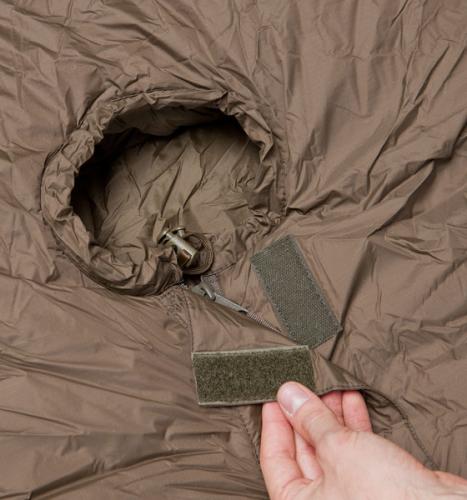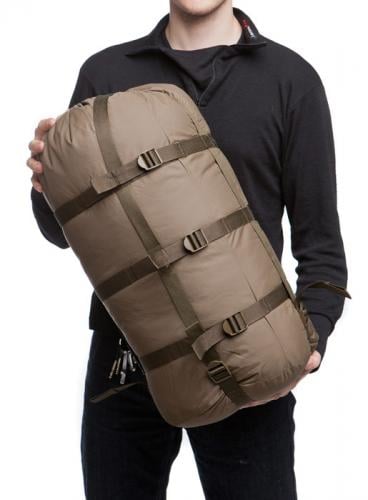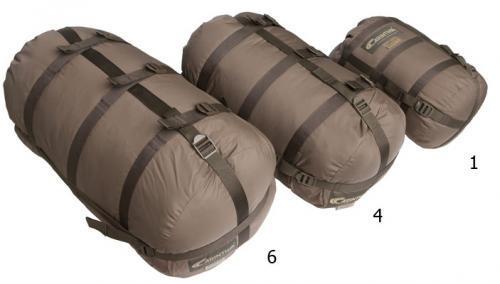 Carinthia
Carinthia Defence 6 Sleeping Bag
Price 288.99 USD
excluding sales tax
A real heavy-duty arctic winter sleeping bag, the Defence 6 is designed for extremely cold conditions and is a sure bet for the northern climate!
In stock 38 pcs. Sold 11 pcs in the last two weeks.
This product has used and returned variations. Used are washed and unbroken. Heavily used are also washed but might be missing buttons, have tears, main zipper can be broken etc. Read more about Kierto.
Trouble with the metric system? Try our converter: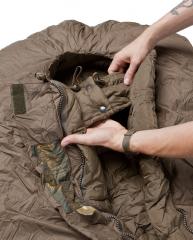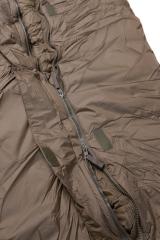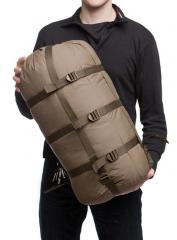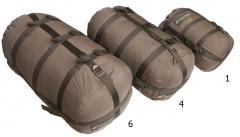 A real heavy-duty arctic winter sleeping bag, the Defence 6 is designed for extremely cold conditions and is a sure bet for the northern climate!
Four season bag with Comfort rating of -18° C / -0.4°F
Weight 2600 g
Made of military grade materials
The Defence sleeping bag series is designed for military use, the materials and overall properties are all made with that in mind.
Comes with a compression bag, which is compressionable both height and lengthwise.
Bag model
The mummy shape: Here, the criteria of stuff size, weight, and warmth are most important. The tapered foot section reduces weight and stuff size. The main advantage is, however, that from the knee downwards, there is increasingly less internal volume to keep warm. The foot section should not be so small that the feet cause the layers of insulation to poke out. A trapezoidal foot section has proven to be ideal. A wedge shape, declining evenly in width from top to bottom, does not fit the true proportions of the body.
Two-way zipper: All Carinthia military sleeping bags are equipped with a two-way zipper. The glider on the top does not snag, allowing a quick step out if necessary (in case of alert for example). The glider on the bottom does stick and can be opened for ventilation.
Trapezoidal foot section: Experience has shown that the trapezoidal cut provides the ultimate foot space. In a normal sleeping position, the feet do not poke the insulation outward, avoiding cold spots. There is also enough room to store a shoe bag or extra clothing.
The outer shell fits loosely over the bag innards, providing an extra insulating layer of air. This also eliminates heat loss due to seams combining the shell with the fillings. Overall this feature enhances the bag's performance considerably!
Materials
Shellproof outer shell - a lightweight, hard-wearing, ripstop reinforced and specially treated polyamide which is both wind and waterproof (1000 mm), yet breathable.
Shelltrans lining - a soft to the skin ripstop reinforced polyamide with excellent moisture-wicking capabilities keeps you comfortable through the night.
Thermoflect, a very thin, very lightweight aluminum material that reflects body heat. Thermoflect raises the sleeping bags heat-retaining capacity by about 11 %.
G-Loft filling - Carinthias own, in-house "hollow-fibre", made in Austria. Highly compressible, excellent weight-insulation ratio and also moisture resistant, meaning that it will work even under long term use in damp conditions.
Defence 6 uses triple-layered G-Loft filling. Three G-LOFT Plus insulation layers are arranged in such a way that the quilting is offset. The shell is attached afterwards, creating a further layer of air between the quilted insulation and the shell. With no stitch perforations in the shell, it is fairly water-resistant and free of unintended ventilation.
Carinthia sleeping bags are not entirely PFC-free, but do have the Oeko-Tex certificate, Standard 100.
Temperature specification
Comfort represents enjoyable-to-sleep temperature while Extreme is the rating where an average-sized male will survive through the night, so go for Comfort when choosing a suitable sleeping bag.
Comfort: -18° C / -0.4°F
Extreme: -40°C / -40°F
Size and weight
Recommended height: 200 cm / 6' 7"
Length of the bag: 230 cm / 7' 6.5"
Width at shoulder: 87 cm / 34.5"
Weight: 2600 g / 5.75 lb
Compressed size: 25 x 45 cm / 10" x 17.5"
Kierto Circular Economy
Return this product used but clean and unbroken, and you'll receive half of the product's original price as Varusteleka credits. Service is available only in Finland. Only Registered users can make Kierto returns. See more information about Kierto.
Made by Carinthia
Carinthia is an Austrian family-owned business best known for its sleeping bags. Apart from their homeland, they have equipped many European countries' armed forces, including Scandinavia and our very own Finnish Defence Forces too!
All Carinthia products are made in their own factory in Slovakia and in their Austrian headquarters in the state of... wait for it... Carinthia.
All products: Carinthia
Recommendations
Loading products...
Reviews
You have already submitted a review. You can edit your text by clicking on it. You can filter the reviews by clicking on the elements of the summary.
Log in and write a review. You can filter the reviews by clicking on the elements of the summary.
Remove filter
Suomi
(7)
English
(3)
I would recommend for a friend
Markus A.

14.04.2017

Verified purchase
ostin tämmösen uudenvuoden tienoilla ja pääsin heti testaamaan äärirajoja hieman alle -40C. hinta on myös kohillaan, kävin ennen ostamista katsomassa muista liikkeistä talvi pusseja jotka olivat kaikki kalliimpia ja extreme raja oli alempana.
34
9
I would recommend for a friend
Anonyymi k.

26.04.2017

Verified purchase
Jumalallinen tuote pimeimpään talveen.
29
7
I would recommend for a friend
Niko K.

28.07.2017

Verified purchase
Pikkusta vajaat 30 pakkasta ja tässä pussissa nukutti paremmin kun keskoskaapissa aikanaan. On joka rahan väärti jos talvella tykkää ulkona yöpyä. Onhan pussilla kokoa joo, mutta hymyillen tätä rinkan läpän alla kantaa kun tietää että hyvät yöunet odottaa.
59
3
I would recommend for a friend
Ville L.

13.12.2017

Verified purchase
Minulla on ollut tämä pussi muutaman vuoden käytössä ja täytyy sanoa että on hyvä. Lämmittää hyvin, mutta jos jostain syystä ei ole kylmä niin ei tule tukalan kuuma.
17
1
I would recommend for a friend
Juha I.

08.07.2018

Verified purchase
Ainoa miinus on ulkona olevat helteet... Laadukas kokonaisuus ja iholle täydellinen sisämateriaali . Odotan talvea :)
21
1
I would recommend for a friend
Mika T.

20.05.2020

Verified purchase
Omat kokemukset muutamasta pakkasasteesta pariin plus asteeseen. Aivan loistava pussi vaikka kokoa onkin. Jalkatilaan mahtuu hyvin vaatteita kuivumaan tarvittaessa. Pussin sisällä on tilaa kääntyillä. Ehdottomasti paras puoli siinä, että kun kömpii pussin sisälle niin alkaa lämpö palata kroppaan nopeasti takaisin. Talvella menin kylmillä varpailla nukkumaan, heräsin lämpimänä. Ei tarvitse kuumavesipulloa tuottamaan lisälämpöä.
8
0
I would recommend for a friend
Erik M.

24.01.2021

Verified purchase
To test the sleeping bag's effectiveness, I sleep in the bag nude. Now it kept me so warm and cozy throughout the night, except I woke up sweaty.
The zipper is made to open quickly, all I have to do is just give it a slight push and glides smoothly. It doesn't catch on fabric when closing, which is so nice to have for once.
There is more than enough room to toss and turn inside or bend my legs.
The directions on the tag state to not store it compressed or else it slowly degrades its effectiveness.
I would absolutely buy more of these. They are worth it. I would also suggest to purchase with the Gore-Tex cover to extend its life.
11
1
I would recommend for a friend
Patrik W.

26.07.2022

Verified purchase
It's a bit bulky but I love the central zipper and the fact that the face hole really closes to just around the mouth if needed. I also like the washable liner. The fabric is way nicer (quieter) than more typical winter sleeping bags made with synthetic fabrics around the head.
2
0
I would recommend for a friend
Aaron R.

28.07.2022

Verified purchase
Incredible sleeping system. I have various military sleep systems and I have to say this Defence 6 alone is better than a great deal of systems with combined bags. This is exceptionally warm, not too mention can combine with the Defence 4 and 1 as innards. Very pleased with this purchase both in cost and product value! Thanks Varusteleka!
1
0