Carinthia Defence 1 sleeping bag
Price 119.99 USD excluding VAT
Flat Rate Shipping to USA $9.99
92 % recommends
Sold 6 pcs in the last two weeks
Loading products...
Trouble with the metric system? Try our converter: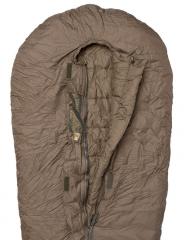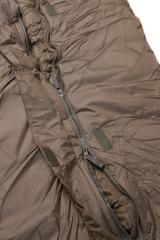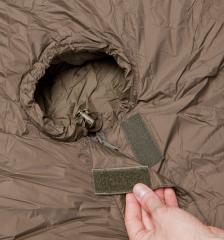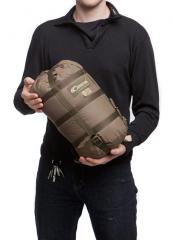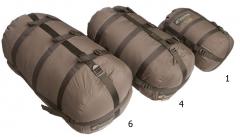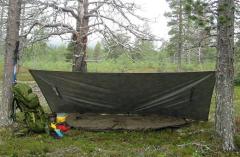 The most lightweight bag in the Defence family, the Defence 1 is intended for summer and early autumn/spring, when the temperature stays at or above 0° C. Very lightweight and packs into a super tight bundle!
Two season bag: Comfort 3° C
Weight one kilogram, depending on the size
Military grade materials
The Defence sleeping bag series is designed for military use, the materials and overall properties are all made with that in mind.
Bag model and features
The mummy shape: Here the criteria of stuff size, weight and warmth are most important. The tapered foot section reduces weight and stuff size. The main advantage is, however, that from the knee downwards there is a decreasing amount of extra volume to warm up. The foot section should not be so small that the feet cause the layers of insulation to poke out. A trapezoidal foot section has proven to be ideal. A wedge shape, declining evenly in width from top to bottom, does not fit the true proportions of the body.
Two-way zipper: All Carinthia military sleeping bags are equipped with a two-way zipper. The glider on the top does not lock, allowing a quick step out if necessary (in case of alert for example). The bottom glider does lock and can be opened for ventilation.
Trapezoidal foot section: Experience has shown that the trapezoidal cut provides the ultimate foot space. In a normal sleeping position, the feet do not poke the insulation outward, avoiding cold spots. There is also enough room to store a shoe bag or extra clothing.
The outer shell fits loosely over the bag innards, providing an extra insulating layer of air. This also eliminates heat loss due to seams combining the shell with the fillings. Overall this feature enhances the bags performance considerably!
Materials
Shellproof outer shell - a lightweight, hard wearing, ripstop reinforced and specially treated polyamide which is both wind and waterproof (1000 mm), yet breathable.
Shelltrans lining - a soft to the skin ripstop reinforced polyamide with excellent moisture wicking capabilities keeps you comfortable through the night.
Thermoflect, a very thin, very lightweight aluminum material which reflects body heat. Thermoflect raises the sleeping bags heat-retaining capacity by about 11 %.
G-Loft filling - Carinthia's own, in-house "hollowfiber", made in Austria. Highly compressible, excellent weight-insulation ratio and also moisture resistant, meaning that it will work even under long-term use in damp conditions.
Defence 1 uses single layered, lightweight G-Loft filling. In this lightweight design, the outer shell is loosely attached to the bag. The G-LOFT Plus filling is quilted to an insulating scrim. As a result, an additional air pocket is formed between the quilted insulation layer and the shell, yet no cold seams can occur.
Carinthia sleeping bags are not entirely PFC-free, but do have the Oeko-Tex certificate, Standard 100.
Temperature recommendations and size
Comfort 3° C, Extreme -12° C, perfect for summer use and even some of the cooler nights, by adding a bivvy or liner bag you can take this into even colder places.
185 cm, shoulder width 83 cm, packed size 18 x 25 cm, weight 1050 g
200 cm, shoulder width 87 cm, packed size 18 x 28 cm, weight 1200 g
Pro tip: use the Defence 1 as an insulating liner with the Defence 4 bag to create a winter sleeping bag combo! They can be packed together into the compression bag of the latter, making for a simple and versatile system.
Made by Carinthia
Carinthia is a well known sleeping bag and existence gear manufacturer. Outside of their homeland Austria they have equipped many European countries, including Scandinavia and our very own Finnish Defence Forces too! Carinthia manufactures their products in Moldova.
Reviews
You have already submitted a review. You can edit your text by clicking on it.
Log in and write a review.
Remove filter
Suomi
(10)
English
(2)
I would recommend for a friend
Marko J.

15.04.2017
I would recommend for a friend
Anonyymi k.

02.05.2017
I would recommend for a friend
Pasi K.

31.05.2017 (Edited 08.05.2018)
Kelpo makuupussi.
7
0
I would recommend for a friend
Otto S.

04.06.2017 (Edited 28.03.2019)
Mainio pussi, nukuttu -12c ilman lämmönlähdettä melko hyvät yöunet, lämpimämmällä säällä taas hieman liian kuuma, hikoilutti vietävästl +12c parvekkeella nukkuessa (oli myös Carinthian sisälakana mukana hiostamassa lisää) ei siis varsinainen kesäpussi, ainakaan suljettuna. Laadukas työnjälki ja miellyttävät materiaalit.
8
1
I would recommend for a friend
Henrik P.

14.06.2017 (Edited 14.06.2017)
Tykästyin intissä carinthian pussiin, mutta halusin astetta kevyemmän, sillä loppuunpestyllä kiertopalkintopussillakin oli lähes joka tilanteessa liian kuuma. Defence 1 on elementissään siinä +8- +14 lämpöasteen välillä, +5 asteessa varmasti pärjää vielä kun on sukat jalassa ja pipo päässä. Lämpimämmässä tulee tälläkin pussilla hiki, jos haluaa vaikka hyttysten takia nukkua pussi kiinni. Pukeutumisella, hyvällä alustavalinnalla ja mahdollisesti vielä sisäpussilla tällä pärjää suomen luonnossa oikein hyvin kaikkina neljänä vuodenaikana, lapin pakkasiin en välttämättä tällä lähtis. Pakkautuu noin puolet pienempään tilaan kuin Defence 4/intin pussi. Puolikas tähti lähtee avuttoman pienestä pääaukosta, sais ennenmmin olla isompi aukko hyvillä säädöillä.
4
1
I would recommend for a friend
Sebastian V.

18.04.2018
Tilasin alkavaa retkikautta varten, mutta olenkin nukkunut sillä makoisasti omassa sängyssä.
3
0
I would recommend for a friend
Kalle L.

16.09.2018
Pari yötä nukuttu sisälakanan kanssa, ulkolämpötila about +7 ja +10. Lämmin oli. Luonnollisen talikerroksen omaavana luulen tällä pärjäävän pikkupakkasillakin mukavasti. Pussin mukana tulleella kompressiopussilla sai paketin pieneksi.
4
0
I would recommend for a friend
Tish T.

26.09.2018
I give much higher marks to the Defence 4 sleeping bag for its easily insertable and removable liner. The Defence 1 is sturdy, relatively warm for its weight, and the zippers work well. It compacts into a relatively small space, and seems to breath well. I am disappointed in its lack of a zipper or even internal tie downs for a removal liner, such as the Carinthia liner used in the Defence 4 or Finnish M05 variant. The liner is very, very important in field conditions as I sometimes have to wear footwear in the sleeping bag. I really don't want to wash the bag that often and compromise its loft. Having said all that, I would still recommend this bag to a moderate field user. The price is quite good, and it was shipped very quickly to Canada. I will be experimenting with the Defence 1 in my Sarma Thermal Cloak, or my Jerven Fjellduken thermal bag this winter, so I may update this review.
0
1
I would recommend for a friend
Farasha E.

11.03.2019
99 times out of 100 this plus the TST thermal cloak is my sleep system, but when it gets reallllllly cold there is always the defense 4.
1
0
I would not recommend to a friend
Jyrki L.

22.04.2019
No joo, hassun hauskojahan lekan tuotekuvaukset useasti ovat. Tämä ( valmistajan? ) väite comfortista plus kolmessa, eli limiitti lienee nollan hujakoilla, on kyllä hassuinta mitä hetkeen lukenut. Siis viimeisen kokeman perusteella. Justiin neljä yötä maastossa, lämpötilat siinä plus kolmen ja miinus kolmen välillä ja näillä arvoilla todellisuus ei kohtaa tuotekuvausta. Jopa plus kahdeksan on ollut kärvistelyä. Nämä tietysti perskohtaisia juttuja. Defence kuutosen kanssa ei ole tarvinnut palella napapiirin pakkasissa, tämä ykkönen jättää paljon toivomisen varaa. Hyvä vetskari ja pakkautuu pienehköön tilaan. Siinä plussat.
2
8
I would recommend for a friend
Anonymous customer

04.08.2019 (Edited 04.08.2019)
Pussi on tosi mukava ja vetoketju on tässä ihan muuta luokkaa kuin monen valmistajan pienet vetskarit joihin jää aina kangas väliin. Leveyttä tuntuu olevan tässä pussissa myös hyvin eikä ahtaanpaikankammo iske.
Annetut speksit ei tunnu kuitenkaan pitävän ihan paikkaansa. Pienemmässä koossa (185) paino on lähempänä 1200 g annetun 1050 g sijaan ja kompressiopussin kanssa jo lähemmäksi 1300 g. Myös 3° C comfort tuntuu olevan hieman optimistinen arvio. Lämpökerraston, sukkien ja pipon kanssa oli 5° C ihan okei nukkua, mutta pelkällä pussilla olisi kyllä tullut kylmä, vaikka yleensä enneminkin hikoilen öisin. Lämpö-painosuhteeltaan löytyy siis kyllä parempiakin pusseja tähän hintaan, mutta tää on musta silti paljon mukavampi kuin monet muut pussit, joita olen testannut.
5
0
I would recommend for a friend
Lassi V.

21.09.2019 (Edited 23.09.2019)
Mainion oloinen pussi. Ominaisuuksien listauksesta puuttuu sisälakanan kiinnityslenkit, joita ei vanhoissa Defence1-malleissa vielä ilmeisesti ole ollut(?) Tämä oli positiivinen lisä.

Näin 185/85-kokoisena arvelisin että +3C mukavuuslämpö on itselleni aikalailla kohdallaan 185-kokoisessa pussissa, etenkin sisälakanaa käyttäessä. (Defence1:n luokitushan ei ole EN 13537-standardin mukainen, kuten muiden Carinthian pussien lämmöt ilmoitetaan). Testiyö nukuttu +5C lämmössä ja hitusen hikeä pukkasi ajoittain. Ja tilaa on suhteellisen hyvin, joka suuntaan.

200-kokoista pussia kokeillessani oli lämpötilaero aika selvä, 200 oli viileämpi, isomman tilan takia. Ja isompi pussi oli selvästi iso, etenkin pituuden puolesta.
1
0