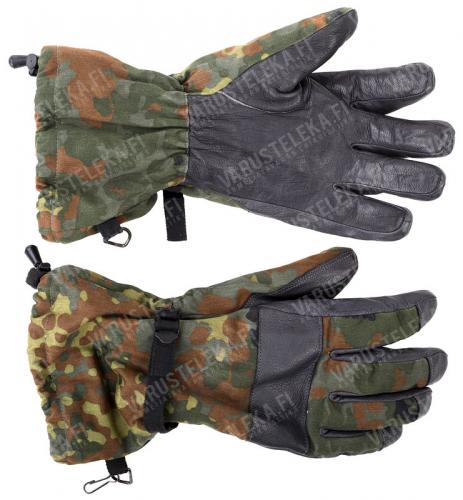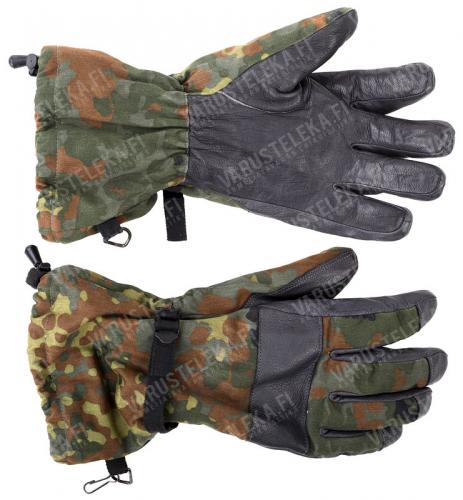 BW winter combat gloves, Flecktarn, surplus
Price 1.99 - 20.99 USD
excluding VAT
A pair of really warm German winter combat gloves. For extreme cold temperatures a pair of mittens is the best, but for anything requiring grip these are better and almost as warm.
Loading products...
Trouble with the metric system? Try our converter: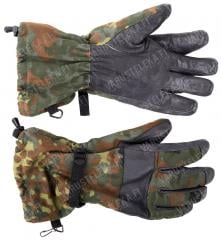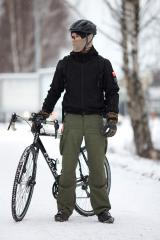 A pair of really warm German winter combat gloves. For extreme cold temperatures a pair of mittens is the best, but for anything requiring grip these are better and almost as warm.
These are made of polyester with leather reinforcements. Because of a generous lining, these offer great protection against the cold. The wrists can be tightened to keep snow out.
Size info
The sizes run large. We strongly suggest to stick to your actual size, or maybe even tad smaller.
Condition
In used but perfectly serviceable condition.
Recommendations
Loading products...
Reviews
You have already submitted a review. You can edit your text by clicking on it.
Log in and write a review.
Remove filter
Suomi
(6)
English
(7)
I would recommend for a friend
Kari M.

01.11.2017
Paksunoloiset ja varmasti lämpimät, muuten ok. mutta sormipituus tosi reilu, elikkä tuli liian isot.
Muuten kävis nämäkin mutta ei onnistu kuvaaminen kun ei mene sormet kunnolla kameran näppäimille.
Sisusta ei ole muuten "tekoeläimen" karvaa, mutta muuten oikein miellyttävä.
Ehdottoman siistit kuin uudet!!
Ehdottomasti suosittelen ja suosittelen ottamaan pykälää pienemmät jos mahdollista.
3
0
I would recommend for a friend
Jani N.

11.02.2018
Omistanut kahdet jo vuosia. Eivät kulu millään. Kelkkailussa, metsätöissä, ihan kaikessa. Ostaisin kolmannetkin, mutta näitä ei tarvi.. Taitavat nykyiset kestää loppuiän.. Samaten kaikki muutkin kun ei niitä tarvi. Hyvä mitoitus. Paksuina eivät ole mihinkään näpertelyyn, mutta työssä ja lämpökahvaisten vehkeiden kanssa ei näillä palele koskaan. Todellakin suosittelen
4
0
I would recommend for a friend
David F.

20.02.2018
These are great! Mine arrived like new. If you actually use gloves in cold weather, you will like these. Enough dexterity to pull a pin on a tractor or plow and plenty of warmth to be comfortable doing it! These are my new go to winter gloves. If you hate big bulky mittens, but want your fingers warm while you work in freezing cold these could be perfect. These will also do a hunter well, or anyone that wants warm gloves without the hassle or cost. Warmer and bulkier than most gloves, but perfectly durable looking to take what your going to give them. I want another pair already.
0
0
I would recommend for a friend
Leevi J.

16.03.2018
I would recommend for a friend
Mark O.

14.04.2018
Bombproof piece of a kit. Mine arrived in a fairly used condition but other than that it serves me well in every function that a glove can serve, it also fits very well. An ingenious addition to the gloves are the lanyard hook type of things in the side, you can hook the gloves together so you can never lose them.
Overall, a really nice pair of gloves and would buy again!
0
0
I would recommend for a friend
Michael F.

18.11.2018
Excellent value !
I received mine in virtually brand new condition. I wore them on a walk outside in minus 17 degree Celsius weather here in Canada and my hands where toasty warm. Appear very well made and of quality materials. The palm leather is soft and supple and there's good range of movement in the fingers. Plus the flecktarn camo pattern is pretty nice too.
I ordered size 10 and they fit me perfectly , usually I wear a large/XL size glove.
3
0
I would recommend for a friend
Peter D.

08.09.2019 (Edited 08.09.2019)
tldr: These are easily the best gloves I have worn in my life. They're sturdy, they fit well, and they keep you very warm in very cold Canadian winters. Or, your hands at least. I'm going to buy more of them, even, and that's as good review as any, I reckon.

Despite some signs of heavy actual use in the pair I received, the previous owner (whom had written their name on one of the tags) had kept them well. There's indicators of quite a few repairs here and there but they were all expertly done and I wouldn't've noticed at all if not for the thread colour being different in places. They kept me plenty warm even in well under 40 celcius the past winter, and with the temperature dipping here again, have happily been pressed into service once more.

One thing that I particularly appreciate and don't find in many other gloves and mittens are the adjustments to tighten around the wrist. Along with the quality fit and finish and a tight sizing, this allows basically as much dexterity as you're going to get out of a thick winter glove. I doubt I'll ever want a pair of mittens again, after finding such a warm and actually usable pair of winter gloves. Usually, even in the stuff from Varusteleka I really like, I can find one or two things Id change to make it ideal to my own tastes and preferences, but not so with these gloves. These are gloves as I would have made. The fit and finish is absolutely impeccible, the dexterity is to be envied, and the lining keeps you very warm. Indeed, these gloves makes me wish Varusteleka made a similar version in the M05 snow camo, as Flecktarn is great camo but stands out more than a little when the rest of what Im wearing is snow camo.

I'll probably be picking up at least one more pair of these in the future, when my size becomes available again - while I have no fear this pair will fail, it never hurts to have a couple pieces of good gear, and this here, is good gear. At 24.99 canadian, these are a bloody steal.
2
0
I would recommend for a friend
Shawn R.

12.11.2019
No complaints here! The pair they sent me was on the higher end of grade 2. The color is a bit faded but the leather is perfect and the liner isnt frayed. I just might buy another pair : D
2
0
I would not recommend to a friend
James H.

04.05.2020 (Edited 05.05.2020)
These seemed great when I first put them on.
Warm, comfortable, and looked to be in decent shape like everything else I've ordered from here.
But then I noticed the two giant tears in the right hand glove.
Some wear and tear is to be expected when buying used, I didn't expect for my thumb to be hanging out in the open.

Satisfied with everything, but these.
0
0