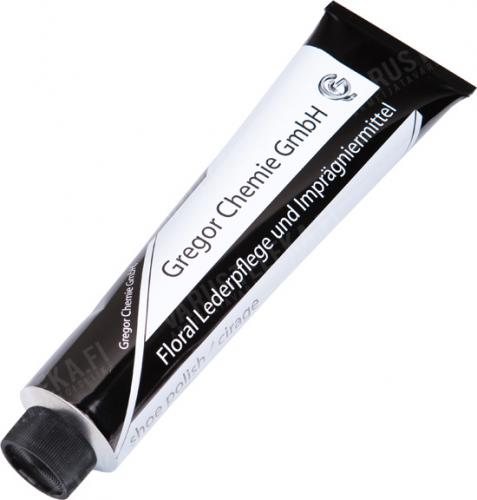 BW shoe polish
Price 3.99 USD excluding VAT
Flat Rate Shipping to USA $9.99
93 % recommends
Sold 115 pcs in the last two weeks
Loading products...
Trouble with the metric system? Try our converter: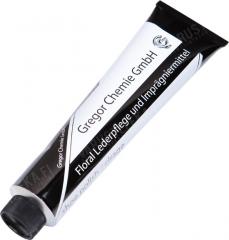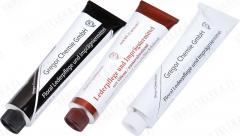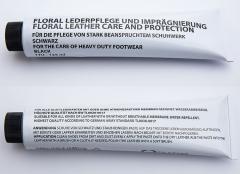 Dirt cheap German black, brown and colourless shoe polishes! Best applied on smooth leather footwear. Suitable for boots with membranes too.
Usage is simple:
Apply and spread evenly with a brush, a piece of cloth or your finger
Let soak in for a bit (if possible, overnight is the best)
Polish with a brush or a piece of cloth
The tube has 125 ml of shoe polish, official German Bundeswehr stuff. Brushes and others sold separately.
Manufacturer
The manufacturers vary - it's always the company that happens to deliver shoe polish to the Bundeswehr at the time. They are all proper good.
Reviews
You have already submitted a review. You can edit your text by clicking on it.
Log in and write a review.
Remove filter
Suomi
(11)
English
(4)
I would recommend for a friend
Ville L.

27.07.2016 (Edited 06.03.2017)
Ruskea lankki on väriltään about Fazerin sinisen luokkaa, eli ei mitään megatummaa eikä maailman peittävintä.

Aluksi olin ihan tyytyväinen, mutta pidempään käyttäneenä en taida enää ostaa tätä. Väri pysyy kehnosti nahassa vaikka lankkauskertoja on jo takana. Aluksi ajattelin, että se johtuu alunperin kenkiin laittamastani valjasrasvasta ja siinä olevasta mehiläisvahasta, mutta ei se kyllä enää voi olla syynä.

Ruskeassa lankissa on mukana silikonia, joten kenkiin tulee helposti kiiltävä pinta. Kiilto kuitenkin myös häviää nopeasti eikä kenkiin tunnu muodostuvan sellaista hyvännäköistä "patinaa".

Tämä koskee ainoastaan ruskeaa lankkia.
3
0
I would recommend for a friend
Anna A.

11.10.2016 (Edited 28.11.2016)
Aivan 5/5 lankki. En nyt kengänhoidon amatöörinä osaa sen enempää kuvailla, mutta kenkien lankkauksesta valehtelematta tuli uusi harrastukseni. Kyllä häviää naarmut ja pysyy kalliit popot nätteinä!
4
2
I would recommend for a friend
Pietari V.

27.10.2016 (Edited 28.11.2016)
I would recommend for a friend
Harri K.

11.11.2016 (Edited 18.11.2016)
- ei aivan yhtä hyvä, kuin ns. tornilankki (ainakin -80 luvulla), mutta toimii silti
- eikä voi puhuakaan samana päivän noiden marketin k´lankkien kanssa
1
0
I would recommend for a friend
Konsta L.

11.11.2016 (Edited 27.06.2017)
Oikeastikkin kovan luokan lankkia. Pitää veden ja muut mönjät poissa kengistä. Kuivuu kohtuullisen pitkään verrattuna moneen "siviililankkiin", mutta silti nopeammin kuin itänaapurin lankki. Musta on yllättävän sinistä, mutta kengässä ihan mustaa. Tuubi on ISO. Ei silti voita vanhaa Suomen Puolustusvoimien lankkia (varmaankin 80-luvulta). Tällä saa ERITTÄIN korkean tason kiillon, mutta se vaatii jo veden käyttöä ja paljon aikaa. Kohtuu helposti saa yleiskiillon.
2
0
I would recommend for a friend
Jukka Y.

18.11.2016 (Edited 28.11.2016)
Ei tosiaan ole ihan intin wanhan lankin tasoista, jolla aikoinaan tervasin yhdet jenkkimaiharit vedenpitäväksi, mutta on parasta mitä tällä hetkellä on saatavilla, suosittelen.
5
0
I would recommend for a friend
Ryan S.

24.08.2017
It does it's job well.
2
0
I would recommend for a friend
Kari S.

13.11.2017
Käytössä duunikengissä raskaammassa käytössä ja siviilikengissä vähän ulkonäköä kaipaavassa käytössä, toimii molemmissa käytöissä täydellisesti kun kerran viikossa harjaa läpi, toki useammin jos nahka saa hittiä. Eli drylockin kanssa voin ainakin suositella!
1
1
I would recommend for a friend
Mika V.

09.02.2018
Läträsin tätä bootseihin ja annoin kuivua yön yli. Villasukalla hinkkasin ja tuli ihan huippu jälkeä ja kiiltokin on ihan riittävä.
0
0
I would recommend for a friend
Max K.

26.02.2018
Käytetty lankkia niin intin maihareihin, entisiin työ bootseihin, mökkisaappaisiin sekä nykyään normikenkiin sekä "pikkukenkiin". Kerran viikossa lankkaus niin kengät pysyy kuosissa.
2
0
I would not recommend to a friend
Väinö R.

25.09.2018 (Edited 20.11.2018)
Tuoteselosteen mukaan sisältää ftalaatteja. Tuubissa lukee saksaksi phthalsäureester. Ftalaatithan ovat siis pehmentimiä joille altistuminen vaikuttaa testosteronin tuotantoon ja surkastuttaa poikien sukupuolielimiä.
Jos tällä lankkaa kenkänsä, niin kenkiä ei varmaan kauheasti kannata käpälöidä paljain käsin eikä jättää kenkiä lasten(eritoten poikalasten!) lähelle.
8
16
I would recommend for a friend
Per H.

05.10.2018 (Edited 05.10.2018)
A good firestarter in combination with german army survival cookies! And it also keep's your Boots nearly waterproof. ;)
4
0
I would recommend for a friend
Farasha E.

11.03.2019
Works well, cheap, but smells awful.
0
0
I would recommend for a friend
Tero K.

27.03.2019
Erittäin hyvää tuo musta lankki, on itselläni ainakin vedenkestävää ja helposti levitettävissä, ja kiilloittaessa. Mietin vain, onko tuota ruskeata lankkia enää saatavilla?
0
0
I would recommend for a friend
Andrés S.

16.04.2019
It's a shoe polisher, and a damn good one. It polishes shoes. What else do you expect?
1
0