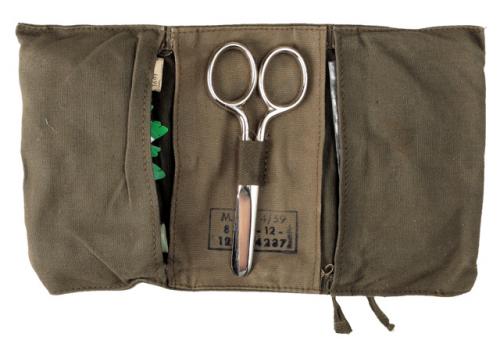 BW personal sewing kit, surplus
Price 3.99 USD excluding VAT
Flat Rate Shipping to USA $9.99
89 % recommends
Sold 71 pc in the last two weeks
In stock 134 pc. Also available in our walk-in store.
Trouble with the metric system? Try our converter: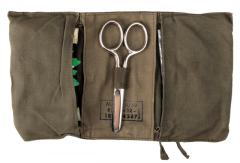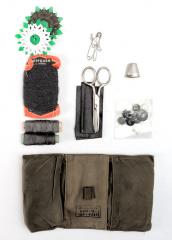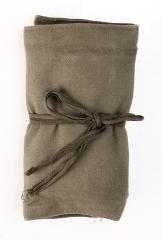 Small, yet potent - BW personal sewing kits have everything one might need to repair gear on the road.
These sewing kits are used, but have all the essentials. Contents may vary, but usually have the following:
Four to six different thread rolls
A bunch of needles
A bunch of spare buttons
A thimble
A few safety pins
A pair of small scissors
A small carry bag
All of the above are packed inside the carry bag. The carry bag is two-sided and closes with straps. When closed the bag is about 12 x 5 x 4 cm. It is small enough to be carried in backpacks, bags or even in pockets. Sewing kits have all the essentials to repair any personal gear.
Used military surplus
Used, but in decent condition. Contents may vary.
Reviews
You have already submitted a review. You can edit your text by clicking on it.
Log in and write a review.
Remove filter
Suomi
(5)
English
(14)
I would recommend for a friend
Ladislav S.

06.06.2018
Fantastic stuff, while the Italian kit is also really good, the quality of this one is impeccable, with a nice pair of Solingen scissors and everything shown in the picture. The pouches vary a little bit, mine did not have a little scissor holder. Really nice little kit.
2
0
I would recommend for a friend
Vili M.

12.06.2018 (Edited 12.06.2018)
Hyvin tuli lankaa, pari paksumpaakin neulaa ja sitten ohuempia, nappeja, hyvät sakset ja tuo tappi sormen päähän niin menee läpi paksummastakin kankaasta.

Tuli mukana Hauptgefreiter (joku kersantti tai vastaava) arvomerkki, kiva pikku ylläri.
3
0
I would recommend for a friend
Kari K.

13.06.2018
I was lucky.
Got someones who's mommy had done the soldiers sevings
2
0
I would recommend for a friend
Taru R.

16.07.2018
Kätevä setti jonka sujauttaa reissuun mukaan tai vaikka käsilaukkuun, niinkuin minä... Kaikkea tarpeellista: napit, hakaneulat, langat, neulat, sakset. Olen erittäin tyytyväinen. Eikä oo hinnalla pilattu.
1
0
I would recommend for a friend
Josh B.

18.07.2018
Neat little kit, but mine arrived with only one needle and no scissors.
3
0
I would recommend for a friend
Riku S.

23.08.2018
Tuote ei lähelläkään sitä mitä kuvittelin tilatessani. Pussi vain kaksiosainen, sakset ja suuri osa muuta olennaista puuttui. Jos haluaa pistää loton vetämään, tilaa näitä vaikka kymmenen. Eihän tuo ole hinnalla pilattu.
2
1
I would recommend for a friend
Robin K.

27.08.2018 (Edited 27.08.2018)
Alright kit. Did come with 6 different threads, one of which was a the star model (gray thread), three rolls (all green, very nice), aswell as two yarn rolls. No holder for the scissor. In fact the entire pouch is different, with the middle section where the scissor holder would have been being absent entirely. Really, mine is just the two side pouches that face eachother, so even making my own scissor holder might be a bit cumbersome. The scissor I recieved was a bit smaller, though still very well made. The thimble was included, yet there was only one single needle in the pack, aswell as one tiny little button. Do note that the contents vary, and with this new batch I bit the bullet a bit. That said, I would still recommend this, even if you'd gamble a bit wether or not you get one with more needles and a scissor holder. Kits like these are small and practical, and will last a lifetime unless you walk through lit napalm or step on a landmine.
5
0
I would recommend for a friend
Jose M.

06.09.2018
Photo is misleading and all contents were there and is great condition
0
0
I would recommend for a friend
Björn R.

29.09.2018
Nice little kit. As another mentioned, mine came without the middle section with the scissors holder, but rather two pouches facing eachother. Around a dozen buttons, some thread and a tiny little steel pair of scissors was included.
0
0
I would recommend for a friend
Mikko M.

21.10.2018
Edullinen setti sisältöön nähden. Sakset ovat hieman erikoiset, ainakin omani olivat terättömät. Eivät olleet kuluneet, terää ei vain koskaan tainnut niissä ollakkaan. Jämerän laadukkaat kuten myös pussikin ja sisältöä oli hintaan nähden mainiosti. Saksiin kannattaa terä hioa jos niitä aikoo käyttää, muuten saksilla ei saa leikattua juuri mitään.
1
0
I would recommend for a friend
Olle L.

29.10.2018
Mine didnt come with the scissor holders either. (In fact, mine didnt come with any scissors at all). Still a good compact kit though with a bunch of buttons, thread, a few needles and some weird screws. 4/5.
0
0
I would not recommend to a friend
Philipp B.

13.11.2018
Mine was stinky as hell and did contain nails, a lighter and a teabag (flavour green tea).
3
0
I would recommend for a friend
Max K.

25.02.2019
Bit of a crapshoot on how much is actually in the kit, but all the ones I've ordered (they make really good gifts) have been serviceable. 10/10 for usefulness and portability.
0
0
I would recommend for a friend
Andrés S.

16.04.2019
It came with every item shown on the website and I have already used some of the threads. Impressive quality for the price, since only the scissors are worth more than the whole package.
Even if you don't need it now, just buy it and throw it in some wardrobe, I promise that it will make itself useful.
0
0
I would recommend for a friend
Varun

06.05.2019
6 Needles
5 Thread rolls (Black/OD/Grey/ OD -Star, and Light Grey Star)
Thimble
4 safety pins
1 Scissor
Set of buttons

That's what I got. No scissor holder, (Not that it's really necessary) but the scissors themselves are quite good
I would recommend to a friend
0
0
I would not recommend to a friend
James S.

02.06.2019
Very disappointed with mine. I was expecting a used sewing kit BUT a functional sewing kit. Like everyone else, the pouch is not as shown on the website. No thimble, not even a single needle! I only received 2ish threads (rolls or green and grey, and a skimpy bit of white) not the 4-6 advertised. A single safety pin, and a complete mix of buttons that are clearly not military buttons. The price is not the issue, or the variety of parts, the issue is you can't sew anything with my kit and there should not be non-military buttons.
2
0
I would recommend for a friend
Alexander K.

07.06.2019 (Edited 07.06.2019)
Sadly no scissor holder came with mine. The items where just scattered around in the pouch.
I actually have a boo-boo now on my index finger.

It came with 5 full thread rolls, 4 needles, 2 safety pins, a finger hat, and a pair of scissors.
All is there to allow me to sew in my own scissor holder.

Except for a loose thread on the pouch and buttons falling out at random, it is still a decent pouch.
0
0
I would recommend for a friend
Björn A.

15.10.2019
The middle space (with the scissors) is not there, not that I care..
Quite comprehensive for the size and the price.
2
0
I would recommend for a friend
Thomas L.

09.12.2019 (Edited 09.12.2019)
I bought a few of these, and I really like the pouch. You can replace the contents with a minimalistic hygiene kit for example (yes, I smell a lot). All contained a pair of dull German Attack Scissors, a couple of thread rolls (some on a plastic shuriken ninja star), buttons, needles wrapped in paper, and safety pins. One had a finger hat. One kit actually contained an unused Niedersachsen patch, the mother of all Ferrari logos. All of the kits were missing the middle part with the scissors holder. All in all a nice kit. Bear Grylls can probably use this as his main survival kit and I'm sure Chuck Norris could wipe out a battalion of AK47-hip-shooting Viet Cong using only the tools contained in this pouch, similar to Arnold Schwarzenegger in Commando.
1
0