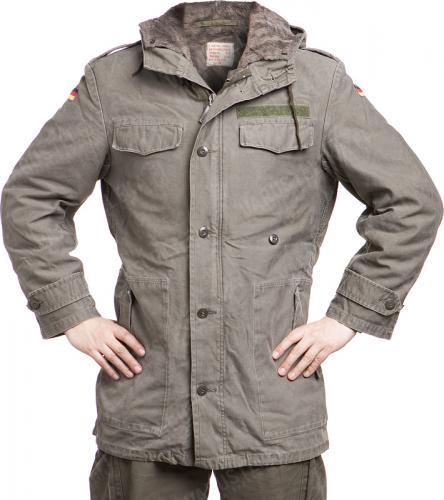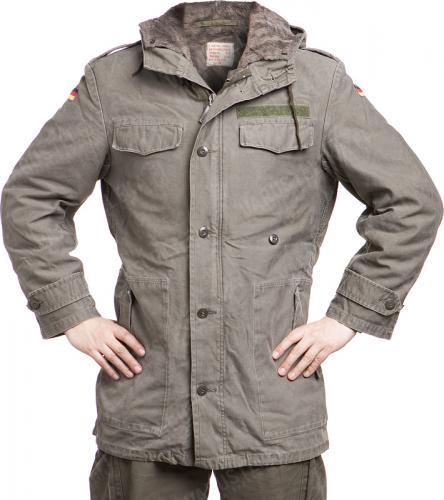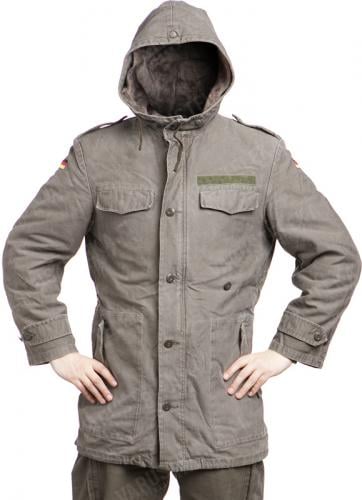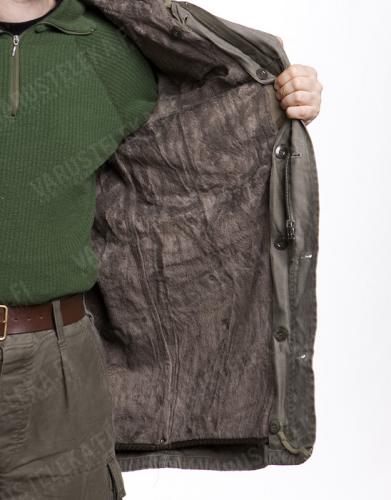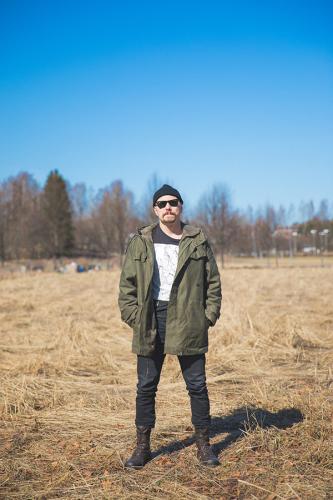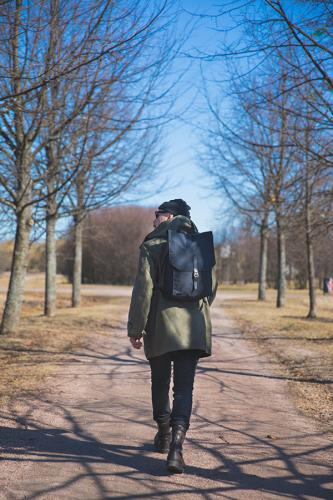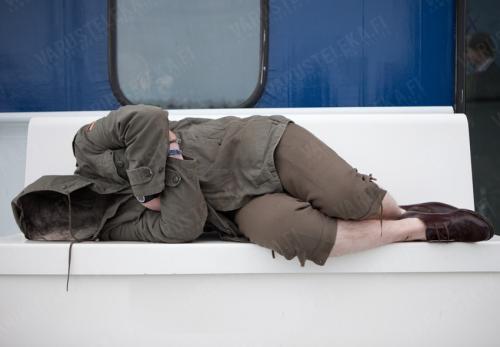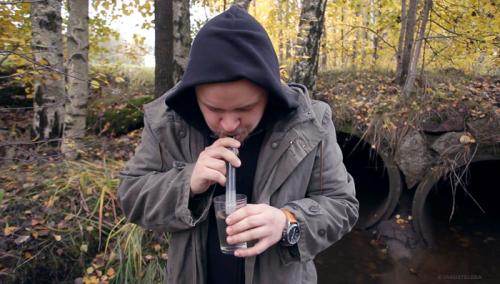 Here's Simo drinking the filty water of the Rotten River just outside our store.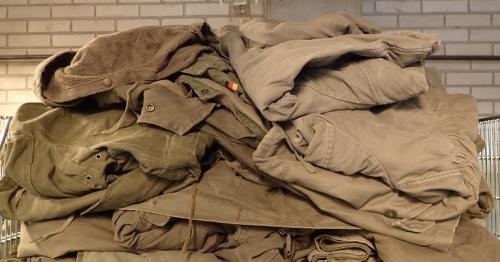 The newest lot looks like this.
Germany
BW Parka, Olive Drab, Surplus
Price 59.99 USD
excluding sales tax
Ever heard of Steingrau-Oliv? This older Cold War era parka is almost as popular in Germany and Europe as the M65 jacket in the States - if you haven't seen one of these before, it's about time to get acquainted with it!
Loading products...
Trouble with the metric system? Try our converter: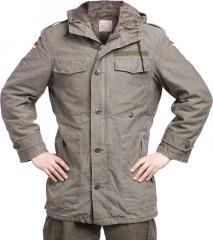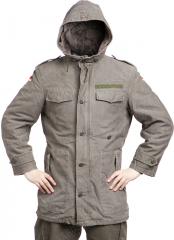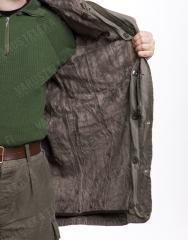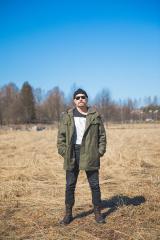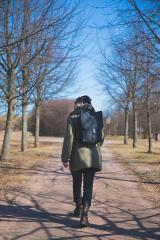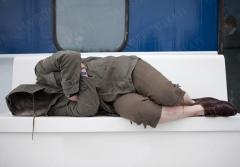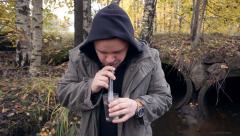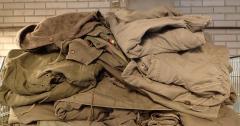 Ever heard of Steingrau-Oliv? This older Cold War era parka is almost as popular in Germany and Europe as the M65 jacket in the States - if you haven't seen one of these before, it's about time to get acquainted with it!
The older Bundeswehr field jacket is a hooded parka with an excellent cut and a removable fake fur liner jacket. The model is refreshingly old fashioned - no iPod smartphone pockets, media ports, membranes or other hi-tech stuff. Instead, you'll find good practical solutions for field use, like the heavy zipper, pockets with normal button closure, and thick cotton material. If you're seeking a classic military parka, this is the archetype!
Some history
The production started in the early '60s and stopped in the '90s when the Bundeswehr dared to go all camouflaged again. However, the old model was so loved that it went to production again - not by the army, but other German manufacturers. Of course, these parkas we sell here are actual German army issue ones from the olden days (or made by contractors but all have seen actual use in the Bundeswehr). In fact, the current Flecktarn-camouflaged parka is merely an evolution of this old jacket, just with more zippers and snap fasteners.
Regarding sizing
Sizes are given in centimeters or inches, first up is user height, then chest circumference. These fit like a parka jacket should, i.e. generously. You should not exceed the max. height scale more than just a centimeter or two (a bit less than an inch).
Condition
Used surplus. Expect repairs, a bit faded color, or a missing button or two. Sometimes there's a rubberized piece sewn inside the shoulder area. Sometimes this is a bit crusty. It can be removed or used up until it's silent.
The availability is getting very poor. If you're after one, act before it's too late.
Kierto Circular Economy
Return this product used but clean and unbroken, and you'll receive half of the product's original price as Varusteleka credits. Service is available only in Finland. Only Registered users can make Kierto returns. See more information about Kierto.
All products: Germany
Recommendations
Loading products...
Reviews
You have already submitted a review. You can edit your text by clicking on it.
Log in and write a review.
Remove filter
Suomi
(4)
English
(7)
I would recommend for a friend
Aaron G.

02.05.2018 (Edited 01.06.2021)
Parka has a nice thickness with the faux fur liner and is very comfortable. The hood is accommodating even if you're wearing an ushanka. Pockets are good size too
12
0
I would recommend for a friend
David F.

07.05.2018 (Edited 01.06.2021)
Described well, as always. This old parka is unique and reminds you of a time men were men and parkas were parkas. At 186 cm and 80 kilos I ordered the 180/190-105 chest. It fits well, the sleeves could be a touch longer, but I have monkey length arms. Still fits okay. I love the unique side pockets, brilliant! The ends of the sleeves came a bit tattered and a button was ready to fall off. It is a bit faded with some stains and looks as if it has been well used. Still completely functional. Good old coat overall with some unique features and old school goodness. I wish I would of got a nicer one, but I wish I had a 7 figure bank account and a 12" cock too.
28
0
I would recommend for a friend
Pinaplz

09.05.2018 (Edited 01.06.2021)
No stains, no missing buttons, liner looks un-issued. One small hole at the left cuff, and the button next to it looks a bit loose. Other than that this is much better than I was hoping for. Eventually I'll learn how to sew and fix the hole and button. Also came with some genuine BW issue pocket lint, old gum wrapper, and bit of wire in the pocket. Just can't beat that.
11
0
I would recommend for a friend
Arman M.

08.09.2018 (Edited 01.06.2021)
My parka came with a 1987 manufacture date and looks almost brand new with no stains, frays or missing anything and it fits me like a glove.
5
0
I would recommend for a friend
Antti H.

01.11.2019 (Edited 05.06.2021)
Reilun viikon kokemuksella tämä on erinomainen takki ja enemmän spurgu-henkinen kuin militantti. Omalle kohdalle sattui yksilö jossa oli muuten hyvässä kunnossa mutta oikeanpuoleisen alataskun päällinen oli hieman rispaantunut.

Vetoketju on M65 sarjalaisten tavoin siis lyhyempi eikä koko takin mitalta eli alkaa sulkeutua navan kohdalta ja alempi kiinnitys hoidetaan napeilla. 170-180 / 128 cm koossa rinnus sopii minulle kuin nakutettu joka olen XL-XXL kokoa ja 175cm pitkä. Hihat ovat siinä hilkulla että olisivat liian lyhyet.

Erillinen vuori on supermukava ja se että se kattaa myös hupun on käytännöllisyyden kannalta takin parhaita puolia. Taskut ovat todella tilavat ja ylempiin rintataskuihin mahtuu jopa iPhone 7 Plus niin että läpät menevät kiinni.

Kauluri suojaa suht hyvin kynäniskoja, mutta vähän ylemmän napin kiinnilaittaminen alkaa kuristaa rotevampaa. Hyvin toimii vielä noin viidessä pakkas-asteessa niin että alla on vaan t-paita.
1
0
I would recommend for a friend
jari t.

01.11.2019 (Edited 05.06.2021)
Itse tilasin takin 160-170/88. Wuori olikin tämä 88, mutta itse takki 95. Itse en käytä tätä kesällä, että se ja sama. Wuoret ja takit eivät välttämättä mene yksiin, että kannattaa tämä huomioida, jos on tarkka. Itsellä oli tämä rotsi jo 90-luwun puolivälissä. Hywä ostos kuitenkin.
0
0
I would recommend for a friend
Aaron F.

25.11.2019 (Edited 05.06.2021)
I don't know where you found the one I purchased, but... Damn! This thing was made in 1988, smelled GOOD, and was brand new! It was never issued! I know, this isn't always possible to find surplus in this condition, but I count myself fortunate that Varusteleka is able to do this! Thanks, guys!
3
0
I would recommend for a friend
Ville L.

03.12.2019 (Edited 05.06.2021)
Tässä takissa on vaan jotain niin dekanttia enkä tarkoita hajua vaikka se pistävä onkin aluksi. Mulla oli tämmöinen joskus nuorempana, mutta se jotenkin taisi jäädä pieneksi enkä muutenkaan ehkä ollut niin sinut itseni kanssa, että olisin sitä muualla kuin metsässä käytellyt. Nykyään pitää työn puolesta ravata kaikenmaailman espoolaisissa arkkitehtitoimistoissa, mutta siitä huolimatta tai sen takia haluan aina vaan enemmän näyttää puolispurgulta. Se on vaan niin edullista, käytännöllistä ja mukavaa.

Saamani yksilö sattui olemaan aika priimakunnossa, ei mitään jälkiä tai suurempaa kulumaa. Olkapäiden suoja lähes mureni käsiin ja revinkin sen pois. Kuvasta poiketen vuori ei ole keinokarvaa vaan tikkivuori. Voi olla, että se ei ole alkuperäinen. Ainakin se on vähemmän nuhjuisen näköinen joka on hyvä tai huono asia.

Takki istuu päälle nätisti, mutta mahdollistaa kuitenkin liikkumisen sujuvasti. Ajattelinkin tästä talvipyöräilytakkia semmoisiin pikkupakkasiin.

Ehdoton klassikko joka sopii sekä metsään, kapakkiin että modilarppaukseen.
0
0
I would recommend for a friend
Peitsa S.

16.12.2019 (Edited 06.06.2021)
Erittäin hyvä takki ja paras parka, jonka olen koskaan omistanut. Omani on kokoa 170-180/105: juuri sopivan väljä, jotta alle mahtuu kampetta ja takkia voi käyttää ilman lämpövuoriakin. Oma lämpövuorini on samasta erästä kuin takki, mutta viimeinen tunnistenumero eroaa muutamankymmenen yksikön verran. Valmistusvuosi jäi hieman epäselväksi, kun en ole näiden merkintöjen asiantuntija. Jos valmistajatietojen jälkeinen luku muodossa x/xx = kk/vv, niin takki olisi tammikuulta tai ensimmäiseltä vuosineljännekseltä A.D. 1975. Niin tai näin, vanhaa ja nostalgista.

Toiseksi ylin nappi oli musta, milloin lie matkan varrella vaihtunut, ja kuten odottaa sopi, olkapäiden vahvikekangas rapisee hiukkasen, mutta kokonaisuutena rotsi on taivaallinen. Se pääsi heti jokapäiväiseen käyttöön. Plussaa korkeasta kauluksesta, joka varsinkin huppu pään yli vedettynä antaa hyvän suojan rännältä ja muulta soosilta. Materiaali on laadukasta ja oma takkini oli saapuessaan käytännössä niin pränikässä kunnossa kuin käytetty sotilastakki voi olla. Mitään hirveää ryönäystä tämä päällä ei ole harjoitettu.
Hyvä takki niin syksyyn kuin talveenkin. Taskutkin ihan riittävän kokoiset pienelle sälälle, loppu kulkee sitten repussa.
Suosittelen.
0
0