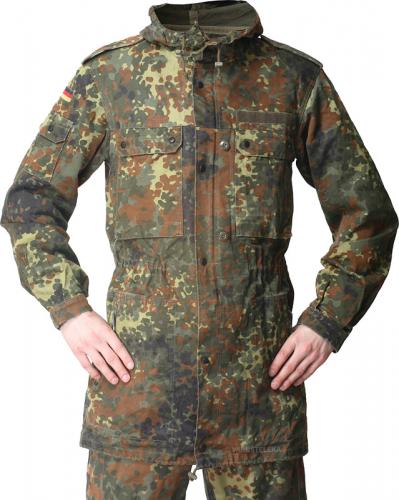 BW parka, Flecktarn, surplus
Price 22.99 USD excluding VAT
Flat Rate Shipping to USA $9.99
98 % recommends
Sold 25 pcs in the last two weeks
Loading products...
Trouble with the metric system? Try our converter: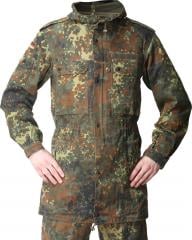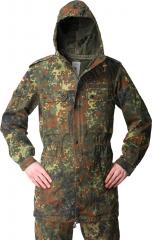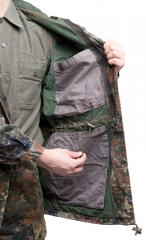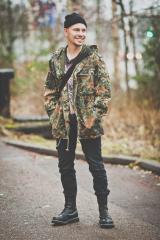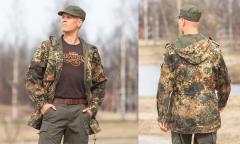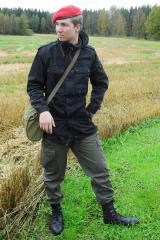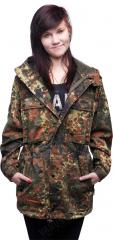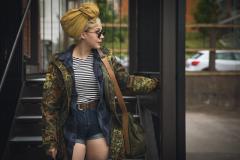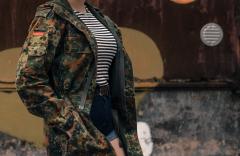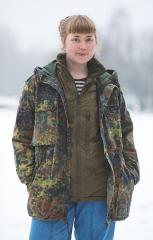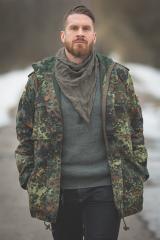 The standard field jacket used by the Bunderswehr when it's not exactly an indian summer. One of our top sellers, this parka is a tried and true modern classic and for a reason. We've also got matching trousers for these!
The BW parka showcases Teutonic ability to make comfortable, stylish and generally just really good clothes. Suitable for any outdoor activity, but also right at home in casual everyday use.
The Bundeswehr model parka is a longish, durable field jacket with zipper closure and four front pockets (two zipper operated and two with snap fasteners), a sleeve pocket and drawstrings in the hem, waist and hood. The buttons on the chest are meant for a certain German stye torch for hand-free activity (*insert a joke here about the Germans and torches*). Though unlined, the cotton used is pretty thick and blocks wind wonderfully. For additional warmth the Germans use a separate liner jacket, which we also most likely sell when you read this. If we don't have it, just use something else!
The material is in most cases a mix of 80% cotton and 20% polyester. According to our knowledge, these do soak up dyes pretty well, but the camo pattern will usually still seep through. Might not be a bad thing!
Size info
Sizes in the regular Bunderwehr system, with sizes in the brackets (height/chest). If you are between sizes, round up.
Because BW jackets have relatively short sleeves, our designation is 5 cm shorter than the BW size. So if the BW size is 175-185 cm for example, we say it's suitable for a 170-180 cm tall person. Don't shit your pants if the tag on your jacket states it's for a 5 cm taller person than the sizes we have listed.
Used German surplus
In used but serviceable condition. Of course being used, the colours might be a bit faded and there might be some repairs, but all in all these are all way better than just usable.
Reviews
You have already submitted a review. You can edit your text by clicking on it.
Log in and write a review.
Remove filter
Suomi
(22)
English
(31)
I would recommend for a friend
Jaakko M.

03.07.2016 (Edited 06.07.2016)
Oikein hyvä ja kestävä takki. Värjäsin omani dylonin pesukonevärillä mustaksi, varsin onnistunein tuloksin. Kestävä materiaali, hyvä huppu, isot taskut ja kainalon tuuletusaukot tekevät tästä erittäin hyvän takin kaikkeen käyttöön. Menee kesät talvet. Vähän kun käsittelee esim. parafiinivahalla, niin kestää säässä kuin säässä.
14
1
I would recommend for a friend
Niko U.

29.07.2016 (Edited 04.08.2016)
I would recommend for a friend
Iivari J.

28.08.2016 (Edited 01.09.2016)
Hyvä ja erittäin mukava takki joka mastoutuu hyvin luontoon. Taskuja on riittävästi jos tarvitsee kuljettaa vaikka AirSoft tarvikkeita. Jostakin syystä Varusteleka oli ommellut vasemman puoleisen hihan Saksan lipun päälle nimi lapun, jossa lukee Kirgisistan(elikkä Kirgisia saksaksi)...
2
0
I would recommend for a friend
Jaakko S.

05.09.2016 (Edited 07.09.2016)
Imee hyvin väriä, vaikka onkin osittain polyesteriä. Mustalla reaktiivivärillä tästä sai pikimustan, ilman että flecktarn kuultaa lainkaan läpi. Takin mallissa arvostan erityisesti korkeaa kaulusta, jonka saa nepparilla ja kiristysnaruilla hyvin tiiviiksi. Varmasti loistava takki syysviimaan.
6
0
I would recommend for a friend
Andreas B.

05.10.2016 (Edited 26.06.2017)
It's just hillarious that i, as a german, have to rely on a finnish shop to get me one of these. The shops over here seem to either sell fake shit or the worst conditions possible. Anyway, this parka is just amazing. I loved it during my military service and i love the one i now got from Varusteleka. The one i got is from 1998 and even though it has definitely seen some use it looks almost new. It doesn't even stink! That's quality for u there... on both the finish and the german end. Cheers Varusteleka!
82
4
I would recommend for a friend
Ville K.

09.10.2016 (Edited 28.11.2016)
I would recommend for a friend
Igor G.

28.01.2017
SIZING: I am 177cm and 70 kg and chest 100
Gr. 8 was too large.
Gr. 6 fit me well.

On the side note, the style is a bit tired...
5
33
I would recommend for a friend
Miika K.

15.02.2017
Alle 30 kymppiä tästä o iha ryöstöä. Ei siis asiakkkaalle. Tää päälle ja vähä pitkää alle niin kestetty tän vuoden pakkaset tähä mennessä iha heittämättä. Parka sopi iha loistosti, vähän väljää just sen verran että saa paksummanki paidan alle. Aikaisemmin oon vannonu M62 nimeen kun käytännnöllistä mettävaatetta haetaan mutta perhanan saksalaisetha o laittanu paremmaks. Isommat taskut, paremmin istuva ja vielä kestävämmä olonen.
22
1
I would recommend for a friend
David S.

16.02.2017 (Edited 24.02.2017)
Based on a review I ordered sligthly "smaller" jacket. For my 115 cm naked chest I ordered the Gr. 8 jacket (170-180/95-100 cm). I am glad I did not ordered bigger like Gr. 9! It fits so well and have room for a thick cotton hoodie or two sweaters! Or thick sweater bottom, thick hoodie on top and this parka as outer layer. Everything is adjustable, covers butts and upper legs nicely (175 cm heigh).

Quality: seems and smells unissued! It has no warehouse smell, just a slight "new-textile smell", I hope you know what I mean, when you buy brand-new clothes you can smell the raw odour of the original dyeing chemicals... yeah seems brand-new such a big surprise! Everything is in perfect condition, zippers, cords, velcro and the snap-buttons, damn not even slight scratches on the buttons! Dyeing is perfect, dark and saturated colours, this piece never saw direct sunlight or heavy bleach that causes fainting of colours.
I am wincing in pain as I see what BW parkas other shops offer for twice or thrice the price, some overused, nearly falling apart ones, that was used straight 20 years for shoveling pig manure every morning. :-(

This one for this price is just phenomenal, Varusteleka won again! :-)

Grab one, if you want a 0 km brand new parka! It is a no-brainer really... (see update)*

*UPDATE: I ordered another one, this time it is gr 10 for a friend, it seems slightly used, in mint/perfect condition. Still very good buy!
15
1
I would recommend for a friend
Harri K.

05.04.2017 (Edited 15.04.2017)
- vasta saatu; tuulettumassa, mutta vaikuttaisi sopivan eri paksuisten alusvaatteiden kanssa
- koko 16, alla lämpökerrasto, maastopaita & 120cm villapaita; great!
- ei tämä hullummalta näytä villapaita pois jätettynäkään
- mahdollinen irto goretex-vuori alle muiden kuteiden kanssa, tämä takki ei ainakaan itsessään ole tuulenpitävä
- muuten mukava käyttää, hyvä leikkaus & tyylikäskin
- samalla nuotiolla kaverilla m/05 takki, joten ase-veljet taas koolla...:)
5
2
I would recommend for a friend
Aaron V.

18.04.2017
The one I received was in really great condition, and fit perfectly thanks to the handy sizing chart. The musty smell of long term storage is sure to attract the ladies.
18
5
I would recommend for a friend
Wulfric H.

10.07.2017
For the price of 20 Euros, you cannot go wrong with this. It does not have an insulated liner, so it is better suited for cool weather, rather than cold. The one I got is as old as I am, and still the zippers are in good order, the Velcro is in good condition, and all of the draw-cords are present and functional. The four main pockets are large and easily accessible. I find the fabric is a bit faded for my taste, but because this 26 year-old parka was only 20 Euros, and is effectively perfect in all other respects, this does not affect my rating at all. I would recommend this to anyone looking for a lightweight, reliable piece of cool-weather clothing.
2
0
I would recommend for a friend
Tyler T.

14.07.2017
A great buy! The "used" condition was great, no faded camouflage or missing cords. All of the snaps/velcro were working and secured well. This parka has lots of storage pockets, is very durable and has a hood as a nice bonus. The sizing chart on this site helped me find a size that fit me well, though keep in mind that the arms fit a little shorter on this parka. Overall a great deal that I would definitely recommend to a friend!
2
0
I would recommend for a friend
Per M.

17.07.2017
Great Field jacket. For that amount it is a real bargain. Lots of pockets for different sized stuff. Highly recommended!
2
0
I would recommend for a friend
aleksi m.

22.07.2017
Muuten 5/5, mutta Saksalaistyylin lyhyet hihat ovat kaltaiselleni pitkäkätiselle hujopille auttamatta liian lyhyet. Tähän on kuitenkin ratkaisu jos osaa hieman ommella tai omistaa esim. ompelutaitoisen äidin tai tyttöystävän...

Pirkkaniksi:
1. Osta parkan kaveriksi mätsäävä kenttäpusero parilla eurolla.
2. Lyhennä kenttäpuseron hihat t-paitamalliseksi
3. Jatka puserosta irroitetuilla hihoilla parkan hihat riittävän pitkiksi
4. ??????
5. PROFIT!

Lopputuloksena siis lyhythihainen paita kesäkeleille ja parka riittävän pitkillä hihoilla kaikkeen muuhun. :)
9
0
I would recommend for a friend
Marko N.

26.07.2017
Mieluisimpia maastokuvioituja takkejani, on mukavannäköinen ja käytännöllinen, ja oli must tilata juuri tähän takkiin hieman suuremmat
housut kun hieman olen lihonut. Taskujensa puolesta käytännöllinen, ja ei tästä mitään suurempaa moitittavaa löydy, mitä nyt hihat pikkuisen lyhyenläiset. Oma vuoritakki samaa kokoa kuin itse takki sopii tämän kanssa oikein mukavasti; vuoritakkia on vain harvoin saatavilla, ja vuoritakkia voi käyttää siltäänkin jos haluaa. Ja tämä takki+asiaankuuluvat housut yhdessä on edullinen ja kuitenkin hyvä
maastopuku maastopuvuntarvitsijalle, joka ei halua maksaa 200 tahi 150 euroa maastopuvustaan.
4
0
I would recommend for a friend
Neil M.

02.08.2017
Came in "like new" condition. Very happy with this product.
2
1
I would recommend for a friend
Liam B.

02.08.2017
Warm parka, no need for the liner. It's very thick and durable. Mine came in great condition, with signs of discoloration, but no repairs.
5
0
I would recommend for a friend
Asla L.

22.10.2017
Hyvä rotsi! Diy-vinkki: Dylonin musta pesukoneväri tarttui hyvin, maastokuvio ei paista läpi lähes yhtään (tämä tulos yhdellä väripaketilla).
2
0
I would recommend for a friend
Brent

25.10.2017
Exceptional item, given the price. Very warm and versatile - you won't be lacking in pockets! There's even an inner velcro-operated pocket on the left-hand side of the parka for internal storage! The left sleeve has a miniature pocket, and the right sleeve has a velcro plate for insignias. There is also a velcro lining on the front, presumably for a name tag. All in all, it's warm, it's comfortable, it's versatile, and for the price, it's a steal. A great addition to my surplus collection!
5
1
I would recommend for a friend
Daniel N.

03.11.2017
I live in Peru, and my parka for the weather here is so awesome, lightweight but warm for the winter and dont overheat on the summer, oh and the little pocket on the sleeve works very well for the cigarrettes;)
8
0
I would recommend for a friend
Alex R.

07.11.2017 (Edited 11.11.2017)
SIZING: I bought the tropentarn version of this jacket, but I think my experience applies here. I am 185 cm tall and have a 100cm chest. I bought the size 13 (180-190 / 96-100 cm), and the fit is great; it's just trim enough to wear alone but there is plenty of room for the liner or additional layers underneath. If you live somewhere particularly cold and plan on really layering up, I could see how you MIGHT want to "round up" and grab the next chest size larger.
1
0
I would recommend for a friend
J-P M.

10.11.2017 (Edited 31.10.2019)
Kannattaa tilata yhtä kokoa pidempi, muuten on hihat turhan lyhyet.
0
0
I would recommend for a friend
Dennis N.

22.11.2017
This parka is more than nice! Has signs of use (slight fade of colours), but it's cheap sturdy, durable and mine didn't have any defects. Comes with that typical surplus smell :)
0
0
I would recommend for a friend
Eric S.

26.11.2017 (Edited 26.11.2017)
Great jacket for the price. I'm 5' 11" and 42" and went for the size 14 which fits great. Enough room to layer and the sleeves are plenty long enough. I'd say that the jacket is sized for layering, so don't go too big. Sorry, but pressed 4.5 stars by mistake. Should be 5.
2
0
I would recommend for a friend
Matthew R.

08.12.2017 (Edited 08.12.2017)
Absolutely glorious jacket! I'm 5'8/173cm and my chest is around 36"/92cm, so I chose the 170-180 ~ 91-95 size. At first I thought it was way too large, until I discovered the brilliant drawstring around the waist, and the good lengthy velcro straps on the wrists. It fits well with just a t-shirt underneath for those early spring/early autumn days. It fits just as well with a thermal vest, t-shirt and thick regatta fleece on in winter!

Not at all waterproof but it's not meant to be, it's very effective against wind and is very warm for the thickness. I carry half of my gear on a summer camping trip in the many massive pockets this jacket has. Zips are very sturdy too. I have slept in this jacket when I had no other options, and even since I have acquired new gear, this will always remain my favourite jacket and my number one choice for excursions in the countryside. Couldn't recommend it more, and for £16 it's without a doubt the best thing I've bought! You won't find better value for money, buy one!
4
0
I would recommend for a friend
Markus K.

11.12.2017
On hyvä takki, mutta oikean käden ranne-velcro lähti irti ja vetoketju meni paskaksi. Ne viat korjattuani todella hyvä takki!

It's a good jacket, but the right hand side velcro fell off and the zipper broke as well. After fixing those problems, it's a bloody good jacket!
1
0
I would recommend for a friend
Glenn

03.02.2018
Bought two, a size 6, and a size 12. The 12 came factory fresh, and the 6 is well worn, but in good shape. Gave the 12 away because it's too big, but the 6 is the right size in all places, except the length over the butt. I bought the 6 because i read somewhere that the sleeves are on the short side, so I went a size up. I guess I'll have to get a size 1 once they come back in to get one that isn't too long over the butt, and switch sleeves or something :D

Seriously though, my arms are a bit long, and that's not the jacket's fault. These are great for the price, and would be great if they cost a bit more too. Get one while you can kids!
1
0
I would recommend for a friend
Michael N.

01.03.2018
Awesome parka! I ordered the (190-200/116-120) because of my Dutch long arms,and I have a chest size of 45" and there is plenty of room for a fleece jacket plus a sweater lol. I highly recommend this jacket, very well made, no problems with the parka.Thanks again to all the employees at Varusteleka for the great service!
3
1
I would recommend for a friend
Davide T.

02.03.2018
One of the best jackets I've ever owned. Excellent as a cool weather coat by itself, can also double as an exceptional ski jacket when fitted with its liner. I've tested it in various conditions, with just a thin thermal shirt underneath it, and even in not-so-dry weather it still kept me just as toasty as I wanted it to. While not waterproof, it does an amazing job of blocking wind. The pockets are large and easily accessible.
Mine came in near mint condition, everything looked absolutely spot on.
3
0
I would recommend for a friend
David F.

16.03.2018 (Edited 28.03.2018)
Mine came in great shape. I would not upsize, at 6'1" and 175 pounds, I ordered the size 15. Too big, but usable. Ordered a 13 with a liner and I am extremely pleased with the quality, fit, and thought that went into these. Probably the best deal your gonna get on such a versatile and well made parka. Get the liner too, it's worth it.
1
0
I would recommend for a friend
RIchard G.

26.03.2018
The service from Varusteleka is top notch, I received 2 of these, one Brand spanking new, the other "well loved " but more than perfectly serviceable.

The Upside: the liners are top notch and work great, better than my old M65
The Downside: the parka itself is nowhere as heavy duty as my old USGI M-65, my 1st BW parka is fraying and is having wear holes appear in numerous places, this was a "new" parka only 4 years ago, my M-65 took 10 years before this happened ( and I'm hard on field jackets). the material is noticeably lighter than USGI M-65.

Very good for the price, but it will not wear like the old M-65.
4
1
I would recommend for a friend
Antti P.

04.04.2018
Good jacket. The cut on this one is great. Sleeves are on the border of being too short but arent. Hood on this is good. First had some doubts about the zipper not being all the way to the bottom but the jacket works good anyway. When cycling you might get some breeze under the jacket cause the zipper is not all the way to the bottom. The pockets are good and so is the ventilation thingies on the side. For 20€ cant go wrong. If it had longer sleeves and zipper it would be a 5star jacket. Great buy still!
2
0
I would recommend for a friend
darryl b.

11.06.2018
such a good jacket someone broke into my car and stole it last night. friggin degenerates.
39
0
I would recommend for a friend
Sam t.

15.06.2018
Very nice jacket. Came in great condition. Absolutely love it.
1
0
I would recommend for a friend
Jani R.

30.09.2018
I would not recommend to a friend
ex-asiakas

09.10.2018 (Edited 12.02.2020)
Takki on mukava tyylikäs sekä paikkapaikoin lämmin syksyn ja kevään keleihin vaan ei ole Varustelekan henkilökunta sekä asiakaspalvelu minä helvetin tuhkakuppeina te näitä vaatteita oikein pidätte tilatessani takin sain kaupanpäälle taskut pullollaan tupakan tumppeja kyllä minulla on varaa omat kessuni kustantaa ei teidän tarvitse sitä murehtiä ei niitä natsan jämiä tarvitse sinne taskuun tunkea jää kyllä nyt Lekalta natsat jämät (arvomerkit) saamatta minun puolestani sillä seuraavan kerran jos tahdon teiltä almu röökiä niin pyydän sitten erikseen lisätiedotteissa tai pyytäisin jos seuraavaa kertaa tulisi mutta kun vaan ei enään tule sillä nyt loppui täältä tilaaminen ja rajani vedän tähän jollei asiakkaalle osata muuta kuin keskisormea näyttää ja rahoja pyytää samalla niin ei tämä asiakas palvelu ole kummoista ja jätä kuin lähinnä kertaalleen palaneen sätkän maun suuhun helvetti mitä teille oikein tapahtui ennen oli niin loistavaa ja paikkaansa pitävää palvelua nousiko mammona ja menestyksen maku liikaa hattuun näin pienessä maassa kun hinnat popsahtivat ylös ja asiakaspalvelu alas olisitte voineet edes vastata kun tästä teille aikanaan ilmoitin mutta romukoppaan taisi sekin viesti päätyä noh kyllä noita ulkomaan kauppojakin riittää vaikka postimaksut olisikin ehkä hiukan suuremmat niin tuotteiden hinnat yleensä halvemmat sitäpaitsi kyllä sitä mielellään hiukan extraa voi maksaa jos palvelu hyvää ja tyytyväisyys taattua sekä osaavaa laatua sillä kyllä laatu kauppa on laatu kauppa mutta Lekalla tuntuu nykyisin olevan lähinnä päättömiä apinoita jotka seisoo päivät pitkät kyrvät kädessä sain lähestulkoon kahden kuukauden verran pakettia odottaa ja kun postistakin tiedustelin niin ei sinne mitään oltu lähetetty pitkän odottelun jälkeen sain sitten teiltä tätä asiaa tiedustella ja luvattiin että no me laitetaan se paketti nyt tulemaan ja silti tässä kesti sen viikon tai päälle suunilleen yli kuukauden odottelun jälkeen



Ps. Lakatkaa nyt jo vittu lähettämästä niitä rikkinäisiä tuotteita (ei en puhu edellisen omistajan käytössä kulunneista tavaroista) vaan niistä uusista suoraan tehtaalta itsekkö te niitä rikotte saksilla leikellen tylsyyden puitteissa vai eikö teidän silmät erota tehtaalta saapuneita viallisia kamoja jotka on repeytynyt puolen hehtaarin metsän verran niin että jopa sokea ja rampa pystyisi paremmin erottelemaan ehjät tuotteet viallisista herättää siis kysymyksen kuinka helvetin sokea sitä täytyy olla että pääsee teille töihin vai otetaanko jokainen kilipää kadulta sisään bisnestä pyörittämän ken vain vähääkään tykkää oikeasti helvetti vieköön se mikä tässä pistää näin paljon kyrpimään on teidän esikouluasteen asiakaspalvelu ei itse tuotteet jotka tilasin jos teillä olisi jonkin asteinen tyytyväisyystakuu tuotteissa niin varmaan huomaisitte että tavaraa rupeaa tulemaan postissa takaisin enemmän kuin arvasittekaan
12
22
I would recommend for a friend
Matti R.

18.10.2018
Todella hyvän oloinen takki joka sopii omassa tapauksessa niin eräilyyn kuin myös jokapäiväiseen elämään. Ainoa negatiivinen asia mikä tuli vastaan vasta kun olin parsinut merkit irti oli että vasemmasta rintataskusta on jokus leikattu läppä irti mutta en pidä sitä hirveän vakavana asiana enkä huomannut sitä itsekkään ennen kuin aloin ratkomaan velcroa sen yläpuolelta.
1
1
I would recommend for a friend
Milja R.

19.01.2019
Tilasin juuri mittojen mukaan ja todella jää "muodommakkaammallekin" naiselle tilaa vielä kerrospukeutumiseen! Uusi lemppari takki! Olisin tilannut toisenkin jos olisi ollut kokoa jäljellä! Hinta ja laatu kohdillaan! Suosittelen!
3
0
I would recommend for a friend
Jussi E.

10.02.2019
Tämä on käytössä ympäri vuoden metsässä. Kesällä yksinään, talvella SA-sarkatakin päällä.
Omani oli käytetty, mutta täysin ehjä.
Ainoa nootin arvoinen asia on pohjoismaiselle immeiselle aika lyhyet hihat, vaikka otin itseäni pidemmälle tarkoitetun koon. Tähänkin löytyi kuitenkin ratkaisu jatkamalla hihoja BW-kenttäpuserosta otetulla kankaalla. (Kyseisestä puserosta tuli t-paita.)
Suosittelen ehdottomasti, olen aiemmin vannonut kuuskekkosen nimeen mutta nyt löytyi sillekin voittaja.
0
0
I would recommend for a friend
Andrew S.

13.02.2019
I've been using this parka as my go-to rain jacket, I've used it for short outings no more than an hour. It is fairly water resistant, rain will accumulate on the parka but not soak into the fabric, allowing you to swipe the water droplets off the parka and remain dry.
0
0
I would recommend for a friend
Mihai I.

14.02.2019
Got an issued one according to the marks on the tag which looks worn - the jacket itself however looks brand new. Not sure how this can be, but that's how it is.
Sizes are very weird with these. Somehow I can easily wear both the Gr 6 and Gr 3 with no problems. Oh, and a Gr 8 in troppentarn.
Lots of pockets is a big plus.
0
0
I would recommend for a friend
Farasha E.

12.03.2019
Mine came with a candy bar in the pocket and some dirt straight from Deutschland, but it is really a good jacket, and a great value, once you wash it.
0
0
I would recommend for a friend
Marko R.

02.04.2019
Kyseisen BW parka takin noin neljä vuotta sitten ostaneena voin vain sanoa yksinkertaisesti: Kyllä toimii! Takki on ollut käytössä siitä lähtien lähes päivittäin kesät/talvet ja aina toimii oikeesti. Alle voit laittaa talvella perusvaatetuksen lisäksi fleese-takin tai vuorit. Kesällä pelaa pelkkä t-paita tai kevyempi setti. Takissa on järkevät taskut ja jopa vetskarit kainaloissa lämmönsäätelyyn. Huppu on iso ja toimiva kiristys naruineen. Hupun sisään mahtuu pyöräily tai teräskypärä helposti. Yksikään sauma tai tikkaus ei ole pettänyt tähän mennessä, vetoketjut toimii kaikki ok. Ainut jonka olen vaihdattanut on hihojen suiden velcro tarrat koska ne ovat kuluvaa komponenttia ja siksi juuri eniten käytössä. Paras takki jonka voit ostaa 25 egellä!
0
0
I would recommend for a friend
KyrpäJooseppi

14.04.2019
Ei mitään moitittavaa, sopivan hintainnen ja kestää tullta jonkin verran
0
0
I would recommend for a friend
gunther r.

05.07.2019
Unlike all used flecktarn pants I bought, my parka has no repaired spots. It's 100% perfect, almost no fading. I love these guys! If you are from Brazil, cargo planes from Finland lands at Rio de Janeiro, not São Paulo, so, the delivery time is by far the fastest from Europe or even USA. The delivery time used to be less than three weeks, now it's about four.
I am a customer since 2013.
0
0
I would recommend for a friend
Greg B.

14.07.2019 (Edited 16.07.2019)
Mine to came in what looks to be issued condition but with one little hitch.The zipper tab is missing.Not a big deal just odd as the zipper bit left has no sign of wear.All a bit strange but that's surplus.Nice weight of jacket between the British C95 Ripstop and the Belgian M90.I love Flectarn,know why Canada took it as inspiration for Cadpat.
0
0
I would recommend for a friend
Aapo R.

12.09.2019
I would recommend for a friend
David B.

19.09.2019
Favourite parka by far. Its perfect for all weather, quite good for rainy days. They do mean it when you have room for layers underneath. I was quite surprised by how thin it was. But it works wonderful! I'm short so its quite long and its great for over jacket when skiing or biking.
0
0
I would recommend for a friend
Simo L.

13.10.2019
5/5

Mattoveitsellä helppo irrottaa myös liput res käyttöön sopivaksi
0
0
I would recommend for a friend
Hunter T.

16.10.2019
In short, the only reason I dont rate 5 star is the cut may be confusing. It is indeed roomy, I ordered two at once, a 13 and a 7, because I fit essentially right between the sizes. The 7 fit perfectly. As a 6ft (182cm) tall person I still feel like size 13 (which is recommended for my height) is a bit too long and big in chest, but certainly still wearable. The pockets feel great, zippers still work well and even the armpit vent zippers are in good shape too. Parka material felt quite sturdy, you should not be afraid to work hard and rough in this. Overall a good deal as usual with Varusteleka.
0
0
I would recommend for a friend
Sven-Arne A.

20.10.2019
This is excellent, perfect fit for me and it just looks bloody great. Thanks from a Scandinavian "flecktarn-nut"!
0
0
I would recommend for a friend
Bill L.

19.01.2020
Mine was faded but in decent condition so a fair price. Good camo pattern for hunting in the UK. Not technical fabric but no rustling and nothing to snag vegetation so it's my first choice in dry weather
0
0