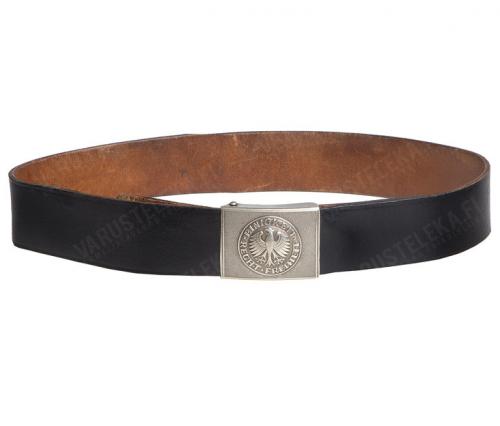 BW parade belt, leather, surplus
Price 18.99 USD excluding VAT
Flat Rate Shipping to USA $9.99
100 % recommends
Army surplus
Sold 2 pcs in the last two weeks
Loading products...
Trouble with the metric system? Try our converter: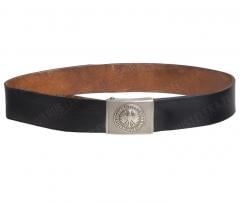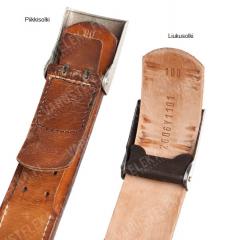 The Bundeswehr parade belt looks like a relic from the times when the German bootheels last clacked around Europe. Complete with a metal buckle with the national eagle and the motto of the Democratic Germany: "Links Zwei Drei Vier!" or something. These are getting harder and harder to acquire! If you want one, we suggest taking aktion pretty quickly, ja!
Apparently still used during the suspicious Zapfenstreich marches, the Bundeswehr parade belt is a proper thick & wide (5 cm / 2") indestructible item. We gotta love the German design - many other countries' combat belts aren't this sturdy!
Two different buckle adjustment types: two prongs inside the buckle into a suitable pair of holes in the tongue. Some belts have a simpler sliding adjustment, which is stepless and can be adjusted down as much as you like. We do not differentiate.
Size info
Sizes are the maximum lengths of the belts. These can be adjusted about 12 cm downwards (the two-prong-buckle types). Because Men of Girth have more money, larger sizes cost more. However it's still a good deal for a belt of such impeccable quality.
Condition
In used, but good serviceable condition. This will probably outlast the user. This lot was dug out from the deepest levels of our supplier's warehouse. It's very possible these won't be seen again once this batch is gone.
Recommendations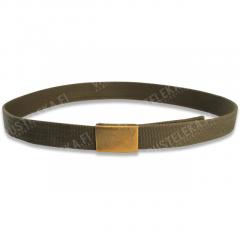 BW trouser belt, canvas, surplus
9.99 USD
Often viewed together.

Swiss service belt, leather, surplus
13.99 USD
Often viewed together.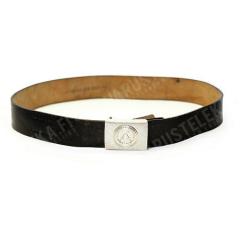 NVA leather belt, black, surplus
9.99 - 13.99 USD
Often purchased with.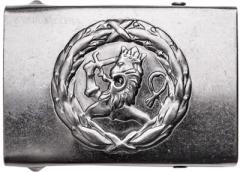 Särmä Finnish M22 belt buckle
13.99 USD
Often purchased with.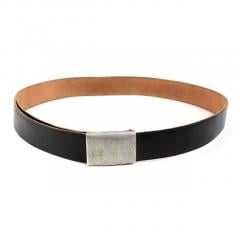 BW trouser belt, leather, surplus
9.99 USD
Often purchased with.

BW neck tie, surplus
2.99 USD
Often purchased with.

Czech leather belt, surplus
11.99 USD
Often purchased with.

NVA Webbing belt, gray, surplus
6.99 USD
Often purchased with.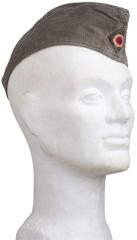 BW side cap, grey green, surplus
3.99 USD
Often purchased with.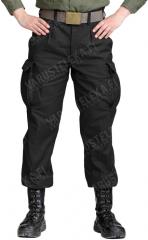 BW Moleskin trousers
36.99 USD
Might be of interest.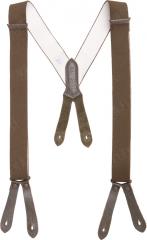 BW trouser braces, surplus
6.99 USD
Might be of interest.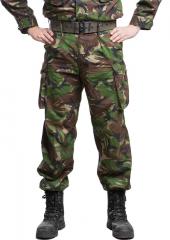 British CS95 trousers, DPM, used, surplus
27.99 USD
Might be of interest.
Reviews
You have already submitted a review. You can edit your text by clicking on it.
Log in and write a review.
Remove filter
Suomi
(4)
English
(5)
I would recommend for a friend
Harri K.

10.01.2017
- tästä et saa tuota vyö-osaa normaalikäytössä hajalle & myös hyvää matskua askarteluun
- jos tuo soljen kiiltävyys häiritsee, voi sitä värjätä varovasti "liekittämällä"
1
0
I would recommend for a friend
Antti P.

04.06.2017
Vyö lukittuu solkeen samalla tavalla kuin sotaa edeltäneet Suomen/Saksan/Tsekkoslovakian vyöt, mutta on 5 mm leveämpi.
Jos suunnittelet tästä vyötä johonkin muuhun solkeen tulet pettymään.
Itsessään laadukas vyö.

The belt looks similar to the pre-ww2 military belts (Czech/Finnish/German) but is 5 mm wider, so you can't use other buckles. Just so you know.
Other than that, it's a good belt.
4
0
I would recommend for a friend
Jean N.

28.01.2018
Very good belt
If not the best
Good leather
Nice tan

- why a minus?
Size matters
These belts have last (many) life times
Their original size
; mind you : a 1/4 mm difference would not pass DE MilSpec but these belts (all of those 100 cm i ordered online were almost all 70cm ... my waist was 90 cm so training was the only way to get the belt to fit. Again blame time and people who customized their belts, not Varust. In the original belt design of this BW Parade belt is a+5 cm / -5cm adjustement.
0
0
I would recommend for a friend
ismael l.

04.02.2018
Super quality here! Mine came almost new. Glad I acted fast on getting it!
0
0
I would recommend for a friend
Sami R.

24.10.2018
Aivan super kunnon hyvä vyö. Saamani kappale oli kuin pakasta repäisty, liekö koskaan ollut käytössä. Kestää varmasti kauemmin kuin käyttäjä. Miinuksena ei käy mihin tahansa housuihin, esim. särmä retkeilyhousuissa ja raw denim farkuissa nipinnapin liian kapea vyölenkki (seuraavaan erään 5mm leveämpi vyölenkki jooko?).
1
0
I would recommend for a friend
RAMOND T.

26.01.2019
Five hundred stars for this belt.
received one with the two prong buckle UNISSUED. Brand new and never used.
A 5cm large, thick piece of leather with an indestructible buckle.
Smart and Very sturdy.
Great belt !!
0
0
I would recommend for a friend
Jussi E.

31.01.2019 (Edited 31.01.2019)
Tottahan minä tunaroin ja tilasin aivan liian suuren vyön, koska tilaamani oli tuommoinen vanhan mallinen. Piti käydä suutarilla sitä lyhennyttämässä, eli käytännössä siirrättämässä tuota reikäsysteemiä taaksepäin. 20 minuutin homma.

Omani soljessa oli jotain vihreää väriä, (tussin?) mikä kylläkin lähti juuresharjalla ja lämpimällä vedellä pois.

Täydet pisteet laadulle ja ulkonäölle, ja eikun polttamaan Rovaniem... siis eräilemään!
0
0
I would recommend for a friend
Mihai I.

14.02.2019
Item was in issued condition, with some use marks. Got the "prongs and holes" edition.
It is really wide (5cm), does not fit the BW flecktarn pants.
Buckle looks very nice though, after I'll get it cleaned up a bit.
0
0
I would recommend for a friend
Alexander K.

01.06.2019 (Edited 08.06.2019)
Mine came as good as new. Just a few scratches and a small dent on the top and bottom of the buckle. The belt itself only has a small stripe on where the buckle used to be. Must have been worn by a woman, i ordered the 100cm, and it was moved back like 20cm.
It barely fits the Särmä Cargo Trousers, since it is really wide.

EDIT:
Ordered a second one for a friend, the 90cm one this time. It came in almost mint condition. 2 Prong system this time. Came with some corosion on the metal.
Thanks Varusteleka for providing us with belts that will last more than a lifetime.

Also, it says "Unity, Justice, Freedom" on the buckle.
0
0
Army surplus
Military equipment is traditionally excellent stuff; it combines durability with very affordable prices. Army surplus finds its way to the civilian market in the following way: the armed forces of one country or other decides to get rid of big batches of perfectly serviceable gear due to cuts in military budgets, said gear becoming obsolete or redundant or some other similar reason. Some of this stuff then finds its way to our storehouse, sometimes directly, sometimes through a third party. Every once in a while we even get random batches of collectibles and rarities from obscure corners of the world.