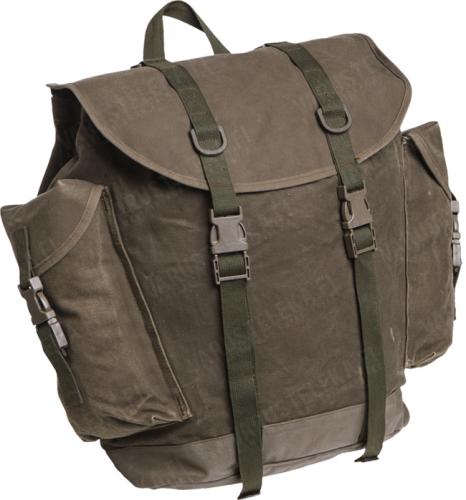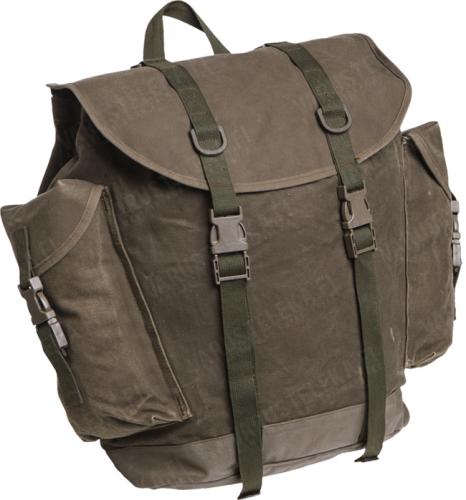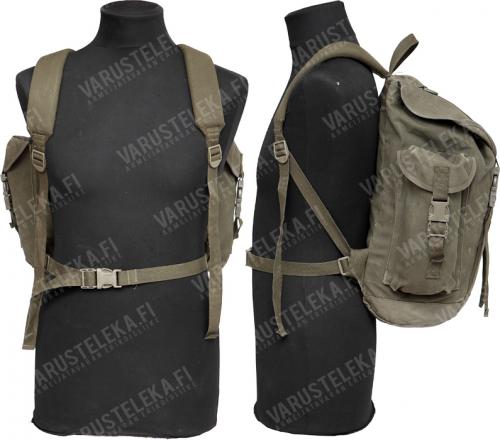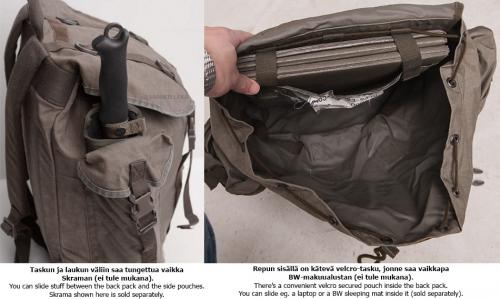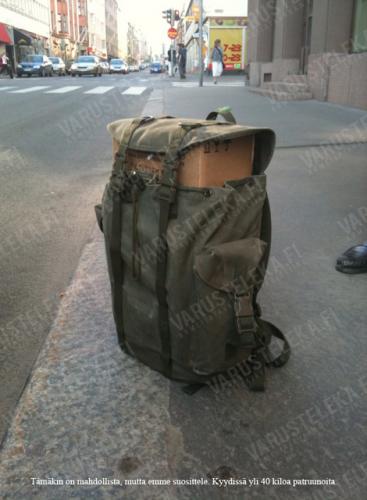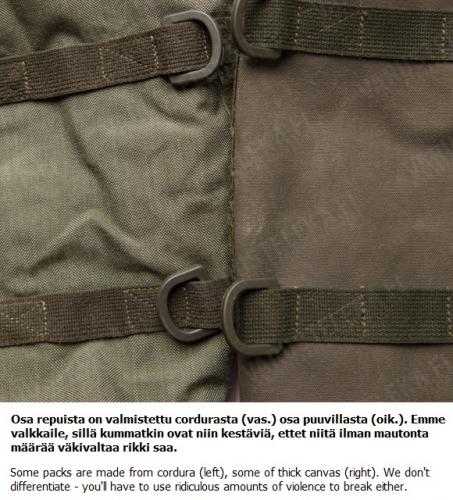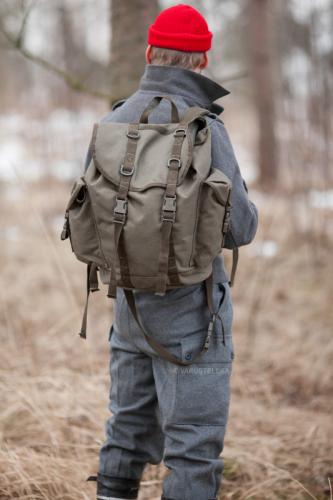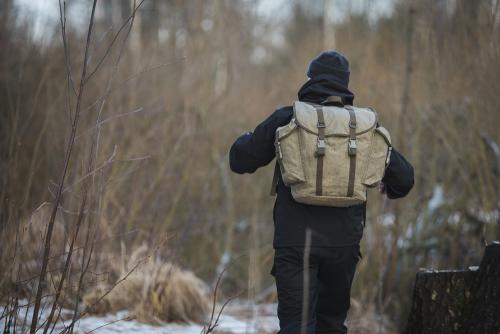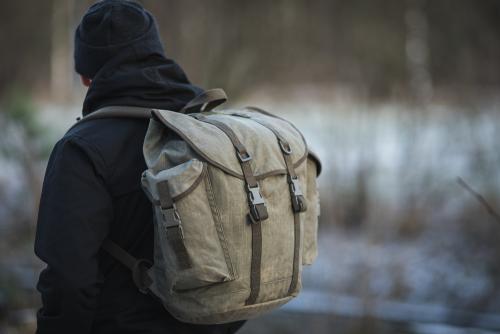 BW mountain troops rucksack, surplus
Price 29.99 USD
excluding VAT
Let's just go ahead and say that this is the best surplus rucksack there is. Very simple, rugged, just the right size for general use, and if it breaks, we'll give you another one.
Sold 1 pcs in the last two weeks.
We don't know when this product will be restocked. With surplus the restock date is unknown due to sometimes poor availability. Request restock notification and we will email you as soon as this product is available.
Trouble with the metric system? Try our converter: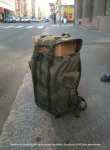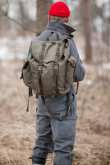 Let's just go ahead and say that this is the best surplus rucksack there is. Very simple, rugged, just the right size for general use, and if it breaks, we'll give you another one.
Yes, that's right, if it breaks, we'll send you a new one, offer stands for as long as there is supply. No worries, there are still issued in BW, and since this is a showpiece of German quality, it just won't break. We've been selling tens of thousands of these since 2003, and there hasn't been a need to send many replacements.
Originally issued to mountain troops, this has been a standard-issue day pack for all branches after the infantry finally stopped using its WW1 heritage hook-to-the-combat-webbing monstrosity.
Basically this is a normal-sized backpack, with two side compartments and a load of loops for securing additional gear to it. The genius of it all lies (again) in German engineering - although this pack does not have a frame, the Bundeswehr issue folding sleeping mat slips into a separate pouch and keeps the pack rigid and makes it really comfortable to carry. This also eliminates the need to carry a traditional roll-mat outside the pack, essentially allowing more stuff to be strapped on if needed.
All buckles are freely adjustable. They are made from a very tenacious polymer that bends but doesn't break and withstands winter conditions as well. The side pouches are sewn on only from the sides, so carrying skis, an ax or a pick is not a problem either. The shoulder straps are padded and can be quickly tightened by pulling the loose ends. Newer buckles are designed so that you can fold them over the straps for quick length adjustment.
Material and measurements
The materials vary depending on the year of manufacture, and we get them unseparated. The older ones are matte cotton duck and a modernized one will have durable Cordura-like nylon. Both are bombproof and functionally the same (there's maybe a 100 g weight difference in favor of the new one), so these are not sorted.
Volume 33 litres (2014 cubic inches), extreme measurements 48 x 45 x 23 cm (19" x 17.5" x 9"), width without side pockets 30 cm (12"). It's sized as a day pack.
Condition
These are used Bundeswehr surplus, and the use might show. THIS IS A GOOD THING since there are loads of Chinese knock-offs around too. Even if you get a ruck that clearly has seen some action, it's made in Germany and will probably outlast you.
Recommendations
Loading products...
Reviews
You have already submitted a review. You can edit your text by clicking on it.
Log in and write a review.
Remove filter
Suomi
(25)
English
(38)
I would recommend for a friend
Pietari J.

26.05.2016 (Edited 31.05.2016)
I would recommend for a friend
Niilo P.

27.05.2016 (Edited 31.05.2016)
Ylivoimaisesti paras päiväreppu ja kun ei kanniskella tolkutonta massaa. Läppärikin sujahtaa hyvin suojattuun paikkaan makuualustan viereen. 5/5, ehdottomasti. Itselläni toinen tasku vähän repsottaa, alhaalta saumat ovat hiljalleen aukeamassa, ja kiristysnaru on pitänyt vaihtaa (kun entinen kului loppuun kauan ennen kuin reppu alkoi kulua). Jos tässä on se takuu voimassa, niin vaihdan ehjempään kun käyn Lekassa seuraavan kerran ja kehun somessa mielelläni lisää!
6
2
I would recommend for a friend
William M.

14.08.2016 (Edited 12.06.2017)
I'm back for seconds,simply a bitchin ruck!! The folks who made these are long gone, and they're not coming back. Absolutely get the folding pad also. It's not an expedition ruck, but for bumming around or about anything else, it's perfect. This quality at this price only happens at Varusteleka....
39
4
I would recommend for a friend
Marko M.

19.08.2016 (Edited 01.09.2016)
Ollut käytössä jo usean vuoden ajan, eikä mitään kulumisen merkkejä havaittavissa. Paras reppu jonka olen omistanut.
10
0
I would recommend for a friend
Dean F.

23.09.2016 (Edited 03.03.2018)
To sum up: probably the best small pack money can buy.



Absolutely bombproof, this ruck has served my daily needs for years, both around town and out in the boonies, and was my companion while hitchhiking and adventuring across the United States for the whole month of April '16. Forests, deserts, blizzards, mountains, cities, this ruck ate it all up and still shows no signs of stopping. Tossed into the back of pickup trucks, covered in snow and ice, soaked with sweat, humped for countless miles cross country, chucked out of moving vehicles, doubling as a pillow, you name it. Yes, it's no large expedition pack so you're not gonna be bringing all your snivel kit with you, but there's enough room for what you actually need - and if you choose this pack for a journey you're probably the type who values packing and traveling light anyway. It's impossible to overstate the convenience of the folding mat's ability, it really comes in handy for maximizing space. And a little tip - you can easily carry a kit roll or sleeping bag lashed to the top via two utility straps threaded through the D-rings.



If you're in need of a cheap, utilitarian, indestructible pack for any task whatsoever, and can live without a huge capacity, stop reading these reviews and BUY ONE.
58
0
I would recommend for a friend
lasse l.

29.09.2016 (Edited 28.11.2016)
I would recommend for a friend
Rory O.

07.10.2016 (Edited 28.11.2016)
As indestructible as any pack made. Cheap to.
28
0
I would recommend for a friend
Alan G.

15.10.2016 (Edited 28.11.2016)
Great pack, especially for less than $30 US. Remarkably comfortable with the sleeping mat inserted. Very simple, ultra robust pack that is perfect for a day pack or a night or 2 in the field. For more than 3 nights you will probably need a larger pack. The customer service at Varusteleka is second to none and there shipping is incredibly reasonable. Also, the descriptions of the products understate their condition. I have purchased 3 packs that were called serviceable. All 3 packs look and function almost like brand new, the wear being so minor as to be negligible/nonexistent. Buy this pack, you will not be disappointed. The sleeping mat is a must for rigidity and comfort.
33
0
I would recommend for a friend
Jaakko M.

04.11.2016 (Edited 11.11.2016)
Jos edes harkitsee tämän ostoa, kannattaa napata makuualusta heti kyytiin. Bonuksena sama alusta sopii isompaan BW jääkäririnkkaan. Helppoa ja kätevää!

Itse reppu on kyllä melkoinen peto. Kunnon kumitukset ja paksu kangas, isot soljet. Sivutaskut ovat vähän pienenlaiset veden kuljettamiseen, mutta kaikenlainen pikkutilpehööri kyllä menee mukavasti.

Mikään raskaiden kuormien kantamisen ihanneväline ei tämmöinen ole: vaikka viilekkeet on pehmustettu, ei niissä sentään ole liioteltu. Tavallinen tasainen selkäosa ei myöskään anna selän hengittää, kuten monissa moderneissa repuissa. Mutta nämä kun ymmärtää on käsissä todellinen luottopeli. Tilava, kestävä ja yksinkertainen.

Mihin käyttöön? Reissaamiseen, päiväretkille, yön yli reissuille lämpimämmillä ilmoilla. Vähän yllättäen toimi myös viikon mittaisella pyöräretkellä selässä, sisällään vettä ja sade- sun muuta vaatetta ja sen sellaista päivän aikana tarvittavaa. Erityisen kotonaan silloin, kun tavaraa on paljon ja se voidaan siirtää ajoneuvolla paikasta toiseen. Tai silloin, kun tavaraa ei ole kovin paljoa, mutta se on hankalan kokoista (nuotiopannut sun muut) ja sitä pitää viedä pitkälle.
2
0