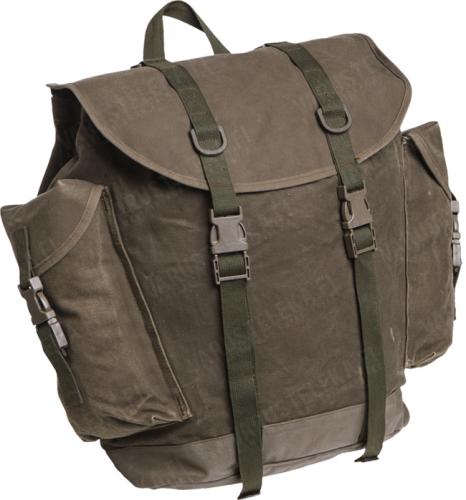 BW mountain troops rucksack, surplus
Price 27.99 USD excluding VAT
Trouble with the metric system? Try our converter: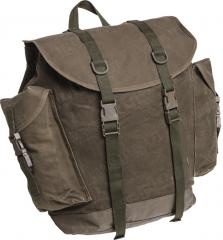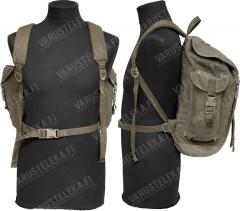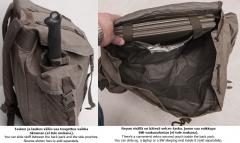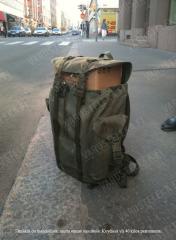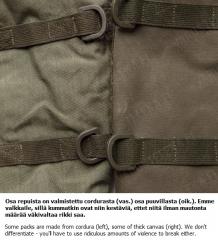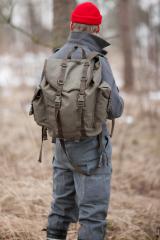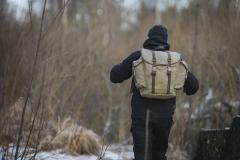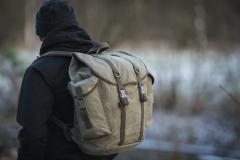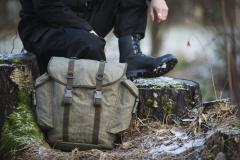 Let's just go ahead and say that this is the best surplus rucksack there is. Very simple, rugged, just the right size for general use, and if it breaks, we'll give you another one.
Yes, that's right, if it breaks, we'll send you a new one, offer stands for as long as there is supply. No worries, there are still issued in BW, and since this is a showpiece of German quality, it just won't break. We've been selling tens of thousands of these since 2003, and there hasn't been need to send many replacements.
Originally issued to mountain troops, this has been a standard issue day pack for all branches after the infantry finally stopped using it's WW1 heritage hook-to-the-combat-webbing monstrosity.
Basically this is a normal-sized backpack, with two side compartments and a load of loops for securing additional gear to it. The genius of it all lies (again) in German engineering - although this pack does not have a frame, the Bundeswehr issue folding sleeping mat slips into a separate pouch and keeps the pack rigid and makes it really comfortable to carry. This also eliminates the need to carry a traditional roll-mat outside the pack, essentially allowing more stuff to be strapped on if needed.
All buckles are freely adjustable. They are made from a very tenacious polymer that bends but doesn't break, and withstands winter conditions as well. The side pouches are sewn on only from the sides, so carrying skis, an axe or a pick is not a problem either. The shoulder straps are padded and can be quickly tightened by pulling the loose ends. Newer buckles are designed so that you can fold them over the straps for quick length adjustment.
Material and measurements
The materials vary depending on year of manufacture, and we get them unseparated. The older ones are matte cotton duck and a modernized one will have durable cordura-like nylon. Both are bombproof and functionally the same (there's maybe a 100 g weight difference in favour of the new one), so these are not sorted.
Volume 33 litres (2014 cubic inches), extreme measurements 48 x 45 x 23 cm, width without side pockets 30 cm. It's sized as a day pack.
Condition
These are used Bundeswehr surplus, and the use might show. THIS IS A GOOD THING, since there are loads of Chinese knock-offs around too. Even if you get a ruck that clearly has seen some action, it's made in Germany and will probably outlast you.
Reviews
You have already submitted a review. You can edit your text by clicking on it.
Log in and write a review.
Remove filter
Suomi
(24)
English
(35)
Pietari J.

26.05.2016 (Edited 31.05.2016)
Niilo P.

27.05.2016 (Edited 31.05.2016)
Ylivoimaisesti paras päiväreppu ja kun ei kanniskella tolkutonta massaa. Läppärikin sujahtaa hyvin suojattuun paikkaan makuualustan viereen. 5/5, ehdottomasti. Itselläni toinen tasku vähän repsottaa, alhaalta saumat ovat hiljalleen aukeamassa, ja kiristysnaru on pitänyt vaihtaa (kun entinen kului loppuun kauan ennen kuin reppu alkoi kulua). Jos tässä on se takuu voimassa, niin vaihdan ehjempään kun käyn Lekassa seuraavan kerran ja kehun somessa mielelläni lisää!
6
2
I would recommend for a friend
William M.

14.08.2016 (Edited 12.06.2017)
I'm back for seconds,simply a bitchin ruck!! The folks who made these are long gone, and they're not coming back. Absolutely get the folding pad also. It's not an expedition ruck, but for bumming around or about anything else, it's perfect. This quality at this price only happens at Varusteleka....
38
4
I would recommend for a friend
Marko M.

19.08.2016 (Edited 01.09.2016)
Ollut käytössä jo usean vuoden ajan, eikä mitään kulumisen merkkejä havaittavissa. Paras reppu jonka olen omistanut.
9
0
I would recommend for a friend
Dean F.

23.09.2016 (Edited 03.03.2018)
To sum up: probably the best small pack money can buy.



Absolutely bombproof, this ruck has served my daily needs for years, both around town and out in the boonies, and was my companion while hitchhiking and adventuring across the United States for the whole month of April '16. Forests, deserts, blizzards, mountains, cities, this ruck ate it all up and still shows no signs of stopping. Tossed into the back of pickup trucks, covered in snow and ice, soaked with sweat, humped for countless miles cross country, chucked out of moving vehicles, doubling as a pillow, you name it. Yes, it's no large expedition pack so you're not gonna be bringing all your snivel kit with you, but there's enough room for what you actually need - and if you choose this pack for a journey you're probably the type who values packing and traveling light anyway. It's impossible to overstate the convenience of the folding mat's ability, it really comes in handy for maximizing space. And a little tip - you can easily carry a kit roll or sleeping bag lashed to the top via two utility straps threaded through the D-rings.



If you're in need of a cheap, utilitarian, indestructible pack for any task whatsoever, and can live without a huge capacity, stop reading these reviews and BUY ONE.
57
0
I would recommend for a friend
lasse l.

29.09.2016 (Edited 28.11.2016)
I would recommend for a friend
Rory O.

07.10.2016 (Edited 28.11.2016)
As indestructible as any pack made. Cheap to.
28
0
I would recommend for a friend
Alan G.

15.10.2016 (Edited 28.11.2016)
Great pack, especially for less than $30 US. Remarkably comfortable with the sleeping mat inserted. Very simple, ultra robust pack that is perfect for a day pack or a night or 2 in the field. For more than 3 nights you will probably need a larger pack. The customer service at Varusteleka is second to none and there shipping is incredibly reasonable. Also, the descriptions of the products understate their condition. I have purchased 3 packs that were called serviceable. All 3 packs look and function almost like brand new, the wear being so minor as to be negligible/nonexistent. Buy this pack, you will not be disappointed. The sleeping mat is a must for rigidity and comfort.
32
0
I would recommend for a friend
Jaakko M.

04.11.2016 (Edited 11.11.2016)
Jos edes harkitsee tämän ostoa, kannattaa napata makuualusta heti kyytiin. Bonuksena sama alusta sopii isompaan BW jääkäririnkkaan. Helppoa ja kätevää!

Itse reppu on kyllä melkoinen peto. Kunnon kumitukset ja paksu kangas, isot soljet. Sivutaskut ovat vähän pienenlaiset veden kuljettamiseen, mutta kaikenlainen pikkutilpehööri kyllä menee mukavasti.

Mikään raskaiden kuormien kantamisen ihanneväline ei tämmöinen ole: vaikka viilekkeet on pehmustettu, ei niissä sentään ole liioteltu. Tavallinen tasainen selkäosa ei myöskään anna selän hengittää, kuten monissa moderneissa repuissa. Mutta nämä kun ymmärtää on käsissä todellinen luottopeli. Tilava, kestävä ja yksinkertainen.

Mihin käyttöön? Reissaamiseen, päiväretkille, yön yli reissuille lämpimämmillä ilmoilla. Vähän yllättäen toimi myös viikon mittaisella pyöräretkellä selässä, sisällään vettä ja sade- sun muuta vaatetta ja sen sellaista päivän aikana tarvittavaa. Erityisen kotonaan silloin, kun tavaraa on paljon ja se voidaan siirtää ajoneuvolla paikasta toiseen. Tai silloin, kun tavaraa ei ole kovin paljoa, mutta se on hankalan kokoista (nuotiopannut sun muut) ja sitä pitää viedä pitkälle.
2
0
I would recommend for a friend
Andreas H.

11.11.2016 (Edited 18.11.2016)
I would recommend for a friend
Tommi M.

16.11.2016 (Edited 18.11.2016)
Mistä aloittaisi? Vaikka siitä, ettät tämä on maailman kestävin reppu, mitä voit tähän hintaan saada. Aloitetaan sivutaskuista. Se vetää juuri ja juuri esim. Airamin 0,7 L termarin eli litran vetoiset kenttäpullot eivät valitettavasti mahdu. Sivutaskun ja päälokeron väliin jäävään rakoon voi sujauttaa, vaikka retkikirveen tai muun esineen, joka ei liikkuessa tipahda raosta.
Päälokero on yksi iso tasku, jossa on makuualustaa varten takalokero. Lokeroon menee BW-makuualusta, jonka suosittelen ostamaan repun yhteydessä. Lokeroon mahtuu makuualusta lisäksi 15" läppäri ja pari kirjaa.
Päätyläpässä on neljä D-lenkkiä joihin voi sitoa hihnoilla huovan, pussukan mitä ikinä haluaakaan.
Tässä on siis mainio reppu reissaamiseen, johon saa pakattua kaiken tarpeellisen. Osta vielä kun näitä saa.
5
0
I would recommend for a friend
Jukka Y.

18.11.2016 (Edited 28.11.2016)
Olkahihnat ovat surkean kapeat, siksi vaihdatin omaani suutarilla toisen repun leveämpiin remmeihin, nyt kantaa kivutta 15 kg:n nyyttejä. Lantiovyön ja läpän kiristysremmien soljet ovat surkeat, luistavat koko ajan auki. Mutta MUUTEN reppu on yksi parhaista ja hinta/laatu on paras. Makuualusta selkätaskuun tekee lisää ryhtiä reppuun ja helpottaa pakkaamista/käyttämistä. Kaupan kassalla voi huolettaa heittää ostokset sisään ilman suurempaa järjestelyä, ne mahtuvat kyllä. Sivutaskuun menee 0,7 viskipullo ja sisälle reppuun lava bisseä, juopoille tiedoksi.
4
0
I would recommend for a friend
Jason S.

22.11.2016 (Edited 28.11.2016)
Mein gott! What a splendid rucksack for the price.
10
0
I would recommend for a friend
Joose V.

30.11.2016 (Edited 20.12.2016)
Tuntuu vähän turhalta arvostella kyseistä reppua koska sen hienous on niin yleisesti hyväksytty asia jo. Ostin omani kai kuutisen vuotta sitten, ja se on kulkenut selässä täyteen lastattuna niin monta kertaa että kertoja on turha koittaa laskea. Joskus mm. tyhmänä toin täpötäyden repullisen virontuliasisia jääkärirepulla. Kantaja vähän hajosi henkisesti sitä roudatessa, mutta reppu ei tietenkään ollut moksiskaan. Jos repussa haluaa kantaa jotain kulmikasta tai muuten vaan kovaa, suosittelen lämpimästi kuvauksessakin suositellun makuualustan ostamista. Makuualustan taskuun voi tietysti tunkea jotain improvisoituakin pehmustetta, mutta oma kokemukseni on että sellainen lähtee paikoiltaan helposti.
Oma reppuni on ilmeisesti corduraversio, eikä se näytä yhtä päheältä kun paksu puuvilla, mutta perhanan kestävää materiaalia se kyllä on. Omassani ei myöskään ole lannevyötä, mistä olen vähän katkera. Jos ostaisin reppua nyt, katsoisin että saan lannevyöllisen version. Arkikäytössä se olisi tosin varmaankin useammin tiellä kun käytössä.

tl;dr Jos kaipaat reppua joka kestää kovempaa käyttöä kuin omistajansa ja joka näyttää vähän spuudulla tavalla tyylikkäältä, tuskin löydät parempaa diiliä kuin tämä + BW makuualusta.
4
0
I would recommend for a friend
Andreas B.

15.12.2016 (Edited 20.06.2017)
When i finished my military service 17 years ago and had to give my equipment back, i "lost" (aka kept) 3 things: My boots, my sleeping mat and this rucksack. Believe it or not: Even after all these years this ugly old masterpiece is still rockin'
34
0
I would recommend for a friend
Eveliina M.

22.12.2016 (Edited 22.12.2016)
Kyllä tällä kantaa paut kymmenen kilon ostokset kotia sekä hyvänä että huonona päivänä, kunhan vaan laittaa jotain selän tueksi. Ei tietenkään pakollista, tekee vaan ko. painon raahaamisesta huomattavasti mukavampaa. (No, on tää ollu mukana viikonloppu reissuilla kaupungissa, metässä, lammikoissa uinut, ja muutakin "pientä kivaa", eikä oo ottanu itteensä yhtään.)
2
0
I would recommend for a friend
hamzah i.

31.12.2016 (Edited 03.01.2017)
Absolutely brilliant rucksack. The one I got looked brand new, and seems like the construction is very good. This quality at such a low price is absolutely brilliant. A must buy for anyone looking for a near enough indestructible rucksack
19
1
I would recommend for a friend
Jonas E.

07.01.2017
Perfect bag for the 48h weekend huntingtrip. Stores ammo, food, extra clothes and drinks like a champ. Remember to buy the sleeping mat, it is good for the rest and as a light frame/cushion to the hard stuff that usually lands in the sack. Good fasteners for small game on the pack. Simply brilliant in my book.
27
0
I would recommend for a friend
Monica J.

03.04.2017
Do yourself a favor and get this backpack. Surprisingly comfy.
7
0
I would recommend for a friend
Jake A.

06.04.2017
Bought one for use as a camping trip/hiking bag and came back for a second to use as a motorcycle bag for long trips. You won't get this kind of quality out of comparably priced big batch retailers. Simplicity, ruggedness, adequate modularity, and plenty of room - the sleeping mat is a must!
16
0
I would recommend for a friend
Elliot M.

18.04.2017
honestly this backpack just takes the cake, it as tons of space for what it is, at an amazing price. i use this, as the name suggests, for mountain climbing and its just perfect, it can hold a ton of weight and the straps are extremely comfortable for what it is, the to pockets on the side are very useful, but difficult to fill when the main compartment is already full. it comes with a patch of Velcro at the top for a name patch, and a compartment in the main space to store a BW folding sleeping mat, which i highly recommend as it can even be used to stop you ass from getting wet when you take a break and adds amazing support and comfort to the back of the pack. be aware that some items may still be in the backpack from the previous owner, as i got a free sports bra inside mine, but unfortunately did not fit me. please note that the straps are difficult to adjust as you need to tighten them to get them loose, but it means that they absolutely wont come free when using the backpack. unbelievable quality, outstanding price, GET THIS
13
0
I would recommend for a friend
perttu s.

26.04.2017
Lyhyesti ihan helvetin hyvä reppu kaikenlaiseen retkeilyyn ja spurguiluun.
Tuo lantiovyö nyt on vähän rempula mutta siitä saa tosi käyttökelposen esimerkiks niillä saksalaisten omilla viilekepehmusteilla.
1
0
I would recommend for a friend
Antti L.

30.04.2017
Suht' tuhoutumattoman oloinen tekele. Välillä on ollut epäilyksiä, että miten kama mahtuu suipon muodon takia, mutta kyllä tuohon tuntuu menevän useimmissa harrasteissa tärkeimmät asiat. Ei ehkä ihan mahdottomin ylipakkausihme, mutta toisaalta hyvittää sitten mahdottomassa kestävyydessä tämän seikan.
1
0
I would recommend for a friend
Christopher K.

09.05.2017 (Edited 09.05.2017)
I acquired a unissued pack 17 years ago. It has faded, one Velcro strap in the pad pocket needs sewing and a small corner of the rubberized base has worn away. I have carried it daily in town and outdoors with everything from an Easter ham to a 72 hour kit.
An idiot on a mini bike came roaring down the sidewalk swearing at me to get the fuck out of HIS way. I did, and hit him with the ruck holding a gallon of milk and 20 cans of cat food. He crashed, I walked on without so much as a dented can or of drop spilled milk.
20
0
I would recommend for a friend
Antti L.

10.05.2017
Tämä + BW-makuualusta = Aivan loistava hinta-laatu-suhde !
2
0
I would recommend for a friend
Mikael O.

14.05.2017
Great backpack and best budget choice you can get. Easily worth many time it's price!
Ordered for my family as BOBs. But they were the perfect daypacks. I combined it with the BW folding sleepingmat and it's a must for anyone!
It's been with me for outings and is my first choice as a hunting pack.
Was unfortunate to rip one of the lower fittings to the shoulder strap. A few minutes with nail and thread fixed it.
5
1
I would recommend for a friend
Tomi K.

09.06.2017
Reppu tuntuu hyvälle selässä kun sen pakkaa oikein. Toistaiseksi ainakin on kestänyt hyvin painoa. Otin repun heti testiin kun lähdin käymään päiväreissin Norjan Dronningrutalla. En usko, että olisi perus "koulurepulla" selkä kestänyt niin hyvin. Tällä kertaa vain jalat kärsi hiukan vahinkoa.

Ollut iso apu repusta reissussa päiväreissujen ajaksi. Yökamppeita ei kovinkaan hyvä kantaa, mutta muuten kyllä. Pakkaamiseen kannattaa vain panostaa, että reppu on mukava kantaa.
2
0
I would recommend for a friend
FIlip K.

18.06.2017 (Edited 18.06.2017)
What can I say it's German quality but it's not the most comfortable pack nor most versatile pack. As long as you don't pack more than what's the 8 kg is going to be just fine if you have the bw mat. If you're planning on using this backpack for longer trips I would strongly suggest you get the proper comfortable to wear backpack.
3
12
I would recommend for a friend
Eric B.

22.06.2017
Great medium sized bag for the price. I got one made from cordura dating from '97 and it has been quite impressive. Unfortunately the sleeping mats were sold out, so I can't tell you how it feels with one; however even without the mat the bag is quite comfortable to wear (at least with what I have been putting into it). As well, the bag, thanks to its rubberized coating on the inside and bottom, has kept its contents dry on the occasions that I have walk in the rain. Only complaint that I really have with the bag is that the side pockets are just a little bit too narrow for my liking; they have good depth to them, but the width is just not quite there, but still perfectly functional. All in all, this bag should serve me well for a while (especially because I am not trying to test its limits at all) and is definitely worth the $36 CAD I spent on it.
2
1
I would recommend for a friend
peter s.

23.06.2017
Just could not fault this great pack
2
0
I would recommend for a friend
Andrew D.

07.07.2017 (Edited 07.07.2017)
This rucksack really is as good as the earlier reviews suggest it is. Incredibly strong, well designed and comfortable on the back. if you are in two minds about buying one, don't be. Buy it and see for yourself. Whilst I am here a quick word on Varusteleka. I usually buy local. But I make a point of ordering from far-away Varusteleka for camping stuff because they are just very good at what they do. If you have got this far, you know the website is well presented and easy to use. But if you haven't ordered from them, you won't know that they are quick to deliver and have an excellent customer service. I should mention, in particular, the guy on the end of their 'send us a message' button. He dealt with a minor glitch I had quickly, politely and efficiently. If only all businesses were run this way...
10
0
I would recommend for a friend
Thomas L.

16.08.2017 (Edited 17.08.2017)
This is the Glock of backpacks. Simple and reliable. Probably one of the best surplus items you can buy, although a slightly lower price would be even better. Great retro look, comfortable straps and a perfect size for a day pack or overnighter in the forest. I have more than 10 different backpacks, but when I strap this one on, I always have a big smile on my face. I won't repeat all the other comments, so I try to add something new. Kleen Kanteen bottles (800 ml) fit nicely in the side pockets. When you use the sleeping pad, for example to sit on during a short break in the snow, it's hard to put it back inside without having to empty the backpack first (depending on what kind of stuff you have inside). There are no internal pockets besides the sleeping pad sleeve (which can be used for some extra stuff). Organize your gear with small, waterproof bags. Quite lightweight despite the rugged material, perhaps thanks to the lack of tacticool molle. I bought two backpacks (and will probably buy more later on). Both were in nice condition with slightly different colours. One even had a German velcro name tag appropriate for my status: "König" (King). Nice touch. My German friend was not so impressed, his name tag allegedly says "Kaiser" (Emperor), which apparently outranks mine... He is such a bastard. To sum it up, if you don't have one of these, you really don't know what you are missing. And the sleeping pad is a must.
7
0
I would recommend for a friend
RAMOND T.

21.08.2017
Received one in very good condition.
Rugged and sturdy, comfortable to carry with the BW mat inserted.
A nice piece of kit.
5
0
I would recommend for a friend
Mike G.

11.09.2017
Bombproof. Cannot say anything that hasn't been said but will leave a tip: cheap Swiss M84 canteens fit into the side pockets like they were made for it!
5
0
I would recommend for a friend
Jarkko K.

17.09.2017
Parempaa rumilusta ei voi löytää! Ollut käytössä pari vuotta metällä, kalassa jne.... kestää ja on hyvä kantaa, en tule luopumaan kyseisestä kantolaitteesta ennenkuin puhki kuluu. Ja sain omani aikanann erittäin hyvä kuntoisena :) kiitos lekalle...
2
0
I would recommend for a friend
Micajah A.

29.09.2017
I am ecstatic. I literally just received my "old model" version of this rucksack 15 minutes ago. It is the version with leather straps and no waist belt. I'm not sure why, but it keeps appearing and disappearing on the site.

Anyway - the bag I received freaking rocks. The leather is in FANTASTIC condition and the metal buckles, etc. all are in great shape - don't even have that white powdery residue you see on them sometimes. I can tell the bag I received was used (there was chalk writing on it) but it's in such great condition I don't believe it ever actually went into the field. The rubberized bottom has no scratches...what, did they hang it in a tree or leave it in a vehicle?? Amazing.

Thanks for a great product guys. I'm gonna love this pack.
2
0
I would recommend for a friend
Alex R.

01.10.2017 (Edited 31.12.2018)
Overall, really great bag fro the price. The one I received was made in 2008 by Wise Pearl, a company in Hong Kong, China, that makes stuff for the German military. The main fabric is a very sturdy ballistic nylon. I bought the kip mat as well, but I don't recommend it; the mat creates a very stiff back panel and ridge that rubs your lower lumbar region. I actually cut my kip mat down to reduce its stiffness -- now it is perfect. But really, any piece of closed-cell foam padding cut to the right size will suffice. The only real downside of the bag is the shoulder straps: They are comfortable, but the outer fabric is basically a twill trouser fabric that doesn't seem like it will be very hard-wearing. Will these straps need replacing one day? Possibly. Even still, a nice bag for the price.
1
2
I would recommend for a friend
David V.

04.10.2017
A superbr rucksack. I noticed this sleeve for the folding pad is big enough for at least two of them. Very robust,
I was pleased to see mine turned ut to be canvas.
And impressed with the shipping time, about 8 days from Helsinki to Seattle.
2
2
I would recommend for a friend
Mika K.

04.10.2017
Piti tilata toinen kun ensimmäiseen oli ilmeisesti joku jääkärihommiin vittuuntunut tehnyt puukolla läppään harmittavan viillon, muuten oli siistissä kunnossa oleva cordura-versio. Toinen olikin sitten 12 vuotta vanhempi malli, erilaista materiaalia, hiukan elämää nähnyt mutta omissa silmissä paremman näköinen ja vaikuttaa pomminkestävältä.
0
0
I would recommend for a friend
William P.

04.10.2017
Mine was in great condition. One of the side pocket buckles was threaded wrong, so assume it was turned in for a replacement after issue and got lost in the system. Fixed the buckle, and all is fine.
It is a shoulder carry pack, the belt is just to keep it from moving around. Stay under 10 kilos for comfort, though the pack can carry more. It holds a 24 case of beer plus lots of food, so I named it "der bierfest wagen". Weekend party in a backpack. First time I named a ruck.
It would work well as a SHTF pack as long as you collect the small items into a kit. Anything smaller than a tennis ball can fall out, unless packed carefully.
Oh, and it's a great 2 day hiking trip ruck for decent weather. Just wish it had strap attachments for the bottom. Get the BW pad for it, trust me.
4
0
I would recommend for a friend
Peter M.

15.10.2017
:-D
I got one from '91. That makes it a 26 year old ruck, and it looks like it's gonna last plenty more years!
First I got one with a broken bracket. Took a picture and complained. They sent me another one. This time a model with heavy duty rubber on the bottom and under the lid. It has a few holes, which was poorly fixed, so I cut the tread and rerepaired the holes. This has brought me closer to the ruck.
It's a really beautiful piece of work with patina, and it will surely last many years longer than any modern hitek-loweight-fancycolored-plastic-ruck.
Get yours today, but remember to clarify you want the model with rubber bottom!
Anyway for euro:30 you can't really go wrong.
2
0
I would recommend for a friend
Juho P.

20.10.2017
I would recommend for a friend
Kalervo M.

05.11.2017
Reppu on erittäin kestävä. Ollut käytössä useamman vuoden, ei merkkiä väsymisestä. BW-telttapatja kannattaa hankkia, sen kanssa yllättävän mukava ja patjasta on iloa esim. jos tarvetta istua kylmälle ja/tai kostealle penkille. Reppu kestää hyvin rankaisua.
2
0
I would recommend for a friend
De Z.

08.11.2017
I used it to carry textbooks and groceries. Used for half a month of constant use and its been tossed around here and there, and no signs of breakage. Recommend to get padding for the back.
4
0
I would recommend for a friend
Harri K.

24.11.2017 (Edited 30.01.2018)
Aivan mainio yleisreppu! Toimii kauppakassina, uimahalli- ja saunareppuna taloyhtiön kauemmassa talossa olevaan lenkkisaunaan ja kirjaston kirjojakin tällä kuljettelee. Myös viikonlopun mökkireissulla tarvittavat varavaatteet ja pikkutavarat mahtuvat hyvin kyytiin. Kokonaisen BW:n makuualustan sijasta käytän sellaisen puolikasta, jonka taitteiden välissä on vaimon keittiökäytöstä naarmuuntuneena raakkaama, noin 5 mm paksu muovinen leikkuulauta. Jäykkä selkämys parantaa kantomukavuutta ja nopeuttaa pakkaamista ruokakaupan kassalla! Ja se BW: n makuualustan toinen puolikas on - ylläty, yllätys - toisessa tällaisessa repussa. Hamsteriluonteena mjnulla on kaikki mallit, arkireppuna keinokuituinen versio (erään saksalaisen varustekaupan nettisivu sanoo materiaalia Corduraksi), varastossa puuvillainen versio ja retrohenkisiä reissuja varten vielä se vanhdmpi nahkahihna-piikkisolkiversio. Viimemainittu oli muuten lähes käyttämättömän oloinen saapuessaan Lekasta, ja käytänkkn sitä säästeliäästi... Lisäys 300118: Huomasin, että käyttörepussani on sama ITW Nexuksen narulukko mitä Leka myy irtotavarana. Useimmitenhan näissä on sellainen sylintermäinen narulukko.
3
0
I would recommend for a friend
Michelle S.

10.12.2017
I was amazed when my ruck arrived..........it looks totally brand new. I wanted a tough bag with no zips because I live in Hawaii where it is super high humidity year round and salt water which wrecks zips in approximately 6 months even if you take good care of your stuff.
I am waiting for the sleep mat to become available to complete my ruck. Absolutely love Varusteleka and this is my second purchase from them, the shipping must be turbo charged as it only takes 10 days to get all the way to Hawaii one of the most isolated places on the planet !!!!
Alohaaaaaaa !!!!
6
0
I would recommend for a friend
Kike S.

10.12.2017
Very top product, like I imagine, this rucksack is strong ang have a perfect capacity for a day.
1
0
I would recommend for a friend
Markus K.

18.12.2017
Reppu selkään.
1
0
I would recommend for a friend
Markus K.

18.12.2017
Reppu selkään.
2
0
I would recommend for a friend
Bryan M.

18.12.2017
Herr Rauber and Leutke: thanks for keeping your ruck in decent shape during your time in the service. Small details like two soldiers names make you realize it's the real deal. Thanks Varusteleka!

Now it's found a loving home an ocean away and performing brilliantly. I am ordering a second pack when I get a chance, because this pack really is awesome for the price. For nearly 30 years old its comfy and aside from some storage scuffs in really great shape.

Note: the side pouches hold a 40z Klean Kanteen perfectly and the internal storage is generous. The pockets behind the pouches aren't closed, so a large axe or skis will fit right through. Zero regrets on this awesome deal.
6
0
I would recommend for a friend
Matias K.

23.12.2017
Eipä tästä nyt voi hirveesti sanottavaa olla muuta kuin että toimiva, kestävä ja halpa. Kestäny reissaamisen ja ei tarvii pelätä vaikka vetäis tilavuuden äärirajoilla. Eiköhän noissa muissa kommenteissa jo aika tyhjentävästi sanottu. Ainut hyvin vähäinen mahdollinen miinus on että koska kyseessä on vähän vanhemman mallinen reppu ei tätä voi oikeen modulaariseksi kutsua mutta jos ei tarvihe kiinnitellä molle härpäkkeitä niin ihan passeli.
1
0
I would recommend for a friend
Chris A.

29.12.2017
Hope they never stop selling these. I received one from 03, its in excellent condition. mine did not have the rubberized bottom. However the inside seems very waterproof. The sleeping mats were out of stock so I cut some yoga mat type of pad to fit the L 13 1/2 W 11 1/2 compartment. My next Varusteleka order will include a bw sleeping mat. I could easily use this as a overnight pack for spring summer and fall. Great find.
6
0
I would recommend for a friend
Harry C.

10.01.2018
One of the best packs i have ever owned!! Very fast delivery.
5
0
I would recommend for a friend
hans k.

06.02.2018
The back straps are a little wider apart so it's easy to get off and on . I had 15 kg of camera gear to schlep around the Zoo for 6 hours , Comfortable a day .
Tall water bottles fit sides pockets well ( 7cm dia ) . No small pockets or zippers , so small bags or plastic storage containers . Great look , mine was near new !
6
0
I would recommend for a friend
Ari G.

06.04.2018 (Edited 06.04.2018)
Muutaman vuoden ollut reppu käytössä, pirun hyvä ollut töissä mukana yms reissuissa.

Omaan käyttöön ollut sopiva ja tilava.
Samalla tilasin Bw-makuualustan reppuun.
3
0
I would recommend for a friend
jari t.

11.04.2018
mahdottoman hyvä reppu, niin metsään kuin katukäyttöön. omistan kaikki kolme. nylon vm. 2007, puuvilla vm.90 ja nahkahihnasen vm.84. jälkimmäinen vain kaapissa varalla. taidan kyllä kuolla, ennenkuin nämä hajoo.
yhden olen nähnyt kirpparilla myynnissä ja wanhan tavaran keräilijänä käyn niissä paljon. kertonee, että repusta pidetään.
4
0
I would recommend for a friend
Mikael P.

14.04.2018
I made a mistake when I bought this in 2016, I ordered two by mistake (large order so I didn't notice the cost difference). This was one of the luckiest mistakes I ever made. I got two different models, one in cordura like material and one in the other and I love them both. I carried the cordura one for several months as a commuter pack, it can be cinched down to a fairly small footprint and it is wonderful to wear in the winter (the sleeping mat insulates the back).

This is probably the best sub-40 € (with sleeping mat) backpack across all categories, it doesn't even look too much like a military pack.
7
0
I would recommend for a friend
Juha K.

04.10.2018
Luottokama nro 1 ja nousussa. Omani ostin vuosia sitten ja on ollut miltei päivittäisessä käytössä. Sopivan kokoinen reissatessa ja ostoskassina. Tämän kanssa on Aasiassa talvehdittu: Armeijan pyykkipussi ja pari Bundeswehrin irtohinhnaa, niin saa tarvittaessa esimerkiksi vaatteille lisätilaa, kun sitoo mytyn reppuun. Hihnat äärimmilleen kiristettynä menee kasaan, eli käy tästä saa pienemmänkin repun.
0
0
I would recommend for a friend
Toni N.

08.11.2018
Kaiken kaikkiaan loistava reppu! Ollut koulu- ja reissureppuna täydellinen!
0
0
I would recommend for a friend
Kristjan L.

16.12.2019
I got one, it's everything good others are saying about it. Couldn't find a BW mat for back support, so jury-rigged it out of thick cardboard. Works perfectly fine and keeps the shape better.
0
0