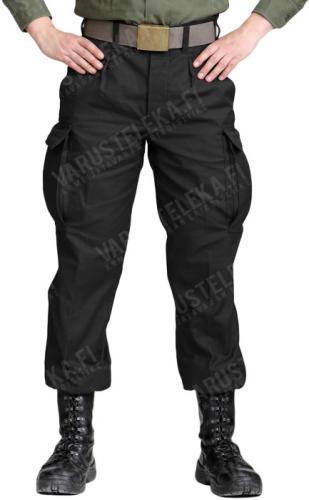 BW Moleskin trousers
Price 36.99 USD excluding VAT
Flat Rate Shipping to USA $9.99
92 % recommends
Sold 80 pcs in the last two weeks
Loading products...
Trouble with the metric system? Try our converter: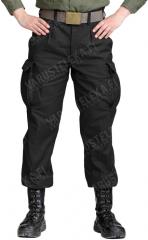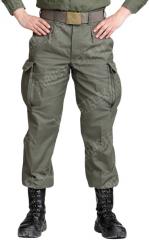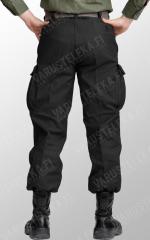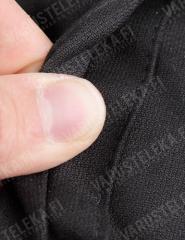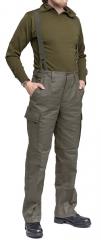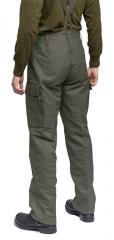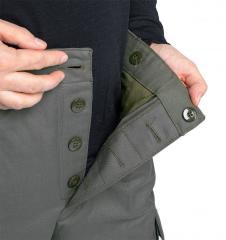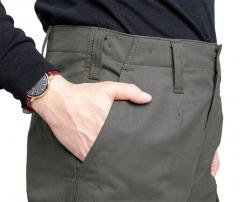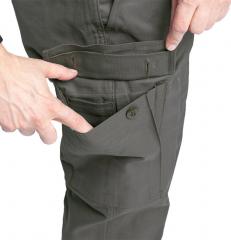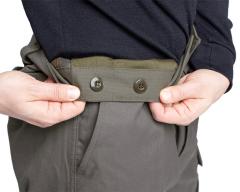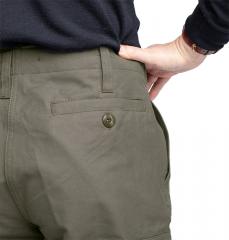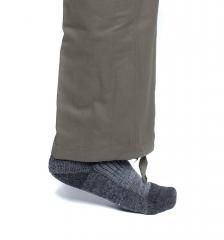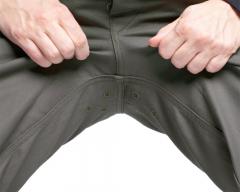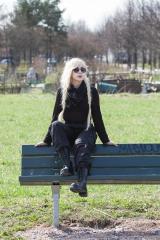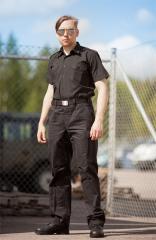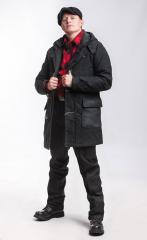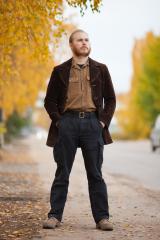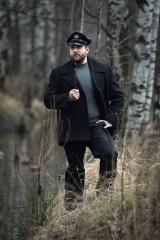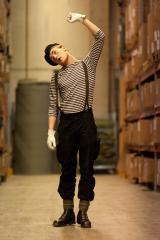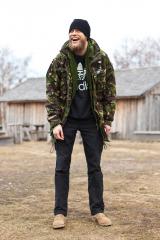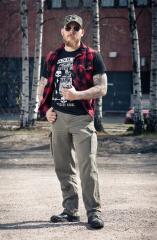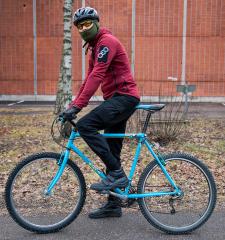 Probably the best trousers the German Bundeswehr has ever made. Excellent reproduction.
More neat in appearance than most other cargo trousers
Made of thick "Moleskin" cotton
Model originally made for field use
New reproduction
The Bundeswehr used all olive greens until 90's, when everything was replaced by the then-new Flecktarn camouflage and the older stuff was sold to civilians. Because the surplus stocks ran out while the demand for the older model trousers was still high, they made reproductions like these, which are still popular today - and for a reason too. These are extremely durable clothes, as they are made of thick "Moleskin" fabric, which is simply tightly woven cotton that only looks better with age.
Practical features in a neat package
The trousers feature wide belt loops, buttons for braces, straight leg with drawstring tightening in the mouth and a button fly. These have five pockets; two front pockets, two cargo pockets and one back pocket. Similar to the US BDU trousers, but these aren't quite as obviously military, a lot more clean looking overall.
Material and care
100% cotton. Wash in 40 degrees Celsius, hang dry.
Size info
Sizes in waist / inseam in (inseam is measured from the crotch to the end of the leg). For reference, see the Bundeswehr size chart here.
We recommend checking the inseam length from a pair of trousers you already own and compare.
Made by Mil-Tec
Although made by Mil-Tec, the trousers are seemingly about original quality reproductions.
Pro-tip: to get a pair of regular trousers, carefully cut off the cargo pockets. Kinda like jeans, but with a more relaxed fit.
Reviews
You have already submitted a review. You can edit your text by clicking on it.
Log in and write a review.
Remove filter
Suomi
(29)
English
(8)
I would not recommend to a friend
Teemu H.

27.09.2017
I would recommend for a friend
Robert Z.

04.10.2017 (Edited 04.10.2017)
Very good. Well made and comfortable. One warning, with the button fly, don't wear these when you go out drinking. Get the Helsingin Olkain button braces with these. Very comfortable set up!
4
0
I would recommend for a friend
Sampo A.

12.10.2017
Ostin yhdet. On vaan hyvät. Lämpimät kun pitää tuulta
2
0
I would recommend for a friend
Kalle L.

15.10.2017
Hyvät housut. Kangas vaikuttaisi olevan vahvaa. Lisäksi henkselinapit ovat asia jota arvostaa, sillä niitä hyvin vähän saa housuissa nykyään. Henkselit + korkea vyötärö on ominaisuus jota arvostaa kaikessa ulkona kylmässä tehtävässä työssä, jossa joutuu kyykistelemään. Housut pysyvät ylhäällä ja paita housuissa.

Materiaali on myös hyvää siinäkin suhteessa, että saa pestä 60 asteessa. Nykyään monissa muka työhousuissa tai "taktisissa" housuissa lukee: pesu 30 asteessa. Se ei riitä ainakaan itselläni lainkaan.

Sen sijaan nappien kiinnitys ei vakuuta. Itselläni lähti yksi nappi ensimmäisten käyttöpäivien aikana. Muutkin olivat melko heikosti kiinni, mutta kun ompelin itse kaikki napit uudestaan, näistä sai hyvät työhousut.
3
0
I would recommend for a friend
Anssi J.

13.11.2017
Käytännöllisyyden ja miellyttävyyden vuoksi käytän työhousuina, vaikka ulkonäkönsä puolesta voisi aivan hyvin käyttää myös arkihousuina.

Kangas on todella kestävää ja napakkaa, mutta kuitenkin miellyttävän joustavaa. Ei ole rispaantunut tai mennyt rikki mistään kohtaa parin vuoden käytön aikana, vaikka osumaa on tullut. Leikkaus sallii runsaan kyyristelyn, rymyämisen ja muun fyysisen aktiviteetin. Sepaluksen nappisulku toimii itselläni, pidän todella paljon siitä ettei tarvitse stressata vetoketjun rikkoutumista. Taskuja on sopiva määrä ja ne ovat isoja, niissä mahtuu hienosti säilömään roinaa. Reisitaskujen nappisulku on toimiva ratkaisu; nappeja on kaksi per tasku, ja itse pidän tilanteesta riippuen kiinni tai auki tarvittavan määrän nappeja, jotta pääsen nopeasti käsiksi taskussa säilytettäviin tavaroihin, mutta siten että tavarat eivät pääse kuitenkaan putoilemaan taskuista työpäivän aikana. Suureksi yllätyksekseni havaitsin, että tihkusateessa/kevyessä sateessa housut eivät kastu kovin nopeasti, ja myös kuivuvat melko nopeasti, vaikka ne ovat kosteana/märkänä päällä. Yksikään nappi ei ole minulla irronnut. Väri ei ole haalentunut pesussa.

Ainoa moite liittyy etutaskujen sisäkankaaseen. Noin vuoden käytön jälkeen ne alkoivat rispaantua, ja niihin repesi isot reiät. Paikkasin reiät kerran, mutta ne repesivät uudestaan. Jos taskujen kangas olisi kestävämpää, väittäisin näitä aikalailla täydellisiksi housuiksi.
5
0
I would recommend for a friend
Sauli

23.11.2017 (Edited 13.11.2018)
Kyllä Miltekkikin näköjään osaa, kuhan vaan viittii. Pitää hyvin tuulen loitolla, tämä tuli testattua avotunturissa reippaassa puhurissa. Kaikin puolin suositeltava kampe.
2
0
I would recommend for a friend
Pol D.

24.11.2017
Got mine yesterday, and they are as described. Did buy them a size too big apparently, but that's just fine since I'll be using them on my motorcycle ( hipster pants are made for those who have no balls :-) May buy braces to go along with them, but ....sofar, big thumbs up !
8
0
I would recommend for a friend
Stefan F.

14.12.2017
good wide cut and very nice fabric!
2
1
I would recommend for a friend
Aleksi E.

11.03.2018
Aloitinpa itselle täysin uutena harrastuksena retkeilyn. Tämäkin harrastus alkoi, kuten asiaan kuuluu, varustehankinnoilla. Ei tosin (pelkästään) kuluttamisen riemujuhlasta, vaan välttämättömyydestä, koska ensimmäinen retki tulisi suuntautumaan kolmeksi päiväksi talviseen luontoon ja en ennalta omistanut juurikaan mitään käyttökelpoista vaatetusta. Alusta asti oli selvää, että valtaosan kamoista tulisin hankkimaan Varustelekasta, mutta pakkohan sitä oli katsoa myös varsinaisten retkeilykauppojen tarjonta. Monissa varsinaisesti retkeilykäyttöön suunnitelluissa housuissa ongelmana muun muassa liian matala vyötärö ja huonot taskut, joita oli omiin tarpeisiin liikaa tai ne oli muuten vaan huonosti suunniteltuja. Sitten, jos löytyi muuten hyvät, niin niihin olisikin sitten uponnut puolet lopulta käyttämästäni rahasummasta. Kiitos Lekan, on olemassa fiksumpia vaihtoehtoja inhimillisempään hintaan.

BW:n molskihousut ovat yksinkertaisuudessaan loistavat retkeilykäyttöön. Leikkaus on just hyvä: Housuissa on mukava olla ja helppo liikkua tinkimättä siitä, että pöksyt näyttävät myös ihan hyvältä. Asia, mikä metsätouhuissa, jos missä on tärkeä asia. Valitsin ihan pikkasen vyötäröltä reilun koon, mikä osoittautui loistovalinnaksi. Yhdessä BW:n nappihenkseleiden kanssa housut asettuvat mukavasti korkealle vyötärölle pitäen paidan ja lämmön housujen sisäpuolella. Myös jäätyneen juomaveden sulattaminen oli helppoa, kunhan vain avasi etumuksen napit ja tunki pullon housunkaulukseen. Molskikangas itsessään vaikuttaa todella kestävältä ja pitää tuulta niinkin hyvin, että jäällä kävellessä noin kahdeksan asteen pakkasessa kovassa tuulessa ei jalkoja paleltanut, vaikka alla oli vain merinokalsarit. Kangas myös joustaa snadisti, mikä on ihan kiva juttu. Vedenpitävyyttä ei pakkaskeleistä johtuen päässyt testaamaan. Taskuihinkin mahtuu kivasti kaikki pikkukamat, mitä nyt jatkuvasti on hyvä olla saatavilla. Reissulta palatessa oli ilo huomata, että housut voi pestä kuudessakympissä, jolloin savunhaju ja tarttunut lika lähtivät tehokkaasti.

Miinusta tulee huonosti ommelluista napeista ja paikoin vähän huolimattomasta työnlaadusta, mikä toki on tässä hintaluokassa on täysin ymmärrettävää. Myös puntin kiristysnarut ovat umpisurkeita ja jos niitä aikoo käyttää, niin heti vaihtoon. Mustat housut myös vaikuttavat haalistuvan reippaasti jo ensimmäisen pesun perusteella etenkin kulutukselle alttiissa paikoissa. Jollekin tämä on miinusta, mutta itse tykkään siitä, että ulkonäkö vähän pehmenee.

Kaiken kaikkiaan 60-luvun (?) design ja ratkaisut ajavat edelleen asiansa. Reissun jälkeen suurta harmia tuotti palata kireisiin farkkuihin, mikä saikin miettimään kokoa pienempien oliivinvihreiden molskihousujen ostamista ihan arkikäyttöön reisitaskut poistettuna. Kenellekään ei tule yllätyksenä, että nää on hyvät housut. Päätin tästä huolimatta sanailla arvion ihan silkasta tyytyväisyydestä näitä housuja kohtaan.
4
0
I would recommend for a friend
Teemu Y.

29.04.2018
Oli taas se aika vuodesta, kun uusia vaatteita piti ostaa, Salaisen Agentin, EMPn, ja Varustelekan reisareita kokeillen nämä ovat parasta, jo toiset ostamani. Vaikka olisi vähän iän tuomaa elintasoa vatsan tai perseen päällä 85/80 koko soppiii 178 cm 80-kiloselle ja istuu. Vanhoista tehdään kesähousut.
0
0
I would recommend for a friend
Marko N.

02.05.2018
Ilmoitettu vyötärön koko piti jätisti paikkansa! Nämä ovat hyviä housuja ja tätä mallia olen käyttänyt useammat loppuun.
1
0
I would recommend for a friend
Joonatan K.

23.07.2018
Most of my trousers for the last two years have been these ones in specific, and I have to say that it has not bothered me at all. These trousers have served me well as multi-purpose pieces of clothing that have survived trekking, parties, casual use and even use at some formal events (when the pockets are removed). I cannot compare the fabric to anything like denim because it's far better in use no matter what season it is, but I blame this on the arch-wizards at Mil-Tec that somehow managed to put together really good trousers despite many of their other products being of 'questionable durability'. Not even one of these trousers has broken or gained a single cut in use.

With some ironing and decent care I have kept these in tip-top condition, and I doubt that they will not break any time soon. I recommend wearing these with the older (textile) Bundeswehr equipment belt (50mm) as shown in the image, but they fit together just fine with suspenders aswell.
0
0
I would recommend for a friend
Henri H.

29.08.2018
Olen käyttänyt jo 10v oikeastaan pelkästään reisitaskuhousuja ja aika hyvä näkemys on tullut kankaista ja ominaisuuksista, mitä housuilta vaaditaan. Molskihousut ovat tämän housukategorian aatelia. Kangas on taatusti kestävämpää kuin yhdissäkään muissa omistamissasi housuissa. Takataskut puuttuvat, mutta kuka niissä vuonna 2018 mitään pitäisikään. Näiden housujen ainut vika on se, että haalistuvat helposti ja nappien ompeleet ovat kehnoja. Kuitenkin tuote ansaitsee 4,5/5.
3
1
I would recommend for a friend
jussi l.

11.10.2018
Hyvät ja kestävät housut. Menee jokapaikassa vaikka hautajaisissa.
0
1
I would recommend for a friend
Samuli T.

02.11.2018
Muuten loistavat housut, mutta koit ovat runsaammat kuin pitäisi. Mulla on 103 cm vyötärö, 100/75 pöksyt ei pysy iliman vyötä ollenkaan jalassa. Suosittelen tilaamaan kokoa pienemmät niin ovat mukavammat! Mukavat ja lämpimät käyttää.
0
0
I would recommend for a friend
Jukka H.

16.12.2018 (Edited 16.12.2018)
Erittäin asiallinen ja laadukas tuote. Paljon enemmän kuin hintansa väärti. Ostin jo toiset samanlaiset.



Tuotteen nerous on minusta kankaassa, joka on esim. tavallista farkkukangasta ohuempaa, mutta todella tiiviisti kudottua: kesällä yllättävän vilpoisa mutta talvellakin tuulenpitävä ja lämmin.

Mustien housujen värjäys on kokemukseni mukaan laadukas: ei muuttunut viime hellekesänkään auringossa ruskeaksi tai violetiksi, vaan haalistui ja harmaantui normaalisti. Pesuohjeen mukaisesti pestynä väri pitänyt aivan normaalisti ja housut ovat kuluneet ja patinoituneet tyylikkäästi.



Taskuissa on kiitettävän reilusti kokoa, vyölenkit ovat tarpeeksi isoja oikealle vyölle ja niitä on tarpeeksi myös perspuolella.

Housujen ainoa heikkous on ollut vyötärönapin napinläven ompelien rispaantuminen n. vuoden käytön jälkeen.



Jostain voi löytää paremmatkin, mutta tuskin tähän hintaan.
0
0
I would recommend for a friend
Juha M.

21.12.2018
Ihan asialliset pökät rymyämiseen, pitää tuulta yllättävän hyvin ja kangas tuntuu todella kestävältä.

Nappien ompeleet tuntui aika kehnoilta joten ne tuli ommeltua uudestaan karhunlangalla ettei tule töissä yllätyksiä, ensimmäisessä pesulla päästää väriä sitten todella paljon joten kannattaa pestä yksinään.

Jos ei tunnin nappien ompelu pelota niin suosittelen kyllä lämpimästi, plussaa siitä että kokoja löytyi myös meille keskimittaisille ja sopusuhtaisille.
1
0
I would recommend for a friend
Jan H.

09.01.2019
Parhaat housut ikinä. Lämpimät ja istuvat loistavasti.
0
0
I would recommend for a friend
Juha N.

17.01.2019
Helvetin mahtavat housut! Mil-Tec ei petä. Sopii isommallekin kaverille.
0
0
I would recommend for a friend
Teemu P.

01.02.2019
Ei ole vielä kerenneet olla käytössä mutta.. Kun vetäsin nämä jalkaan niin koko oli reilu. Vyötäröni on 83cm ja housuje kooksi otin vyötäröltä 80cm. Silsti jäi pelivaraa ja vyötä on käytettävä. Ja jos olet hoikka jalkainen ja tottunut enemmän ihoa myötäileviin esim juoksuhousuhin saattaa nämä aluksi tuntua aika väljältä (etenkin pohkeista) Mutta mahtuupahan ilma toimimaan lämpö eristeenä. Kangas tuntuu jämäkältä , enkä epäile hetkeäkään että oli huono ostos! Nämä menee retkeily/kalastus käyttis housuiksi.

Minulla on ollut kyseiset housut noin 5 vuotta sitten. Sillon oli raa alla metsäkäytöllä, Enkä saanut silti housuja hajalle. Kiertoon meni koska tuli kutistuttua. Nyt sit oli pakko osaa uudet.
0
0
I would recommend for a friend
Jussa S.

19.04.2019
Oikein mukavat ja housut. Ikävä kyllä omani kutistuivat käyttökelvottomiksi, kun epähuomiossa joutuivat 50°C pesuun. Housut ovat kuitenkin käytännölliset ja tyylikkäät, sekä lämpimät. Väri kului hieman, mutta nappien kanssa minulla ei ollut ongelmia. Aion ostaa uudet heti kun kokoja tulee.
0
0
I would recommend for a friend
Anssi K.

18.05.2019
Parhaat pöksyt kaikkeen. Kokotaulukko täsmää justiinsa ja meikäläisen pökyläkropallekin löyty passelisti istuvat. Materiaali kestää vaikka ydinpommin. Lisäpointsit haarusalueen tuuletusratkasusta. Jos pitää ulista jostain, niin lahkeiden kiristysnarut on ihan hanurista ja nämä imee kaikki kissankarvat mitä on n. metrin säteellä käyttäjästä.
0
0
I would not recommend to a friend
Eetu L.

03.12.2019
Vaikka kangas paksua onkin, ei saumojen kestävyydestä ja nappien kiinnityksestä voi sanoa samaa. Sepaluksesta irronnut joka toinen nappi, toisesta reisitaskusta pohja lerputtaa, haaruksista väri lähtenyt ja päivä paistaa uhkaavasti saumoista läpi. Vaihdettuani "oikeisiin", Leo Köhlerin valmistamiin pöksyihin on nämä ongelmat hävinneet, napit on pysynyt kiinni eikä tarvitse pelätä että alushousut vilkkuu haarusharsokankaan läpi. Housut on siis hyvät malliltaan, ei valittamista. En vain suosittele näitä mil-tecin tekeleitä.
0
0
I would recommend for a friend
Uwe W.

29.12.2019
Outstanding trousers at a good price, particularly when you can buy two pairs of these for the cost of a single pair of Levis jeans. When I first received the pants I was horrified that they were far too big despite having been very careful with the size I ordered. My concern was misplaced; these trousers shrink - a lot - if you wash them in warm water and throw them in the dryer in normal heat. The result of shrinking them turned them into a perfect fit. And they only get better with time: Like many similar items of clothing, these Bundeswehr Moleskin replicas improve with wear and develop a personalized patina. I love these pants and will order another pair, but my only wish is that they were also available in the original BW grey. The ONE downside to this fabulous material is that it wrinkles very easily in the wash and ironing them is a pain in the ass. It's a stupidly small complaint because they're combat pants and not formal wear. You can minimize the wrinkles by getting them out of the washer quickly and flattening them out by hand (if you air dry them).

PROS: Robust construction, perfect ergonomics, extremely comfortable, improves with age, badass look without a camo pattern
CONS: Wrinkles, wrinkles, and more wrinkles (but who cares, really?)
0
0
I would not recommend to a friend
Santtu S.

12.01.2020 (Edited 12.01.2020)
Kaikilta, paitsi kestävyysominaisuuksiltaan oikein hyvät housut. Olen nyt ostanut kahdet, ja molemmissa tapauksissa housut repesivät haarojen alueelta: ensimmäisessä tapauksessa reiden takaa ja toisessa haarasauman vierestä. Saumojen ompeleet eivät siis ole purkautuneet, mutta kankaassa itsessään on jotain, mikä ei kestä käyttöä tai venytystä. Jälkimmäisen punttiparin tapauksessa myös sepaluksen ja taskujen napit alkoivat irtoilemaan likimain samoihin aikoihin, kun kangas alkoi pettämään.

Mitä hyviin ominaisuuksiin tulee, tykkään istua melko leveästi risti-istunnoissa sun muuta, minkä housut kyllä sallivat ennen repeämistäänkin. Taskuissa on myös hyvin tilaa ja niiden sijoittelukin toimii. Särmä-linjaston reisitaskuhousuista poiketen vyön soljet ovat myös edestä tarpeeksi lähellä nappia, jolloin vyötäröstä isohkot housut eivät vyön kanssa roiku epäsiististi.

Lopputulemana housut ovat siis oikein toimivat hajoamiseensa, joka tapahtuu hieman turhan nopeasti, asti. En siis voi tällaisenaan suositella tuotetta.
0
0
I would recommend for a friend
Henrik N.

13.02.2020
Very nice pants, at a very nice price. There are a few loose and hanging threads here and there, but nothing that seems to compromise the integrity of the stitching. I think they just didn't do a perfect job of cleaning up their stitching, it's a quick job with a pair of scissors if you find it annoying.

The buttons for the braces can dig a little in your skin, if you like to cinch your belt real right, but they're easy enough to remove if you only wear belts, and hey! Free buttons!

I'm not really a fan of the crotch ventilation grommets, it feels like it creates a failure point, especially if your generous thighs like to rub together. Still, I'll not pass judgement until I've worn them for at least a year and see how they hold up.
0
0
I would recommend for a friend
Konsta H.

05.01.2017
Lempihousut, joten ostin toiset odottaessani paikkaamisen viitsimistä, koska kävelin läskireisilläni aiempien haaroihin reiän vajaan kahden vuoden käytössä (yleensä tapahtunut paksuilla farkuillakin aiemmin, eli laatukangasta on). Etenkin reisitaskujen malli on kiitettävä. Ainoa huono puoli on nappien kiinnitys: aiemmista on täytynyt korjata ainakin sepaluksen kaikki napit niiden irrottua (neljä, ml. ylin vyötärönappi). Nyt juuri kun vedin uudet jalkaan, ylin nappi lensi surkuhupaisasti lattialle saman tien kevyen kyykistelyn jälkeen ja paljasti erittäin niukat langanpätkät. Tässä olisi valmistajalla parannettavaa, ja viitseliäs käyttäjä ennakoisikin ja korjaisi kaikken nappien ompeleet vahvemmiksi heti alkuun, koska pikkujuttu.
12
0
I would recommend for a friend
Michael T.

08.01.2017
I ordered a pair of these pants a few months ago. They're outstanding. They're very tough- tougher than any of my BDU's. They feel a little rigid at first, but they wear in well and they're very comfortable after some washes and wear. They don't necessarily need to be pressed after washing, but you'll want to make sure you flatten out the legs immediately when you get them out of the dryer, or they will wrinkle. After frequent wear and several washes, they haven't visibly faded, either. Also, the sizing information above is accurate. I'm a chunky American, I ordered them in chunky American size, and they fit perfectly. ;)

I took away half a star because of their tendency to wrinkle, but otherwise, these pants are perfect.

I'll be ordering another three pairs of these soon. I would absolutely recommend them.
13
1
I would recommend for a friend
Janne E.

08.02.2017
Ostin joskus pari kolme vuotta sitten kahdet molskit, molemmat housut vasemman polven kohalta rikki, ens kesäks kahdet shortsit. Napit toisessa on pysyny kiinni toisista lähteny yks nappi irti. Taskut on pysyny ehjinä ja on markkinoiden parhaat. Persvaon tuuletusreijät kans plussaa. Nyt meinasin tilata uuden parin, mustat ja vihreät!
1
0
I would recommend for a friend
Joona T.

08.03.2017
Molskikangas on vahvaa ja pitää tuulen hyvin loitolla. Nämä ovat tyylikkäät ja asiallisen näköiset reisitaskuhousut. Taskuja on paljon ja ne ovat miellyttävän isokokoiset ja myöskin kestävät, esim. avaimet eivät puhkaise niitä. Toivoisin oikeastaan toista perstaskua näihin housuihin. Miinusta siitä, että väri näistä lähtee nopeasti. Omat mustat housuni haalistuivat heti ensimmäisen pesun jälkeen.
7
0
I would recommend for a friend
Ilkka J.

15.08.2016 (Edited 12.04.2017)
Nämä tuli kulutettua läikikkäiksi ja taskujen suista puhki asti.
7
0
I would recommend for a friend
pasi m.

21.02.2017 (Edited 21.02.2017)
Ihan parhaasta päästä nämä molskit. Kaikkiaan vuosien varrella ollut 5 kpl käytössä lähes päivittäin käyttö housuina ja hyvin on kestänyt. Suosittelen. Lisänä, riittävän isot reisitaskut, pysyy puhelin ja lompakko hyvin vauhdissa mukana. T. Res. Alik.
16
0
I would recommend for a friend
Vytautas P.

19.04.2017 (Edited 19.04.2017)
The cut is pretty nice, but, as it's typical with modern pants, buttons started coming loose after a couple of washes.
3
2
I would recommend for a friend
Sami K.

14.05.2017
Oikean kokoisena tosi hyvin istuvat ja tyylikkäät - eivät oikeastaan edes näytä reisitaskuhousuilta. Mutta kangas kuluu taitekohdistaan nopeasti - omistani ovat rispaantuneet etenkin taskujen suut sekä tuplasaumojen kangas reunoistaan aika vähäisellä käytöllä. Haalistuvat myös pesussa nopeasti - vihreissä se tuo vain lisää charmia, mutta mustat alkavat näyttää rivoilta melkein heti (liekö kangas, joka pitää huonosti väriä?). Jos näitä saisi samalla leikkauksella, mutta paremmalla kankaalla (sekä ilman haarovälin turhia tuuletusreikiä), alettaisiin olemaan isoilla jäljillä.
3
1
I would recommend for a friend
Jaakko L.

27.07.2017
Näissä ja Nokian kumppareissa saapastelu Suomen luonnossa on aika mukavaa: pitävät riittävästi kurjuutta ulkopuolella ja kestävät rytyytystä. Sopivan robusti puolisotilaallinen tunnelma. Korkea vyötärö ja henkselioptio todella hyvä homma. Näissä lompsittiin tämä kesäloma.
1
0
I would recommend for a friend
Johannes L.

01.08.2017 (Edited 07.08.2017)
Työhousuina olen käyttänyt.

+Kestävä kangas, ei mene rikki millään. 100% puuvilla ei heti käristy rälläköidessä jne.
+Hyvä löysä leikkaus, mutta pysyy napakasti vyötäröllä
+Henkselinapit jos niitä tarvitsee
-Napit ja ompeleet huonoja. Kaksi nappia on irronnut muutaman kuukauden työkäytöllä ja uutena heti henkselinnappi meni heti halki. Napit ja taskut on huonosti ommeltu kiinni miltecmäiseen tapaan. Taskujen saumojen välistä pilkistää pari irtonaista lankaa.
-Värjäys taattua miltec laatua. Heti ekassa pesussa haalistuu.
-Reisitaskujen avaaminen ja sulkeminen napeilla hidasta. Mutta housujen malli onkin 70-luvulta.
4
1
I would recommend for a friend
Jack T.

16.08.2017
Fantastic trousers that were more than capable for the Central Australian desert. Very tough, and kept the elements at bay. Unfortunately, one pair did have the button come loose a bit early, but other than that, no issues.
1
1