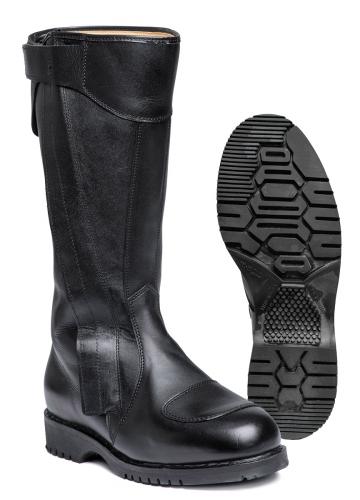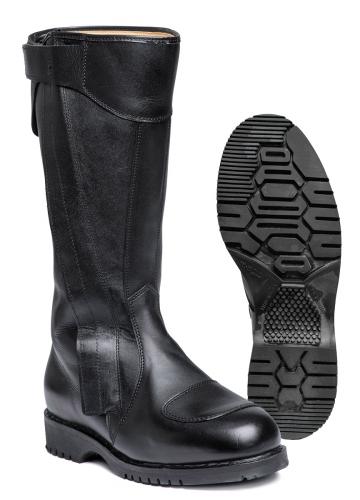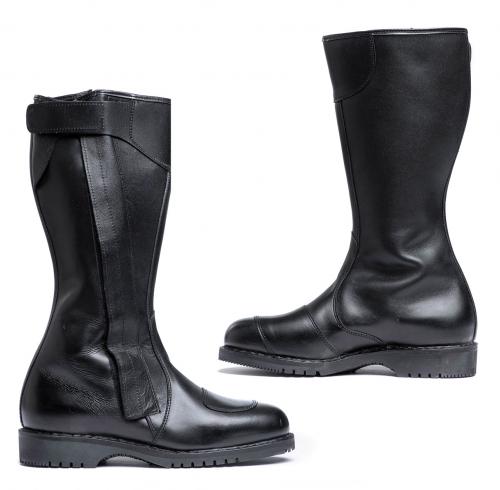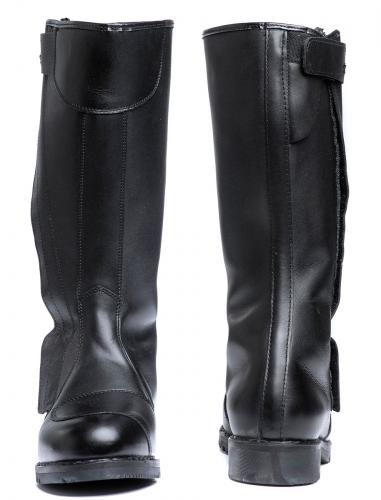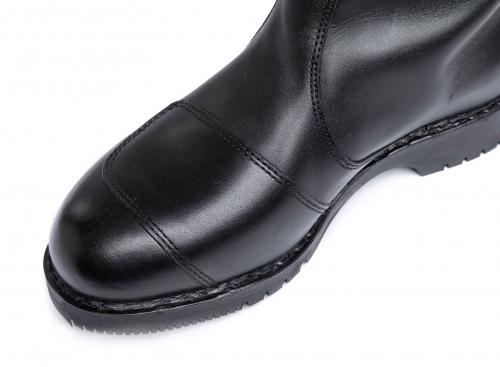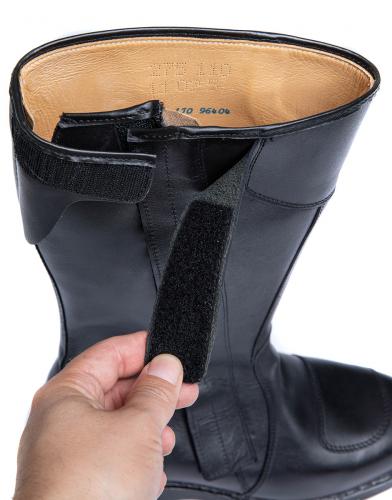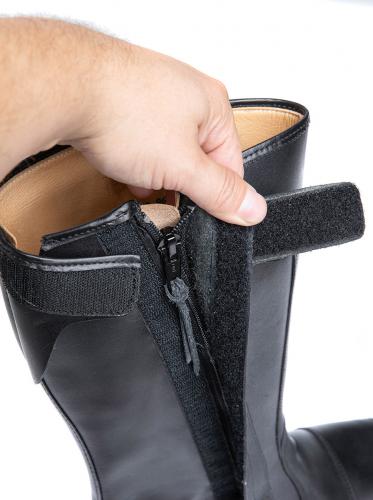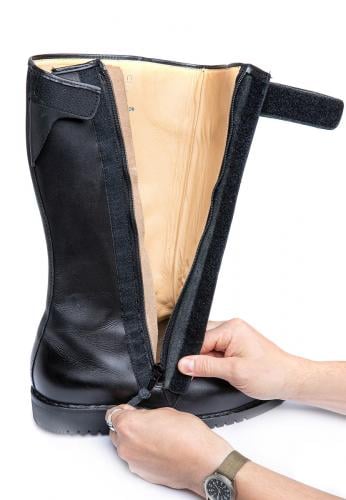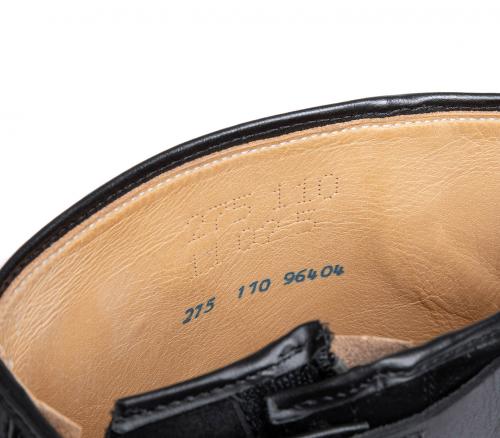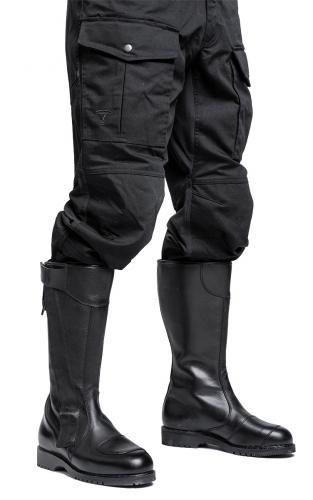 BW Military Police Motorcycle Boots, Surplus
Price 125.99 USD excluding VAT
What is it with German military and strangely erotic leather boots? Here we have the Feldjäger motorcycle variant. Form-fitting, reinforced, and unissued shiny black leather boots. Respect my authoritah!
Loading products...
Trouble with the metric system? Try our converter: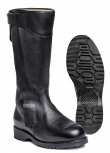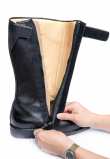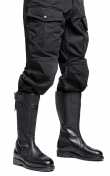 What is it with German military and strangely erotic leather boots? Here we have the Feldjäger motorcycle variant. Form-fitting, reinforced, and unissued shiny black leather boots. Respect my authoritah!
German military police motorcycle boots
Strong leather; surface dyed black, inside leather lining left natural
Goodyear welt
Full-length zipper on the bootleg
Hook and loop flap protects the zipper
Hook and loop adjustment for the bootleg at the top of the boot
Weight c. 1,05 kg (2.3 lbs) per boot (size 43); the weight increases/decreases based on the size
Height 40 cm (15.8"), size 43; the height increases/decreases based on the size
Unissued military surplus
Features
These are pretty damn convincing boots. Thick heavily patterned sole, shiny black stiff leather, and reinforcements on the heel and toe. Strong, heavy-duty boots. Fairly form-fitting like proper leather boots should be. These have a full-length zipper on the bootleg to make them easier to put on. The zipper hides nicely under a hook and loop flap. There's true beauty in simplistic design.
These boots have a Goodyear welt construction with a glued-on rubber outer sole. It makes a lot longer-lasting pair than the nowadays more common and cheaper cemented construction, and that you can repeatedly resole the boots.
We only got a very small batch of these and the availability is most likely limited in the future, too. So, act fast if you feel like getting a pair.
Use
Military police biker boots are - surprise, surprise - designed for motorcycling. However, since this is surplus stuff, we cannot sell them as "official safety boots for motorcycling", even though the German bootgeneer most likely has taken these things into account when designing them.
Of course, these are also perfectly suited for just looking cool. If you like to take control of the situation with the "I am the Law" kinda confidence, these are made for you.
These aren't ideal hiking boots for rough and tough outdoor adventures though. After all they are designed for catching the bad guys with a bike, not by trail running.
History
German military police, Feldjäger, was born at the same time as Bundeswehr in 1955. It first became Bundeswehr Militärpolizei, but because many wanted to reserve Polizei for Civilian use only, the name was changed to Feldjäger already in 1956.
Size info
The Bundeswehr sizing system is Mondopoint, which means the exact foot length in millimeters (not shoe sole, the FOOT). The second number indicates the approximate European foot size. Step on a piece of paper and draw the outline to measure your foot from heel to toe. Then measure the distance directly from the big toe to the center edge of the heel.
The sizes are not too big, the last is fairly narrow, and the toe reinforcement makes the toe part rigid. If you want a really thick sock and more space for your toes, pick a larger size. The bootleg is also fairly form-fitting. The copywriter's 38 cm (15") calf plus jeans fitted very nicely (size 43). However, if you are into power lifting with big weights or power eating with big portions, these might be tight.
Unissued military police surplus
These are genuine Bundeswehr military police surplus. However, they are so brand spanking new that at most somebody has secretly tried them on once indoors. There can be a little bit of warehouse dust on them but that is easy to remove.
Recommendations
Loading products...
Reviews
You have already submitted a review. You can edit your text by clicking on it.
Log in and write a review.
Remove filter
I would recommend for a friend
Pyry P.

27.09.2020 (Edited 27.09.2020)
Ensivaikutelma tuotteesta on Saksalaisen laadukas. Nahka ei tunnu ohuelta hötöltä vaan vakuuttavan paksuista ja tuntuista, ollen kuitenkin sileää ja sopivan taipuisaa. Saappaat pysyvät ilman tukea ryhdikkäästi pystyssä, sivuvetskari auki tai kiinni. Joka sauma vaikuttaa olevan tuplatikattu eikä repsota yhdestäkään kohtaa.

Pohjakuviossa on urasyvyyttä n. 6mm, ja ilmeisesti jonkinlainen tärinänesto (?) tekstien mukaan (vibrationskiller) ja öljyn/bensiininkesto. Hauskana yksityiskohtana kärjen ja kannan välissä nystymäistä kuviota, ilmeisesti tarkoitettu lisäämään pitoa prätkän jalkatapin ollessa siinä kohtaa.

Vetoketju toimii hyvin ja samaten sen suojana oleva velcro. Varren kiristys toimii myös hyvin.

Muotoilu on mukavasti jalanmyötäinen ja tukee yllättävän hyvin, etenkin jos lahje saappaan sisällä lisätiukkuutta antamassa. Lesti on kapeampi kuin esim. maihareissa muttei kuitenkaan tasoa pukukenkä. Oma räpylä mahtui hyvin leveälestisenä kun otti pykälää isomman koon. Mukana tulee bundesmarinen lenkkareista tutut vihreät pohjalliset..

Kaiken kaikkiaan todella laadukkaan oloiset saappaat, joiden laadusta saisi maksaa uutena ostettuna vastaavilla kriteereillä moninkertaisen summan.
0
0