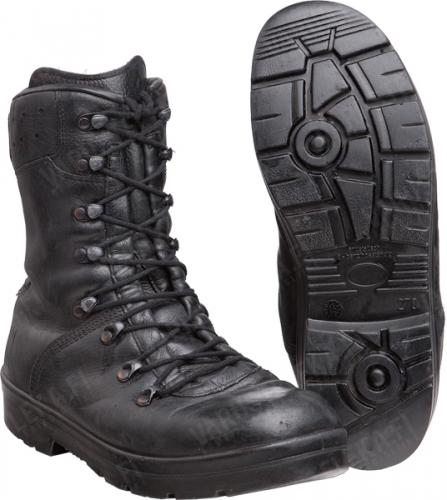 BW KS2005 / Haix DMS combat boots, surplus
Price 59.99 USD excluding VAT
Flat Rate Shipping to USA $9.99
Loading products...
Trouble with the metric system? Try our converter: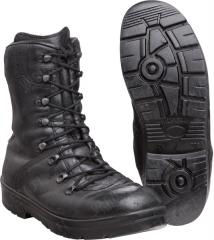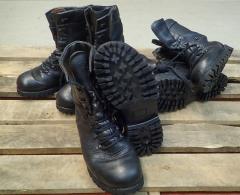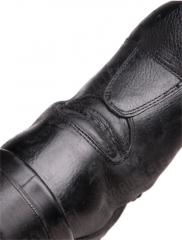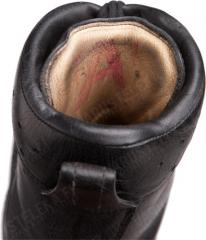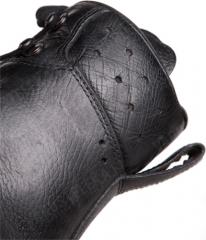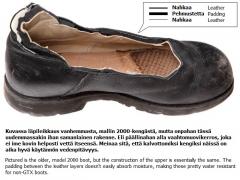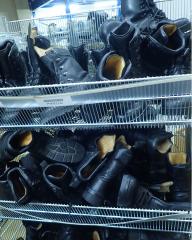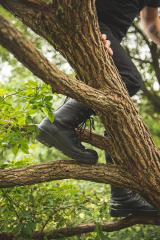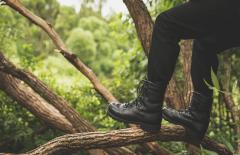 German current issue infantry combat boot, Kampfstiefel 2005, or Haix DMS. Used.
Good stuff comes cheap sometimes - for this price, the German boots probably are the best there is in all leather combat shoes. Comfortable, breathes surprisingly well and has a hook & speed lacing system. No membranes whatsoever, you just treat these with regular polish and grease. The three-layered construction keeps water out pretty long, even if the top layer gets wet.
Size system
Sizing system is Mondopoint, which means the foot length in millimetres (not shoe sole, the FOOT). The second number indicates approximate European foot size, ie. French size.
The condition varies - these come to us like they would be issued in the Bundeswehr, expect we sort out those with excessive damage, so you'll get a pair of serviceable boots anyway. No lemons here. Please do note that insoles may not be included. We recommend getting new ones anyway.
Reviews
You have already submitted a review. You can edit your text by clicking on it.
Log in and write a review.
Remove filter
Suomi
(27)
English
(21)
Samuel R.

11.06.2016 (Edited 21.03.2017)
Valjasrasvalla saa täysin vedenpitäväksi. Suojuoksukin onnistuu kuivin jaloin, kunhan pitää huolen ettei varsi hörppää vettä.
Yllättäen nämä olivat vaimonkin mieleen, tilasin toisetkin.
12
2
I would not recommend to a friend
Jere I.

25.08.2016 (Edited 01.09.2016)
Hyvät on jalassa pakko myöntää. Oli pari vuotta käyttämättä ja loppupeleissä käyttöä ei ole paljon tullu näille. Ensimmäine ongelma on pohjakumi: Liian kova kumiseos talviolosuhteisiin. Kovemmalla pakkasella pohjat jäykistyy vaarallisen kovaks ja pitoa ei ole.
Toine ongelma on pohjan liimauksen kestävyys (niinko sanottu käyttöä ei ole paljon ollu). Molempien kenkien pohjaliimaus petti ilman järkevää syytä.
Tavallaan ihan ok, mutta kestävyys ja toimivuus talvella on vähän niin ja näi.
22
35
I would recommend for a friend
mikael l.

30.08.2016 (Edited 01.09.2016)
I would recommend for a friend
Mikko J.

06.10.2016 (Edited 29.11.2016)
I would recommend for a friend
Timo S.

10.10.2016 (Edited 29.11.2016)
Yhden hirvijahdin verran pidetty. Mielummin nämä kuin kalvokengät. Hyvin rasvaa ja kunnon sukat, niin kyllä pärjäsi hyvin. Minulla on lyhyt ja leveä jalkaterä ja kunnon varsikenkien löytäminen on hankalaa. Vaan eipä enää kun löysin nämä. Nilkan tuki on hyvä. Varren takaosan "loveus" on tosi toimiva juttu.
14
0
I would recommend for a friend
Pasi K.

02.11.2016 (Edited 29.11.2016)
Todella hyvät jalkineet. Hakkaa mennen tullen kaikki parinsatasen kalvokengät. Sekä käyttömukavuudelta, että vedenpitävyydeltään.
29
0
I would recommend for a friend
Sampo V.

15.11.2016 (Edited 18.11.2016)
Erinomainen nilkkatukki, mukavat jalassa, omissa oli kuntokin todella hyvä halpaan hintaan nähden. Pakkasilla ei vielä ole tosin tullut kokeiltua pohjaliimojen kestävyyttä. Kannattaa hankkia lisäksi kunnon pohjalliset, uudet kengännauhat (omat olivat todella huonossa kunnossa) ja lankkia/valjasrasvaa. Monilta hiertymiltä ja nilkkakivuilta olisi tullut säästyttyä jos olisin käyttänyt näitä intissä M05-maihareiden sijasta.
6
0
I would recommend for a friend
Arto J.

18.11.2016 (Edited 29.11.2016)
Erittäin jämäkkä nilkkatuki. Muutenkin vaikuttaa jalassa todella hyvältä parin käyttökerran jälkeen. Hinta/laatusuhde kohdallaan ainakin siinä parissa minkä minä sain. Erittäin siistit ja hyväkuntoiset kengät. Hakkaa selvästi M05 maiharit jotka on näihin verrattuna löysät ja pehmeät p***kat!!! Ainoastaan pohjan pitävyys lumella on huono. Talvikenkiä hakevien kannattaa ostaa jotain muuta..
13
0
I would recommend for a friend
Gustav U.

20.11.2016 (Edited 29.11.2016)
I would recommend for a friend
Antto H.

20.12.2016 (Edited 22.12.2016)
Hintalaatu kohdallaan. Muiden antamat miinukset pakkasesta eivät itseä haitanneet. -18C ja umpihangessa makkaraa paistamaan. Varpaat lämpimänä ja ei liiemmin lipsuneet. Ei välttämättä ole se paras kenkä jäiselle kadulle mutta siihen hommaan on taas eri välineet. Kyse on siitä kuinka varustautuu mihinkin keliin.

Nauhat on uusittava piakkoin kun alkavat olla kuluneet.

Ehdottomasti suosittelen kaikkia hankkimaan 5/5 kengät vaikka vain sen pahan päivän varalle kun...
17
0
I would recommend for a friend
pasi m.

01.02.2017
Hieno ylläri tämä uusi erä ! Huippu kuntoisia, murros ikäiset omat pojat, vei popot niin sanotusti heti käsistä :) piti hakea itselle viellä yhdet. Lekalle taas iso +
8
0
I would recommend for a friend
Tom K.

03.02.2017
My first reaction was Holy crap these are some boots. 100% new looking with no wear whatsoever. fit great, look great, and lace up easy. It's like a pair of Danners at below 1/6th the cost.
9
0
I would recommend for a friend
Alexander B.

08.02.2017 (Edited 12.06.2017)
Great product, easy sizing and quick delivery!
8
0
I would recommend for a friend
Antti L.

21.02.2017
Käytetyiksi kengiksi huiput. Paljon olen käyttänyt ja tyytyväinen ollut. Pohja ei ole uusi ja on hieman liukas jäällä. Mutta aina voi tietty katsoa mihin astuu :)
6
1
I would recommend for a friend
Mikko A.

04.03.2017
Järeät kengät, lähempänä vaelluskenkiä kuin valikoiman muita maihareita. Painoakin on sen mukaan, reilu kilo per jalka.
5
0
I would not recommend to a friend
Jerker E.

03.04.2017
Pros: comfortable, cheap, leather of good quality
Cons: the sole started disintegrating and falling off after about 50km. For 569 SEK/60 euro I didn't expect them to last forever, but now the cost ended up at 1 euro per kilometer
27
4
I would recommend for a friend
Arman M.

11.04.2017
Quite possibly the most comfortable (yet ugliest) pair of boots I have ever owned. Great price as well.
5
0
I would recommend for a friend
Aaron V.

18.04.2017 (Edited 11.04.2019)
My pair had very little wear on them, and are stiff enough to require a bit of breaking in. Did not come with insoles as noted in the product description, but fit perfectly after installing new ones.
Edit: After one year of use the soles came off both boots. I was able to successfully repair them myself by cleaning the area and applying a commercially available shoe glue ("Shoe Goo"). I would still recommend the boots as they are worth repairing, but with the caveat that you will likely have to repair them yourself or find a cobbler to do it for you.
1
0
I would recommend for a friend
Jarkko K.

05.06.2017
I would not recommend to a friend
Ossi A.

13.06.2017
Muuten hyvät kengät, mutta talvikäytössä pohjan kovettuminen pakkasella tekee näistä petollisen liukkaat.

Quite good pair of shoes but below 0 celsius soles will harden and makes them very slippery. Not very good in winter conditions b/c of that.
10
4
I would recommend for a friend
Leif P.

01.07.2017
Back in my Army days, a friend of mine always wore theese. Never got around to getting them myself. I bought my first pair this week, and Im very impressed. Even considering bying a pair for my daughter. Thanks for a great price and a speedy delivery!
7
0
I would not recommend to a friend
Kristian T.

31.07.2017
Väldigt bekväma och paret jag fick var i bra skick. Tyvärr gör vaderingen att dom är för varma på sommaren och den hårda sulan att dom är för hala på vintern.
5
7
I would recommend for a friend
Kai H.

08.08.2017
Helekkarin hyvät kengät. Hyvin mahtuu kainuulainenkin jalkaterämalli sisälle. Jämäkät. Lähempänä vaelluskenkää kuin lörtsy fantomia. Tilasin taccon pohjalliset mukaan mutta tulikin täysin ajamattomat kengät pohjallisineen niin menivät nekin rahat hukkaan. Ainut ihmeteltävä asia oli se että nauhat oli helkkarin lyhyet. Minulla rimpulakintulla on yleensä ollut ongelmana ettei mitään metsästyssaapasta saa laiteltua jalkaan niin etteikö puolimetriä naruja jäisi liuhottelemaan ylimääräseksi mutta näissä ei riittäny alkujaan etes ylimpään koukkuun asti. Mutta kaikenkaikkiaan. Monia mehtäkenkiä loppuun kuluttaneina nyt on semmonen tunne persiissä että taisi löytyä se hyvä.
5
0
I would not recommend to a friend
Jack T.

16.08.2017
Ultimately a sturdy boot that I was intially really pleased with. However, after 12km in the heat and ruggedness of Central Australia, the glue that attatched the sole to one of my boots came out. I had to complete the rest of my 40km without it, and for only the other sole to give way towards the end. I didn't expect much, but unfortunately they just weren't up to the task in a desert environment.
17
5
I would recommend for a friend
Aukusti M.

29.08.2017 (Edited 16.05.2018)
On hyvät jalkaan ja ei ole näin puolen vuoden jälkeen pohja näyttänyt mitään irtoamisen merkkejä. Kuulemma saattaa pohja pettää jos lojuvat vuosia käyttämättä. Taitaa olla tuuripeliä saako suoraan käytöstä poistetut jalkineet vai varastoissa muhineet , mutta uskaltaisin sanoa että kannatta kokeilla , omistan kaksi paria ja ovat pysyneet kasassa ja on edelleen kovassa käytössä.
14
4
I would recommend for a friend
Timo E.

05.09.2017 (Edited 05.09.2017)
Ostin kengät vuoden 2016 lopussa. Ne näyttivät lähes uusilta ja tuntuivat heti jalkaan laitettaessa mukavilta. Nauhat oli helppo kiinnittää ja avata. Varauduin pieneen epämukavuuteen sisäänajon aikana, mutta kenkiä oli heti alussa ilo käyttää. Käytinkin niitä lähes joka päivä. Rasvasin nahkaosat mehiläisvahaa sisältävällä voiteella ja uusin käsittelyn pari kertaa.
Kävelin talven ja kevään aikana kengillä korkeintaan 200 km. Elokuussa toisen kengän pohja lähti kuitenkin irti lähes kokonaan ja toiseenkin tuli pieni halkeama.
Vein kengät suutarille, joka kertoi, että solukuminen pohja ei kestä kastumista, vaan alkaa murentua, jos väliin pääsee vettä. Pohjat ja varsinkin niiden reunat olisi pitänyt käsitellä suojasuihkeella. Uusi pohja maksaisi 150 euroa. Myönnän, että olin varsin huolettomasti kävellyt vesilätäköiden kautta. Siinä mielessä voi puhua käyttövirheestä. Harmittaa kuitenkin, että hyvä kenkä meni näin pian korjauskelvottomaksi.
4
2
I would recommend for a friend
Rami K.

22.09.2017 (Edited 29.12.2018)
I would recommend for a friend
Jean N.

22.09.2017 (Edited 28.10.2017)
Very good, well made, pick a size higher when you want to wear winter sock layer .supergut and worth every fine. (one month later) both the soles come off easy, nothing some good glue can't fix, they come off clean, it seems the inner 'foam' is to blame, strip and glue at once, they will last their lifetime... perhaps even yours ...they walk like Vans... great
1
0
I would recommend for a friend
Ryan S.

14.10.2017
Arrived in like-new condition. Very high quality leather boot. A little heavy, but I like a heavy boot. Definitely could use new insoles and will be ordering Jalas insoles in the near future.
2
0
I would recommend for a friend
Peter E.

13.12.2017
I got a pair of good boots that looked barely used (do they even march in Germany nowadays?). They feel real comfy and work great in forest.
However, they´re a bit too slippery when walking on ice and snow.
And, as always with Varusteleka, the shipping was fast and perfect!
1
0
I would recommend for a friend
mobi

16.12.2017
Comfortable boots, looked new when arrived. Fit me well even with different sock choices. Just enough space for a couple felt insoles too. Worn every weekday at work and on my motorbike. Through rain, snow, sludge and all manner of winter conditions and they have remained solid and comfortable. Good stuff as usual from Varusteleka. Good boots for the price. They are light weight enough for hiking and supportive enough to carry a lot of gear over rough ground.
0
1
I would not recommend to a friend
Harri M.

28.12.2017
Kestihän nuo 3km kunnes kärjen kohdalta alkoi pohja murenemaan. Harmillista sinänsä kun ovat tosi mukavat jalassa. En lähtis lappiin näillä kengillä.
17
3
I would not recommend to a friend
Tomas B.

03.03.2018 (Edited 03.03.2018)
Soles disintegrated over time. Otherwise they were comfortable.
11
0
I would recommend for a friend
Taru R.

20.04.2018
Tilasin nämä ajatuksella, että kestää minkä kestää. Sain uudenveroiset kengät. Johtuu varmaan kun koko oli 36 niin ei kovin monia käyttäjiä sille koolla ole armeijassakaan. Olin varma että käyttämättömät mutta pohjassa oli jonkun verran käytön jälkeä mutta pohjallinen ihan siisti ja uudennäköinen.

Täältä ostin uudet pohjalliset kun luin että ne parantaa käyttömukavuutta. Uudet nauhat tilasin myös täältä kun näissä kengissä on varsin lyhyet näin omaan makuun. Justiinsa saa solmittua.

Muutaman kilsan kävelyn jälkeen voin sanoa, että onpa mukavat jaloissa. Minulla on kapea jalka mutta hiukan leveä lesti on vaan hyvä kun ei purista mistään. Monesti uudet kengät korkattuani on pottuvarpaassa rakko vaan ei hätää tällä kertaa.

Suosittelen!
1
0
I would recommend for a friend
Olli R.

14.05.2018
No nyt oli onnistunut kenkäostos! Tilasin ensin Jalakset ja niiden lesti on minun jalkaan todella leveä. Nämä ovat aivan täydellisen hyvin jalkaan sopivat. Kunto oli lähes uudenveroinen.
1
0
I would recommend for a friend
Carolyn W.

23.06.2018
These boots are criminally cheap. I almost feel guilty getting this level of quality for this cheap. Mine came barely used at all and fit like a glove. It came with the original insoles but I replaced mine anyway because ain't nobody got time for foot fungus. They have this AWESOME padding along ether side of the Achilles' tendon and are so comfy and significantly lighter than I was expecting. No scuffs or scrapes or any sign of being worn except for some creases in the leather and rub marks on the tongue where the laces touched. Seriously awesome! Breaking in leather boots is a real pain but these come with that tedium already out of the way!!! Get a pair or 2 or 3! One for the car, one for the woods and one for fashion!
1
0
I would not recommend to a friend
Fraser H.

20.07.2018
From the go these were awesome boots but after only wearing them for o total of 6 days worth of walking the soles came away. As I liked them so much I sent them off to the foremost boot repair company in the uk only to then have a call saying that the soles have come away as the material has a limited lifespan and then perishes. There exact words were "if we don't repair them no one can"

So in summary awesome boot while they last but they dont last long and I won't be ordering another pair as I think that if mine are old enough for the sole to be perishing so are any of the others.
6
0
I would not recommend to a friend
Anssi P.

01.08.2018
Muuten helvetin hyvät, hyvännäköiset ja yllättävän hyväkuntoisetkin kenkäparit itselle osunut kohdalle MUTTA valitettavasti 2 paria näitä meni 6kk sisään, kaikista neljästä pohjat irtoilivat käytännössä itsestään. Ensimmäisen kerran pistin talven ja pakkasen piikkiin jota täälläkin moni kommentoinut, mutta toisen parin pettäessä kesäkeleillä jo muutaman kymmenen kilometrin kävelyn jälkeen, ei näitä oikein suositellakkaan voi :-(
10
0
I would recommend for a friend
Max K.

25.02.2019 (Edited 25.02.2019)
Probably the best boots I've ever had, especially for this price. For some reason one of the soles has gone a bit flaky, but that hasn't affected the boot in a serious way as far as I can tell. Reasonably waterproof, although if they do get soaked they take a long while to dry. I've taken these on several hikes and they've been great. Only complaint for my pair is that there is a hole in the leather on the inside at the heel. It doesn't affect performance as far as I can tell, but it can tear up socks quickly.
0
0
I would recommend for a friend
Janne S.

11.03.2019
Ennen näiden jalkineiden hankkimista en oikein ymmärtänyt miksi ihmiset vouhkaavat kengistä ja niiden mukavuudesta, kyseessähän on vain esine mikä estää terävien asioiden aiheuttaman kivuntunteen jalkapohjassa.

Maailmankatsomukseni avartui kun ensimmäistä asetin jalkoihini nämä germaanisen jalkineteollisuuden luomat taidonnäytteet, jopa nämä Horstin vanhat maiharit millä hänkin on pitkin saksanmaata taivaltanut tuntuivat suorastaan jumalalliselta vanhojen lenkkarien jälkeen.

Hyvät kengät.
1
0
I would not recommend to a friend
Jonathan W.

20.03.2019 (Edited 13.01.2020)
Boots came 100% new and in great shape. After about 6 weeks the soles have been holding up well.

-Insoles really do suck. Replace em.
-Boots are heavy. Great for around the town wear but I wouldn't make them a dedicated hiking boot
-Leather and quick lace system are awesome! Hit these guys with some good grease

*UPDATE:
Sadly, I have to lower my review. The soles are separating right in the middle and will be useless soon--these boots have seen very light use. The rubber/glue in these soles do not do well with time, skip these and get some new commercial boots.
0
0
I would recommend for a friend
Ville P.

30.03.2019
Aivan loistavat popot, tilasin nämä kulahtaneiden kotimaisten ysiykkösten tilalle ja istuvuus on just eikä melkein, käveleminen näillä on suorastaan nautinnollista touhua. Itselleni osui luultavasti vieläpä käyttämättömät yksilöt siististä ulkoasusta ja napakkuudesta päätellen.
1
0
I would recommend for a friend
Kristian F.

15.05.2019
They were exquisite for the month or so that they held together. I loved them very much. Extremely comfortable. Sucks that they fell apart so quickly, though I guess that's how surplus works. :/
0
0
I would not recommend to a friend
Sami P.

07.06.2019
Aloitetaan kehuista: Älyhyvät kengät, iskunvaimennus, nilkan tuki älyttämän hyvät. Ei tunnu jaloissa vaikka mitä juurikkoa talleksii menemään. Kengät suhtellisen raskaan niin tuovat hyvää tukea.

Miinukset: Pohja irtos ja hajosi kun vasta toista vaellusta menossa, joten ei mikään miellyttävä kokemus...
0
0
I would recommend for a friend
Peter K.

02.08.2019
Iam verry Happy witk my BW KSk Haix Boots, they are brand new.
0
0
I would recommend for a friend
Ismo L.

10.09.2019
Niin. piti olla käytetyt kengät. mutta minulle lähetettiinkin uudenkarheat. Tuskin ovat sakemannin jalassa yhdelläkään marssilla olleet. Ja vielä sopivatkin. No viikonloppuna on edessä testaus erätaitokurssilla. Luottavaisin mielin. Ja muutkin tilaamani tuotteet ihan OK. Kaiken lisäksi tilaus tuli perille suht nopeasti.
0
0
I would recommend for a friend
Roger K.

17.11.2019
Great boots, however be wary! There are two kinds of soles on these boots, one is fully made out of rubber, and one has some weird softer substance in the middle of the side of the sole. This part disintegrates really easily when wet, thus rendering the sole useless. The other one, with the full rubber sole, is perfect.
0
0
I would recommend for a friend
Jaakko M.

01.01.2020