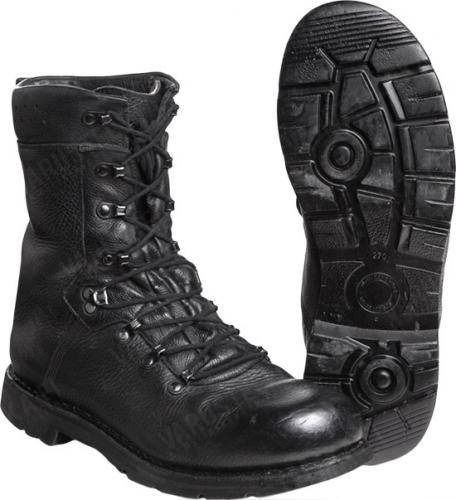 BW KS2000 combat boots, surplus
Price 55.99 USD excluding VAT
Flat Rate Shipping to USA $9.99
90 % recommends
Sold 33 pairs in the last two weeks
Loading products...
Trouble with the metric system? Try our converter: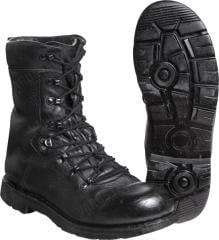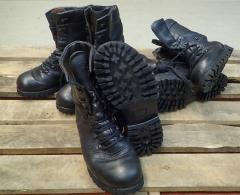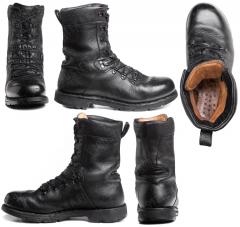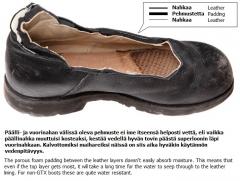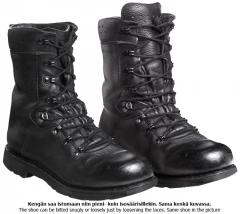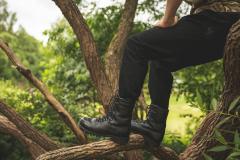 German previous issue infantry combat boot, Kampfstiefel 2000. This is true Teutonic quality, a really tough combat boot that is surprisingly good just for walking. These are used, we get random sizes and especially large ones are often sold fast. If you want these, act now!
Good stuff comes cheap sometimes - for this price, the German boots probably are the best there is in all leather combat shoes. Comfortable, breathes surprisingly well and has a speed lacing system. The contracts for supplying boots for the Bundeswehr often go to well known names such as Haix, Meindl and Lowa. These boots have lots of features often found in more expensive models:
Durable full grain outer leather, soft leather lining, foam in between
Padded shaft
Relief cut allows feet to move, still provides good support
Pump-like breathing system: as you walk, air is squeezed out through holes at the top of the shaft
Ergonomic three-layer sole, shock-absorbing and provides a rolling step
Stamped metal speedlace tunnels
Size system
Sizing system is Mondopoint, which means the exact foot length in millimeters (not shoe sole, the FOOT). The second number indicates approximate European foot size, ie. French size. Step on a piece of paper and draw the outline to measure your foot from heel to toe.
Used German surplus
The condition varies - these come to us like they would be issued in the Bundeswehr, expect we sort out those with excessive damage, so you'll get a pair of serviceable boots anyway. No lemons here. Please do note that insoles may not be included. We recommend getting new insoles anyway.
Recommendations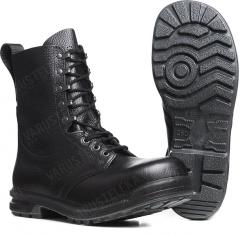 Swedish M90 combat boots
73.99 USD
Similar product.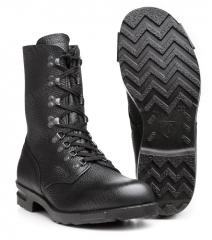 Norwegian M77 combat boots
128.99 USD
Similar product.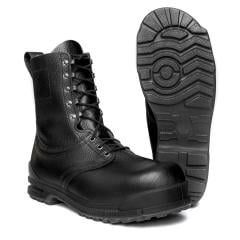 Swedish M90 winter combat boots
73.99 USD
Similar product.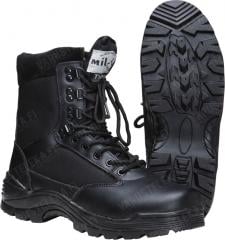 Mil-Tec Tactical Boots with zipper
60.99 USD
Similar product.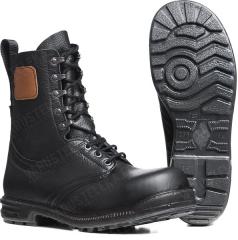 Swedish M90 combat boots, with safety toe
73.99 USD
Similar product.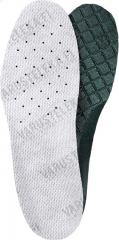 TACCO Player insoles
6.99 USD
Sometimes purchased with.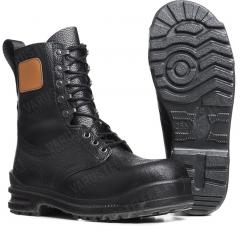 Swedish M90 winter combat boots, with safety toe
73.99 USD
Similar product.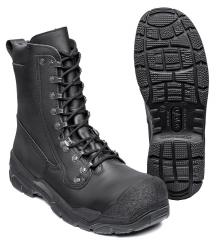 Jalas FDF M05 Combat Boots
147.99 USD
Similar product.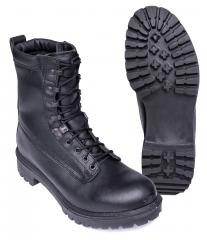 British Cold Weather Combat Boots, Gore-Tex, surplus
73.99 USD
Viewed together.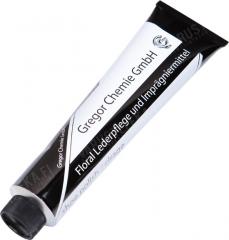 BW shoe polish
3.99 USD
Sometimes purchased with.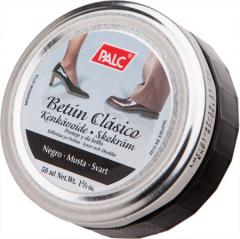 Palc Shoe Polish, 50 ml
4.99 USD
Might be of interest.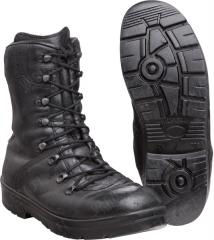 BW KS2005 / Haix DMS combat boots, surplus
59.99 USD
Similar product. Temporarily out of stock.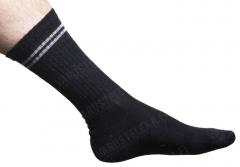 Finnish M05 liner socks
5.99 USD
Might be of interest.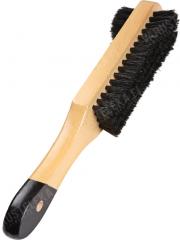 Shoe brush, dual action
5.99 USD
Buy also.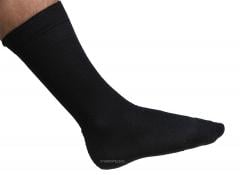 Särmä Merino Socks
9.99 USD
Might be of interest.
Reviews
You have already submitted a review. You can edit your text by clicking on it.
Log in and write a review.
Remove filter
Suomi
(17)
English
(13)
I would recommend for a friend
Marko N.

23.08.2016 (Edited 01.09.2016)
Ovat tukevat ja hyväntuntuiset kävellä. Miinuksena on, että kun
pakkasta alkaa olemaan -10-15C, niin pohjat oman kokemukseni
mukaan kovettuvat ja ovat liukkaat. Lesti on myös aika kapea, mikä sopii minun matalalle ja kapealle jalalle, eli jos tietää, että on vähänkin leveä jalka, niin kannattaa kokeilla ostaa numeron
tai parikin suuremmat monot tahi harkita muita kenkiä, jotka ovat valmistetut leveämmälle jalalle. Mutta jos ei käytä kenkiä
kovin kylmässä ja kengän malli sopii ja pohjalliset ja sukat kohdalla; on näillä hyvä marssia.
7
4
I would recommend for a friend
Otto L.

16.12.2016 (Edited 05.08.2017)
I would recommend for a friend
Antton J.

03.06.2017
Erittäin hyvät kengät jalassa, istuvat todella hyvin. Mukavat liikkua :)
Luulen että pääasiassa näiden kenkien pohjat kestävät, mutta omani kestivät vain noin 4 tuntia liikkumista ennen kuin pohjat molemmista kengistä irtosivat. Pitää varmaan alkaa liimailemaan ja toivoa että pysyvät.
5
4
I would not recommend to a friend
Ossi A.

13.06.2017
Muuten hyvät kengät, mutta talvikäytössä pohjan kovettuminen pakkasella tekee näistä petollisen liukkaat.

Quite good pair of shoes but below 0 celsius soles will harden and makes them very slippery. Not very good in winter conditions b/c of that.
4
7
I would recommend for a friend
Paul B.

12.09.2017
"If Carlsberg did surplus" absolutely great ,new pair of boots where else could you go. I shall have to break them in slowly .
0
4
I would recommend for a friend
Brian K.

27.09.2017 (Edited 23.05.2019)
just received my boots, looks like they have been resoled with vibram stars and bars soles, they also appear to be freshly polished, and are sporting brand new laces, boots look and feel excellent. the leather is soft and supple, threw in a pair of new insoles and am ready to roll. Took just under a week to get to me in USA from Finland so shipping is not only cheap but fast, will be buying more in the future
10
4
I would recommend for a friend
Varun

12.10.2017 (Edited 29.05.2019)
Note: This review is from someone who's never worn combat boots before. To be taken with a pinch of salt wherever necessary.





1] The boots I received seem to be new, whereas I was hoping for used ones. I will have to break them in myself.





2] The heel and the toe cap seem quite hard





That is all

UPDATE: MAY 2019

After using these for two years, these are the most comfortable pair of shoes I own. The part about it slipping on tiles and gravel has been deleted because I used it in tiles and cobbled roads in two other countries and it works just fine. Probably something wrong with the tiles in Singapore, IDK
Also, if you have fraying on the edge of your sole, or a gap between the outsole and the main sole, I would recommend getting it repaired within the first six months because mine actually came off.
0
0
I would recommend for a friend
Antti H.

24.10.2017
Käytettynä myytiin, käytettynä tuli. Pohja oli vaihdettu uuteen commando-pohjaan, kävelty 0 askelta. Uudet lankit pinnassa, kärjessä oli vain vähän naarmuja. Muuten priimakunnossa. Sisällä toki jonkun toisen hiet ja jalkasienet, mutta niin aina käytetyissä kengissä.

Lesti vaikuttaa olevan saman kokoinen kuin BW laivaston uudemman mallin nilkkureissa. Sisälle mahtuu mun jalkaan "tavallinen" vaelluskengän pohjallinen, M05 hellesukka ja tavallinen M05 sukka. Tilaa vaikuttaa olevan riittävästi, pidemmällä reissullahan se vasta selviää hiertääkö jostain. Verrokkina XXL:ssä yksikään retkeily, vaellus- tai maastojuoksukenkä ei mahtunut jalkaan samalla setupilla, kokeilin varmaan kymmentä paria.

Eli kyllä ainakin omissa kengissä riittää tilaa. Koko 46 paino 1,1kg/kappale. Pohja ja nilkka taipuvat kohtuullisesti, eli nämä eivät ole mitkään ällöttävät puukengät, kuten jotkut Meindlit tms. Saa nähdä miten näiden kanssa pidemmän päälle pärjää, ensituntumat 5/5. Vaikuttavat paljon mukavammilta kuin SA M/75 maiharit.
2
2
I would not recommend to a friend
Lauri S.

06.11.2017
Mukavat kengät, mutta pohja mureni alta alle viikossa eikä näistä sen jälkeen kyllä mitään hyötyä ollut. Uusituilla pohjilla toivottavasti kestävät paremmin, mutta as of now en voi suositella.
6
5
I would recommend for a friend
Sakari S.

08.11.2017 (Edited 11.12.2017)
Ensisilmäyksellä luulin uusiksi mutta on näitä käytetty, hyvin pidetty, ei moittimista. Pohjat on uudet.



Mukavat jalassa ja asiallisen näköiset.

Jalas FX2 pohjallisten kera huippukenkä.

Näin kuukauden käytön jälkeen:

Ei ole sukat kastuneet vielä kertaakaan kaupungilla tai lasten kanssa pihaleikeissä. Mukavat pitää jalassa ja villasukan kanssa tarkenee.
Raskaat nämä on, huvittaa kun jalaksen fortyfive työkenkäni on kepoiset kuin lenkkarit näihin verrattuna.
Jostain syystä kantapäihin kerääntyy lumipaakkua joten kävellessä joutuu välillä kopauttamaan kantapäitä yhteen.
3
1
I would recommend for a friend
Jenni M.

19.11.2017
Mun uudet lempikengät! Älyttömän mukavat jalassa.

Saamani kengät olivat uudenveroiset, lankit päälle ja pohjalliset nii avot :)
0
0
I would recommend for a friend
perttu p.

26.11.2017
Parin päivän käytön jälkeen voi sanoa että hintaansa nähden loistavat kengät. Pohjat näytti täysin käyttämättömiltä ja muukin osa erittäin siisti. Oletetusta liukkaudesta en voi vielä sanoa mitään koska nyt on sohjokeli.
1
0
I would recommend for a friend
Jan V.

05.12.2017
Voi tytöt ja pojat teidän kanssa, ei uskoisi käytetyksi vaikka kuinka uskoisi. Halvalla hyvää, taas kerran.
1
0
I would recommend for a friend
Timo S.

11.12.2017
Aivan loistavat kengät uusien pohjallisten kanssa. Ostin käytetyt, mutta sain kuin uudet.
1
0
I would recommend for a friend
Marko M.

15.12.2017
I would recommend for a friend
Michael N.

20.12.2017 (Edited 07.03.2018)
Awesome boots! I have purchased two pairs.As with German boots do wear two pairs of socks with them.Both pairs of boots came with new vibram soles.My second looks like they were unissued ! Very happy with my purchases from Varusteleka! Awesome customer service! I highly recommend them!
2
0
I would recommend for a friend
Robert Z.

17.02.2018 (Edited 14.01.2020)
These are very comfortable to wear. I have many kilometers on mine and they feel like very expensive custom leather shoes. The leather is flexible and free moving, well broken in. I got the Jalas FX2 insoles and the combo is great. Mine didn't come with insoles (and I wouldn't use them if they did) so you will need new insoles.
0
0
I would not recommend to a friend
Toni H.

21.02.2018
Puolet tähdistä, koska kenkien käyttöaikakin tuntuisi sijoittuvan puoleen vuodesta. Arvosteluissa luin kyllä varoituksen liukkaasta pohjasta talvikelillä, mutten uskonut. Olisi pitänyt uskoa, sillä talvikelillä ovat aivan järjettömän liukkaat. Kuvista katsoin myös, että nauhalenkit olisivat olleet suljetut. No eipä ollut sitäkään, joten kovin nopeaa lähtöä noilla ei tehdä hyppäämällä vain kenkiin. Napakan oloiset muuten ja varmaan niillä lipsuttelee sulan maan aikaan, mutta lumiselle alustalle ei nämä jalassa ole mitään asiaa. Palauttaisin, mutta sain myöskin lenkin poikki, kun yritin puristaa sitä pienemmäksi, että narut eivät pomppaisi koukuista pois. Jotain seosmetallia olivat ja eihän se kestänyt. Kerrasta poikki. Harmittaa..
1
3
I would recommend for a friend
Sebastian W.

26.03.2018
Min had new soles, and the leather was in perfect condition. So soft and comfortable I actually wore them as slippers for a couple of days before taking them outside.
4
0
I would recommend for a friend
jari t.

25.05.2018
tilasin viikolla ne vielä vanhemmat saksan maiharit, joita näkyi punkkareilla jaloissa jo kultaisella 80-luvulla. yksi pari oli jäljellä, mutta nämä tulivat? mutta ei se mitään. omistin jo yhdet, olisin vain varakengiksi ostanut. on näitä muutamat vuosikymmenien saatossa kulutettu. hyvät maiharit sain kuitenkin ja vieläpä käyttämättömät. ja hinta oli se sama 39,95. no hätä.
1
0
I would recommend for a friend
Jason C.

12.07.2018
For the price, the quality is great. But as soon as mine get seriously wet, the sole peeled right off like a banana. The leather uppers are great so I'm still going to have them resoled, but this adds $100 to the real price of these boots. If I had known that from the outset, I probably wouldn't have bought them.
4
1
I would recommend for a friend
Sebastiano B.

03.09.2018
Very good leather boot. Once it gets adapted to the wearer's foot, quite comfortable as well with a single pair of socks, due to being lined.
However, do mind that the shock absorbing foam insert is guaranteed to have degraded in used boots.
I have paid 30€ for replacing the soles with Vibram ones to my awesome cobbler, and at the time, 29,99€ for the boot itself.
For around 60€ I got a quality used boots with a new sole, I'm not sure I would recommend purchasing at this current price, since you might easily get one with an unusable sole for a higher price.
1
0
I would recommend for a friend
jacob h.

29.09.2018
Got the boots in about 5 days and they seem lightly used (a few scuffs on the leather on the heel and toe). They've been resoled so I don't have to worry about how the previous owner wore them and it's staying on just fine after almost a week of daily use in rainy conditions. Replaced the hard as a rock, very worn out insoles and the crappy original laces with longer ones. I was expecting them to be a lot looser on my foot, but they seem to fit my foot exactly (I have wide feet so finding shoes/boots that fit is difficult) which means when I double up on socks it'll be a tight fit.
1
0
I would recommend for a friend
Noriko K.

04.12.2018
Brand new bars & stars bottoms, fully worn-in uppers that have been superbly cared for and thanks to the bigger size (I've gone from Austrian Para boots at 47 to these at 48.5) they feel like slippers (with my insoles and two pairs of socks). I'm about to take them for a walk...
...and I'm back. What a difference a comfortable pair of boots make. Fifty quid and they might as well be brand-new £200 boots that some poor sucker wore in first. :D
0
0
I would recommend for a friend
Pauli

28.01.2019 (Edited 29.01.2019)
Minulla on näistä BW:n maihareista se valettupohjainen malli, joita ei ole nyt myynnissä. Eroa näihin ei ole "niin" merkittävästi, joten voinen arvostella ne tähän? Enivei: olen käyttänyt niitä 6,5 vuoden aikana keskimäärin 5 kuukauden ajan vuodesta liki ainoina käyttökenkinäni joka säällä. Matkaa on kertynyt tuona aikana 3500-3800 km koiran taluttamana. Kolme yli kilometrin mittaista reissua kolmesti päivässä BW-Haixit jalassa, joka säällä, joka päivä.



Nyt vuosien jälkeen kannat ovat viimein pohjauskunnossa ja edestä pohjan ja reunuksen sauma piti liimata kiinni. Myös pohjan sivusauma alkaa irrota eli vaatii liimatipan. Pohja pysyi nahassa kiinni, siinä ei ole ongelmaa, mutta valetun pohjan ja reunuksen välissä on hitsattu sauma, joka rakoilee nyt tuhansien kilsojen jälkeen. Korjauksen olen tehnyt Bilteman muoviliimalla, joka pitää täysin.



Varsissa ja missään muussakaan ei ole huomauttamista. Yksikään ommel ei ole irronnut tmv. Lankkina olen käyttänyt minkkiöljyä talvikauden alla ja kesäsäilöön jätettäessä, muuten BW:n lankkia kerran-pari talveen.



Kengät ovat pakkaselle täysin tunteettomat. - 20 C ei tunnu missään, vaikka jalkani palelevat muuten aika herkästi. Jalassa kenkien alla on ohut puuvillasukka ja kylmimmillä keleillä lisäksi villasukat. Jos jotain pitää moittia, on se tuo usein mainittu liukkaus.



Luultavasti nämä kestävät pohjauksen jälkeen vielä muutaman vuoden tällaista käyttöäni. Sittenhän saankin Lekalta uudet, sillä muistaakseni aikanaan luvattiin, että jos nämä saa kävelemällä rikki, niin saa uudet tai toiset tilalle. Joten siihen saakka.
0
0
I would recommend for a friend
Kylar B.

30.01.2019
I've have these for more than two years now and walk 5-6 miles a day on sidewalks and roads alone and can 100% admit these are my favorite shoes. They're comfortable, very supportive, and the tread is still pretty decent. Plus they're pretty damn good looking. My only complaint is the inside between my ankle and my heel quickly wore down and started giving me blisters. But after a week or two my feet smoothed that out and they don't hurt at all. I would 100% recommend these if you want a good looking boot that has a protective toe and amazing comfort.
0
0
I would recommend for a friend
Max K.

25.02.2019
Awesome boots (although the ones I got look like someone kicked a knife, nice gash in the toe box. Nothing broken, but noticeable), but be prepared to get them resoled. If you get a pair with the foam between the tread and the upper, that foam will almost certainly dissolve as soon as it gets decently wet.
0
0
I would recommend for a friend
Austin T.

01.03.2019
I would recommend for a friend
Niko-Petteri M.

01.05.2019
Erittäin hyvät varsikengät kaikenlaiseen rymyämiseen. Olivat hyväkuntoiset vaikka käytettyjä olivatkin. Kestää vettä yllättävän hyvin ja pohjallisten kanssa pirun hyvät kävellä. Ainoa miinus tulee sitä että pitkän käytön jälkeen rupeaa varsi hankaamaan ikävästi kantapäätä, toki sama ongelma oli intin maihareidenkin kanssa
0
0
I would recommend for a friend
Juha K.

14.08.2019
Loistavat työjalkineet metsänhoitoon raivaustöissä. Hieman painavat ja kohlot, mutta jos palstalle pääsee jollain motorisoidulla välineellä niin ei ongelmaa.
Jäykät ja kuten mainitsin hieman painavat, mutta raivaussahahommissa juuri sopivan jämäkät, niin pysyy tolpillaan hieman tuulisemmallakin säällä. Tuntuu pitävän myös kosteuden jalkineen ulkopuolella. Paremmat näissä hommissa kuin oma suosikki yleismaihari Suomi m91. Loistava hinta/laatu suhde.
0
0