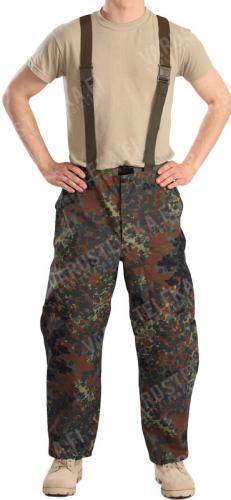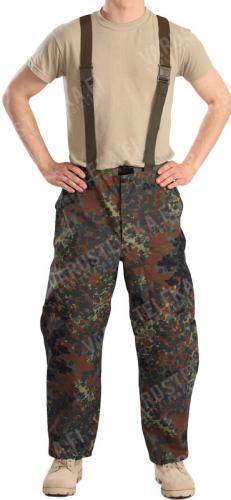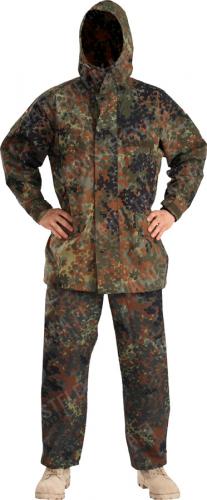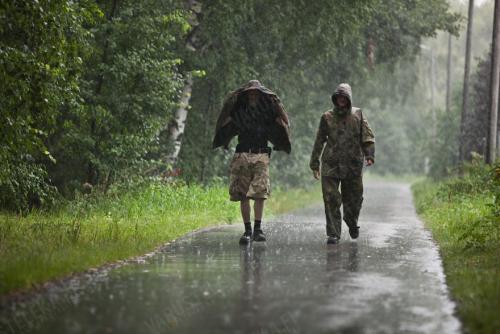 BW Gore-Tex trousers, Flecktarn, surplus
Price 31.99 USD
excluding VAT
Trousers of the current issue German Bundeswehr rain suit. Very simple and sensible hardshell overtrousers to wear when it's wet and nasty.
Loading products...
Trouble with the metric system? Try our converter: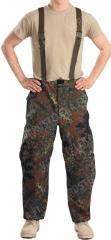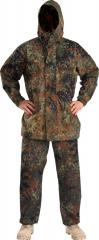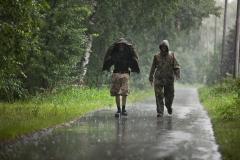 Trousers of the current issue German Bundeswehr rain suit. Very simple and sensible hardshell overtrousers to wear when it's wet and nasty.
All in all a very simple pair of "GTX" trousers with a couple of handy features for use in the field:
Hook 'n' loop adjustment on the waist.
Zipper fly.
Fixed suspenders with low profile adjustment buckles.
Zippered legs for ease of donning with boots on.
Cut with generous clothing allowance!
Waterproof membrane
Made of Gore-Tex or Sympatex, this membrane "breathes"; it lets moisture out, keeping the wearer dry. Microscopic holes in the membrane let water vapor pass through, but are too small for liquid water to do the same (although in the case of Sympatex the mechanism is somewhat different). However, no rain suit breathes as well as regular non-rainwear. For this reason, they're still best reserved for wet and nasty weather or blocking the wind in light activity.
On the very top there is (or has been) a DWR coating with a job of blocking most of the water before it even touches the membrane.
Size info
First the German size, then these converted to comparable easy size, followed by the user's recommended waist circumference. As these are meant to be worn over everything else, they have sized accordingly - by picking your own size you should have plenty of room for extra clothing.
The length sizes are all the same and are good for average height males, but this leaves some room to play; rain trousers don't need to extend all the way to the floor level.
Genuine BW issue
In used but perfectly serviceable condition. The DWR coating on the top of the fabric may have faded with time, but it can be revived with standard wet blocking sprays.
Recommendations
Loading products...
Reviews
You have already submitted a review. You can edit your text by clicking on it.
Log in and write a review.
Remove filter
Suomi
(2)
English
(8)
I would recommend for a friend
Frederik M.

18.04.2018
Lightweight, simple, and effective!
One thing to note, the legs on these are relatively short.
6
0
I would recommend for a friend
Pinaplz

09.05.2018
Was expecting this to weigh a lot more than it does, same for the jacket. Can't beat the price or the quality, looks unused, folds are still crisp. Good stuff.
1
0
I would recommend for a friend
Paul T.

04.07.2018
A good waterproof product for the price. As noted, legs are a little on the short side. Zippers on the legs are very light duty and failed almost immediately for me on first use - pants still work fine, but leave you with a bell bottom look unless you pin/tie them up somehow.
1
0
I would recommend for a friend
Bjornar M.

16.06.2019
Looks unused to me.
Easy to put on with boots and great fit and a decent set of suspenders.
Now I look forward to rain!
0
0
I would not recommend to a friend
Glyn C.

14.08.2019
Mabey I was unlucky but the pair I received have no water repelling properties at all. Also as noted very short in length.
2
0
I would not recommend to a friend
Petri P.

29.10.2019
I bought the jacket and the pants for a hike.

In a city environment these are socially unacceptable, but the design (easy to put on top of all clothing) looked very promising for a wilderness setting. I tested the equipment in the shower before the hike and did not notice any leaking.

During the hike, it was drizzling both days and sadly I noticed that the rain gear does not do its job. The outer layer of the rain gear got soaked and eventually the water got me wet and I was quite cold towards the evenings.

Thus, I do not recommend these at all. Both the pants and the jacket seemed visually to be in top condition, like unused. They both were from the 90s so maybe the age has got to them. I tried using sprays and goretex washing agents, but they did not help at all.

For, me the lesson to be learned here: never buy used rain equipment. They could leak even if the equipment looks visually fine, and you cannot know until you are on the hike and need the protection from the rain. Waste of perfectly good money.
12
1
I would recommend for a friend
Peter E.

15.11.2019
Kvalitet! Om du vill ha nånting som tål regn när du är i skogin, vill du fara ut på stan o få brudar lämn brallorna hemma, Laatua! isoja ehkä mutta kasvuvaroa, hyviä mennä metsään metsästämään. Ei niin tyylikäät kaupungissa
0
0
I would recommend for a friend
ERIC S.

14.05.2020
Received my order to the U.S. in two days - amazing. The pair I got were in excellent condition, very clean, no fading, stains or tears. Best of all, the DWR coating appears to be intact - water beads on the surface of the fabric and the seams are in perfect shape. I got the size small (I'm 5'10", 170 lbs with a 32 inch waist which is 178 cm, 81 cm waist) and there is still plenty of room for regular trousers underneath. They seem to run short, but since I'll likely be wearing these with boots anyway and I don't like stepping on the hem of my pants, that's actually a plus. Like all BW surplus gear, these things are built to last, are thoughtfully designed and of course flecktarn is the coolest camo out there. Fantastic deal.
0
0
I would not recommend to a friend
Jari K.

18.05.2020
Tilasin large koon, itsellä 188/95 mitat ja menee reisitaskuhousujen päälle nätisti vaikka tavaraa taskuissa, vähän rajoittaa jalkojen liikkeitä mutta eipä nämä jalassa tule tetsattua. Lahkeiden pituus myös hyvä. Saamissani kunto hyvä, enemmän varmaan pesty kuin käytetty. Suihkussa jalkaan ja vettä reilusti etupuolelle, vesi tihkuu kalvosta läpi... Ei mitenkään valumalla mutta selvästi kosteutta. Vaatii testauksen vielä ulkona vesisateessa ennen palautusta.
Arvosteluun tulee muokkaus testin jälkeen.
0
0