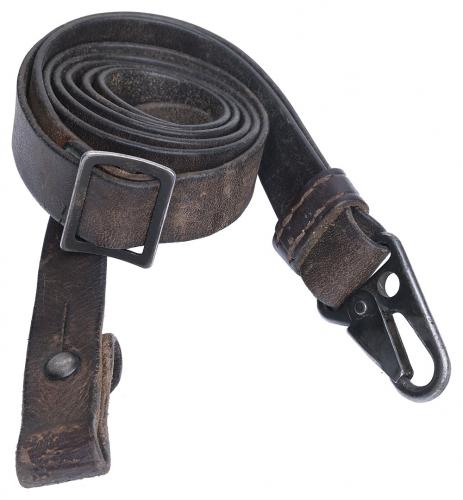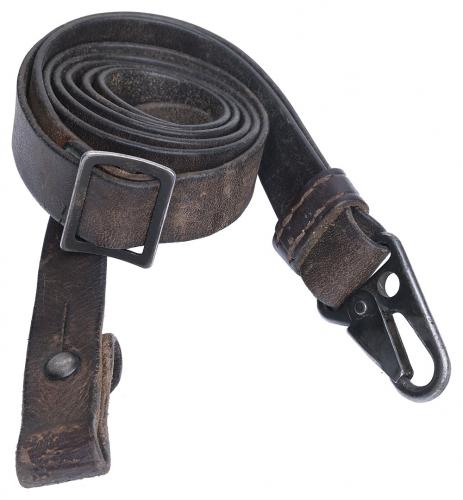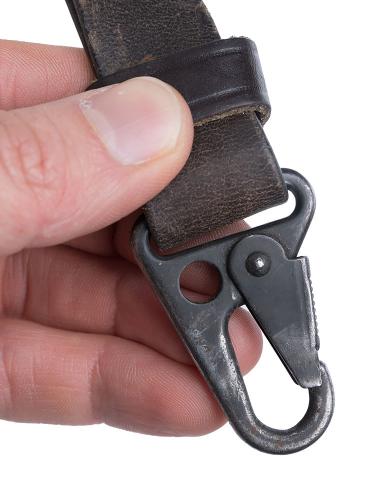 The metal clip itself is a pretty valuable piece.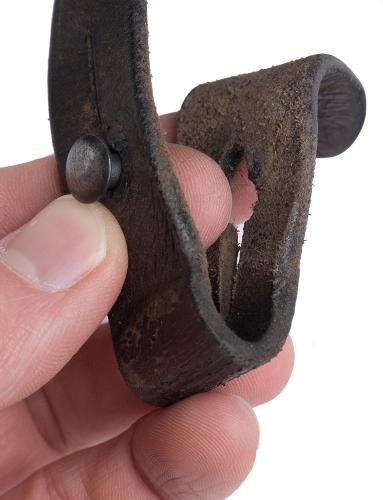 Knob closure on the rear part.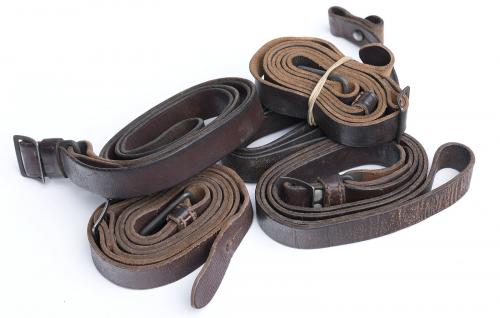 A view of the general condition.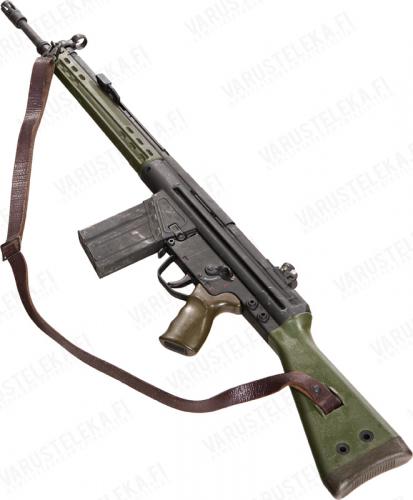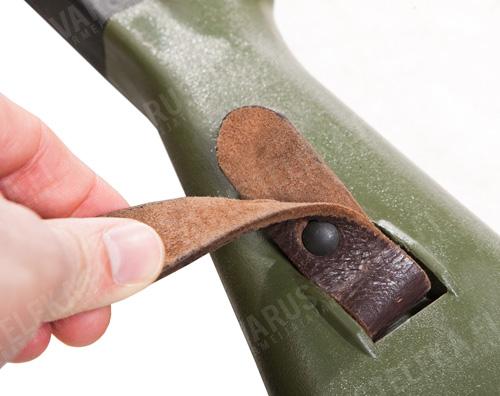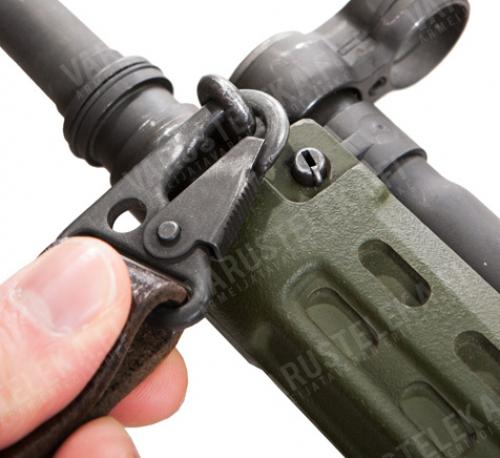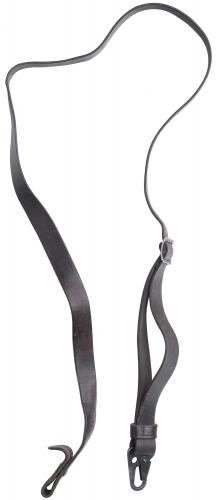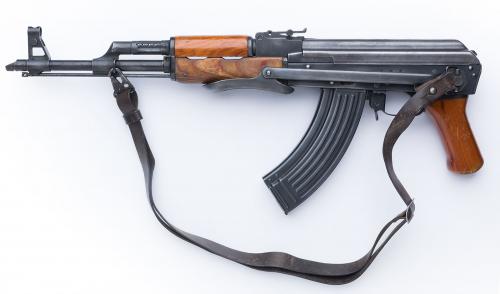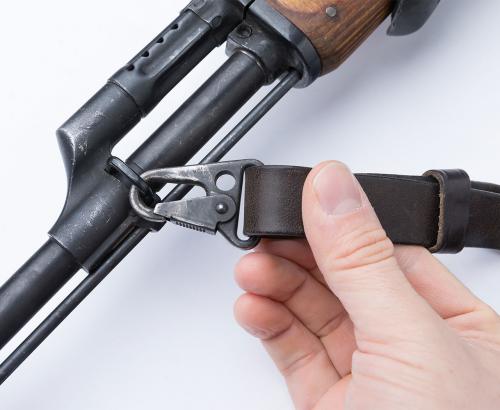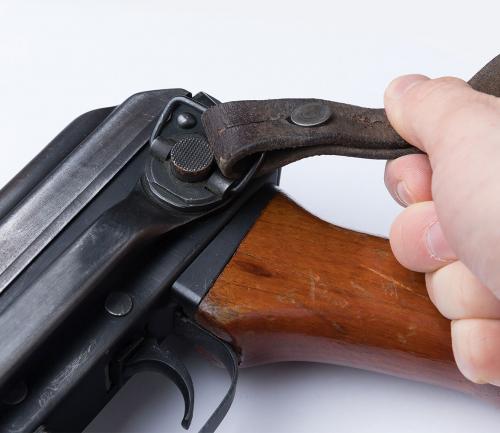 Germany
BW G3 sling, leather, surplus
Price 12.99 USD
excluding sales tax
Would you like to sling your gun or bag on a leather strap that can handle anything? Buy this piece of Teutonic quality craftsmanship.
This product is unlikely to be restocked and will be hidden from our website once it's out of stock.
We don't know when this product will be restocked. With surplus the restock date is unknown due to sometimes poor availability. Request restock notification and we will email you as soon as this product is available.
This product has used and returned variations. Used are washed and unbroken. Heavily used are also washed but might be missing buttons, have tears, main zipper can be broken etc. Read more about Kierto.
Trouble with the metric system? Try our converter: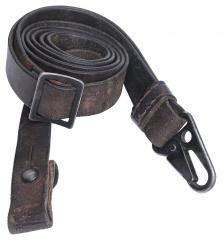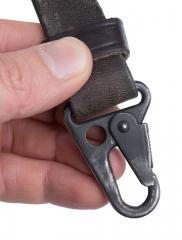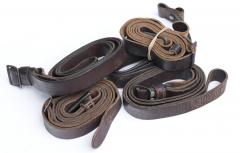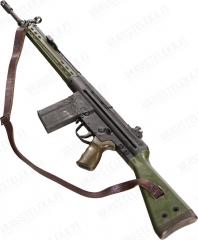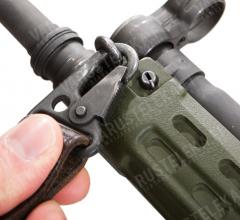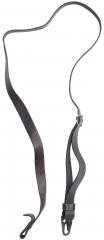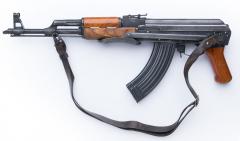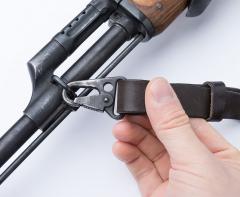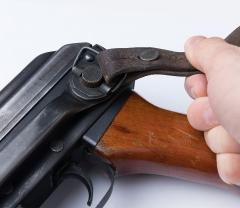 Would you like to sling your gun or bag on a leather strap that can handle anything? Buy this piece of Teutonic quality craftsmanship.
Bundeswehr issue G3 sling. This simple 22 mm wide brown leather sling will fit almost any gun and many shoulder bags and such. If it doesn't, make simple cord loops for adapters. Fully adjustable (70-140 cm / 27.5" - 55"), with a steel spring hook. Similar looking hooks are made from shoddy materials and they break: this is the real German deal, designed to be used with a heavy battle rifle and won't fail you!
Will fit:
Sling swivels or slots 25 mm (1") wide, both ends
Sling swivel or slot 25 mm (1") wide in the back, small loop in the front (G3 pattern)
Used German surplus
Genuine item made in Germany. In used but serviceable condition.
Kierto Circular Economy
Return this product used but clean and unbroken, and you'll receive half of the product's original price as Varusteleka credits. Service is available only in Finland. Only Registered users can make Kierto returns. See more information about Kierto.
All products: Germany
Recommendations
Loading products...
Reviews
You have already submitted a review. You can edit your text by clicking on it. You can filter the reviews by clicking on the elements of the summary.
Log in and write a review. You can filter the reviews by clicking on the elements of the summary.
Remove filter
Suomi
(3)
English
(7)
I would not recommend to a friend
Johannes M.

14.07.2017

⚠ Unverified purchase
Postissa tuli homeinen ja savinen remmi. Oli sen verran tymäkkä homeen haju, ettei se lähtenyt pesemällä eikä edes saunan lämmössä. Löylyn jälkeen en enää keksinyt muuta. Kossussa uittaminen kävi mielessä, mutta enpä viitsinyt kallista ainetta tuhlata. Loppujen lopuksi koko hoito oli heitettävä ulos, alkoi sen verran kirveltää nenässä ja jyskyttää päässä ja koko huusholli haisi maakellarille. Enkä todellakaan ole mikään 'erityisherkkä' allergikko. Hihna oli ilmeisesti kaivettu jostakin joukkohaudasta. Muuten olisi kyllä sopinut loistavasti käyttötarkoitukseeni.
6
10
I would recommend for a friend
Perttu T.

30.09.2017

Verified purchase
Reilusti yli kymmenen hihnaa ostaneena voin todeta erittäin hyväksi materiaaliksi askarteluhommiin ja hintakin on kohtuullinen. Noista yksi taisi olla kuluneemmassa kunnossa muut saisi kyllä kuntoluokituksen hyvä
4
3
I would recommend for a friend
Curt L.

26.10.2017

Verified purchase
I bought two G3 slings. They look and smell like they were stored for 30 years in a warehouse without being cleaned first. It took me 45 minutes to clean one sling with a brush and leather cleaner. There were endless amounts of dirt that never seemed to go away. The leather was very dry. After applying some leather conditioner a few times, the slings look quite nice. The leather is thick and the slings are very well made. Both slings have been used a lot and there is some slight damage to the surface - a few scratches and small cuts on each of them. The holes for the button are also a bit worn, and I don't trust the locking mechanism completely. But still the slings seem very stable. The buckles have dug into the leather and damaged/weakened it a bit below the metal on one of the slings. I wouldn't use them for a 3000 Euro hunting rifle, but for an air rifle, air soft or cheaper hunting rifle they are a cool choice. Sometimes it's nice to have something with a history to it, that doesn't look brand new. I removed the steel hook and use one sling on my Sako Quad Hunter Pro , and the other on an air rifle with a nice result. But be prepared to work hard to clean the sling, and if you don't have leather cleaning and conditioning products, they will cost you twice the price of the sling. And still, a good result is not guaranteed. Smell-free, not yet...
11
0
I would recommend for a friend
Neil T.

24.06.2018

Verified purchase
The Price is good and the quality is not bad but u need to applying some leather oil on the sling i would recommend my friends
The shipping is super fast only took a week from Finland to Hong Kong
1
0
I would recommend for a friend
Jason D.

31.07.2020

Verified purchase
Needed some treatment but after some TLC it's been great
0
0
I would recommend for a friend
Tuomas L.

17.10.2020

Verified purchase
Muuten hyvältä vaikuttava remmi, mutta homeessa oli minunkin kappale. Hätähän ei kuitenkaan ollut sen kummempi kuin yhteyttä lekan siakaspalveluun. Sinne tilanneilmoitus ja uusi remmi lähtee tuleen heti kun niitä on saatavilla. Ja sehän passaa varsinkin, kun ei ole mikään välitön paniikki hihnan saannissa. Jospa sitten sattuisi samanlaatuista kamaa kuin suosittelun kommentoineella söörillä. Lekan siakaspalvelu toimi kuin hyvin toimiva asiakaspalvelu.
0
0
I would recommend for a friend
Martin R.

13.03.2021

Verified purchase
In total i bought 3 so far, two were used and required some cleaning, one was brand spanking new!
0
0
I would recommend for a friend
Matthew S.

19.03.2021

Verified purchase
Ordered two slings. Both were in unissued condition.
0
0
I would recommend for a friend
RAMOND T.

06.05.2021

Verified purchase
Got 2 of these G3 slings.
One is unissued and the other is lightly used but in perfect condition.
Used one to replace the shoulder strap on a Polish bread bag and the other one also as a shoulder strap for a Czech M85 shoulder bag.
Works nice on both case.
Can be easily removed if needed.
0
0