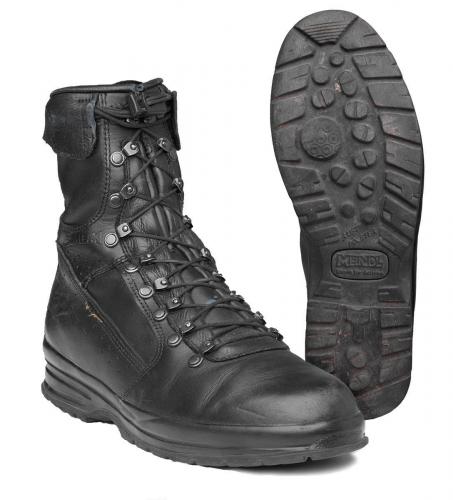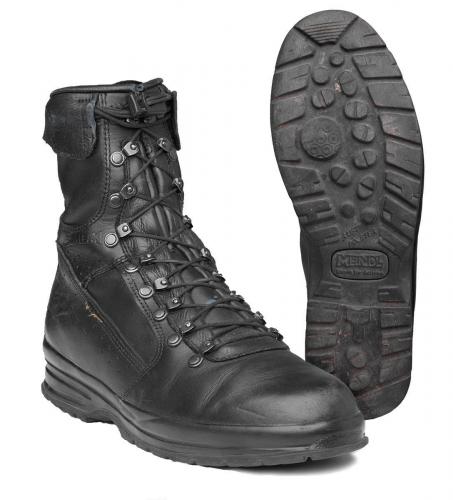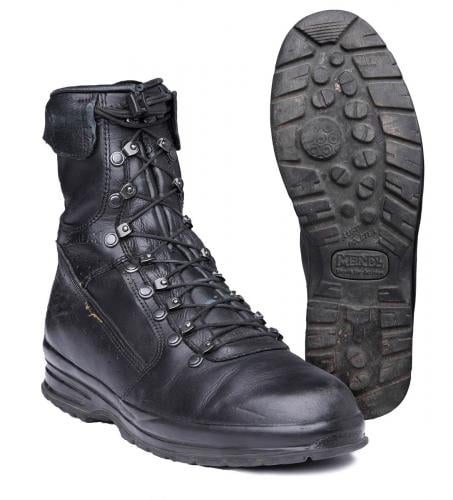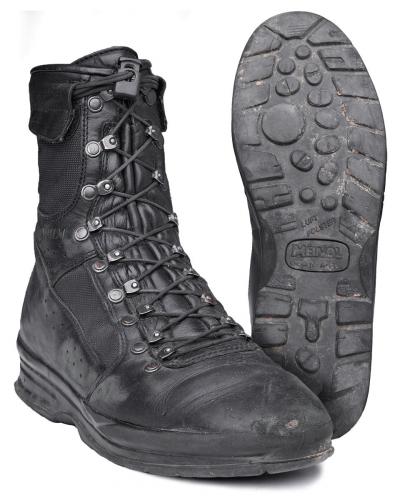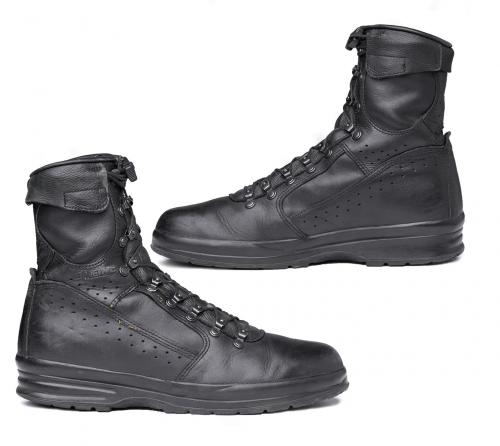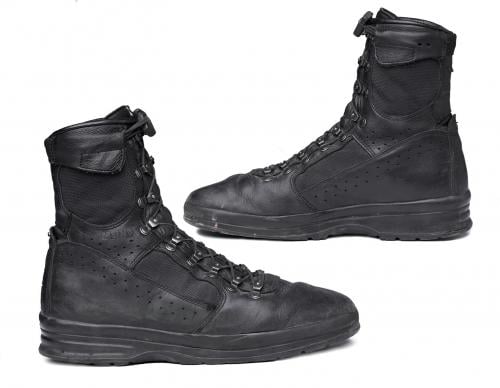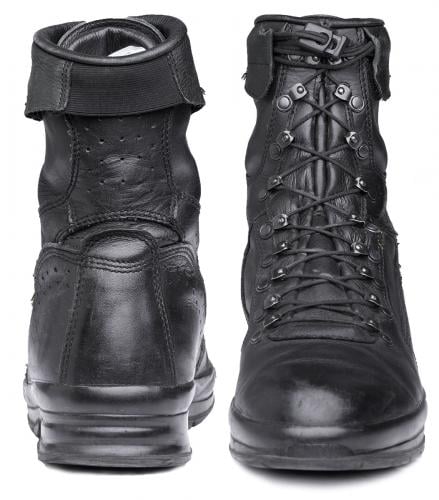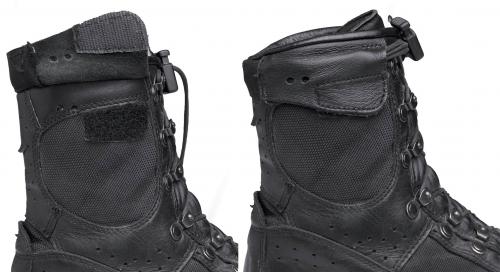 Leather hiding place for laces.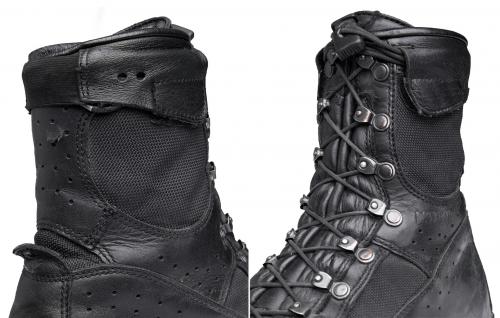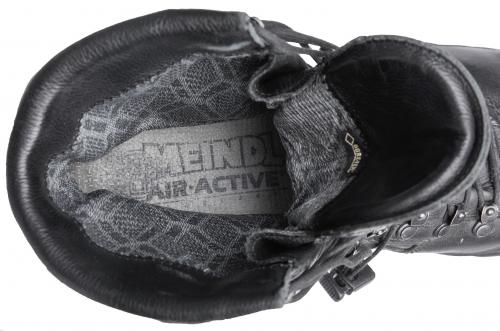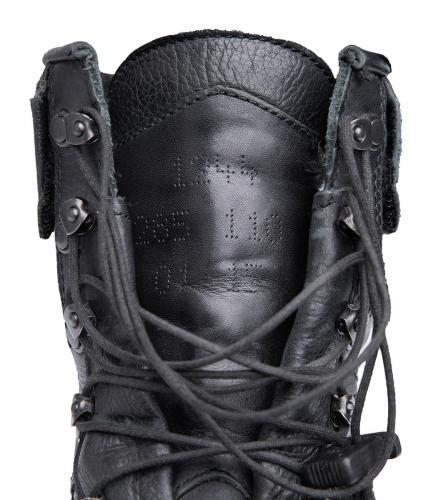 Germany
BW Flyer's Combat Boots, Surplus
Price 59.99 USD
excluding sales tax
A single batch of German pilot boots. Available with a textile or leather shaft. These are well ventilated and lightweight boots for situations where the going gets too rough for dress shoes, yet you don't crawl through bogs and puddles constantly I.E. wedding parties.
Loading products...
Trouble with the metric system? Try our converter: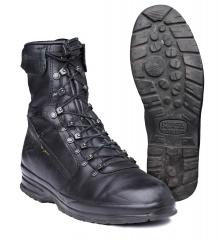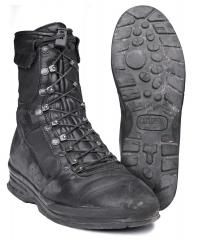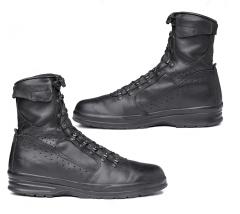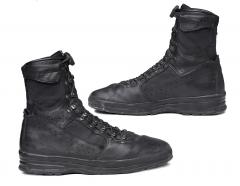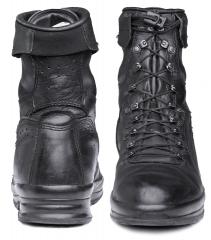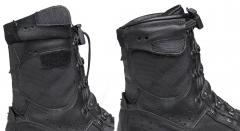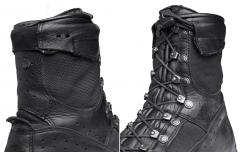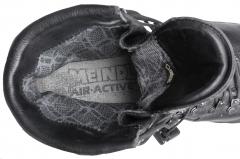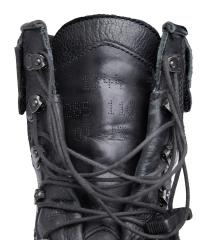 A single batch of German pilot boots. Available with a textile or leather shaft. These are well ventilated and lightweight boots for situations where the going gets too rough for dress shoes, yet you don't crawl through bogs and puddles constantly I.E. wedding parties.
The German armed forces contract well-known manufacturers to produce their equipment and these boots are no exception. In the photos, you'll see a well-known brand but the boots you get may have another or no logos.
These boots are lightweight and ventilated, the lacing is speedy, and a leather flap surrounds the shaft to tuck excess laces into a safe place. All of these are desirable features in boots you use in and around aircraft but why not other vehicles as well.
They decided to add a membrane as well. We suspect its purpose is to protect your socks from an occasional dip in water and would not expect the waterproofness of a proper rubber boot - especially as these are used.
The model we think is a summer variation has a textile shaft but the all-leather models aren't padded winter boots, either. Remember, these are not made for extremely harsh conditions, just the Air Force.
Size info
The sizing is true to German military footwear: if you order according to the Mondopoint sizes based on your foot length in millimeters, expect these to be a slight bit short but the width is regular. Because of the small toe clearance, we have converted the Mondopoints to other sizes with a shift so you can pick your usual size.
To measure your foot length, stand on a piece of paper with your weight evenly on each foot. Draw curves behind your heel and in front of your longest toes and measure the longest distance between them. Do this for both feet: it's not common to have precisely the same size on both feet. With these boots, don't round down the results at all! If you measure 286 mm, the 285 is likely to feel constricted and a 290 is the better choice.
Materials and construction
Top: leather or leather and Cordura
Sole: molded
Insole: used or not included
Sole attachment: glue
Weight: TBA
We estimate these to be "2" when it comes to stiffness. The scale is from 1 to 4 as follows: 1; urban and light trekking, 2; more support for general use, 3; stiff hiking boot for demanding trails or heavy loads, 4; mountain boot for rocky paths.
Care info
These are military boots from durable leather so just some shoe polish and hardy work with a shoe brush does the job. You can spray the textile with some modern stuff that smells awful in a bad way (shoe polish smells awful in a good way) or you can choose to skip the spraying. Consider the membrane when choosing the wax or polish. Other than that, don't worry about it too much.
Read more about leather care if that turns you on.
German surplus
Used surplus boots often come without insoles or the included ones are used so you might want to get fresh ones. The laces are also a consumable item, although a hard-wearing one.
Despite all this, there are many travels ahead with these boots. We don't get a warranty from any manufacturer for these, but if you get a faulty pair, do let us know and we'll sort it out.
It is worth knowing that military surplus shoes and boots don't usually come with insoles, and even if they do have them, they are often used. So, get a good pair of insoles at the same time. For example, from us.
All products: Germany
Recommendations
Loading products...
Reviews
You have already submitted a review. You can edit your text by clicking on it.
Log in and write a review.
Remove filter
Suomi
(2)
English
(9)
I would recommend for a friend
Aidan H.

02.04.2021 (Edited 30.06.2021)
Just got these boots in and they're next to mint condition. They look like they were used for maybe a month of casual use, not even. Almost brand new. No topside scuffs, no wear on the insole and a tiny bit of dirt and scuffing on the sole. They feel a bit like ski or mountaineering boots, but less structured. They still have that chunky euro heel on the sole. Very stable to walk in and instantly comfortable. The laces I find to be a bit annoying at first but the way they tuck in is convenient as ever, the issue just comes with wrapping them around and tucking them in a way that they won't fly out of the little cover at the top. Otherwise great condition and extremely comfy. I have yet to truly test them but they're wonderful quality and condition. I would definitely recommend these. I got the textile version but I wouldn't expect much difference in the leather version. The textile itself seems to be some kind of rough nylon. It isn't cordura/1000D, probably somewhere in the 500D range, but it's strong and durable regardless. They feel lightweight and very versatile. I wouldn't run through a jungle with them but I think they'd hold up to a bit more than the folks at Varusteleka are advertising, these are solid training boots on par with some others I own from Danner albeit with a more european fit, they remind me a bit of lightweight generic seaboots or cadet boots. Great if you have narrow heels, wide feet may find issue though. A note on the "Style": The size in the images is likely at least a 10.5, my size is a 9.5-10 and they appear noticeably shorter in length than those in the image.
7
1
I would recommend for a friend
Jett H.

04.04.2021 (Edited 04.07.2021)
Very comfortable boots, I haven't used them much right now but if there are problems I will report in later. For now I can say they fit excellently, when I first saw mine I thought they were too small, but when I put them on it was like putting on a good pair of sneakers. The leather has scuffs in places and the soles are well worn, there also weren't any insoles, so I recommend planning for that if you buy these, however the shoes still look fine and the laces are strong. These are definitely going to be worn very regularly by me since they are more comfortable than my other combat boots and lighter than my steel toed Timbs, I could probably run in these as easy as tennis shoes.
2
1
I would recommend for a friend
Carstem B.

08.04.2021 (Edited 04.07.2021)
Can't complain at all,great lightweight boots.Put em on,tie the laces and walk,thats what they are made for.Fast ordering and delivery from Finland to Norway as always :)
0
0
I would recommend for a friend
Timo I.

09.04.2021 (Edited 04.07.2021)
No nyt tärähti, hyvä ostos! Onneksi tilasin pienen empimisen jälkeen, saapuneiden kenkien kunto erinomainen (kokonahkainen versio, Meindl) ja koko 280 suorastaan väljä, kun normaali "kesäkokoni" on 275-280. Leveydeksi oli valikoitunut 112 mm, tieto löytyy kengän läpästä. Ei pohjallisia, mutta kotona odottaneet Jalaksen FX2 pohjalliset (koko 42, 282 mm) laskeutuivat kenkään kuin valettuna ja kruunasivat kokonaisuuden. Nauhat ihan ok kunnossa (tarvitset vähintään 200 cm pitkät), mutta vaihdoin nekin. Ensituntumalta oikein hyvät kengät metsäisille kesätaivalluksille. Vain pieni lankki pintaan ja valmista on. Nämä kengät olivat erittäin positiivinen yllätys.
4
1
I would recommend for a friend
Michael R.

18.04.2021 (Edited 14.07.2021)
Ordered a pair of the all leather for my daughter. Hoping that the size fit is correct, made of quality all leather upper. Good looking grade of rubber sole. Thank you Varusteleka!
PS please let me know when the Haix black shoe care creme polish is back in stock? The Canadian distributer has a minimum case order of 12! Pete's sakes all I need is one maybe two! Skol!
1
1
I would recommend for a friend
Paul B.

20.04.2021 (Edited 27.07.2021)
Yet another great buy from Varesteleka, very light and quick / easy to put on, just lightly faded good polishing brought them back to near new. The comfort of trainers and would recommend to everyone, but be quick there running low at present.
0
0
I would not recommend to a friend
Jacob R.

26.04.2021
In theory this would be a great boot, but in practice it's probably worse than going barefoot.
Mind you they sent me the wrong size, but still I was able to put them on and see how well they worked. The lacing is fantastic and I love it, and the overall design, but the ones I got were so abused they probably wouldn't last a year of casual wear. One of the flaps for the laces was torn so it was more difficult to use, and the toes were worn down so far it's probably less than half as thick as it should be, which also just generally looks terrible, besides the fact it will eventually fall apart.
But the biggest issue I have is that the tongues have some hard pieces of plastic, I guess to hold the shape for some reason, that by design, are nearly popping out of the leather at all times, and also dig into the front of your ankle which makes it impossible to wear for any reasonable amount of time.
If you happen to get a pair that are brand new, that's great, but even then I would worry about the plastic in the tongue which will likely be a problem eventually.
2
0
I would recommend for a friend
Bryce M.

29.04.2021 (Edited 27.07.2021)
This review is for the all-leather Meindl version. I have yet to figure out the mondopoint system -- I ordered 275 in this boot and it is slightly too small. No thick socks for me in these. I also have a pair of Canadian Mk IV boots that are 280/110 and they are laughably huge. I guess the takeaway is that these might fit a bit small, and order a size larger if you plan on wearing 2 layers of socks.

As for the boots themselves, mine are pretty much brand new. I have to think someone took them, walked around the parking lot of the supply depot, said "nein," then exchanged them for a different pair. I would describe these more as a more modern "duty boot" than a straight-up combat boot. It's like a sneaker and a normal boot had a baby and they feel very light. I bought these pretty much exclusively for ruck-marching in relatively flat terrain, so I think for that they will work out perfectly.

Still not sure if I love the lacing system. It is convenient, but in the couple times I have put them on, I find it hard to get a custom fit -- it's either too tight in one spot and too loose in another. Hopefully, practice will make perfect. I do like the way the laces tuck out of sight. Final note, these things make a lot of noise with creaking leather, and hopefully some polish and a few miles will help with that.
1
1
I would not recommend to a friend
Vladimir S.

09.05.2021
The one i got had a strange deep wear in front I dont think its going to be water proof no matter how i try... I guess some buyers get real Shit and other gets "like brand new"
2
0