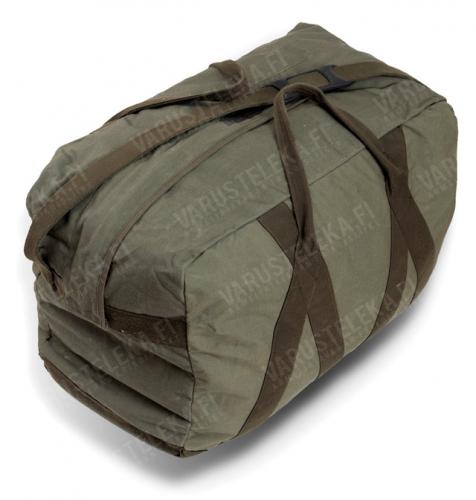 BW duffel bag, 100 l, surplus
Price 22.99 USD excluding VAT
Flat Rate Shipping to USA $9.99
100 % recommends
Sold 24 pcs in the last two weeks
Trouble with the metric system? Try our converter: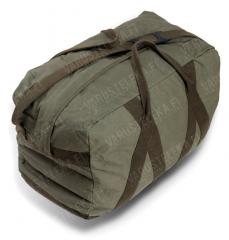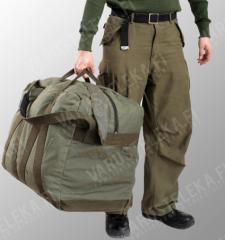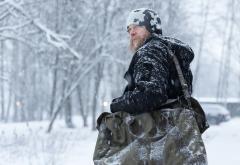 A big, single compartment bag for carrying heavy loads. Tough, simple, effective and above all cheap!
The carry handles wrap around the bag adding strength. Most bags have an adjustable shoulder strap and a small zippered pocket inside. The zipper shield has a velcro base for name tags. The bags close with a zipper, which is covered with a velcro flap. The zipper features a ratchet lock preventing it from opening on its own, and it unlocks automatically as you pull the tab.
The bottom has a plastic stiffener to keep the bag in shape and protect whatever is inside. It's screwed on with six metal pads on the outside to protect the bag from abrasion - and allows you to slide it across the floor.
Some might have markings made by the previous owner, such as names (yes, despite the name tag velcro) and morale boosting slogans. The latter might not be profane, but they will be in German, so they definitely appear as such.
Dimensions: 60 x 50 x 34 cm, volume approx. 100 litres.
German army surplus
These are in used, but perfectly serviceable condition.
Recommendations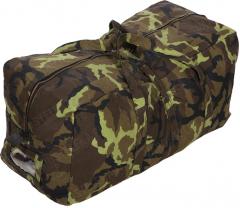 Czech duffel bag, camo, surplus
22.99 USD
Similar product.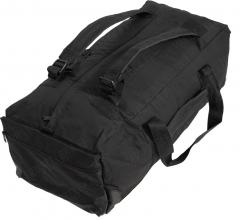 Mil-Tec duffel bag 60 l
48.99 USD
Similar product.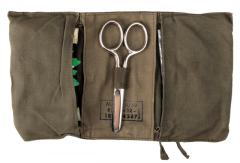 BW personal sewing kit, surplus
3.99 USD
Viewed together.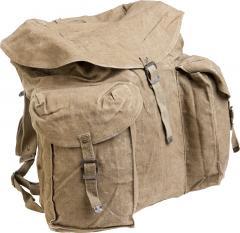 Italian mountain rucksack, surplus
13.99 USD
Viewed together.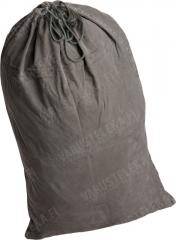 BW laundry bag, olive drab, surplus
5.99 USD
Sometimes purchased with.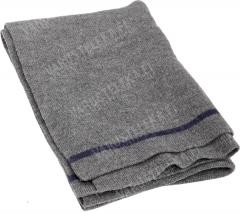 BW wool scarf, surplus
3.99 USD
Sometimes purchased with.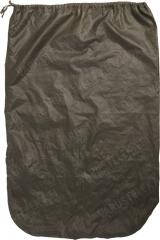 British PLCE bergen liner bag, large, surplus
6.99 USD
Sometimes purchased with.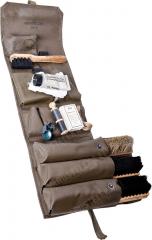 Swiss shoe care set, surplus
6.99 USD
Sometimes purchased with.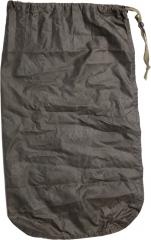 British PLCE bergen liner bag, small, surplus
2.99 USD
Sometimes purchased with.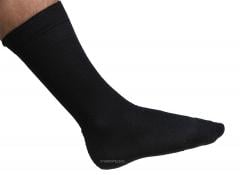 Särmä Merino Socks
9.99 USD
Might be of interest.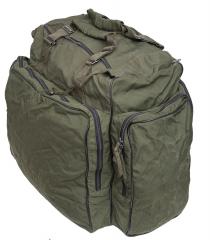 BW cargo bag, surplus
36.99 USD
Similar product. Temporarily out of stock.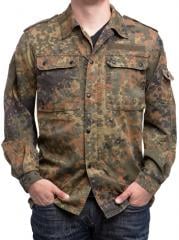 BW field shirt, Flecktarn, surplus
9.99 USD
Might be of interest.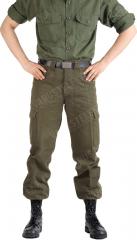 Austrian M75 Cargo Pants, olive drab, surplus
13.99 USD
Might be of interest.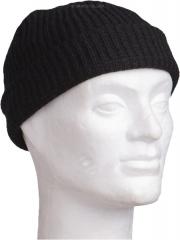 BW Windstopper watch cap, surplus
5.99 USD
Might be of interest.
Reviews
You have already submitted a review. You can edit your text by clicking on it.
Log in and write a review.
Remove filter
Suomi
(18)
English
(13)
I would recommend for a friend
Pablo V.

14.03.2017 (Edited 14.03.2017)
I meant ti give it 5 stars. It's big and resistant. And that's all you need, a reliable canvas bag.
13
1
I would recommend for a friend
Kalervo M.

25.03.2017
Ollut käytössä muutaman vuoden. Sain erittäin vähän käytetyn yksilön. Tyylikäs, oliivinvihreä kuosi ei mene koskaan pois muodista. Uskaltaa lastata aivan täyteen, ennen loppuu käyttäjältä kantovoima kun kassilta kestävyys. Kätevä kaikille reissuille, saa yhteen kassiin ison määrän tavaraa. Kun tilaa Lekasta tarramuotoisen nimilapunkin, näyttää erittäin prolta.
11
1
I would recommend for a friend
Jere V.

16.05.2017 (Edited 16.05.2017)
Erittäin hyvä tavaran kuljetukseen ja syö sisäänsä sitä tavaraa muuten aivan järkyttävästi.
7
0
I would recommend for a friend
Reed M.

21.06.2017 (Edited 22.06.2017)
Much bigger than expected, I travel quite a bit with mine and it has worked perfectly! Very easy to keep organized.
7
1
I would recommend for a friend
Ville N.

12.07.2017 (Edited 12.07.2017)
Vihaisen toimiva matkasäkki, viheliäisen inha olkalaukku. Paksu, raskas ja peräänantamattoman jäykkä muovikovike pitää säkin pohjan särmänä, mutta olalla kannettaessa hakkaa säären/lantion/vyötärön mustelmille. Kahvoja voi yrittää käyttää reppuhihnoina merimiessäkin tyyliin, mutta hartianleveys saa luvan olla aika kapea eikä silloinkaan hirveästi mukavuudella juhlita.

Tahdotko kestävän paketin X:llekymmenelle kilolle vaatetta ja rompetta jonka voi nohevasti tyrkätä takakonttiin tai bussin ruumaan? Tää on hyvä.

PS: Raahasinpa tällä kerran 20 kilon murikan terästä naapurikunnasta juna-patikalla kotiin. Olkahihnan liukueste puri takin läpi hartiaan verta tihkuvan ruutukuvion. Kassi ei ollut moksiskaan.
11
0
I would recommend for a friend
Mika H.

20.07.2017
Tällä on käyty monet reissut. Käytössä myös toisinaan lentomatkoilla kun odotettavissa ei ole pitkiä kantomatkoja. Ei rikkoonnu matkalaukkukäsittelijöiden käsissä. Käytössä kaikkiaan kolme kappaletta.
3
0
I would recommend for a friend
Jean-François G.

29.07.2017
A rigid bottom, a shoulder strap, two handle and an internal compartment ... what more could you ask for?
9
0
I would recommend for a friend
Mikko T.

16.08.2017
Turhan Iso kauppakassiksi.Vetoketjujen narut aukeaa joskus.
1
6
I would recommend for a friend
Jean N.

22.08.2017
Great large bag that will fit most needs.
6
0
I would recommend for a friend
Marko M.

31.08.2017
Mukavan isokokoinen laukku, mahtuu ainakin riittävästi tavaraa sisälle. Oma laukku oli ainakin hyväkuntoinen ja ryhdikkään oloinen sekä säädettävällä kantohihnalla. Materiaali on jämäkän oloista ja kulutusta kestävän oloinen. Huonona puolena tässä "ikuisuuden" kestävässä laukussa oli, että vetoketjun kahdesta vetimestä oli toisesta vetolenkki mennyt hajalle, jämät jäljellä ja käytännössä vain toinen vedin käytössä.
1
0
I would recommend for a friend
Perttu T.

12.10.2017
Kunnon hyvä isoonkin kantotarpeeseen.
1
0
I would recommend for a friend
Denis S.

21.10.2017
Rubber lined, extremely sturdy and in a very good condition. The Germans must take good care of their gear.
I have 3 of them, they are perfect for storing all the camping gear or storing all the mess in the car trunk.
They are also useful on a camp because you can leave them outside the tent and they won't get wet inside.
4
0
I would recommend for a friend
Kyle S.

21.12.2017 (Edited 21.12.2017)
After taking this on on a short trip (and over packing just so I could test out the duffel) I feel like I could live out of this bag for a couple of months if I had to. It is a very large bag, yet it does not feel very cumbersome even when filled with stuff. Also pretty sure mine was brand new, it still had the tag on the strap! If you want a though duffel, that can be used in any situation, this is the best I have seen.
3
0
I would recommend for a friend
Ilkka K.

21.12.2017
Kahden vuoden käytön jälkeen kuuluu BW jääkärirepun ohella vahvasti "en ymmärrä miten olen voinut tulla toimeen ilman tätä tuotetta" -kategoriaan ilman pienintäkään kuttuilua. (Käsin)pesun, harjauksen ja kuivatuksen jälkeen tässä on roudattu todella paljon tavaraa todella hyvällä menestyksellä sekä muuttokeikoilla, että kotioloissa pyykkikassina.

Pro-tip: vetoisuus on just eikä melkein yksi keittiönjakkara. Pakkaa sisään jakkara, jakkaran sisään muut kamppeet ja nauti oudoksuvien katseiden ohella istumismahdollisuudesta julkisen liikenteen puolella reissatessa.
12
0
I would recommend for a friend
David F.

16.03.2018 (Edited 29.03.2018)
Heavy duty and well shaped! Very pleased, mine came in excellent shape, albeit with someones name written in big letters on it. I find no problem with this and liked the bag well enough to get a second. The second came near new I will probably order a third. There is no freaking way in hell your going to find a heavier duty or better shaped bag like this for the money. Buy two at least, this is one of those items that the value is just awesome!
2
0
I would recommend for a friend
Markus K.

11.04.2018
Todella robusti ja luja kampe! Tähän mahtuu juuri sopivasti ulkomaanmatkoille lapsen turvakaukalo vuokra-autoa varten ja täytteeksi koko perheen pyyhkeet ja lakanat. Tällä paketilla kulkee lentokoneessa täysin ongelmitta.
1
0
I would recommend for a friend
lasse l.

25.06.2018
I would recommend for a friend
Juha S.

24.07.2018
Ostettiin tämä vuosia sitten ja se on kestänyt lapsiperheen nousut ja laskut, syntymät ja kotoa poismuutot. Tällä on kannettu tavaraa mummolaan mennessä, muuttokuormia, telttareissulle mennessä kaikkien makuupussit, alustat ja tyynyt. Kestää varmasti pidempään kuin nykyaikainen rakkaustarina. Ylitäydeksi pakattuna kantohihna jää vähän lyhyeksi, mutta muuten tästä on mahdoton mitään negatiivista keksiä. Kestää ja kantaa kaiken mitä sinne laitat ellet nyt ala lyijyharkkoja kuskaamaan.
3
0
I would recommend for a friend
Oliver S.

30.07.2018
The bag I received was visibly used but still in overall great shape. The price gives it great value, finding a sturdy big bag like this one is really hard. Oddly enough there is no mention of the zipper pocket inside the bag, which just makes the bag more handy than it already is. Even when its not in "use", it's great for storage because of the size and durability. You will always find a use for this bag, why haven't you bought it already?
0
0
I would recommend for a friend
Björn R.

29.09.2018
Really good quality duffel bag for a remarkably low price. Everyone should have at least one. Super good at storing stuff or transporting stuff in vehicles, in an organized manner. I don't think it'll break ever, barring any mishaps with the flame-thrower.
1
0
I would recommend for a friend
Duncan B.

22.10.2018
I have one of these to carry a Honda Suitcase generator, from site to site, keeps it safe, and out of sight when not in use, I use another as a Emergency bag all my SHTF equipment in, they are super strong, cut the shoulder strap of one of the bags and made a fine riggers belt from it.

Buy one, no Buy two, you wont regret it.
1
0
I would recommend for a friend
Andreas S.

27.11.2018
Huge bag that most likely can take anything you throw at it.
0
0
I would recommend for a friend
Anonymous customer

09.12.2018 (Edited 09.12.2018)
Laukkuun mahtuu enemmän tavaraa kuin pystyy mukavasti kantamaan. Vaikuttaa myös kestävän vaikka mitä: kangas on paksua ja laadukasta, vetoketju jämäkkä ja tikkaukset vakuuttavat. Ainoana miinuksena se, että olkahihna on turhan lyhyt, kun laukku on täyteen ängetty, eivätkä kahvat toimi olkaimina, joten pidempiä matkoja ei painavaa lastia kävellen mielellään kuljeta. Soveltuu hyvin esim. muuttamiseen, mökki- tai muille autoreissuille tai vaikka PC:n kuljettamiseen laneille.
0
0
I would recommend for a friend
Alex R.

03.01.2019
These are probably the best duffle bags you can buy—especially for the price (currently $18.99 USD). I own two. The one I ordered from Varusteleka came with some writing on it, but that doesn't bother me any. If you are reading this, put this bag in your cart and be done with it.
1
0
I would recommend for a friend
Iain L.

05.02.2019
Great deal for the price. Well made construction and heavy duty webbing and zippers. Couldn't ask for a better duffle.
0
0
I would recommend for a friend
Antton S.

18.04.2019
Kestää mitä vaan. Kaveri mahtuu laukkuun helposti, eikä laukku ollut moksiskaan. Voi vaikka pummilla mennä julkisilla, jos joku suostuu kantamaan.

Ainoa negatiivinen asia kuitenkin on tumma muju, jota irtoaa laukun sisäpuolelta. Liekkö joku vedenpitävä kalvo, joka on aikansa nähnyt ja nyt murenee. Se sotkee kaiken, mitä laukkuun laittaa. Muuten ihan huippulaukku.
2
0
I would recommend for a friend
Jussi K.

21.04.2019
Käytän tätä lähinnä veneellä tapahtuvassa eräjormailussa. Laukkuun mahtuu teltta, makuupussi, makuualusta, ruokavehkeet, oluet ja kaikki muukin leiriytymiseen tarvittava. Kätevää kun ei ole montaa nyssäkkää pyörimässä veneessä ja kerralla saa kannettua saareen koko leirin kamat. Todella vankasti tehty ja laadukas laukku.
0
0
I would recommend for a friend
Petri T.

29.07.2019
Käytössä tuhoutumaton ikikassi, jossa voi kuljettaa mitä vain. Omaani kani tosin teki reikiä, jotka vain ompelin umpeen ja kestää edelleen.
0
0
I would recommend for a friend
Pekka M.

17.08.2019
Olen käyttänyt tätä muutaman kerran kauppakassina. Olkaremmi on aivan liian lyhyt. Pyörällä on lähes mahdotonta polkea jos laukussa on vähänkin painavempaa kamaa sisällä, esim 10-15kg ruoka ostoksia. Olkapää on kyl piestyn näkönen reissun jälkeen. Tarkoitus olisi siis pudottaa osa painosta pakkarin päälle. Voisi toimia paremmin jos remmi olisi kiinnitetty neljästä pisteestä. Kahdesta kun on kiinni niin vähän velmu selässä ja pyrkii liukumaan toiselle kyljelle. Jos autolla liikkeellä niin tämä on 5 tähden arvoinen laukku.
0
1
I would recommend for a friend
Liam R.

01.11.2019
No-nonsense duffel bag and a good deal for 23USD. Durable enough to last a march through hell.
0
0
I would recommend for a friend
Leo J.

30.11.2019
Loistava kassi johon mahtuu vaikka tyypillinen kehopositiivisuus ideologian ajaja. Ja todennäköisempää on, että joulupukin kerran vuodessa tyhjennettävät kassit repeävät, kuin tämä laukkujen mersu.
0
0