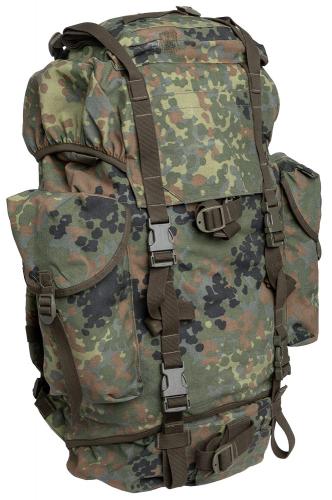 BW Combat Rucksack, Flecktarn, surplus
Price 55.99 USD excluding VAT
Trouble with the metric system? Try our converter: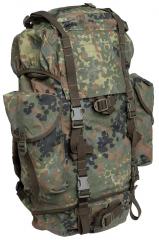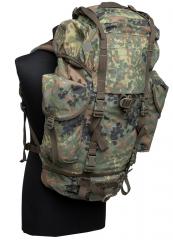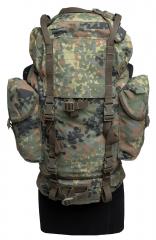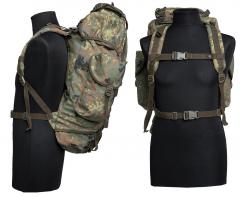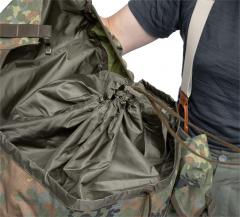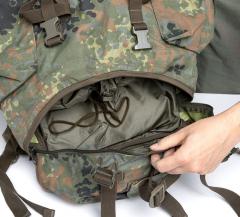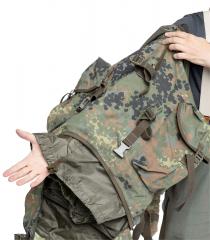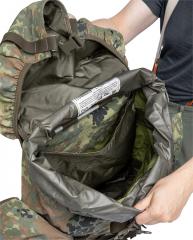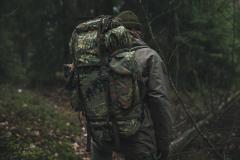 German efficiency and practicality at its best. These medium-sized (about 65 litre) rucksacks are meant to carry everything that a German soldier needs in the field. A very affordable pack for what it is.
In short, a good smaller rucksack for situations where a huge pack is simply too much and a daysack too small, like a classic overnighter or a couple of days hike. The volume of this one is about 65 litres.
Keep it simple
This pack, like many others, is built around a spacious main compartment closed with cord locks and quick release buckles.
The lid
The lid is large and has a pocket on top of it, and long straps for attaching a sleeping bag. The straps can be hidden inside tunnel pockets to keep them out of the way when not in use. You can also slap your name tag on the loop base on it.
The lower compartment
The bottom of the pack has a separate compartment for rainwear, which is closed with a zipper and QR buckles. The lower pocket is separated from the main space by a cord lock operated divider, which can be opened if the main space needs more room.
Other pockets and stuff
The two side pockets are quite large and are only stitched on from the sides. This has been done so that other equipment, e.g. an axe or a shovel, can be stuffed in behind the pocket. The web loops on the front are meant for a rifle, but can fit skis for instance (you'll have to come up with suitable straps yourself).
Sleeping mat as a frame?
Although this pack does not have a frame, the Bundeswehr issue folding sleeping mat slips into a separate compartment and keeps the pack rigid and makes it really comfortable to carry. This also eliminates the need to carry a traditional roll-mat outside the pack, essentially allowing more stuff to be strapped on if needed. Sleeping mats sold separately when available. An alternative option is to secure a traditional roll mat to the rifle attachment points and use the folding mat pouch for something else, like a DIY stiffener and a hydration bladder.
Straps
Carried with traditional padded freely adjustable shoulder straps. You often get a sternum strap too. The waist belt is basic at best but does the job.
German army surplus
Used, but in good serviceable condition, all are German army surplus and made by various contractors. Of course, the signs of use are there along with the possible well-made repair, but these are good to go.
Reviews
You have already submitted a review. You can edit your text by clicking on it.
Log in and write a review.
Remove filter
Suomi
(5)
English
(16)
I would recommend for a friend
Samuel A.

01.08.2016 (Edited 04.08.2016)
Hyvä pikku rinkka. Saksassa kaupunkilomalla kantoi 5 päivän tarpeet hyvin, ainoa miinus tulee olkahihnoista jotka aiheuttivat hieman tuskaa harteille kun täyttä reppua kantoi. Kuvista poiketen mukana tuli myös rintaremmi.

Muuten noin niin hyvät taskut ja säädöt, otan kyllä seuraavalle reissullekin mukaan. Tällä ei tavitse lentökentällä kuin kävellä sisään ja ulos, ei turhia odotteluja!

Jos haluaa naurattaa Berliinin poliiseja, kannattaa tämä olla selässä terveisin kokemusta on.
19
2
I would recommend for a friend
antti j.

13.08.2016 (Edited 01.09.2016)
Rinkkaan voit ahtaa laatikkollisen juotavaa sekä ainakin 7 isoa pulloa tai purkkia ja silti jää tilaa EApakkaukselle ja vaihtovaatteille
6
1
I would recommend for a friend
Alan G.

03.10.2016 (Edited 29.11.2016)
The description says serviceable, but the pack is practically brand new. More robust then expected. Perfect size for 3-5 days. I don't think you can beat this ruck for the price. Shipping to Florida, US, only took 6 business days and is incredibly reasonable at less than $10.00. Highly impressed with the speed of service and the quality of the product all at a reasonable price. Make sure you get the sleeping mat, it's a necessity.
36
2
I would recommend for a friend
Casey D.

24.05.2017
This is a great pack for weekend backpacking trips. It can fit two days worth of gear quite easily, I even managed to rig a daypack to the straps for longer trips. This pack has a bunch of well thought out pockets and straps, the rifle holder for instance fits my fly fishing rod like it was meant to be. Asides from one well excecuted and awesome looking repair it even looked new!

As far as comfort is concerned the pack has adequate strap adjustments for people of all sizes. The shoulder pads are fine for the thirty pounds or so I usually pack but the waist strap leaves a little to be desired. Some sort of back stiffener is a necessity! Whether it is a BW mat or some plywood and a bladder you will want something, otherwise it's just a really cool duffel bag.
9
0
I would recommend for a friend
Ben C.

28.05.2017
Bombproof quality, preferably needs a back foam stiffener to hold it up but will do on its own. Can't say the same for the comfort which wasn't as bombproof with short shoulder straps and 32 lbs in it, can't see myself carrying it all day that weight. I added a chest strap so that help a tiny bit. The lack of an actual hip belt was probably a big factor, the one it has is more like a strap to stop it from swaying. In comparison my large Alice pack I can carry 50+ lbs all day without the same discomfort. Different people might have different experiences. Probably works much better as an oversized day pack with a lighter load or go much lighter if comfort is important to you. Weighs around 3.1 lbs so its good for the lightweight crowd who wants a surplus bag and are used to carrying similar style packs.
5
0
I would recommend for a friend
William W.

31.07.2017
Amazing medium size rucksuck you can't find quality like this for a better price!
3
1
I would recommend for a friend
Robert Z.

08.10.2017 (Edited 08.10.2017)
The one I got is almost like new. It must have been issued to the cook. This is a great pack you don't even have to add " for the price", but once you do it makes it even better!
11
0
I would recommend for a friend
ano n.

13.10.2017
Hintaan nähden ihan ok rinkka lyhyemmille reissuille. Tätä pakatessa huomaa, ettei ole kyseessä mikään satalitrainen rinkka, mutta pienellä suunnittelulla saa yhden tai kahden yön vaellusvarusteet pakattua talvikeleihinkin varautuen.

Ainoa ongelma tässä rinkassa on kantomukavuus, varsinkin kun painoa on yli 15kg. Suurin ongelma on lantiovyö, joka ei juuri auta siirtämään painoa lantiolle. Ongelmaa pahentavat suht kapeat olkaimet, joille suurin osa painosta päätyy.
5
1
I would recommend for a friend
John S.

02.03.2018
Bought this backpack to replace my SOG and finally got a chance to use it on a several day camping trip this winter. It worked really well and I was very happy with it. Gives you convenient places to strap all of your gear and the strap/buckle system is way better than zippers for durability. Perfect backpack for a several day/week long hiking or camping trip.
6
0
I would recommend for a friend
John S.

02.03.2018
Bought this backpack to replace my SOG and finally got a chance to use it on a several day camping trip this winter. It worked really well and I was very happy with it. Gives you convenient places to strap all of your gear and the strap/buckle system is way better than zippers for durability. Perfect backpack for a several day/week long hiking or camping trip.
2
0
I would recommend for a friend
LeRoy F.

11.03.2018 (Edited 11.03.2018)
What a great pack. It's very well made, extremely functional and aesthetically pleasing. I'm on a four-day trip right now and it has allowed me to pack everything I need without feeling like I didn't have enough room. It's also comfortable to carry and easily fit in the overhead compartment bin of an airplane. I had this item shipped to Seattle, WA and it took a little over a week to get here, which was faster than I anticipated. Did I mention that it looks really cool? Highly recommended if you're looking for a pack of this size.
2
0
I would recommend for a friend
Steve A.

18.03.2018
I would recommend for a friend
Sampo V.

20.03.2018 (Edited 20.03.2018)
Lyömätön rinkka tähän hintaan - hintaan tulee tosin kymppi lisää koska BW:n solumuovipatja on pakkohankinta kantomukavuuden kannalta. Kannattaa huomioida BW:n rinkan soveltuvan parhaiten 1-2 yön retkiin eikä mihinkään viikon vaelluksiin: kun kuormaa kertyy kymmeniä kiloja, muuttuu se aivan liian raskaaksi kantaa. Solumuovipatja ei korvaa kunnon metallirunkoa eikä rimpulassa lantiovyössä ole kehumista - ideana on varmaankin ollut pitää Bundeswehrin mosureiden verenhimoa yllä myös marssien aikana. Tämä on loistava reppu turismiin - se on sopivan kokoinen viikonloppureissuun ja menee käsimatkatavarassa.



Toisin kuin kuvissa, oli omassa yksilössäni myös rintaremmi mukana. Rinkka on käytettynäkin laadukkaan ja kestävän tuntuinen (valmistettu Saksassa!) ja selviäisi varmaan sodastakin. Taskut ovat tosi näppärät ja alalokerokin on tajuttu laittaa. Omastani tosin oli pussin suun narulukko sökönä, mistä pieni miinus (kyseessä toki helposti vaihdettava kulutusosa). Tämä ei ollut mikään yllätys, kun kyseessä on käytetty ylijäämätuote. Yhden myymälästä penkomani rinkan läppään oli myös joku kansallismielinen saksalainen soturi tussannut numerot "88" todella isolla. En ota kantaa itse sanomaan, mutta erään poliittisen ääriaatteen kannattajissa sen näkeminen varmaankin herättäisi paheksuntaa tai jopa avonaista vihamielisyyttä, mikä on sääli, kun rinkan kantaja tuskin sitä tarkoittaisi.
2
2
I would recommend for a friend
Jack M.

09.07.2018
Got this ruck recently and I'm blown away by it. Great price for what is and super durable. Climbed mt. Mansfield in Vermont, even without a serious belt it performed solidly. Was looking at aftermarket load bearing belts to make it easier to carry and seem to have found one that works (link below). I recommend it along with this stellar pack.

https://www.amazon.com/gp/aw/d/B079GCQPM2/ref=ya_aw_od_pi?ie=UTF8&psc=1
5
0
I would recommend for a friend
Anonymous customer

20.08.2018
I would recommend for a friend
Jason S.

17.02.2019
Purchased most of the surplus packs Varusteleka offers and this is my favourite by far for heading into nature for a few nights away in conjunction with a rolled up veshmeshok for day hikes and the Finnish marking equipment bag.
The pack I received is in great condition and I highly recommend it especially for camping.
2
0
I would recommend for a friend
Kent M.

10.05.2019
My BW ruck arrived today. Total shipping time was 9 days, which is fantastic considering it came all the way from Helsinki, Finland to West Texas, and had to go through customs. I recently ordered from a US company that took 10 days to deliver, and they charged more for shipping. Great job Varusteleka! The ruck is in excellent surplus condition, and very well made. The lower rifle strap is missing, but that's ok, I'm sure I have an extra piece of webbing and a buckle around here somewhere. Now you guys just need to get the BW folding sleep mat back in stock :)
3
0
I would recommend for a friend
Bailey R.

14.10.2019
This bag is very much defined by it's odd in between day pack and proper pack size. With carefully selected equipment and overpacking it will however carry a max 3 days supplies including food and water. The real limitation is that by the time you pack the bag this much the strap system simply does not cope with the weight and it's not very comfortable, there is no proper hip support and the shoulder straps are thin. However the pack is really durable and you get a solid bag. Just don't expect this to carry heavy loads or excessive amounts of equipment. The price makes it worth it if you understand the limitations.
1
0
I would recommend for a friend
Endi N.

01.11.2019
This thing is used? I got one and it was in literally perfect shape, the camo is still there, not worn and it was clean as clean is. The quality of this backpack is astonishing. 65 liters of space is nothing to scoff at. I bought it with the BW pad and in my opinion you definitely should do that. You get back support with it and can use it for sitting or sleeping on.

Quality: 10/10 (German ofc)
Size: 10/10 (Can pack everything you need for one person and perhaps even two people)
Carrying system: 7/10 (It's good but not the most comfortable)

Price? 100/10. Some Fjällräven 65 liter backpack of this quality would cost you over 250 euros.
1
0
I would recommend for a friend
john m.

28.12.2019
These rucks are the "Duck's Gutz" they are great, roomy, comfortable to carry and built like a brick outhouse, get one if you a good ruck.
0
0
I would recommend for a friend
Jonathan C.

19.01.2020
This is one of, if not the, best rucks I've ever purchased. No other ruck currently on the market comes close to the value of this one.
The one I received was practically unused. In fact, if it hadn't been for the name tag, which is still on it, and the pair of earplugs in one of the pockets, definitely used, I would've thought it brand new.
One of the most impressive features of this pack is that it only weighs 1 kilo despite its rugged build quality and substantial carrying capacity. 65L is more than enough space for a multi-day outing if you pack smartly. If you consider this a "daypack" perhaps you should rethink your kit, or the size of your lunches.
I used this ruck for a 6 day R2R2R hike of the Grand Canyon back in March '19. The temperature ranged from 21-70F (-6 to 21C) with 52"(132cm) of snow pack on the north rim, so gear selection was crucial. This ruck carried all of my gear, 6 days of food (3 meals/day + snacks) and 2L of water comfortably and the only thing strapped on the outside of the pack was my Finnish army sleeping mat, which also rocks!
The only negative I have for this ruck is that it's a bit too short for my torso, 6'/183cm, 180lbs/82kg. When I ordered it, the large size was out of stock already so I had to get the shorter option. Because I ran out of strap adjustment, I had to carry the ruck a little higher than I normally would. So that's not a hit against the ruck itself but more an FYI for anyone considering it.
If this ruck comes back in stock, purchase it asap! You'll be glad you did!
1
0
I would recommend for a friend
Joseph B.

23.02.2020
: ) I am always happy when I learn something new. I have learned that a Finnish litre has more volume than a German litre!
My Retki Arctic 55 litre holds more stuff than this German BW 60+ litre.
As a rucksack it is made of very strong material and the one I got was in very good condition.
For long treks I would add padding to the shoulder straps.
Still, I am quite happy with the purchase.
0
0