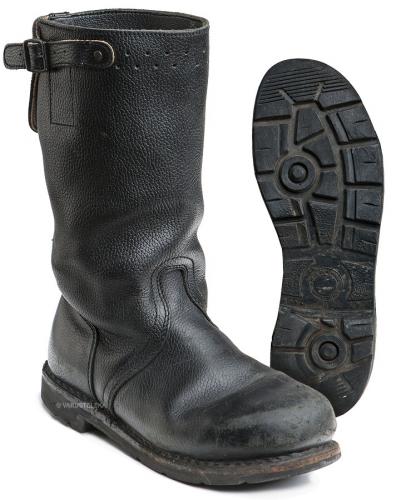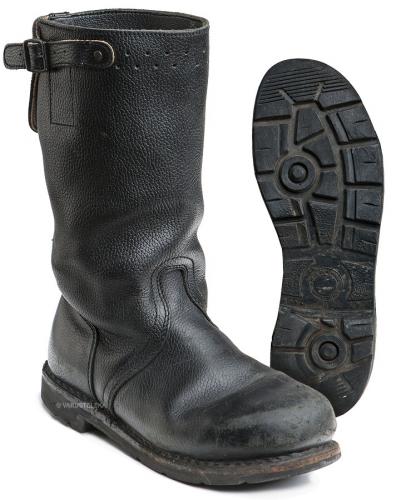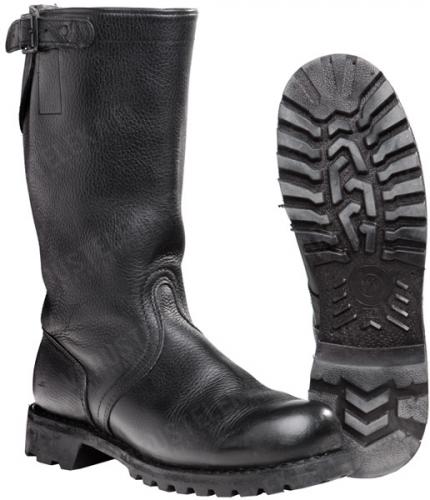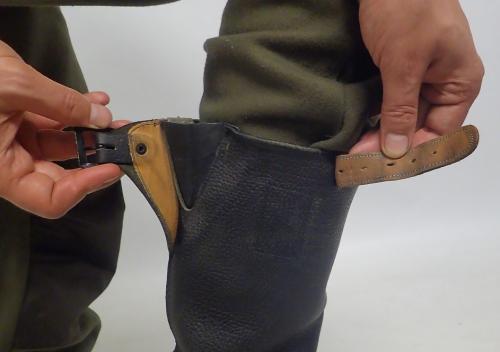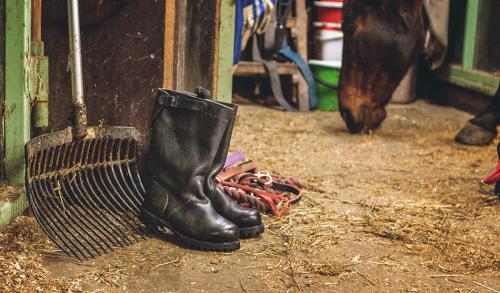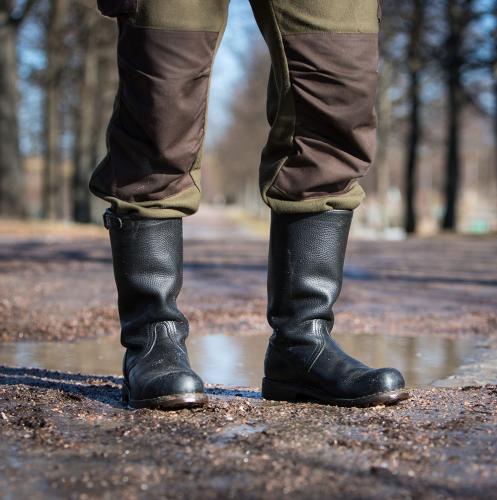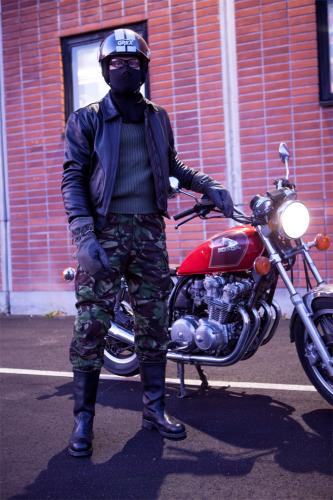 Bundesmarine jackboots, surplus
Price 73.99 USD
excluding VAT
Although traditional leather jackboots weren't a large part of the image of the Bundesrepublik Deutschland, nothing stopped them from making them. These are German navy issue boots.
Loading products...
Trouble with the metric system? Try our converter: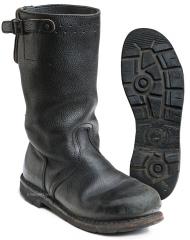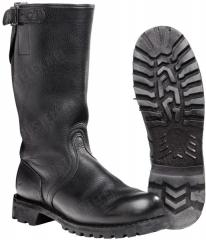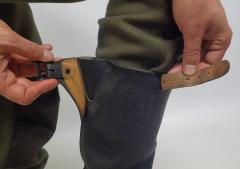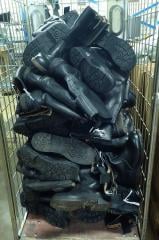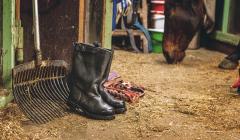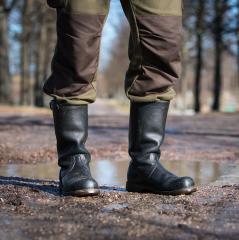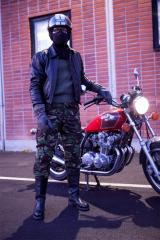 Although traditional leather jackboots weren't a large part of the image of the Bundesrepublik Deutschland, nothing stopped them from making them. These are German navy issue boots.
Don't be fooled by the approachable looks - these are very German, with their impeccable quality, full leather construction, and hard soles. They can be instantly recognized as West German boots from the tread pattern and "democracy buckles" at the mouth of the shaft (NVA and Wehrmacht boots generally didn't have them). Some have the old BW sole, some have the newer model 2000 sole. Both can be repaired or replaced by a proper cobbler.
Care
For maintenance, we would recommend occasionally applying polish or grease. Considering their utilitarian general style, grease would probably be the better option. That's pretty much it. Don't overdo it, a modest layer is usually enough.
Size info
First the boot's inside length from heel to toe in millimeters, with corresponding euro sizes in the brackets. If you are not sure what you're doing, order by the EU size. These are somewhat generously sized, with room for insoles and wool socks, as one would expect from proper ol' boots. Don't even try to use some tennis socks with these. In fact, if you have any, ditch them and get wool socks anyway!
Condition
In used, but serviceable condition. While the uppers are all good to go for a loooong time, the glue holding the rubber soles in place might have lost its grip over the years and they might peel off. This is remedied by finding the nearest cobbler's shop and having them either glued back on or just getting a pair of new-made half soles clamped on. Simple!
Recommendations
Loading products...
Reviews
You have already submitted a review. You can edit your text by clicking on it.
Log in and write a review.
Remove filter
Suomi
(2)
English
(10)
I would recommend for a friend
Perttu T.

10.11.2016 (Edited 06.04.2017)
Perkelellisen laadukkaat saappaat talvikeleille, ei pelkoa että olisi nilkat lumiset kuten lenkkareilla kahlatessa. Toimii hyvin myös kevät- ja syyssateissa kunhan muistaa rasvata, rasvata ja rasvata. Itse ostin sisään vielä huopapohjalliset tuomaan pehmeyttä ja lämpöä vilpoisiin keleihin. Mahtuvat hyvin Kansan Farkkujen™ lahkeiden sisään.
3
3
I would recommend for a friend
Marko N.

10.11.2016 (Edited 28.11.2016)
Ostin jo aiemmin tällaiset saappaat ja omissani on juuri sama pohja ja pohjakuvio kuin ensimmäisessä kuvassa. Ovat tosi laadukkaat ja ainoa miinus tulee pohjan materiaalista, jonka pakkasominaisuuksia epäilen. Minulla on saksalaiset maiharit, joita Leka nytkin myy ja niiden pohjakuvio on sama kuin näiden saappaiden eka kuvassa ja niiden pakkasominaisuudet ovat huonot kun alkaa olemaan kymmenen astetta pakkasta, niin pohjat kovettuvat ja tulevat liukkaiksi. Joten tästä syystä epäilen saappaiden, jotka ovat eka kuvassa pohjien pakkasominaisuuksia. Jos näitä ei käytä kovemmassa pakkasessa, niin suosittelen varauksetta; ovat hyväntuntuiset jalassa ja näillä on hyvä kävellä. Yksi tähti pois vain pohjien pakkasenkeston takia!
1
0
I would recommend for a friend
John K.

06.01.2017 (Edited 18.04.2017)
The pair I ordered appeared to be unissued or perhaps worn once for a few hours. Nicely made and very comfortable for an all leather boot.
3
0
I would recommend for a friend
Clayton H.

25.05.2017
These boots are amazing ! There very comfortable and are built like a tank . Great soles and the whole boot is made of heavy high quality leather . If you plan on walking any distance though take Varustelekas advice and buy some hard ass socks because the heel can rub you a little raw if you try run them with standard cotton socks . Some of the best boots I'v ever had .
4
0
I would recommend for a friend
Francisco S.

01.07.2017
First, I just have to say these boots are insanely good value; basically brand new when they came in. The soles I got where different from both designs shown, so me thinks the shoes where repaired and soles replaced, which is absolutely fantastic. They are also quite comfortable when the seams are done proper. However, beware of the seam at near the bottom where the ankle and the heel meet, as sometimes that seam can pull the leather( the one that connects the backs of the boot) out a tad and grind against your heel. For this you may want to place a bandage on your heel and wear thick socks as standard. If the leather is nice and flat the socks will do. Overall, with a quality pair of boots with amazing additions and a very easy to fix problem.
5
0
I would recommend for a friend
Jonathon S.

02.08.2017
My pair was unissued, they fit me great, and they're one of the few boots I've bought that feel nice right from the get go! Definitely well worth the money: a small price up pay for truly long lasting, high quality boots!
0
0
I would recommend for a friend
Zack Q.

25.08.2017 (Edited 25.08.2017)
My boots were in barely worn condition. There wasn't a scratch or scuff on them. As another reviewer mentioned, my boots also had a different sole than the two shown. Either it's been replaced or it's just a different sole the Bundeswehr used. Either way it has no wear to the sole at all. The inside leather is very soft and comfortable and the outer leather is thick and tough. These are probably the highest quality and toughest Jackboots any military has to offer. I wear a size 9 US and a 270 boot feels a little large, so I wear the boots with two wool socks and it makes a fantastic winter boot. Highly recommended.
0
0
I would recommend for a friend
jon m.

05.09.2017
The usual quality of boot you would expect from the German military.... Well built, comfy, hard wearing, waterproof, and kick-ass looks. These boots will probably outlast the apocalypse ....
0
0
I would recommend for a friend
Clinton C.

20.10.2017 (Edited 20.10.2017)
The pair I ordered were utterly unused. The hard/weak glued sole is definitely there, and mine popped off after a couple of weeks of use as expected. No worries though as they now have a pair of heavy duty Vibram hiking boot soles. For my feet, these did take a bit of breaking in - I ended up greasing up the heel cup, Achilles area and the instep a couple of times to get the fit right. They are now incredibly comfy all day boots. Excellent value and about 140 CAD all in including the resoling.
1
0